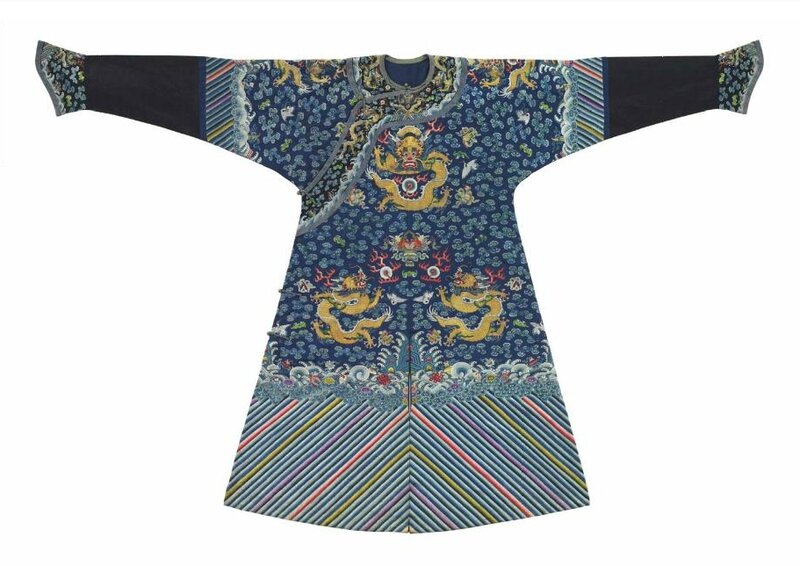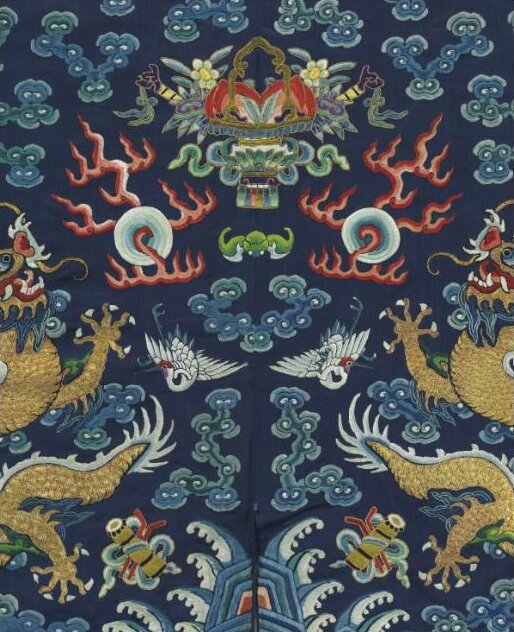 A very fine embroidered blue-ground dragon robe, mangpao, 19th century. Estimate $20,000 – $30,000. Photo Christie's Image Ltd 2015
The vibrant blue ground is worked in couched gold threads and satin stitch with highlights in lime-green in the front and back with five-clawed dragons confronting flaming pearls around a bowl of fruit, amidst eight cranes on both front and back and bats woven in shades of lime-green and forest-green, all amidst Daoist emblems. The terrestrial diagram and lishui stripe at the hem are tossed with the bajixiang (Eight Buddhist Emblems). 53 1/8 in. (134.8 cm.) long x 81 ¾ in. (207.6 cm.) wide
Provenance: Jon Eric Riis, Atlanta, 2007.
Notes. The use of bright lime-green and dark green threads to accentuate features, enliven this group of blue-ground embroidered dragon robes. The high quality of the embroidery is further emphasized by the application of couched gold threads used to highlight the three dimensional quality of the dragons.
The inclusion of the eight cranes embroidered on each side reinforce the auspicious wishes conveyed in the design of this robe. A kesi blue-ground mangpao from the William E. Colby Collection, also with eight cranes on each side, is illustrated by R.D. Jacobsen, Imperial Silks, Ch'ing Dynasty Textiles in the Minneapolis Institute of Arts, vol. I, Minneapolis, 2000, p. 770, pp. 214-25, no. 78.
Christie's. FINE CHINESE CERAMICS AND WORKS OF ART, 17 - 18 September 2015, New York, Rockefeller Plaza