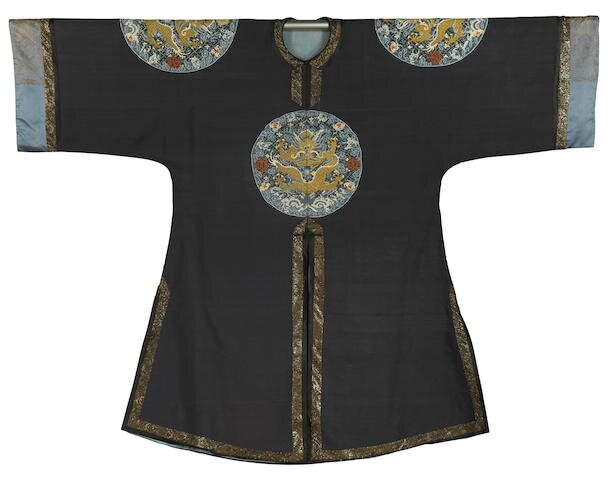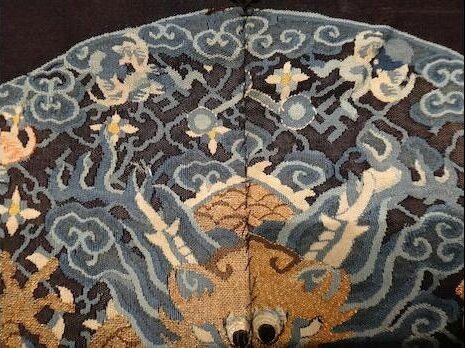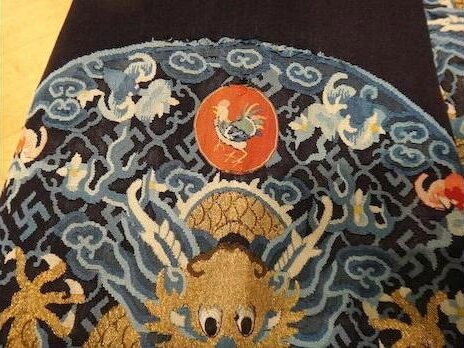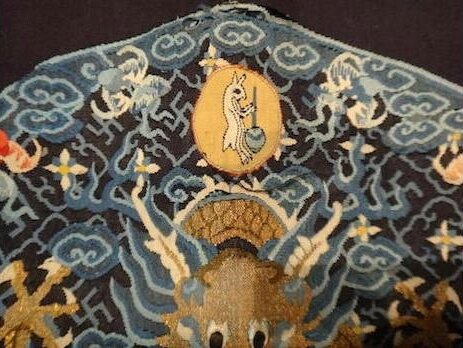 An Imperial dark blue-ground 'dragon roundel' kesi surcoat, gunfu, 19th century. Estimate US$ 35,000 - 50,000 (€31,000 - 44,000). Photo: Bonhams.
The robe opening down the front, the dark blue silk ground woven in kesi technique with four roundels, each containing a golden five-clawed front-facing dragon encircling a flaming pearl above rolling waves and surrounded by pink and blue bats and two elaborate shou medallions, each dragon beneath one of the Twelve Symbols of Imperial Authority, the moon on the right shoulder, the sun on the left shoulder, the constellation on the front and the mountain on the back, the lining of plain mid-blue silk. 47 1/2in (120.5cm) long
Provenance: Ex-Collection of Jon Eric Riis
Notes: The surcoat was a new type of over-garment developed in the second half of the 18th century. Its design is intended to complement the dragon robe to be worn underneath: the wide-opening, shorter sleeves would reveal the horseshoe cuffs of the robe beneath, and the shorter length of the surcoat deliberately stopped short of the lishui or standing water hem - this hem in turn was increased in depth during the same period in response to the introduction of the surcoat.

The use of the four of the Twelve Symbols of Authority, and the four dragon roundels, indicates that only the Emperor himself could have worn this robe, as specified in the Da Qing Hui Dian, 'Collected Statues of the Great Qing.' The placement of such symbols on the robe was highly ritualized, reflecting the cardinal points of the compass and the placement of each sacrificial altar: as the wearer would have faced South, the sun rose in the East hence it is placed on his left shoulder, and the moon on his right in the West, the constellation representing Heaven in the South on his chest, and the mountain representing Earth in the North on his back.

Emperor's surcoats are extremely rare, but a surcoat (bufu) made for a Crown Prince and dated 1796-1850 is in the collection of the Victoria & Albert Museum, London, no.T.754-1950. Another surcoat with the two of the Symbols, the sun and moon on the shoulders, dated circa 1800 is illustrated in Celestial Silks: Chinese Religious & Court Textiles, Art Gallery of New South Wales, Sydney, 2004, p. 65, no. 30. A summer gauze bufu made for a Prince, and without the Symbols, sold at Christie's Hong Kong, sale 3322, 28 May 2014, lot 3351.
BONHAMS. CHINESE PAINTINGS AND WORKS OF ART, 14 Sep 2015 10:00 EDT - NEW YORK