ZURICH.- During their six-day series of auctions from 14 – 19 September, Koller Auctions will offer an important private collection of Italian miniatures.
Estimated at 1 million Swiss francs ($1.06 million), this collection consists of over sixty of the finest examples of Italian manuscript illumination from the 13th – 15th centuries. Meticulously assembled over three decades by a passionate collector, it features works by important masters from Bologna, Siena, Florence, Venice, Padua and other centers of production, including Andrea di Bartolo, Cristoforo Cortese, Giovanni di Paolo, and Neri da Rimini.

The auction will be accompanied by a catalogue destined to become a collector's item in itself. Compiled by Prof. Gaudenz Freuler of the Kunsthistorisches Institut, University of Zurich, each miniature is placed within its regional and stylistic context, with a full description and documented provenance. The catalogue also contains a fascinating history of Italian manuscript illumination.
From a Swiss private collection, «The Annunciation» by Leonardo di Bernardino da Pistoia (CHF 400 000/600 000; $425 000/650 000) is one of the highlights of this auction. For decades this painting – the only signed work known by the artist – was hidden in Spanish private collection, and was only recently rediscovered. A professional cleaning has now revealed the excellent condition of this work. Bernardino da Pistoia was the brother of the well-known artist Fra'Paolino da Pistoia (1490-1547). Both trained under their father, Bernardino del Signoraccio. Very few works by Bernardino da Pistoia are known: a «Saint Irene» was auctioned in London in 1899; a «Sacra Conversazione» is conserved in the church of Santa Maria Assunta in Lizzano, as well as a fresco in the church of Santa Maria a Ripalta in Pistoia.
Leonardo di Bernardino da Pistoia (baptized in 1491 in Pistoia), «The Annunciation». Oil and gold ground on wood. Signed lower center: LEONARDVS F. BERNARDINI DEPiSTORio P. 178.3 x 148.9 cm. Estimated Price: CHF400,000 - CHF600,000.
Provenance: - Private collection, Genova, 1878.
- Auction Market London, 1890.
- Collection Tomás Harris, London.
- Otto Froehlich Collection, Vienna. - . Private collection, Spain, 1927 (for 425,000 pesetas acquired).
- Through inheritance, European Private Collection
- Swiss private collection.
Literature: - Capponi, V .: Biografia Pistoiese, Pistoia 1878, p 421.
- Nerucci, G .: Bollettino storico pistoiese , I, 1899, p 160.
- Gronau, GD: Una tavola di Scuola pistoiese, in:.. Rivista d'Arte, year XI, No. 2, April - June 1929, pp 214-219, Figure 1.
- D'Afflito, C. / Falletti, F. / A. Muzzi, A .: L'Età di Savonarola: Fra 'Paolino e la Pittura a Pistoia Nel primo' 500, exh. Kat. Pistoia, Palazzo Comunale, 24.4.- 31.7.1996, p 141 and 143.
Notes: The painting offered here, which appeared a few years ago after several decades in a Spanish private collection again, is the only known signed work of the Tuscan Master Leonardo di Bernardino da Pistoia and thus of extraordinary art-historical significance for the reconstruction of his oeuvre. A recent, careful preservation allowed also to bring the excellent state of preservation of this panel to light.
Leonardo di Bernadino da Pistoia was the brother of the famous painter Fra'Paolino da Pistoia (1490-1547). Both were trained by her father Bernardino d'Antonio del Signoraccio. The influence of the father does not last in the signature of our painting noticeable, which is embedded by its nested calligraphy sent in architecture. This feature can be found increasingly in works Bernardino del Signoraccios again, as well as the detailed architectural elements and figures finely executed, such as in his Sacra Conversazione in the Chiesa di San Vitale in Pistoia, which must have been well short of our paintings (see D'Afflito inter alia, 1996 Cat. no. 11, pp 138-140). However, Leonardo di Bernardino plant would be without the painting of the Florentine master Fra Bartolomeo unthinkable (1472-1517). The influence of the Tuscan master makes in our paintings in several respects noticeable, especially when compared with his 1497 running preaching in the Cathedral of Volterra (see Fig. 1, Padovani, S .: Fra Bartolomeo e la Scuola di San Marco, exh. Kat. Florence in 1996, Cat. No. 6, pp. 57-60, with Fig.). So kneeling Archangel in our composition in the same position as in Fra Bartolomeo's model, and the blessing of God and character of the Holy Spirit in the form of a dove in the top left corner can be found in two compositions again. By contrast, the interior, in which our scene is embedded differs greatly from Fra Bartolomeo open background with a view of an Italian landscape. The here chosen by Leonardo di Bernardino architectural background gives the scene a noticeably more contemplative and andächtigeren character, which is enhanced by the symmetry of the arches and their elegant gold ornaments. Also in the body language of Maria shows Leonardo di Bernardino artistic independence. The influence of both compositions makes itself finally in about 1520 to dating proclamation, which is now attributed to Giovanni Antonio Sogliani, noticeable (see Padovani 1996 Cat. No. 89, pp 266-268). In it we find both the position of the pieces from Leonardo di Bernardino composition as well as the open background of Fra Bartolomeo's painting again. Overall, very few other works Leonardo di Bernardino da Pistoia known: A Holy Irene in 1899 auctioned at Christie's London (see Gronau 1929 S. 5, footnote 1); a Sacred Conversation, whose attribution temporarily fluctuated between Fra 'Paolino and Bernardino del Signoraccio, is the Chiesa di Santa Maria Assunta in Lizzano (see D'Afflito et al. 1996, cat. no. 13, p 141, fig. S. 142); and finally a fresco in the church of Santa Maria a Ripalta in Pistoia (see Fig. 2, ibid. cat. no. 14, p 143). The attribution of these works of Leonardo di Bernardino del Signoraccio based exclusively on stylistic comparison with the offered work here, which is signed as a single and was known until its rediscovery by only black and white photographs. However, none of its previously discovered plants similar to the main work offered here from the artist to quality level and richness of detail, which is a prime example of the Tuscan Renaissance painting.
Another highlight of this auction is «Karnevalstreiben in der Bauernstube» by Pieter Brueghel the Younger (CHF 1.5/2.5 million; $1.6/2.6 million). The painting, which depicts Flemish folk celebrating the feast of the Three Kings held on 6 January each year, is a rarity in the work of Brueghel. Its provenance is also noteworthy: originally from the Richter collection in Germany, it was confiscated by the East German government, and hung in the Dresden Gemäldegalerie for almost 50 years before being restituted to the Richters in 2002. Brueghel expert Klaus Ertz was finally able to inspect the painting firsthand in 2005, and certified it as an original work by Pieter Brueghel the Younger.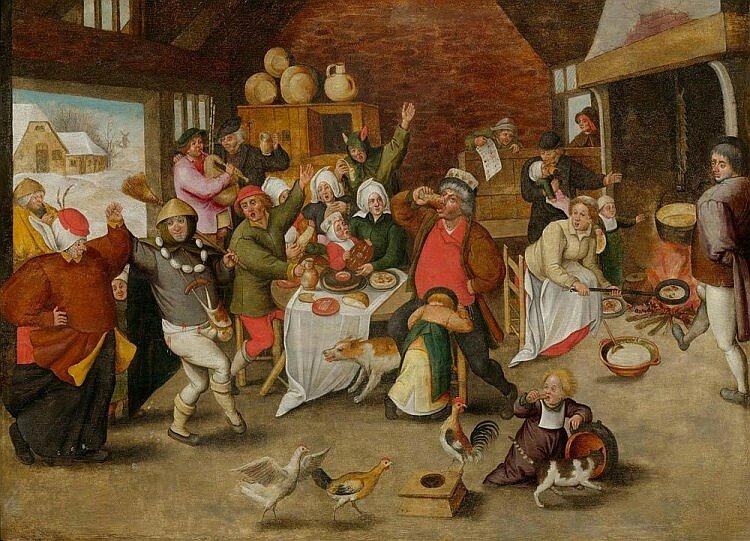 Pieter Brueghel the Younger (Brussels 1564 - Antwerp 1637/38), "Carnival hustle and bustle in a farmhouse parlor". Oil on oak. Signed lower center: P. BR (...). 72 x 105 cm. Estimated Price: CHF1,500,000 - CHF2,500,000.
Provenance: - Collection judges seized by the East German authorities around 1953.
- From 1953 to the Staatliche Kunstsammlungen Dresden, Gemäldegalerie, Inv. No. 53/92..
- 2002 restituted to the heirs of the family judge.
- European private collection.
Exhibition:. Gemäldegalerie Dresden, 1953-2002
Literature: - Marlier, G .: Pierre Bruegel le Jeune, Brussels 1969, p 355, no. 2.
- Diaz-Padron, M .: La Obra de Pedro Brueghel el joven en Espana, in Archivo Espanol de Arte, 1980, p 311.
- Ertz, Klaus, including: exh. Kat Breughel-Brueghel, Tradizione e Progresso: una famiglia di pittori Fiamminghi tra Cinque e Seicento, Cremona, Museo Civico Ala Ponzone, Cremona 1998, p.99, Figure 2.
- Ertz, Klaus: Pieter Brueghel the Younger (1564- 1637/38). ... The painting with a critical catalog raisonné, Volume I, Lingen 1988/2000, Cat No. 582, S. 535, S. 524 Fig (as Maerten van Cleve or Pieter Brueghel the Younger.).
- Ertz, Klaus: Marten van Cleve 1524-1581. Critical Catalogue of Paintings and Drawings, Lingen 2014, p 61, Fig. 77 (as Pieter Brueghel d. J.).
Notes: Numerous figures have gathered in a rustic room and warm up dancing and drinking, while outside the cold wind blows. The occasion is the 6 January annual Flemish Epiphany - also called Epiphany feast - in which celebrated once again extensively before the upcoming Lent. Through a hidden in the bread or cake Bean King of the Festival will be selected, which in turn is allowed to select his court. In our painting dancing the newly elected 'Bean King' left with his queen into the room, while in the background the fool seems the Dunce Cap for bagpipe music to sing out loud. Right around the fire to bake the traditional pancakes in a pan. This cheerful representation of the Epiphany is a rarity in the oeuvre Pieter Breughel the Younger, which total executed this composition only four times with small variations. A version is located since 1948 in a private collection in Madrid, a second at the Museum Stibbert in Florence (inv. no. 4254) and a third was on 04.04.1984 (item 44) by Sotheby's in London auctioned (see Ertz 1988/2000, cat. no. 576-578). Here Brueghel. J. did not interfere as usual on a composition of his father back, but could be in this case of a now lost composition Marten van Cleve (1524-1581) inspired. This is especially shown by the fact that the overall composition and the two dancing figures are left in an engraving by Balthasar van den Bos (active around 1550) handed to Van Cleve. Dr. Klaus Ertz also carries two versions of this composition in the works van Cleves (see Ertz 2014 S. 182-183, cat. No. 101 and 102). Dr. Klaus Ertz which our paintings initially knew only from photographs and therefore initially not based on a clear allocation of Brueghel. J. went out (see Ertz 1988/2000, cat. No. 582), the board could take in 2005 personally inspected and confirmed Now the authenticity (a copy of his report from 2.11.2005 is enclosed). He emphasizes the particularly fine brushwork, which distinguishes our paintings compared to plants van Cleves. Pieter Brueghel d. J. took off in 1616 Partly templates of Marten van Cleve in his oeuvre, where our painting can be dated according to Klaus Ertz in the late 1620s (see Ertz 2014). That Pieter Brueghel the composition van Cleves but not limited to copying, but it has itself developed, is particularly based on the fine signatures of our painting significantly (Fig. 1). J. In addition to the rarity of the theme in the oeuvre of Pieter Brueghel depicted. Is also the provenance of the painting offered here emphasized: Originally from the German family judge collection, it was confiscated by 1953 by the East German authorities and adorned for nearly 50 years, the walls of the Dresdner Gemäldegalerie before the heirs of the Judge family was restituted in 2002, now is again available in the market.
Of historical importance is a painting of a battle scene recently rediscovered in a German private collection, «The Battle of Papa on 12 June 1809», by Albrecht Adam (CHF 130 000/180 000; $145 000/190 000). This painting was ordered in 1841 by Maximilian II, Duke of Leuchtenberg (1817-1852) on the occasion of his marriage in 1839 to Maria Nikolajewna, the eldest daughter of Czar Nicholas I for the Mariinski Palace in St. Petersburg directly from the artist as part of a series of 16 works representing the battles of his father, Eugène de Beauharnais (1781- 1824). Through inheritance, it belonged to Maximilian's son, Nikolaus Maximilianowitsch, until 1891, and then to the latter's son Georg (1872 - 1929), 10th Duke of Leuchtenberg, who fled from Russia in 1905 to Castle Seeon in upper Bavaria. In 1935 the painting was auctioned and purchased by the German private collection in which Koller's specialists recently discovered it. Particularly noteworthy is the fact that this painting illustrates the artist's detachment from traditional Baroque representations of battle scenes. Its artistic finesse, impressive rendering of details, historical accuracy as well as its masterful composition make this work an important historical monument.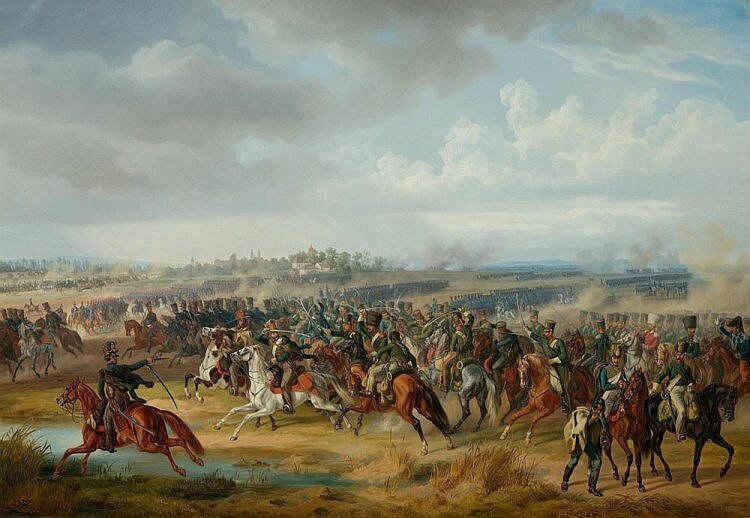 Albrecht Adam (Nördlingen 1786-1862 Munich), "The Battle of Pápa on June 12, 1809", 1844. Oil on canvas. Signed lower right and dated: A Adam. 1844.. 124.5 x 180 cm. Estimated Price: CHF130,000 - CHF180,000.
Opinion: Dr. Ulrike von Hase-Schmundt (copies available).
Provenance:
- 1841 by Maximilian 2nd Duke of Leuchtenberg (1817-1852) on the occasion of his marriage in 1839 Maria Nikolaevna, the oldest daughter of Tsar Nicholas I, where for the palace in St. Petersburg directly from the artist as part of a series of paintings from a total of 16 works to the battles of his father, Eugène de Beauharnais (1781-1824), in order.
- 1844 completion of this painting. - by succession to Maximilian's son, Nicholas Maximilianowitsch to 1891.
- Through inheritance to his sons Nicholas Nikolaevich (1868-1928), 9th Duke of Leuchtenberg, 5. Prince Beauharnais and George Nikolaevich (1872-1929), 10th Duke of Leuchtenberg .
- By the latter relocation of the cycle of paintings in 1905 from Russia to Castle Seeon, Upper Bavaria.
- Sales of Leuchtenberg-cycle of paintings at the auction in 1935.
- Kunsthandel Schneider, Frankfurt.
- privately owned, Germany.
Literature: - Soldan, Sigmund (eds .): The work of artist Adam family - 82 reproductions of the originals of the painter Albrecht Adam Benno Adam, Emil Adam, Eugen Adam, Franz Adam Julius Adam. Text Hyacinth Holland, Nuremberg, 1892, No. 30.
- From Hare Schmundt, Ulrike (ed.): Albrecht Adam and his family. On the history of a Munich artist dynasty in the 19th and 20th centuries, the exhibition catalog, Munich City Museum, 23/10/1981
- 01/15/1982, p 45. - Papi, Riccardo: Eugène and Adam. The prince and his painter. The Leuchtenberg cycle and the Napoleonic campaigns 1809 and 1812, Berlin 2012, pp 210-215.
On April 9, 1809, Austria had the French Empire declared war, in the hope that Napoleon Bonaparte and his troops in Spain were tied. This should prove to be a miscalculation, and ended with the defeat and the Treaty of Schönbrunn on 14 October 1809 in which Austria was politically forced to adapt to France and had to accept territorial losses in coming. On the sideshow put Napoleon's stepson Eugène de Beauharnais , since 1807 the Viceroy of Italy, as commander in chief of the French-Italian troops.Already 1796/97 this had accompanied Napoleon on his Italian campaign and in the expedition to Egypt as an aide. Eugène was the first son of Josephine, the wife of Napoleon Bonaparte later, the Empress of France, from whose first marriage to the French General Vicomte Alexandre de Beauharnais. After the invasion of Austria's Archduke John in Italy, Eugène de Beauharnais suffered on April 16, 1809 at the Battle of Sacile in the north of the country, first a defeat that enemy troops, however, might be ultimately strategically sustainable in Hungary at the Battle of Raab on 14 June 1809th The Battle of Raab is a key event for the victorious outcome of the war in France, when it was Archduke Johann failed to meet with his Austrian main army, while Eugène time met with Napoleon and his main army and could merge with this against the enemy troops. The here offered, extremely detailed painted, large-format panoramic view of the battle painter Albrecht Adam shows that two days earlier be ereignende skirmish near the Hungarian town of Pápa on June 12, 1809. Adam, who was appointed court painter Eugène de Beauharnais from autumn 1809, the Viceroy been accompanied during these raids. The painting shows the beginning of the battle with the unbridled enthusiasm of the French cavalry to attack. Shown are the right foreground French Chasseurs à Cheval of the 7th Regiment, of which two or three of Eliteeskadrons (with cylindrical fur cap and red epaulettes). Eugène de Beauharnais on horseback can be found in the middle right of the image border with Two Spitz in front of a group of officers who disappears into the gunsmoke. In the background can be in the second third of the picture Baden Light Dragoons with caterpillars helmets recognize. When the Austrians in the foreground various hussar regiments can be identified: a group of the 2nd Hussars Regiment and another regiment, which is suspected of being the 12th Hussars palatal. The gunman and the prisoner right in the picture should be counted for this purpose. Enter cornflower blue uniform and the black shako (see report p 1). With a continuous cycle of paintings of the battles of Eugène de Beauharnais Adam Albrecht should, however, only thirty-two years later, in 1841, to deal with. A series in oil followed on behalf of his 2nd son, Maximilian 2nd Duke of Leuchtenberg after his marriage in 1839 with Maria Nikolaevna, the eldest daughter of Tsar Nicholas I.
Albrecht Adam was the victorious battles of Eugène de Beauharnais in the representing wars of 1809 and 1812 in 16 oil paintings, which were intended for the magnificent Mariinsky Palace in St. Petersburg, the erected the Czar of YES Stackenschneider. No one would have been better chosen for this job as Albrecht Adam, as this was not only one of the most recognized painter of battle scenes that time, but as a court painter of Eugène de Beauharnais as a witness who accompanied Napoleon's battles and was documented in sketches. 1841 fixed in the contract, should within eight years a total of 16 images are produced 180 cm in size of approximately 125 x and at least two delivered to the customer annually. The first seven images should show the battles in 1809, seven more ones of 1812, the last two the Retreat from Russia and a skirmish near Magdeburg.
Until the early death of the Duke Maximilian, in 1852, had 12 pictures were taken that focus on the following stations: campaign of 1809:
1) Battle of Caldiero, April 30, 1809, completed in 1842 (now in a private collection)
2.) Battle of Piave completed in northern Italy, May 8, 1809 1842 (now in a private collection)
3) Conquest of Malborghetto in northern Italy, May 18, 1809 completed in 1843 (today the Heeresgeschichtliches Museum, Vienna)
4.) Battle of Tarvisio, May 18, 1809 1843 completed (art trade, Germany)
5) Battle of St. Michael on the Mur in Kärten 24 May 1809 completed 1844 (art trade, Germany)
6) Battle of Pápa, June 12, 1809 completed in 1844 (the Here you see paintings)
7) Battle of Raab, July 14 1809 1845 completed (now in a private collection) campaign of Russia in 1812:
8) Battle of Ostrowno 26 July 1812, completed in 1846 (today Historical Museum Bischofszell, Switzerland)
9) Battle of Ostrowno July 27, 1812, 1845 completed (art trade, Germany)
10) Battle of Vitebsk, July 27, 1812, completed in 1846 (the art trade, Germany)
11) Battle of Borodino, 7 Sepember 1812 1849 completed (today Historical Museum Bischofszell, Switzerland)
12) withdrawal of the French army from Russia, November 1812, completed in 1854 (the art trade, Germany)
It is worth noting at this offered here works with the Battle of Pápa, the detachment of the artist from traditional baroque forms of representation of War events. While previously the screen layout is usually provided by Feldherrnhügel in the foreground and the protagonist is dominated prominently, Adam has solved thereof and shows the events in a broad panoramic view. This requires special knowledge of historical and geographical circumstances, in which the detailed reproduction of the different uniforms and battle formations had to be considered. In fact Adam undertook in 1841 and 1842 a number of study visits to the Piave and after Raab together with his exceptionally talented second son, Franz (1815-1886) to create sketches for the scenery spot. A collaboration Albrecht Adams with his three sons Benno (1812-1892), Franz and Eugen (1817-1880), who also devoted himself to painting and with whom he maintained a studio in Munich is occupied (see Hare Schmundt, 1981 p.56). Even his youngest son Eugen traveled Papa in 1844, as evidenced from letters to his brother Benno, and it should not have been entirely uninvolved in the landscaping of the painting offered here. With the auction of the slaughter cycle in years 1935 which led the descendants of the family of Leuchtenberg in financial straits, the paintings including Gustav laager, owner of the paper mill G. Laager-Mueller from Bischofszell, who bought two painting of the cycle were torn apart and acquired by gallery owners and private individuals mainly from Switzerland, (no. 8 u.11), and which adorned the entrance of his former apartment building, which now houses the museum Bischofszell hosts. The reappearance of battle offered here by Papa in a German private collection, whose whereabouts is mentioned in the recent literature as unknown, a great asset, since it is the only one of 12 previously known paintings of Leuchtenberg cycle whose current location was uncertain. The artistic skill, the impressive variety of detail, historical accuracy as well as the compositional design make this painting into a major historical as art historical monument.