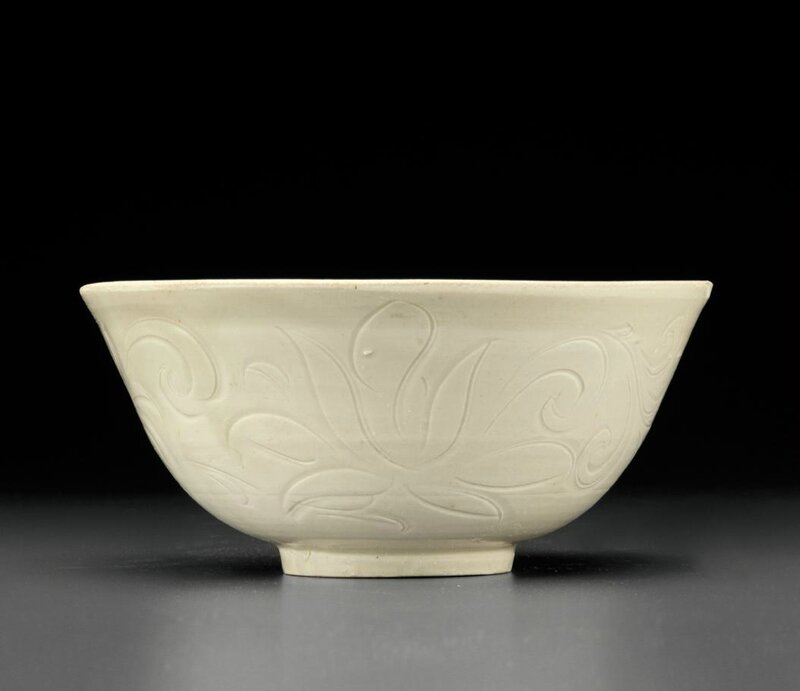 A Dingyao carved bowl, Northern Song-Jin Dynasty, 11th-12th century. Estimate $6,000 – $8,000. Photo Christie's Image Ltd 2015
The well-potted bowl has deep sides rising to the slightly everted rim, and is carved on the exterior with two lotus blossoms borne on graceful leafy stems. The bowl is covered all over, except the rim, with a glaze of ivory tone which continues over the foot to cover the base. 6 ½ in. (16.5 cm.) diam.
Notes: It was a common practice of the potters at the Ding kilns in Hebei province to fire their bowls and dishes upside down in order to prevent warping of the thin walls. This method necessitated that the rims be wiped clean of glaze to avoid adhesion to the kiln structure. After firing, the unglazed rims were then banded with gold, silver or copper. Not only did these bands conceal the unglazed rims, they also aided in the prevention of chipping of these expensive and luxurious wares.
Compare the very similar, but slightly larger (17 cm.), Dingyao bowl from the Falk Collection sold at Christie's New York, 16 October 2001, lot 54. A Dingyao bowl of slightly different form, but similarly carved with lotus sprays on the exterior and with a banded rim, is illustrated by M. Tregear, Song Ceramics, New York, 1982, p. 57, no. 35. See, also, the similar bowl with banded rim illustrated in Zhongguo taoci daxi, Song Yuan taoci daquan, Taipei, 1988, p. 145.
Christie's. FINE CHINESE CERAMICS AND WORKS OF ART, 17 - 18 September 2015, New York, Rockefeller Plaza