Ike Taiga (1723-1776), Kochukenkon 壷中乾坤 (The Universe in a Jar), dated 1755. Estimate US$ 100,000 - 150,000 (€89,000 - 130,000). Photo: Bonhams.
NEW YORK, NY.- An important handscroll with an unbroken line of provenance since it was first commissioned in 1775 leadsBonhams Japanese Art sale in New York on 15 September.
Painted by the artist Ike Taiga (1723-1776), Kochukenkon – The Universe in a Jar was created at the request of the noble Yoshimitsu family. Subsequently it was held in the collection of Lord Takamatsu and by 1914 was in the hands of Hatta Hyojiro. The work next appears in the auction catalog of the collection of railroad magnate Matsumoto Shozo and following World War II the painting made its way via a Kyoto dealer into the possession of the current owner, a private American collector. The narrative of the painting is based on a 5th-century Chinese folktale in which a market official follows an aged druggist down a jar. Once inside the jar he encounters a wonderful world of palaces, fine wine, and delicious food, offering temporary respite from everyday life. The painting carries an estimate of US$100,000-150,000.




Ike Taiga (1723-1776), Kochukenkon 壷中乾坤 (The Universe in a Jar), dated 1755. Estimate US$ 100,000 - 150,000 (€89,000 - 130,000). Photo: Bonhams.
Handscroll, ink on paper, painted with a continuous scene starting with a Chinese scholar climbing into the mouth of a huge jar, two other scholars and an attendant behind him, followed by a sparse river landscape with sailboats; a group of imposing buildings, one of them with two seated scholars; a tree-clad hill; riverside houses and crags; a riverside pavilion with a seated scholar; concluding with a large tree and a hillside; inscribed in large characters at the beginning of the scroll: Kochukenkon 壷中乾坤 (The Universe in a Jar) and at the end of the scroll: 靈谿潛可盤安事登雲梯 (for translation and discussion, see below); signed at the end of the scroll: Sangaku Doja shai toki Horeki kinoto-i sangatsu futsuka 三岳道者写意時宝暦乙亥三月二日(Sangaku Doja [one of Taiga's names] painted the essence of this subject on the second day, third month, kinoto-i year of Horeki [1755]); seals Ike Mumei in 池無名印 and Gyokko Koanri (玉皇香案吏)

With double fitted tomobako boxes; the inner box inscribed outside Ike Taiga kochu kenkon emaki 池大雅壺中乾坤畫巻 (Picture scroll of the Universe in a Jar, by Ike Taiga) with paper label sealed Soken chin(?) 雙軒珍?; the inside of the lid with a lengthy kanbuninscription (see illustration) including a date of 1810 (discussed below); the outer box inscribed outsideTaigado kochukenkon ichiga 大雅堂壺中乾坤一畫 (A painting by Taigado of the Universe in a Jar); the inside with paper label Soken seisho 雙軒清賞
11 1/2 x 510in (29.1 x 1,296cm)
Provenance: Painted for the Yoshimitsu 儀満 family, Hirata, Izumo Province, in 1755
Lord Takamatsu 高松侯 (dates of ownership unknown)
Hatta Hyojiro八田兵次郎 (original name Sato 佐藤 Hyojiro), by 1914
Matsumoto Shozo 松本枩蔵, by 1933
Published or cited (for further details, please refer to the discussion below): Hatta Hyojiro 八田兵次郎, Saido seisho 西洞清賞 (Treasures of the Saido Collection), Osaka, 1914, accessible online at http://kindai.ndl.go.jp/info:ndljp/pid/1014487, digital pp.44-45
‪Togari Soshin'an外狩素心庵, Zoku Soken'an bijutsu shusei zuroku 続双軒庵美術集成図錄 (Catalogue‬ of the Soken'an Art Collection, Continued), Kyushu Denki Kido Kabushiki Kaisha九州電氣軌道株式会社 (Kyushu Electric Railroad, Inc.), 1933 (catalogue of an auction held at Tokyo Art Club, October 21, 1933), lot 200 ‬‬‬‬‬‬‬
Matsushita Hidemaro 松下英麿, Ike Taiga 池大雅, Tokyo, 1967, p.99
Melinda Takeuchi, Taiga's True Views: The Language of Landscape Painting in Eighteenth-Century Japan, Stanford, 1992, p.175, note 43
Notes: The two seals at the end of the scroll, widely used in combination by Taiga, are listed in Felice Fischer with Kyoko Kinoshita, Ike Taiga and Tokuyama Gyokuran: Japanese Masters of the Brush, Philadelphia, 2007, Appendix II, nos.S14 and S25 (pp.485-6).

A lengthy Chinese inscription inside the outer storage box, signed with the pseudonym Oson Rosho ("The Old Woodcutter of Warbler Mountain," so far unidentified), mentions a visit by the writer, in fall of the kanoe-uma year "more than fifty years later" (i.e. 1810), to the grandson of the original owner, a member of the wealthy Yoshimitsu family of Hirata, Izumo Province. The inscription narrates that the scroll was one of numerous works painted by Taiga while he was staying at the Eitokuji, a Rinzai Zen temple in Izumo whose abbot was Ashizu Keiryu (1720-1769), a leading pupil of Hakuin. The scroll is first illustrated in Saidō seishō (1914), the self-published catalogue of the collection of Hatta Hyojiro (original name Satō Hyojiro), which included two other works by Taiga; the Hatta catalogue records that the present lot had formerly been in the collection of "Lord Takamatsu." It next appears in the second sale catalogue (1933) of the Soken'an collection of Matsumoto Shozo who made his fortune developing electric railroads in western Japan. Much of Shozo's collection, possibly including the present lot, was formed by reassembling works of art formerly owned by his father-in-law, the bankrupt former lumber and banking magnate Matsumoto Jūtarō (1844-1913), who originally assumed the name Soken. The scroll next comes to light in a 1967 study of Taiga by the Nanga scholar Matsushita Hidemaro whose discussion is reported by Melinda Takeuchi " . . . During the middle of the decade, he [Taiga] seems to have made a journey to the Izumo region. An inscription dated to 1810 on a box for a handscroll entitled Enchanted Land states that this was one of many works Taiga painted for the Yoshimitsu family while staying at Eitokuji. The painting bears a date of 1755, third month."

The scroll's title, Kochukenkon 壷中乾坤 (The Universe in a Jar), refers to a Chinese tradition that goes back ultimately to the fifth-century A.D. Chinese history Houhanshu 後漢書 (Chronicles of the Latter Han Dynasty), vol. 82, pt. 2 (accessible at https://zh.wikisource.org/wiki/後漢書/卷82下#.E8.B4.B9.E9.95.BF.E6.88.BF) which tells the story of Fei Changfang 費長房, a market official who noticed that an aged druggist disappeared down a jar after the close of business every evening. Intrigued, Fei accepted the old man's invitation to accompany him there the next day and once inside the jar he encountered a wonderful world of palaces, fine wine, and delicious food, offering temporary respite from everyday life.

The related phrase "paradise in a jar" 壺中天 is also found in the poetry of Li Bai 李白 (701-762), but this scroll concludes with an inscription from the poet Guo Pu郭璞 (276-324), lines seven and eight of the first of his 14Youxianshi 遊仙詩 (Jap. Yūsenshi, Poems of Wandering Immortals), with two characters (可 and 潛) transposed, in a particularly striking example of Taiga's eccentric calligraphy, boldly framed by the first and last characters: "sacred" and "ladder." (For a full text of the poem, with English translation, see Mary Anne Cartelli, The Five-Colored Clouds of Mount Wutai: Poems from Dunhuang, Leiden, 2013, pp. 16-17.)

靈谿可潛盤 安事登雲梯

He can swim down to the bed of the sacred torrent
Why would he want to climb a ladder to the clouds?

Taiga would have taken Guo Pu's lines from Wen Xuan, the sixth-century literary anthology on which he primarily drew for pre-Tang Chinese texts as noted by Jonathan Chaves, "Taiga and Chinese Poetry (Kanshi)," in Fischer, Ike Taiga and Tokuyama Gyokuran, p. 109; see also Xiao Tong蕭統, Wen Xuan文選, Guoxue jiben congshu 國學基本叢書, Shanghai, 1936, vol.1, p.460.

The present scroll dates from a formative period of Taiga's career during which, as Felice Fischer tells us, the artist "was engaged in a dialectic with various modes of painting and calligraphy, modes of Zen, and modes of poetry." In 1751 he first met the great Rinzai Zen master Hakuin Ekaku (1686-1768) who exposed Taiga to a different style of Zen than that practiced at Manpukuji Temple at Uji near Kyoto, where Taiga had spent much time earlier in his life. Shimatani Hiroyuki notes that " . . . Taiga's meeting with Hakuin played a major role in the formation of his character, and in the Zen-influenced nature of his paintings and calligraphies" (Shimatani Hiroyuki, "The Fascination of Taiga's Calligraphy," in Fischer, Ike Taiga and Tokuyama Gyokuran, p.99). It was probably in order to meet disciples of Hakuin that Taiga first made the arduous journey to Izumo Province (present-day Shimane Prefecture) in 1755. One of these was Taiga's host Ashizu Keiryu (mentioned above), the Abbot of Eitokuji Temple in Matsue; a work dedicated to Keiryu was included in the exhibition of painting and calligraphy by Taiga and his wife Tokuyama Gyokuran held at the Philadelphia Museum of Art in 2007 (Fischer, Ike Taiga and Tokuyama Gyokuran, cat.89). Taiga also stayed at nearby Tenrinji Temple, which still owns several of his works; one of these, Playing a Flute in a Boat, bears a related signature to the present lot, Sangaku gaishi shai 三岳外史写意, and features a large inscription whose marked similarities to the present lot include the combination of very large with smaller characters and the use of a splayed brush, resulting in thin lines that seem to frame the principal strokes (Felice Fischer, "Ike Taiga, A Life in Art," in Fischer, Ike Taiga and Tokuyama Gyokuran, pp.21-22; for the Tenrinji painting, see cat.82 and catalogue note, p.413).

This was also a time when Taiga deepened his study of Chinese verse and painted a number of works on other classic Chinese literary themes such as The Three Laughers and the Eight Drinkers (Fischer, Ike Taiga and Tokuyama Gyokuran, cat. 32; and cat.31, based on "Eight Immortals of the Wine Cup," a famous poem by the Tang-dynasty poet Du Fu). A closer stylistic parallel to the present lot, however, is perhaps offered by the handscroll of Wondrous Scenery of Mutsu, an Important Cultural Property in Kyushu National Museum dating from 1749 (Fischer, Ike Taiga and Tokuyama Gyokuran, cat.24). Based on an actual place in northern Japan, the 1749 scroll takes a more literal, if still abbreviated, approach to the depiction of landscape but the overall composition and articulation follow a similar trajectory and particular details such as the sailing boats toward the end of the Mutsu scroll prefigure the same motifs in Universe in a Jar. Freed from the need to delineate a specific riverscape, Taiga here adopts a highly simplified, sometimes almost childlike approach to his subject, perfectly reflecting the playful, liberating fantasy of the old Chinese tale that inspired this scroll.
Another highlight in the paintings section is a 16th-century pair of screens featuring figures enjoying a picnic and observing wild horses. The screens were purchased from the famed Tokyo dealer S. Yabumoto in the early 1950s by an American physician stationed in Japan during the post-war period of rebuilding. The importance placed on horses in Japan has a long history and screens such as this, featuring a variety of the frolicking animals, would have been highly prized. The military class, who wished to chronicle their status and exhibit their sense of refined taste, placed great stock in depictions of horses, coveted for their militaristic association. They are offered at an estimate of US$70,000-120,000.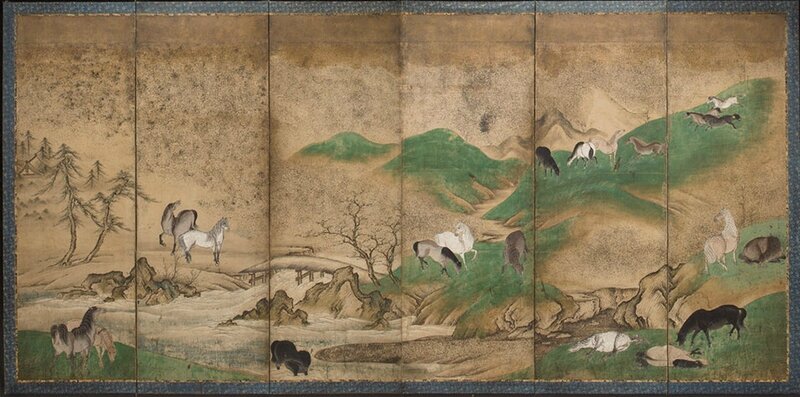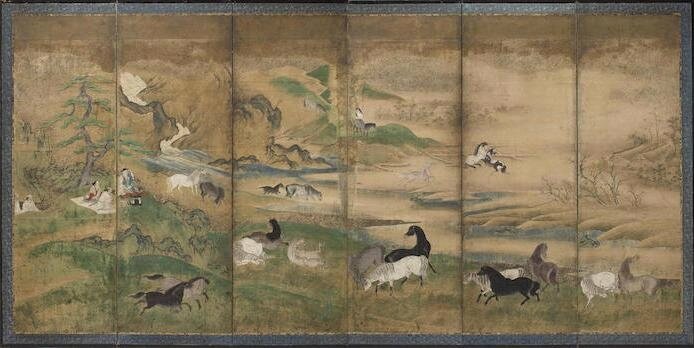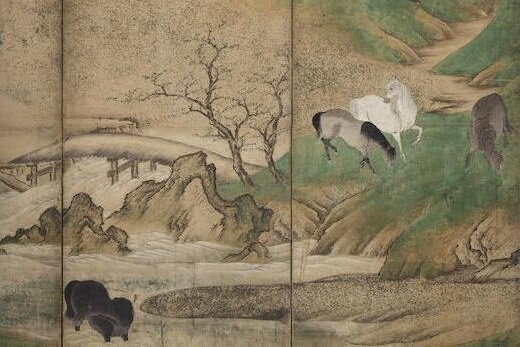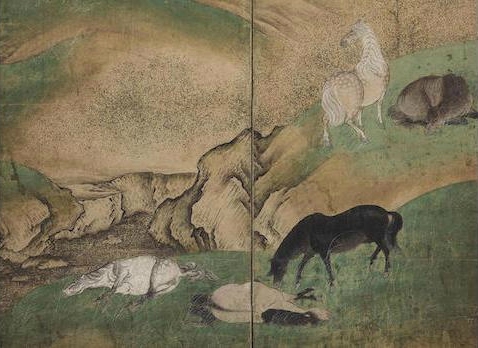 Anonymous Kano School (16th-17th century), Horses in a Pasture. Estimate US$70,000 – 120,000 (€62,000 - 110,000). Photo: Bonhams.
A pair of large six-panel folding screens, ink, color and metallic flakes on paper; featuring horses in a landscape watched by a group of figures, unsigned; 66 3/4 x 133 3/8in (169.4 x 338.8cm)
Notes: This important pair of screens featuring pasturing horses is a fine example of genre painting (fuzokuga) which gained in popularity during the tumultuous sixteenth century. The panoramic landscape with rolling hills that visually link the two screens creates a jewel-like setting for the gamboling horses. The frenetic activity – running, jumping, rolling on the ground – is viewed with interest by a rather serene party of merrymakers and their waiting attendants beneath a large pine on the far left.
Horses were especially valued during the late Muromachi and Momoyama period due to the numerous military campaigns that required swift deployment of troops. The demand for depictions of prized steeds frolicking in a landscape, instigated by the newly powerful warrior class who sought to celebrate their way of life, is evident in the extant screens of horses by the various ateliers catering to high ranking military. Not limited to the better known works of the Unkoku and Hasegawa schools, mastery in the depiction of horses is illustrated by a number of extant examples by Kano artists, such as Kano Motonobu (1476-1559; ema at the Komori Shrine in Tamba-cho, Kyoto) and Kano Hideyori (d.c.1576-7; ema at the Kamo Shrine in Hasumi, Shimane Prefecture).
The present screens of horses at pasture exemplify the Momoyama penchant for experimentation with subject matter and composition that combines disparate stylistic traditions. Kano training is evident in the faceted rocks defined in bold outline and sharp texture strokes on the right screen, as well as the softer configuration of landscape outcroppings on the left. The vivid malachite green, the rounded hills and the languid configuration of the pine tree sheltering the figural group are grounded in the Yamato-e tradition as revived by the Tosa school in the 15th century. The integrated pictorial space has a rather low vista, more characteristic of late-Muromachi-period works, and the mid-ground cluster of trees and barely visible roof tops is a common feature of 15th- and early-16th-century ink monochrome landscape painting. The screens also reflect the fascination with new leisure pursuits and accoutrements of the time – kindred to the figures in the anonymous Kano-school screen depicting samurai watching horses in the collection of the Taga Shrine in Shiga Prefecture and the party of merrymakers with a very similar picnic set in a Kano school pair of screens entitled Amusements at Higashiyama (Kozu Kobunka Kaikan, Kyoto), both dated to the early 1600s.
The sale also boasts a strong selection of Meiji-era arts including Satsuma ceramics and metalwork led by a large presentation vase by the Osaka master Yabu Meizan. The vessel is decorated with an overall design of chrysanthemum blossoms and is offered at US$20,000-30,000. The metalwork section features a fine damascened-iron model of a three-tiered pagoda by the Komai workshop of Kyoto (US$30,000-40,000)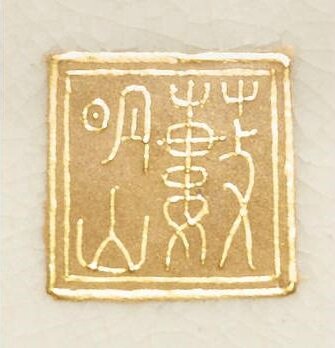 A large Satsuma vase, By Yabu Meizan, Taisho era (circa 1918). Estimate US$20,000 - 30,000 (€18,000 - 27,000). Photo: Bonhams.
The elongated ovoid vase tapering to the foot and delicately painted in polychrome enamels and gilt over a clear, crackled glaze with a variety of large chrysanthemum blossoms, each accurately rendered in fine detail with the stamens and some of the petals raised in relief, the foot painted with stylized beast masks contained within square reserves, the rim painted with a band of dots within circles punctuated by partial chrysanthemum heads, gilt signature Yabu Meizan within a double reserve on underside; 9 3/4in (24.8cm) high
Notes: For an identical vase donated by the Meizan family and now in the collection of the Osaka City Museum, see Oliver Impey, Meiji no Takara: Treasures of Imperial Japan, vol. 5, Ceramics Part II, London, 1995, fig. 20, p.56.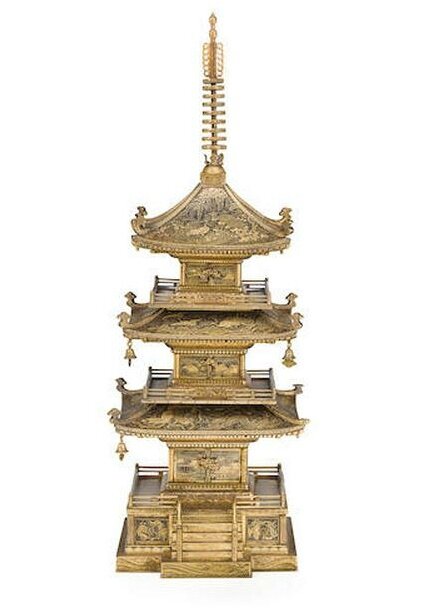 A fine Komai model of a three-tiered pagoda. By the Komai workshop, Meiji era (late 19th century). Estimate US$

30,000 - 40,000 (

€27,000 - 36,000

)
. Photo: Bonhams.
Constructed of russet iron in four sections, each register with a base modeled as a veranda with railing and with hinged doors opening to reveal drawers of various sizes and decorated overall in gold and silver inlays, each roof with herons in flowering landscapes, cranes among pines, or phoenixes and dragons, the exterior doors designed with pastoral scenes and the interiors with flowers and birds, chrysanthemum drawer pulls, the adjoining sections decorated with geometric designs above scrolling vines carved in kebori, the base with stairs with additional drawers on either side decorated with stylized dragons, the lower edge of the base carved with crashing waves, the sides with lozenge patterns, signed on the underside in a square reserve Nihonkoku Kyoto no ju Komai sei and with dragonfly mark; 14in (35.6cm) high
Notes: For a similar example with two tiers see Oliver Impey,Meiji no Takara: Treasures of Imperial Japan, vol. 2, Metalwork Part I, London, 1995, fig. 33.
A private Japanese collection of helmets and armor rounds out the sale. The finest piece is an important armor dating from the 19th century, formerly in the collection of Major-General Takimoto Hidemaro, of the Japanese Imperial Army. One of the few pieces to come to auction in recent history with true daimyo provenance, the armor was assembled for Yamaguchi Hirokuni (1808-1869), the 9th head of the Yamaguchi clan and Lord of Ushiku Castle in Hitachi (US$80,000-120,000).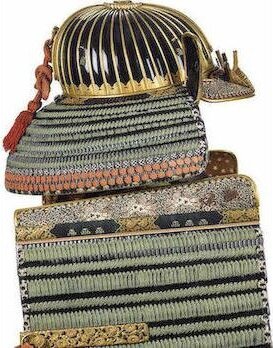 An important armor with Daimyo provenance, Edo period (19th century). Estimate US$80,000 - 120,000 (€72,000 - 110,000). Photo: Bonhams.
Constructed of honkozane lacquered black and laced in green with orange and white trim and mounted with elaborate gold hardware adorned with the crest of the Yamaguchi family and comprising a 32-plate akodanari nijo shiho suji kabuto lacquered black with three-stage gilt and copper shinodare, fukurin and igaki, three-stagetehen kanamono carved with chrysanthemum scroll and with gilt and shakudo flourishes, the bowl mounted with a five-lame shikoro ending in long fukigaeshi decorated with stenciled doeskin, fusegumi and gilt copper family crests on pierce-carved chrysanthemums and trimmed infukurin, the mabizashi similarly decorated and mounted with gold and black lacquer kuwagata-dai applied with gilt chrysanthemum scroll and family crest and supporting gold-lacquer kuwagata and circular maedate; a russet-iron hanbo fitted with a three-lame yodarekake; the do maru decorated with stenciled doeskin on thewatagami and munaita and mounted with family crests on pierce-carved chrysanthemum scroll, eight sections of five-lame kusazuri, o-sode, shinogote, Etchu haidate, gold-lacquer tsutsugote, boar bristle kegutsu with gilt-leather uppers and gilt metal mounts carved with chrysanthemums, the soles with two layers of gilt leather; with paper saihai and large yoroi-bitsu, the front panel formed as a biwa

With a letter of attestation by Yamagami Hachiro (1902-1980), dated 1958.1.31.
Provenance: Major-General Takimoto Hidemaro (1892-1962), Akita Prefecture
Viscount Yamaguchi Izumi no Kami Hirokuni (1808-1869), ninth head of the Yamaguchi clan and lord of Ushiku Castle, Hitachi Province
Notes: Yamaguchi Hirokuni was granted leadership of the Yamaguchi clan and stewardship of Ushiku castle from 1829 until 1839 and was bestowed with the titles Izumi no kami and Tajima no kami. He inherited a fief in financial difficulty exacerbated by the Great Famine of 1833 (Tenpo Daikikin) forcing him to apply strict measures of austerity.
After retiring from office, Hirokuni took the tonsure and lived as a monk until his death.

Takimoto Hidemaro was a Major-General in the Japanese Imperial Army.

Yamagami Hachiro was a scholar of Japanese history and best known for his extensive knowledge of Japanese armor. He wrote Japan's Ancient Armor in 1940.
Finally, the sale presents a selection of netsuke from the American collector Virginia Atchley. Bonhams Japanese art specialist, Caroline Gill, says: "Virginia was largely responsible for popularizing the fashion for collecting netsuke in the United States. Starting with her first purchase in 1963, she assembled an impressive collection and was known for sharing her extensive knowledge generously with fellow enthusiasts. It's a particular pleasure to be offering items from such a well-known and respected figure."