Lord Burlington, Thomas Jefferson and Inigo Jones. © RIBA Collections.
LONDON.- The Renaissance architect Andrea Palladio is the only architect who has given his name to a style; one that is still in use around the world after nearly 500 years. From the US Capitol to a 21st century Somerset cowshed Palladian Design: The Good, the Bad and the Unexpected introduces Palladio's design principles and explores how they have been interpreted, copied and re-imagined across time and continents from his death in 1580 right up to the present day.

Focusing on his legacy, RIBA's exhibition explores how architects such as Inigo Jones and Lord Burlington turned Palladianism into a national style. The style was adopted in the design of houses, churches and public buildings around the world from New Delhi to Leningrad. Palladianism became so widespread that it seeped into peoples' unconscious references and desires – elements were found popping-up in American Negro Churches and terraced housing and homes in the UK.

The 20th century saw a revival of traditional Palladian mansions while the 21st century has seen his design principles being utilised in a more abstract way. The exhibition asks many questions about what makes a building 'Palladian' – does a building have to look classical to be Palladian? Is it the design principles or the social and political connotations of tradition, power and establishment that have led to the enduring popularity of the style?

The exhibition is structured chronologically around three themes: revolution, evolution and the contemporary. It includes 50 original works, including drawings, models and busts.
The first part of the exhibition introduces Palladio and outlines his unique system of architecture. It charts the development of Anglo-Palladianism from 17th Century England, through to the transformation of Palladianism into a national style by the mid-18th century. It also explores the role of books in spreading Palladio's ideas – both his own Four Books of Architecture and later publications that spread Palladian style beyond Britain.

Highlights include Palladio's A Design for a Palace (1540s) and projects for low-cost housing in Venice (1550s); original drawings by Inigo Jones include a preliminary design for the Queen's House, Greenwich (1616); Colen Campbell's original pen and wash design for Mereworth Castle, Kent (1723) and an original drawing of Lord Burlington's Chiswick House (1729).
Design for a palace by Andrea Palladio (c1540s). © RIBA Collections.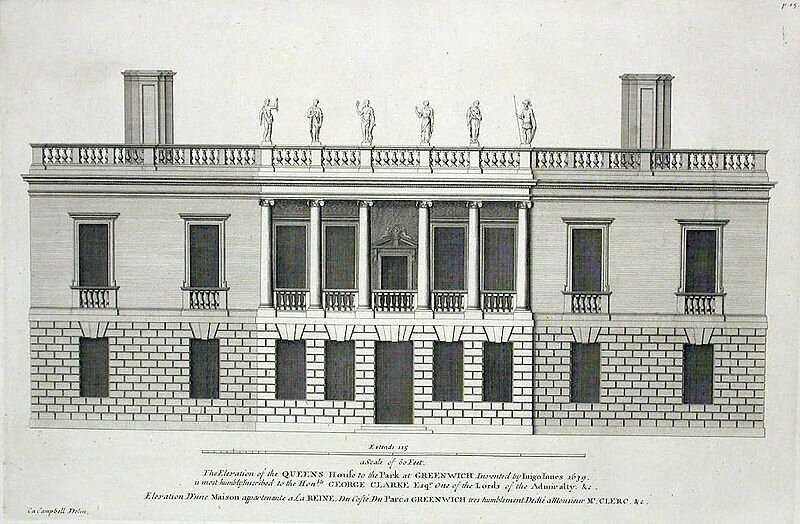 Inigo Jones, The Elevation of the Queens House to the Park at Greenwich Invented, 1616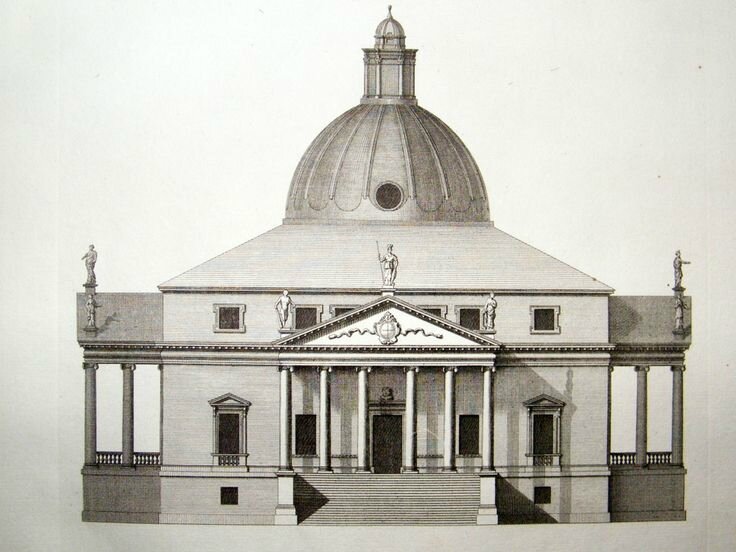 Colen Campbell, original pen and wash design for Mereworth Castle, Kent (1723) in Vitruvius Britannicus.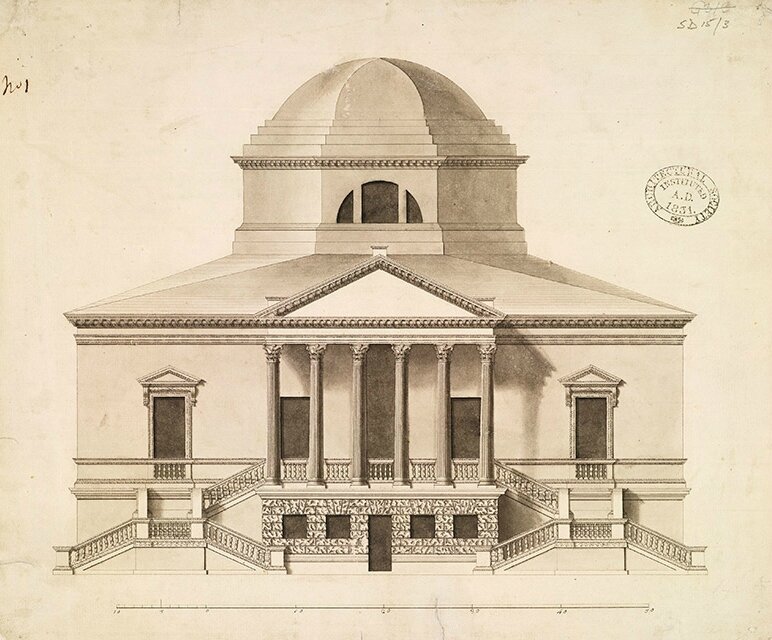 Chiswick House by Lord Burlington, 1729. © RIBA Collections.
The second part of the exhibition follows Palladio's legacy worldwide in a series of themes that explore how others have either followed his guidelines to the letter or employed them more creatively. It looks at how Palladian design has been adopted for commercial viability and in the service of politics and religion – both in western countries and in colonial and post-colonial contexts. Away from the centres of power, people turned their hand to Palladian self-builds with anonymous builders using pattern books to fuse Palladian elements with local vernacular traditions.

Highlights include the original 1721 model of St Martin-in-the-Fields church by James Gibbs, a perspective of Catherine the Great's Pella Palace near St Petersburg by Ivan Starov (c.1786), a watercolour perspective of Stormont in Belfast by Sir Arnold Thornely (1927) and Palladio's original designs for the Villa Valmarana (c.1560) and the Palazzo Antonini (c.1560).
St. Martin in the Fields (detail), James Gibbs, 'A Book of Architecture', plate 3.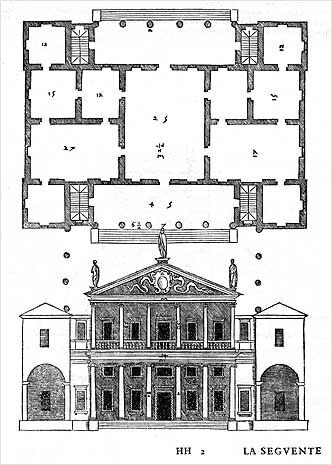 Villa Valmarana in Lisiera of Bolzano Vicentino, Vicenza. Drawing from The Four Books of Architecture by Andrea Palladio.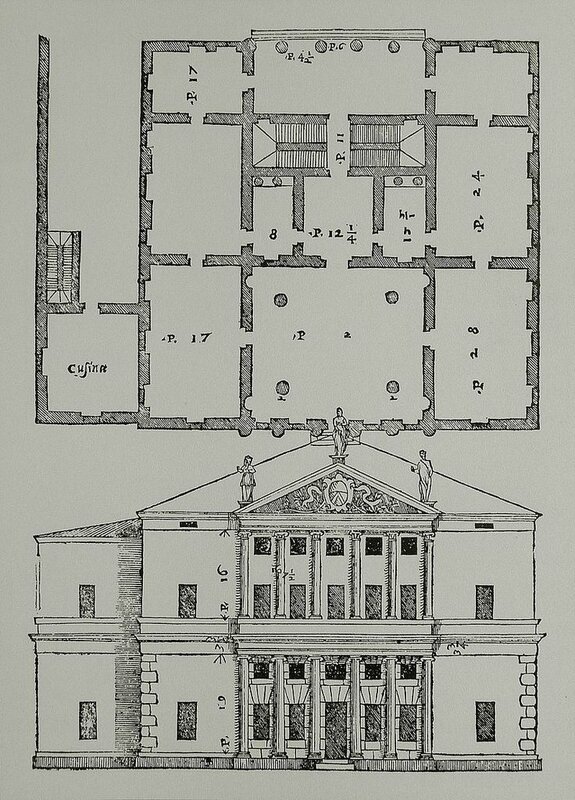 Palazzo Antonini in Udine, original project design due to Andrea Palladio , published in The Four Books of Architecture in 1570.
The last section of the exhibition follows the story of 20th and 21st century Palladianism. Despite the rise of modernism, Palladianism survived in Britain and America as a domestic style both for landed families and the newly rich who commissioned grand classical homes to evoke a sense of history and confer status. Highlights include a linocut perspective of Kings Walden Bury, Essex by Raymond Erith and Quinlan Terry (1971) and photographs and models of houses built since the 1960s.
Quinlan Terry, CBE (British, b.1937) King's Walden Bury, Hertfordshire © Cheffins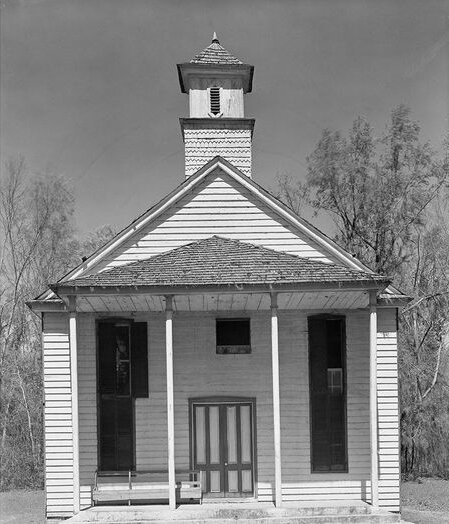 Negro Church, South Carolina © Walker Evans, Librart of Congress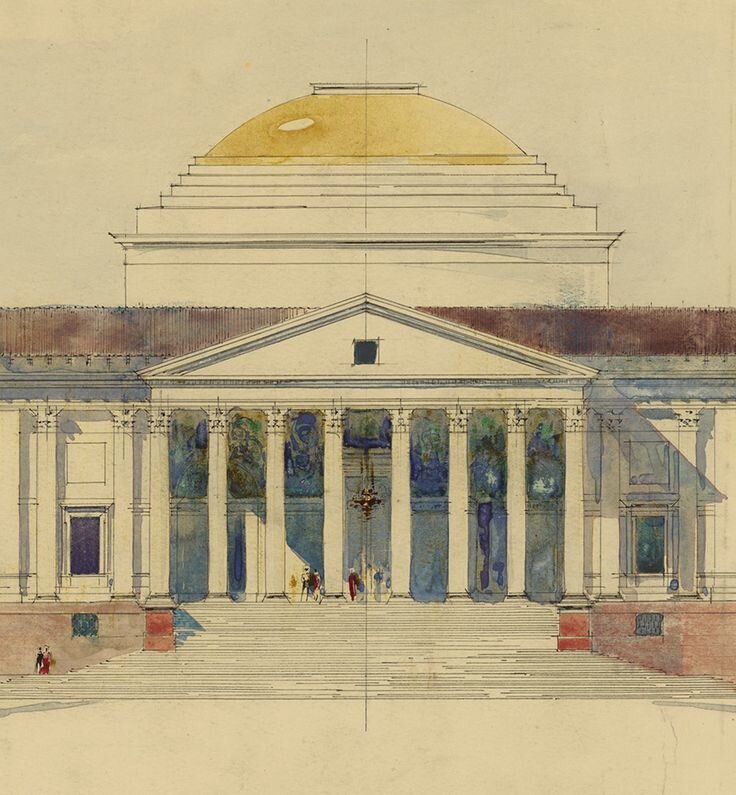 A 1912 preliminary study of an elevation of a building with a domed rotunda, an octastyle portico and lateral wings designed by Sir Edwin Landseer Lutyens (1869-1944) in 1931 for the Viceroy's House in New Delhi, India. © RIBA Library Drawings Collection.
The exhibition goes on to explore post-modern Palladianism, where the style has been referenced historically, playfully or ironically. Key exhibits include works by Swedish architect Erik Asplund and Belgian architect Charles Vandenhove alongside other new buildings on the continent and in Canada.
The exhibition ends by examining contemporary abstract Palladianism – buildings that contain no visual references to classical architecture but follow Palladian design principles in terms of proportion or planning. It asks whether a building has to look like a Palladian building in order to be one? It will include a newly commissioned film comparing Palladio's Villa Caldogno with Brick House (2005) by Caruso St John and looks at a selection of contemporary buildings, ranging from a model of an underground house in Mongolia by OFFICE Architects to offices in Switzerland by Peter Märkli.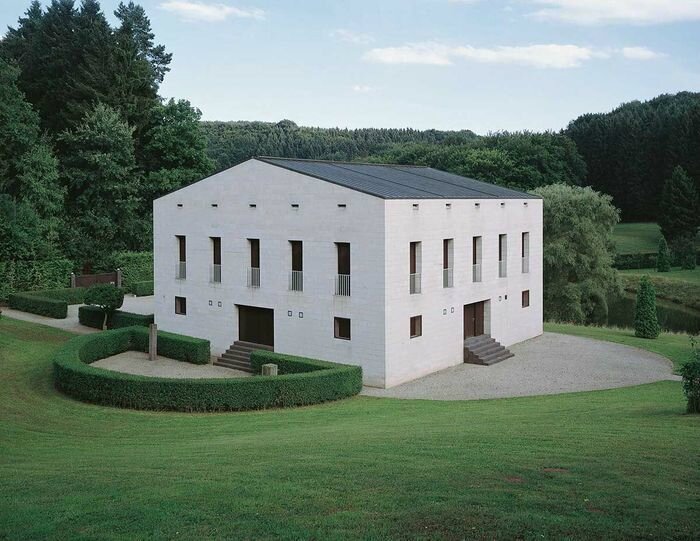 Glashutte, France by Oswald Mathias Ungers, 1985 © Stefan Mueller
Chadsworth Cottage, North Carolina by Christine Franck, 2005 © Christine Franck
Cowshed in Somerset by Stephen Taylor Architects © David Grandorge
The exhibition coincides with the 300th anniversary of the publication of two books key to the spread of Palladianism worldwide – Giacomo Leoni's first full translation into English of Palladio's I Quattro Libri dell' Architettura and Colen Campbell's survey of English architecture Vitruvius Britannicus, both published in 1715. These books paved the way for a flood of cheaper pattern books that enabled anyone, from Russian royalty to a American carpenters, to create Palladian designs.

The RIBA Collections contain over 350 drawings and sketches by Andrea Palladio; the world's largest assemblage of his drawings - 85% of all those in existence.
Palladian Design: The Good, the Bad and the Unexpected is at The Architecture Gallery, 66 Portland Place, London W1, to 9 January 2016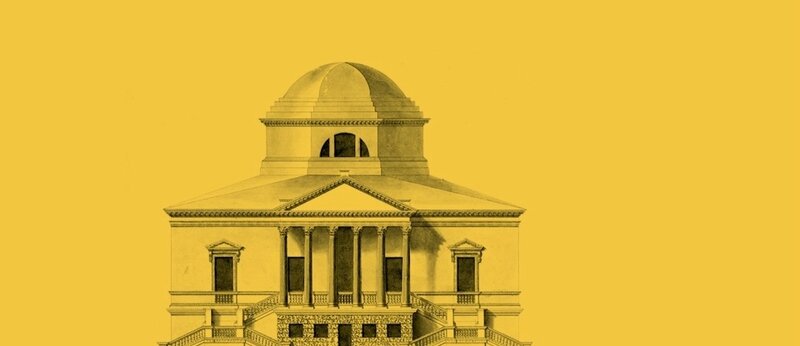 Chiswick House, London, by Lord Burlington, drawn by Henry flitcroft, c.1727 © RIBA Collections.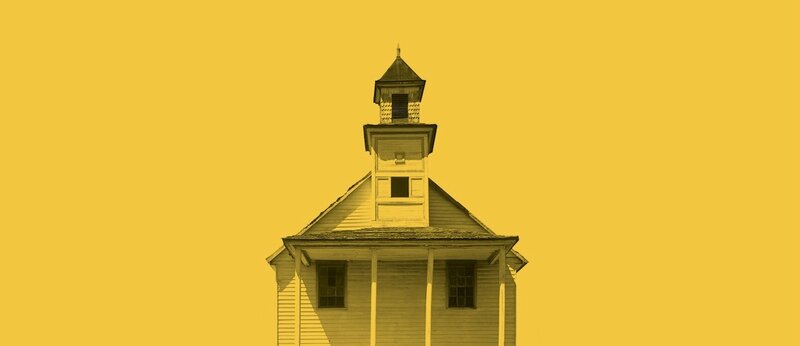 Church, South Carolina, by unknown American architect, (c) Walker Evans, 1936. © RIBA Collections.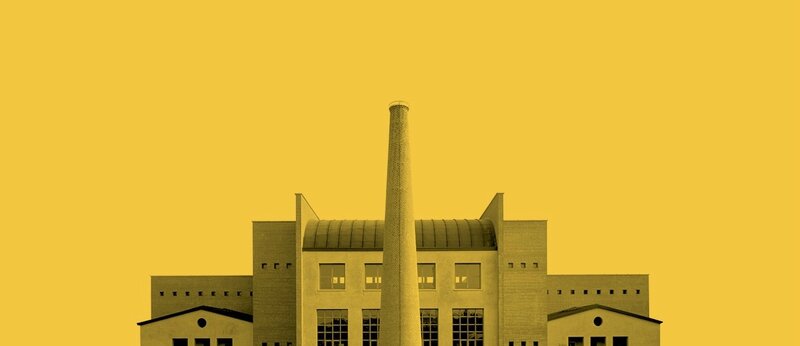 Town Hall, Borgoricco, Padua, Italy, by Aldo Rossi, completed 1983. © RIBA Collections.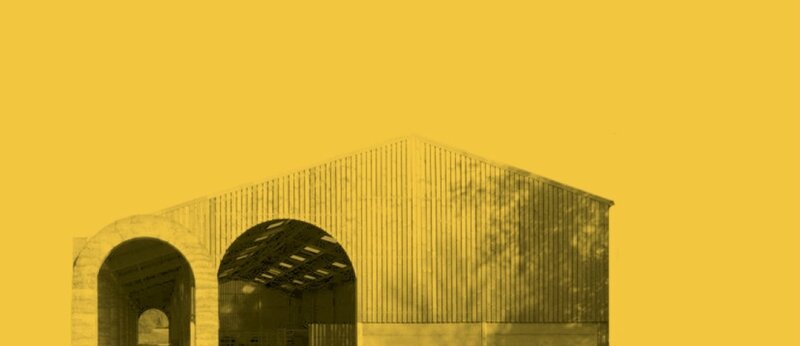 Shatwell Farm Cowshed, Somerset, UK. © Stephen Taylor Architects, 2012. © RIBA Collections.