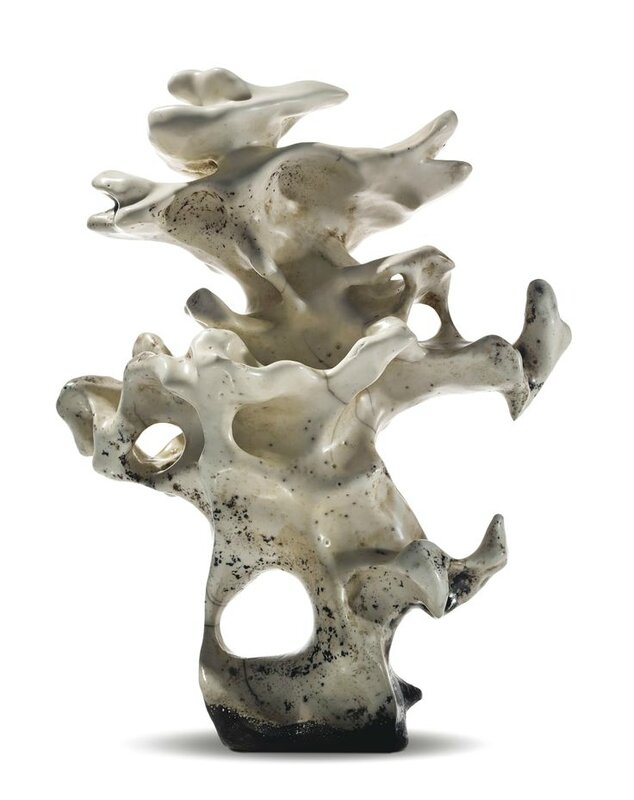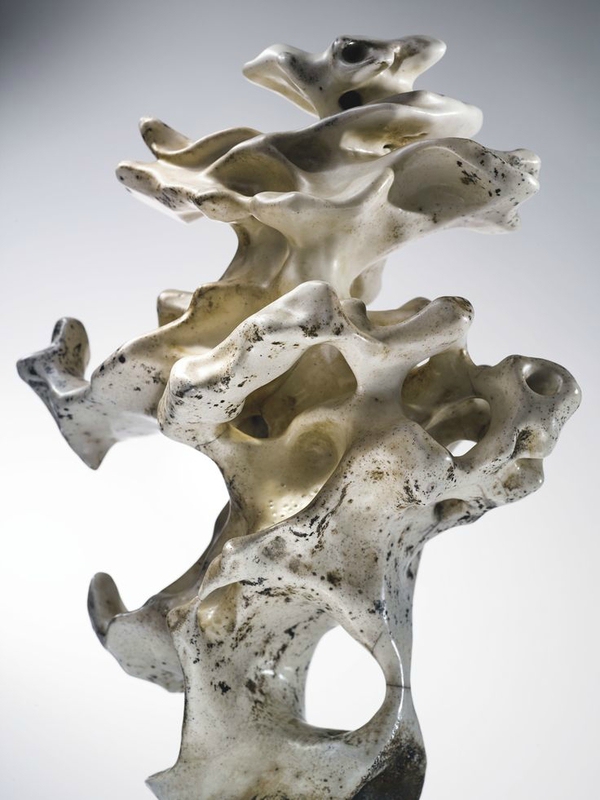 Zhao Meng (b. 1967), Scholar's Rock, Gongshi, 2009. Estimate 5,000 — 7,000 USD. Photo Sotheby's.
naturalistically modeled after a scholar's rock twisting in various directions with soft edges and openings, the brown earthenware body covered in a milky-white glaze with speckled brown inclusions, inscribed to the base with the artist's signature in English and Chinese. Height 11 in., 27.9 cm
Notes: Born in Anhui Province and a graduate in 1992 from the Ceramic Department of the National Academy of Fine Art in Hangzhou, Meng moved to the United States in 2002. He won a gold medal at the 2003 International Ceramic Art Competition in Faenza, Italy, and went to Harvard in 2005 as an artist in residence. For the past five years he has divided his time between Boston and Hangzhou, where he has initiated and is supervising the construction of a massive international ceramics art center on Meishan Island in Xianghu, to provide professional educational programs and kiln facilities for ceramic artists.
Inspired by the lingbi rocks found in Anhui, Meng as a young boy played on the river banks, shaping rocks out of wet sand and constructing miniature garden landscapes from sand and pebbles, a creativity seen in his innovative sculptures of scholar's rocks in ceramic, continuing a tradition within Chinese art that dates back at least to the Ming Dynasty. Meng has harnessed his technical skills to replicate the processes of nature and core to his process is understanding the natural force of water that create the scholar's rock, "I put myself in the position of water eating away the stone" he says. His powerful rocks sculptures, in white glazed earthenware or in celadon has achieved an artistry beyond mere imitation, rocks that express the spiritual energy of the original rocks so valued by the literati.
Meng Zhao's works have been shown in numerous solo and group exhibitions worldwide, Including the National Museum of Contemporary Art, Seoul, Korea; the National Academy of Fine Art, Hangzhou; the Museum of Fine Arts, Boston and the China Institute, New York.
Sotheby's. Monochrome, New York, 15 sept. 2015