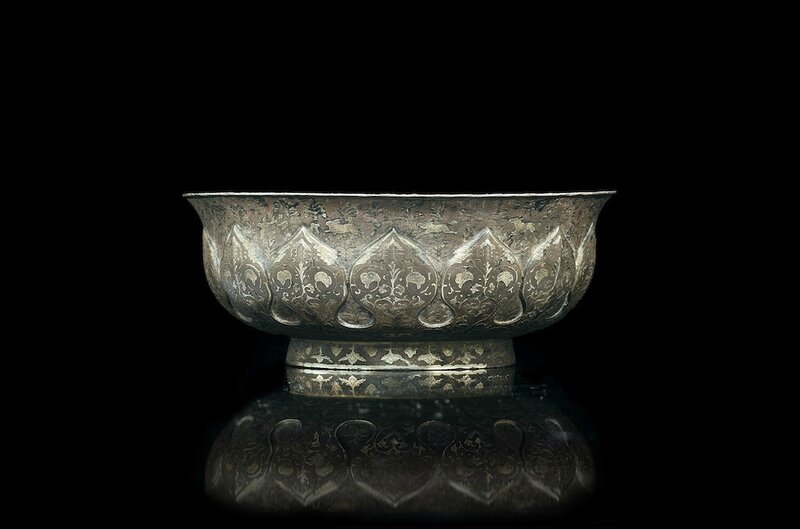 Lot 8073. A rare repoussé and parcel-gilt silver bowl, Tang dynasty, early 8th century. Estimate US$ 30,000 - 50,000 (€27,000 - 45,000). Sold for US$ 161,000 (€ 130,766). Photo: Bonhams.
Finely worked in repoussé with fourteen raised lobed petals on the exterior inlaid in gilt with delicate symmetrical foliate scrolls, the register above gilt with various animals including deer, rabbit, geese and birds in flight amongst grasses and trees and all against a finely stippled ground, the circular raised foot decorated with downwards pointing flowers, the interior with six further animals gamboling around a central bird and the underside with a medallion enclosing flower heads on a scrolling stem. 5 7/8in (14.7cm) diam.
Provenance: An American private collection
Christies, Los Angeles, Treasures of the Tang, sale 8970, 4 December 1998, lot 74
Carl Kempe Collection, Sweden

Exhibited: New York, Asia House Gallery, Chinese Gold, Silver and Porcelain, 1971, no.46

Literature: Bo Gyllensvärd, Chinese Gold, Silver and Porcelain: The Kempe Collection, Asia Society, New York, 1971, p. 52, no. 46

Notes: The present lot is an exquisite example of Tang metalwork: the once-glittering gold and silver proclaim wealth and status, but any brashness is chastened by the sophisticated delicacy of the construction and detailing. The theme of wild animals within a Persian-inspired landscape setting, full of variety and innovation, reflects the broad array of influences welcomed into Tang cities along the Silk Road.

Repoussé and parcel-gilt bowls with interior chased decoration such as the present lot are extremely rare, and only a few other examples are known, including one in the Freer Gallery, Washington D.C. no.F1931.8 and described as "one of the finest silver objects from the Tang dynasty now in the Freer collection." Another bowl (13.7cm diameter) previously in the collection of Frederick M. Mayer (1898–1974) is now in the Metropolitan Museum of Art, New York, no.1974.268.12. A slightly larger example (18.1cm diameter) is illustrated by G. Eskenazi, A Dealer's Hand: The Chinese Art World Through the Eyes of Giuseppe Eskenazi, London, 2012, p. 207, pl. 82, and another bowl is illustrated in the catalog to the Oriental Ceramic Society exhibition The Arts of the T'ang Dynasty, London, 1955, no. 342, listed as the property of Mrs Walter Sedgwick.

Other related examples are in the collection of the Asia Society in New York and the Hakutsuru Museum in Kobe, Japan. Importantly, the present lot can also be related to a gold petal-form bowl found in the Hejiacun hoard near the Tang capital of Chang'an (modern Xi'an) and illustrated in Tangdai Jinyiqi, Beijing, 1985, col. pl. 2. The Hejiacun hoard contains over 270 pieces of gold and silver thought to have been buried at the time of the An Lushan Rebellion in 755.
Bonham's. CHINESE PAINTINGS AND WORKS OF ART, 14 Sep 2015 10:00 EDT - NEW YORK