HONG KONG.- Sotheby's Hong Kong Fine Chinese Paintings Autumn Sale will be held on 6 October in Hall 3 of the Hong Kong Convention and Exhibition Centre. Offering more than 300 works estimated in excess of HK$160 million / US$20 million*, the sale will feature salient works with prominent exhibition history by leading modern Chinese artists such as Zhang Daqian, Fu Baoshi, Huang Binhong and Wu Guanzhong. An auction preview will be held from 2 October to 5 October.
In addition to the sale, Sotheby's Hong Kong has been entrusted by the Goldbell Collection to present a special exhibition, Chinese Paintings & Calligraphy from 20th Century Masters: The Goldbell Collection, during the Autumn Sale Series. This showcase will include masterpieces, many with impeccable provenance and extensive exhibition history, from more than a dozen artists including Zhang Daqian, Xu Beihong, Qi Baishi, Lin Fengmian, Li Karen, Huang Binhong and Pan Tianshou.

C.K. Cheung, Head of Chinese Paintings Department, Sotheby's, says, "This Autumn, we are delighted to once again assemble works that have previously been the spotlight of past auctions, including Zhang Daqian's Spring Clouds on a Rural River and Fu Baoshi's Beauties. In addition, the Press Release Hong Kong Immediate Release sale will present a selection of distinguished works by eminent Guangdong artists, offering a glimpse of the thriving Guangdong art scene. Lingnan School founders Gao Jianfu and Gao Qifeng will be featured, alongside their students Guan Shanyue, Li Xiongcai, Yang Shanshen and Zhao Shao'ang; as well as other renowned artists at the time such as Li Yanshan, Zhao Hao, Bao Shaoyou and Lu Zhenhuan.

SALE HIGHLIGHTS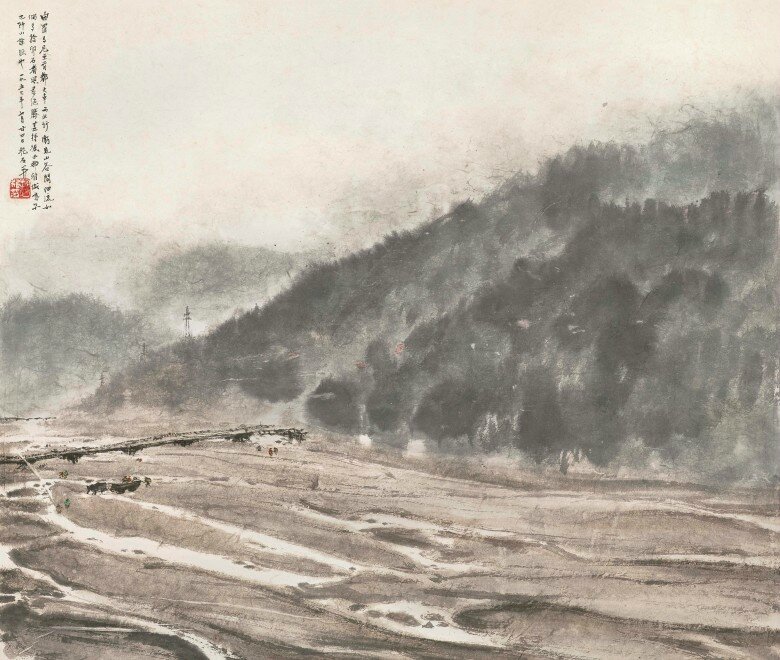 Fu Baoshi, On The Train to Sinaia, 1957. Ink and colour on paper, framed. Est: HK$8-12 million / US$1-1.5 million. Photo: Sotheby's.
Early in the summer of 1957, Fu Baoshi led a delegation of Chinese artists on a three month visit to Eastern Europe. During their visits to Romania, Czechoslovakia and Slovakia, the artists embarked on painting tours and demonstrated Chinese brush painting on local television. Over the course of his stay in Eastern Europe—only his second time abroad—Fu produced close to 50 landscape paintings inspired by the scenery, including factories and other infrastructure. He also exhibited his works in Prague and Bucharest. On The Train to Sinaia is one of the pieces he created during this painting tour.

From his vantage gazing out of the square window of a train carriage high above sea level, Fu composed a panoramic, harmonious countryside scene of workers undertaking their chores, picking up egg-shaped pebbles by the beach along the stream before loading them onto a horse carriage.

By blending mass and void, Fu meticulously illustrates this exotic piece of land. Human figures and scenery from afar are delineated with clarity and fine details, seamlessly merged with pale ink wash that represents the mountain scenery. A misty and surreal tone translates to the artist's idyllic depiction of houses half-concealed in forest foliage, in stark contrast to the realistic images of transmission towers located not far away. On The Train to Sinaia attests to Fu's mastery of traditional Chinese painting techniques applied to foreign landscape themes.
Zhang Daqian. Spring Clouds on a Rural River, 1965. Splashed ink and colour on paper. Est: HK$8-12 million / US$1-1.5 million. Photo: Sotheby's.
Zhang Daqian's splashed ink and colour paintings reached the pinnacle of artistry in 1965. That year, he produced some of his most outstanding works in abstract and semi-abstract styles. Freed from the constraints of physical scale, he created a dynamic masterpiece that embraced change.

Spring Clouds on a Rural River features a verse by the Southern Song dynasty poet Zhao Shixiu. Verging on abstraction, the painting displays Zhang's loosely-splashed ink and colour. Splotches bring dimension to a piece made all the more captivating by the artist's use of mineral pigments such as azurite blue and malachite green. Among the layers of interweaved ink and colour are a few thick brushstrokes that mimic the shape of ancient trees at the bottom of the painting, along with fine lines that echo reeds growing by the creek. In the upper portion of the painting, clouds and vapour drift across the mountain range lightly as though carried by a breeze, echoing the poem's eulogy of tranquility offered by nature.

Upon its completion, Spring Clouds on a Rural River was mounted in Japanese silk with specially commissioned cloisonné scroll ends featuring the artist's studio name "Dafeng Tang", kept private by the artist's third son, Zhang Baoluo. It was not until almost twenty years after its creation that the painting was displayed publicly at a large-scale exhibition at the University of Southern California Pacific Asia Museum.
Fu Baoshi. Beauties, 1945. Ink and colour on paper, hanging scroll. Est: HK$15-20 million / US$1.9- 2.6 million. Photo: Sotheby's.
Beauties was painted in 1945 and later presented to the artist's close friend, Zhao Qingge, a well-known writer and publisher. The two met in the spring of 1943 during Fu's solo exhibition and remained friends for more than twenty years. Fu Baoshi cherished his own paintings dearly and scorned the idea of exchanging them for favours from the rich and powerful. As a token of friendship, he frequently gifted Zhao with his work, some specially selected from his own collection

Due to the space constraints of Fu Baoshi's home at the time, most of the compositions he created were relatively modest in scale. Executed in 1945, this painting is, however, larger in size, excellently preserved and kept by the artist himself for five years before it was presented to Zhao, an indication of how much he treasured the work.

Xiang Jun and Lady Xiang, the mythological characters of 'Nine Songs' (jiu ge), a set of poems composed by the ancient patriot Qu Yuan, often appear in Fu Baoshi's portrait paintings, usually depicted without any background. One rare exception is this painting, in which they are juxtaposed against a vast backdrop, gliding across the rippling waves of the river, etched by the artist using a dried paint brush. One standing in front of the other, the two goddesses personify archaic grace, with layers of their garments flowing in the breeze, while they stood motionless. This eerie yet unique portrayal of the goddesses exudes a sense of delicacy and ethereal elegance. Every inspired detail of the painting has been meticulously handled by the artist with ingenuity.
Property from the Estate of the Late Mrs. Peggy Kwan, Sydney
In May 1985, Guan Shanyue and Li Xiongcai embarked on a painting tour in Australia with their spouses and held a joint exhibition at the Art Gallery of New South Wales. During their sojourn, they were offered accommodation in the home of an overseas Chinese couple in Sydney, Guan Houyuan and his wife, who were introduced to them by the Chinese ambassador in Australia at the time. The Guans and Lis were warmly welcomed by their hosts, and eventually became good friends. Despite their busy schedules, the artists found time to compose Chinese landscape paintings that were anointed with poems, as well as Tang-dynasty verses and auspicious sayings, on a range of subjects including lakes, flowers, birds and human figures. Two of these large scale works were jointly executed by Guan and Li. After returning to their hometown in Guangzhou, the artists remained in touch with their erstwhile hosts and sent them their own paintings as gifts during the Chinese New Year to express gratitude for their hospitable reception. This artwork collection consists of the paintings and calligraphies presented to Guan Houyuan and his wife from the two artists.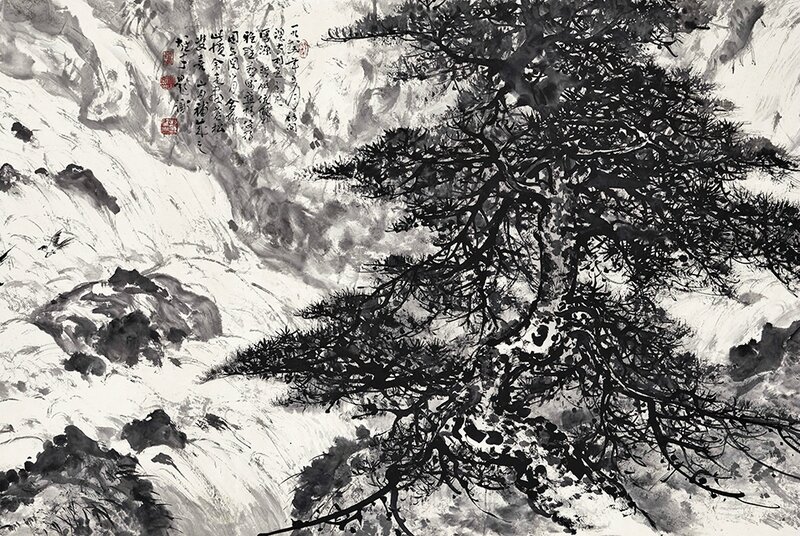 Li Xiongcia, Guan Shanyue, Magpies by Mountain Cascades, 1985. Ink on paper, framed 96.3 x 178.8 cm. Est: HK$600,000 – 800,000 / US$77,000 – 103,000. Photo: Sotheby's.