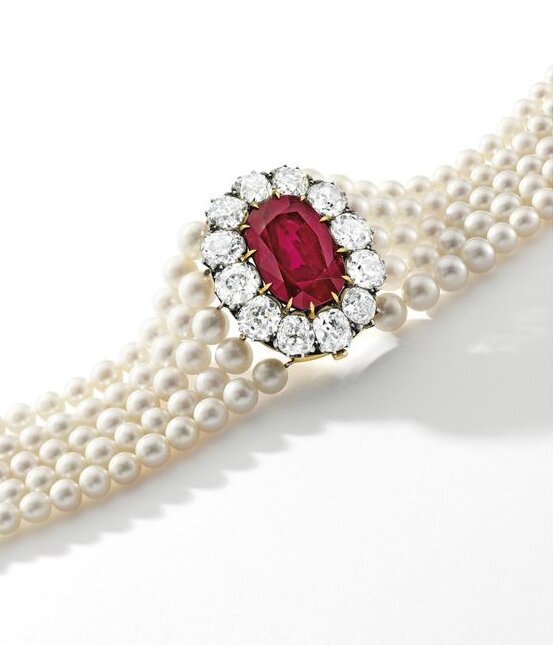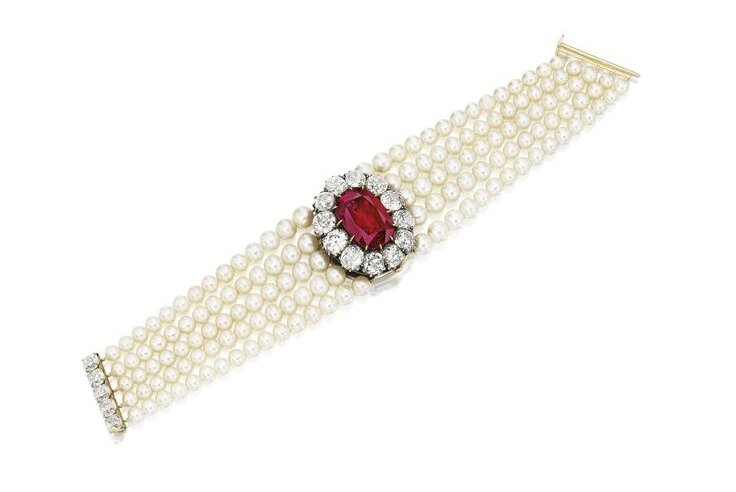 Lot 1862. Impressive and Rare 27.91 carats Mogok, Burmese Ruby, Diamond and Natural Pearl Bracelet. Estimate 32,000,000 — 45,000,000 HKD (3,678,590 — 5,173,017 EUR). Lot sold 29,880,000 HKD (3,434,884 EUR). Photo Sotheby's
Centring on an antique cushion-shaped ruby weighing 27.91 carats, surrounded by twelve old mine-cut diamonds together weighing approximately 11.50 carats, completed by five strands of graduated natural pearls measuring approximately 6.65 to 4.80mm and a clasp set with similarly-cut diamonds together weighing approximately 2.00 carats, mounted in 18 karat yellow gold and silver, length approximately 170mm, accompanied by clip and ring fittings, convertible to ring and brooch.
Accompanied by AGL, Gübelin and SSEF reports numbered CS 84440, 15037233 and 79066, dated 16 March 2015, 7 March 2015 and 12 March 2015 respectively, stating that the 27.91 carat ruby is natural, of Burmese (Myanmar) origin, with no indications of heating. Also accompanied by Gübelin Information Sheet on Rubies from Mogok, Burma.
SSEF Appendix Letter further states that the ruby 'possesses extraordinary characteristics and merits a special mention and appreciation...The few inclusions found by microscopic inspection represent the hallmarks of rubies from the classical ruby mines in the Mogok valley in Burma (Myanmar), well known for its wealth in gems since historic times. Its attractive and vivid colour is due to combination of well-balanced trace elements in this gemstone, characteristic for the finest rubies from Mogok...A natural ruby from Burma of this size and quality is extremely rare and exceptional.' Further accompanied by SSEF report stating that the pearls are natural.
RED FOR ROYALTY
Ruby, referred as 'Ratnaraj' in ancient Sankrit which translates to 'king of gems', ranks itself as the most precious gemstones in the world for its exuberant colour. It is believed that ruby possesses power beyond the human realm, and hold within a divine fire. Indeed, rubies were long honoured as treasures of sovereigns and nobles for the status they defined. Hailed as a gemstone of unequalled importance, rubies formed a crucial part of their regalia, which symbolizes utmost power and royalty.
Much adored for their blood-like colour, the world's finest rubies were found in the valleys of Burma, an exotic destination in the East for many European royalties in the 19th century. Yet, these Burmese specimens' deep saturated red and the glow that was compared to burning coal compelled courts to send explorers to this faraway land. Their hope was to acquire these beguiling red stones and transform them into magnificent jewelleries. Little did they know they were also collecting extremely rare rubies of the highest quality from their pre-eminent source in the world – the legendary Mogok Valley. What sets Mogok rubies apart is the strong red fluorescence colour that accentuates their red body colour, granting them an inextinguishable fire even when viewed in the dark. The beauty of Mogok rubies are also characterized by a multitude of tiny, fine needles, commonly known as 'silk', which cause light to diffract, producing a velvety sheen throughout the stone and allow light to be scattered throughout the facets and crystal. Some of these rarest Burmese beauties are now found in jewels that once belonged to emperors and their queens.
The French Crown Ruby Parure, made in 1811 for Empress Marie Louise, the second wife of Napoleon I, originally consisted of almost four hundred rubies. The Imperial State Crown of England also features rubies alongside diamonds of equivalent impressive sizes. Queen Adelaide's Coronation Ring, which was made for her to be worn at William IV's coronation in 1831 also centered on a ruby from the great mines of Burma surrounded by fourteen cushion-shaped diamonds. More recent and closer to home, there is the Imperial Crown Jewels of Iran which includes a stunning ruby tiara of Princess Ashraf Pahlavi, and the Oriental Circlet Tiara that Queen Elizabeth frequently worn.
Sotheby's was honoured to have overseen sales of rubies with the same prestigious pedigree. A more recent example in 2009 was an exceptional suite of ruby and diamond necklace and earclips mounted by Garrard, commissioned by Earl of Roseberry in 1884 and thence passed down to Mary, Duchess of Roxburghe were offered at Sotheby's Geneva (Fig. 2). They were sold for CHF1,482,000, more than ten times its pre-sale estimate. The same pair of earclips re-appeared in Sotheby's Hong Kong in 2014 and was sold for HK$23,080,000, almost double its auction results just five years ago. Judging from the superb quality of these two rubies and the time in which they were first mounted as jewels, it was absolutely not coincidental that they were among the first production of Mogok rubies directly reaching British hands. Also in the last three seasons in Geneva, Sotheby's had set two consecutive world record price for rubies, first with The Mavrommatis Ruby and more recently with The Sunrise Ruby at US$1,185,451 per carat.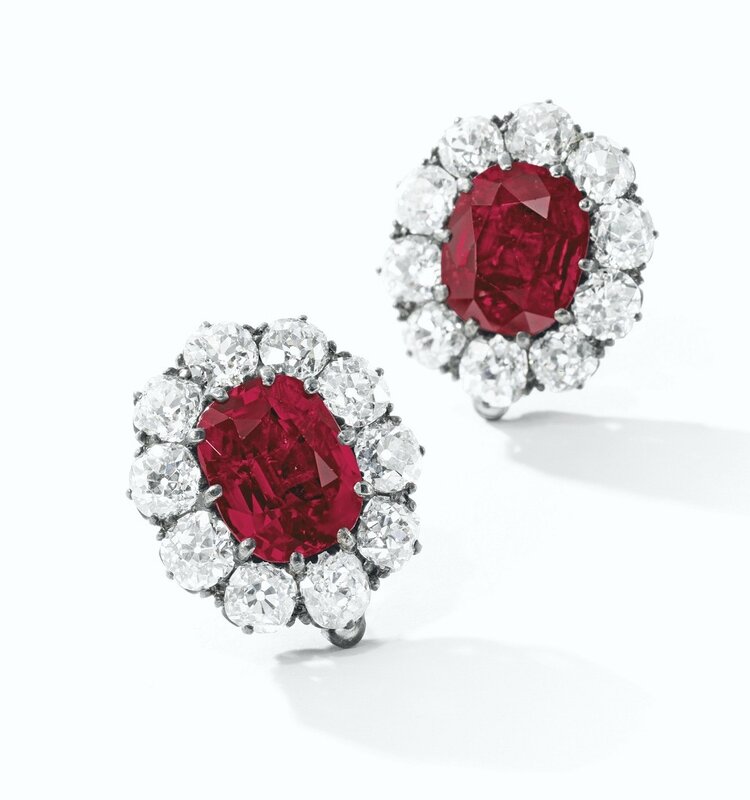 The exquisite pair of rubies from the Duchess of Roxburghe was sold for HK$23,080,000 in Sotheby's Hong Kong 2014.
This highly important 27.91 carat ruby to be offered virtually embodies all qualities befitting its title 'king of gems', bearing similarities to the pair of sought-after rubies afore-mentioned. Originating from Mogok Valley in Burma, free of heat treatment and in an unusual antique cushion cutting, it also guarantees to overwhelm with its stunning size. Its combination of life and colour resulted from a fine mixture of tone, saturation, fluorescence and inclusions. The twelve old mine-cut diamonds that encircle the red gem were carefully selected to match the ruby's distinct personality and charm, rarely found in more modern cuttings. The design is highly reminiscent of Queen Adelaide's ruby ring now exhibited alongside other British Crown Jewels in the Tower of London. It is highly likely to have been part of a more elaborate jewel, in its present antique mount.
Versatility is yet another characteristic of royal parure that is celebrated in this contemporary design; the centrepiece can be readily transformed into a ring, a brooch, or a lavish natural pearl bracelet for various occasions and attires.

This impressive ruby represents the pinnacle of the most selective collection, fulfils the ultimate dream of every collector, and instils an air of prestige and dignity in whoever is fortunate enough to call him- or herself its rightful owner.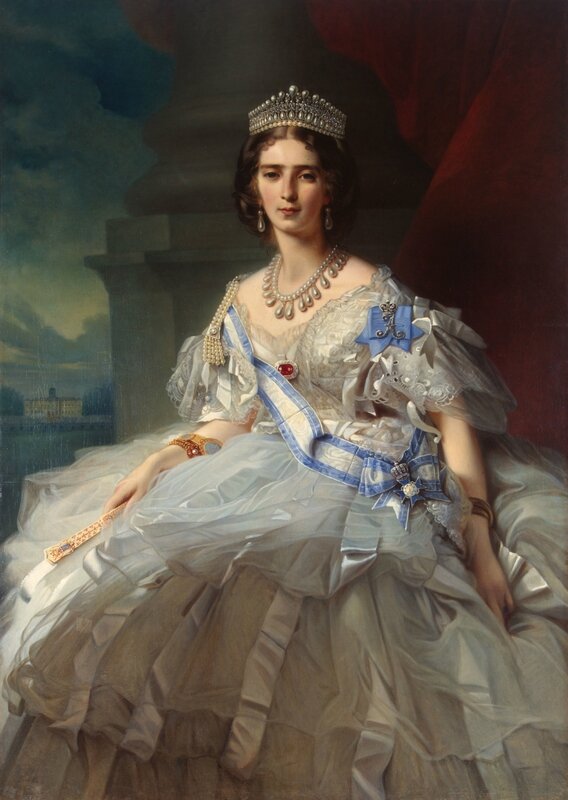 Portrait of Princess Tatiana Alexandrovna Yusupova (1829-1879) featuring an impressive ruby and diamond brooch.
Sotheby's. Magnificent Jewels & Jadeite, Hong Kong, 07 Oct 2015, 02:00 PM