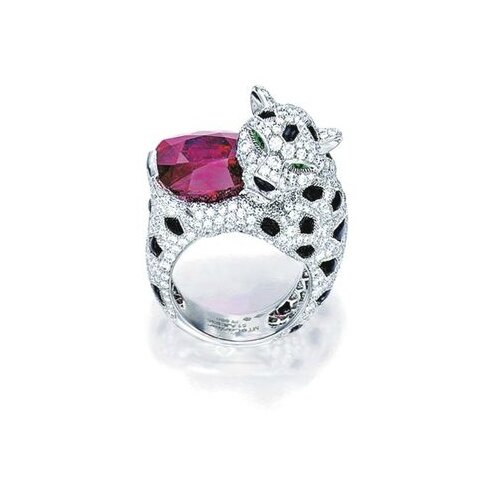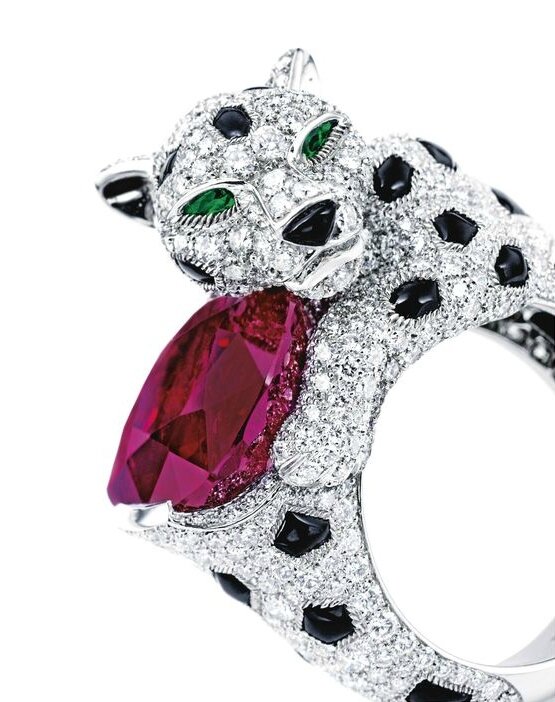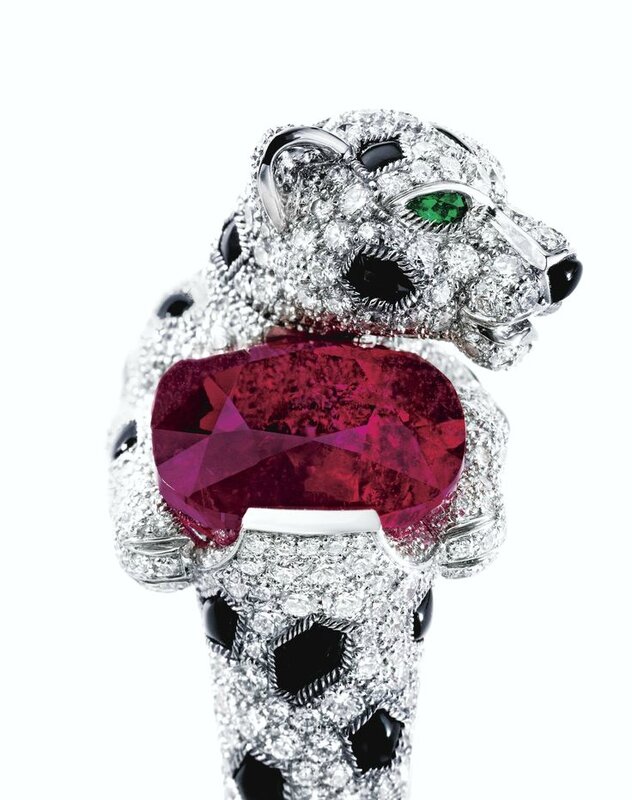 Lot 1742. Rare 10.62 carats Burmese Mogok Ruby, Diamond and Onyx 'Panthère' Ring, Monture Cartier. Estimate 18,000,000 — 25,000,000 HKD (2,109,549 - 2,929,929 EUR). Lot sold 20,480,000 HKD (2,354,298 EUR). Photo Sotheby's
Designed as a panther with a head that swivels, the body pavé-set with numerous circular-cut diamonds together weighing approximately 2.00 carats, flecked by onyx, highlighted by a cushion-shaped ruby weighing 10.62 carats, accented by emerald-set eyes, mounted in platinum, signed MT Cartier and numbered AJE935, with French assay mark. Ring size: 6
Accompanied by AGL, Gübelin and SSEF reports numbered CS 38982, 0708670 and 80730, dated 20 June 2007, 3 September 2007 and 29 June 2015 respectively, stating that the 10.62 carat ruby is natural, of Burmese origin, with no indications of heating.
The Gübelin Appendix states that 'this ruby possesses a saturated and homogenous colour, combined with a high degree of transparency and a finely proportioned cut...such a combination of characteristics is rare in natural Burmese rubies of this size.'
The AGL Letter dated 21 November 2008 also states that the Total Quality Integration Rating of this ruby is Excellent and that this ruby 'would be definitely be classified as Mogok TypeTM.'
THE PRIDE OF THE PANTHER
Rich in history and elegance, the Cartier panther may be the most sought-after statement piece that ever exists. For over a hundred years, it has been a quintessential symbol of determined, powerful yet elegant feminine figure. Since its debut in 1914, this Cartier feline has accrued a respectable list of patrons, including and not restricted to royalties and famous celebrities. Be it rapacious or serene, striding or in a more relaxed posture, each exquisite panther embodies a unique personality of its own, proudly displaying the mastery of artisans and savoir-faire of 'The King of Jewellers'.

After World War II, panther has become the most significant symbols of all Cartier original initiatives. Jeanne Toussaint, a life-long friend and muse of Louis Cartier and the director of haute joaillerie at Cartier from 1933 to 1970, was the person who brought the panther to life, transforming it from an ornament into a 20th century timeless icon of the house. Her carefree spirit, fashionable style and aura of grandeur also earned her the nickname 'La Panthère'. She oversaw the making of the first full three-dimensional panther brooch commissioned by the Duke of Windsor for the Duchess in 1948. The design featured a big cat sitting on top of a 116.74 carat cabochon emerald, which has now become a eulogy of love and a signature of romanticism. Another notable panther piece owned by the Duchess was an articulated bracelet which was sold for 4,521,250GBP in Sotheby's London back in 2010. This panther has set the auction record for the highest price paid for a Cartier jewel at that time.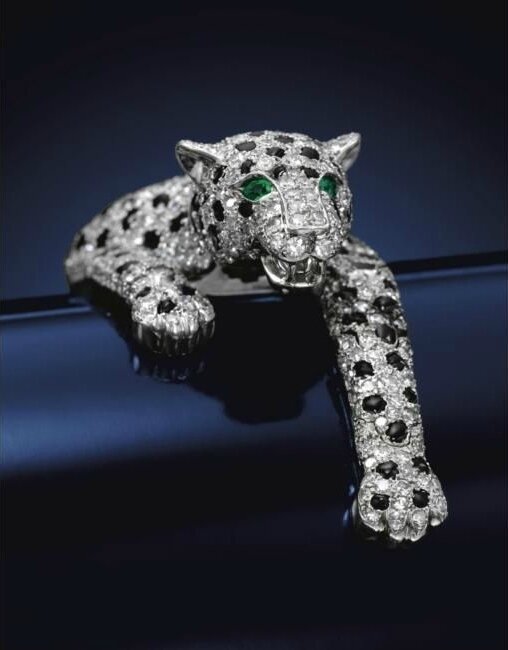 The exquisite Duchess of Windsor panther bracelet sold for GBP 4,521,250 in Sotheby's London 2010 is the feline of every collector's dream.
To be offered is a unique Cartier ring (Lot 1742) which stages this playful menagerie with an exceedingly rare natural Burmese ruby of 10.62 carats, bringing 'the king of gems' and 'the king of jewellers' together as one extraordinary creation. The impressive ruby itself is an extremely rare find originating from the legendary Mogok mines, yet to pair this important gemstone that signifies passion with the intriguing wild creature is an unprecedented union, definitely one-of-its-kind.

The panther is now a permanent source of inspiration as well as a motif synonymous to the House of Cartier. This stunning panther with the opulent brush of fiery red will conquer any woman's heart. It is timeless femininity; it is fearlessness; it is a true legend. Just as Pierre Rainero, the Style and Heritage Director of Cartier, once said, 'there is a panther for every woman.
Sotheby's. Magnificent Jewels & Jadeite, Hong Kong, 07 Oct 2015, 02:00 PM