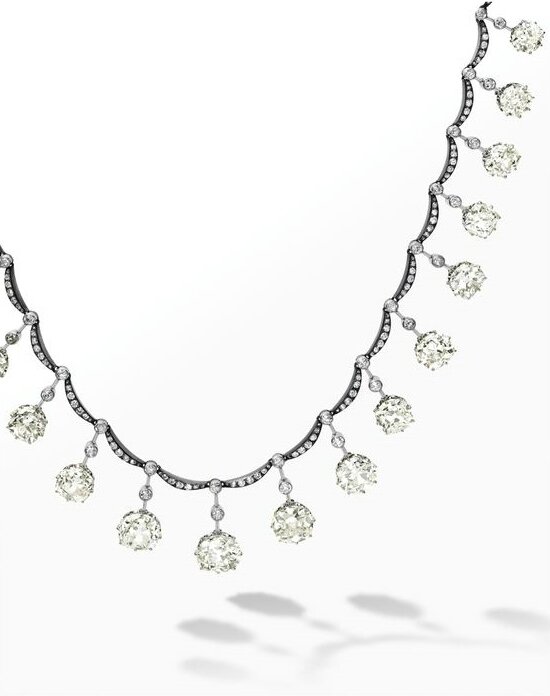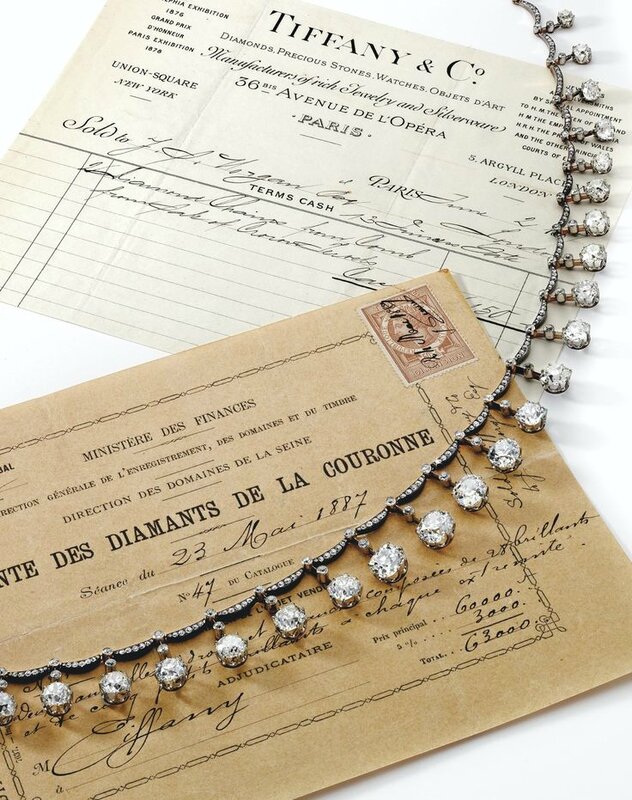 Lot 1737. The Dowager Viscountess Harcourt Diamond Necklace. Important Diamond Necklace, Circa 1900. Estimate 10,000,000 — 15,000,000 HKD (1,171,972 - 1,757,957 EUR). Lot sold 12,080,000 HKD (1,388,668 EUR). Photo Sotheby's
Made in part from diamonds from the great comb à pampilles of the French Crown Jewels, set with twenty-eight graduated old mine-cut diamonds together weighing approximately 65.00 carats, each surmounted by pair of small collet-set diamonds on a wire mounting, suspending from a necklace of scalloped links set with similarly-cut diamonds, mounted in silver-topped gold, length approximately 410mm and 480mm.
Provenance: The French Crown Jewels
Junius S. Morgan
The Dowager Viscountess Harcourt
Sotheby's New York, Magnificent Jewelry from a Private Collection, 25 October 1995, Lot 98
Accompanied by a binder containing a series of letters and bills of sale documenting the history of the twenty-eight diamonds that compose the fringe of the necklace.
Notes: France has been a major power in Europe since the 14th century, ruled by monarchs that possessed great wealth. After the Third Republic of France was formed, the French Ministry of Finance decided to sell the once exclusive property of French Kings and Queens, in a public auction in 1887.

Although previously exhibited in the Louvre in 1878 and 1884, the display of these French Crown treasures was reminiscent and reflective of the sheer of opulence of the Versailles era. Much to rid itself of such memories of decadence in its new republic perspective and perhaps also to convert these 'reminiscence and representation' into cash, the sale was deemed to be necessary and to use a contemporary jargon 'politically correct' in spite of protests from some quarters.

The collection became public record and the auction took place over nine sessions from May 12th to 23rd in 1887. Jewellers from world over flocked to Paris to attend this landmark sale – Europe, Russia, countries of Northern Africa, and the United States. Famous jewellers, both local French and foreign, as well as Royals and American Aristocrats were some of the many successful participants. Tiffany, the famed American jeweller of that time was said to have walked away about a substantial amount from the sale, rumored to have been about a third of the collection.
Tiffany had sold on, just over a week later, 28 diamonds, from the diamond chains from the Great Comb à Pampilles to Junius S Morgan, patriarch of the famous banking family in England. They were later passed on to Morgan's granddaughter, Mary Ethel Burns, referred to in a letter dated June 1888, to be held in trust for her by her father Walter H. Burns (Fig.3). The diamonds in the chains were subsequently remounted in the present necklace by Mary Harcourt, née Burns, to whom the stones were originally bequeathed.

The Dowager Viscountess Harcourt, born Mary Ethel Burns (Fig.2), was the daughter of Walter H. Burns and Mary Morgan, sister of banker J. Pierpont Morgan. She married Lewis, 1st Viscount Harcount in 1899, and the necklace easily dates from around 1900, turn of the century.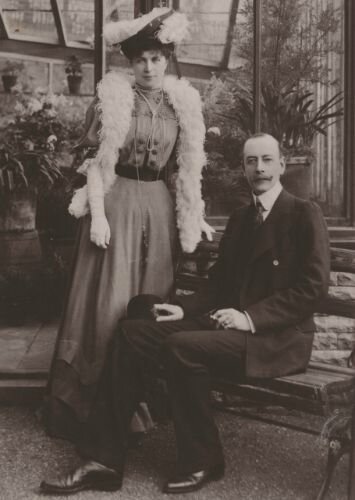 This lot is accompanied by the original bill of sale from the French Ministry of Finance, dated 23 May 1887 (Fig.1) as well as the receipt of sale from Tiffany to J.S. Morgan, 2 June 1887.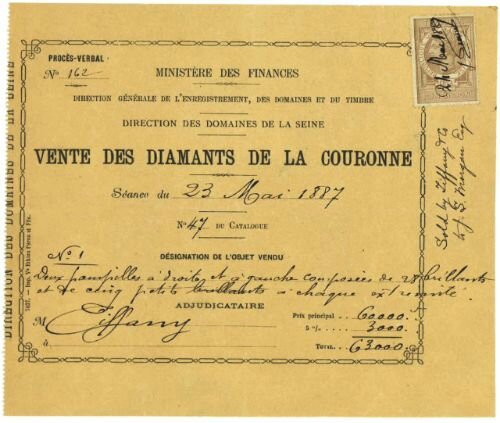 Diamonds from this famed '1887 French Crown Jewels Auction' rarely come up for sale at auction. Over the past twenty-five years, only several pieces were offered for resale at auction. In addition, there was the famous Thurn and Taxis Pearl and Diamond Tiara, sold by Sotheby's in 1992 to the Louvre Museum, and the Magnificent Empress Eugénie Brooch also sold to the Louvre Museum, by private treaty.
Sotheby's. Magnificent Jewels & Jadeite, Hong Kong, 07 oct. 2015, 02:00 PM