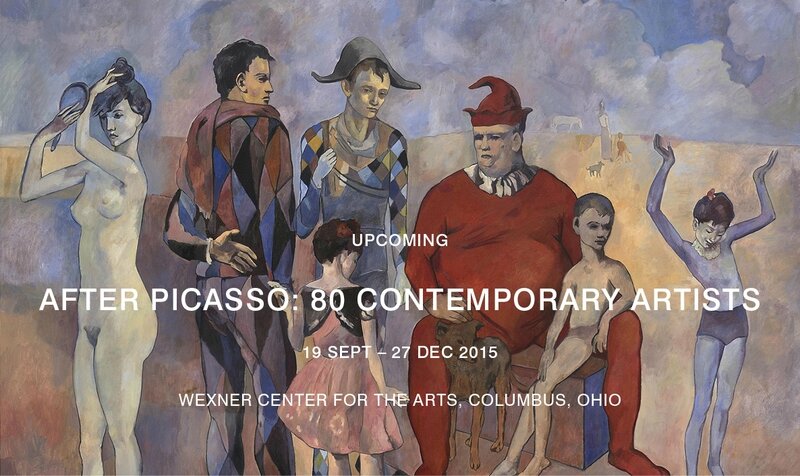 © 2015 Wexner Center for the Arts, The Ohio State University.
COLUMBUS, OH.- This fall, the Wexner Center for the Arts presents After Picasso: 80 Contemporary Artists, an expansive show tracing Pablo Picasso's potent legacy and persistent impact on a variety of international artists across multiple generations. On view September 19 through December 27, 2015, the exhibition features nearly 150 works from such artists as Art & Language, Walead Beshty, Marlene Dumas, Richard Hamilton, Rachel Harrison, Jasper Johns, Martin Kippenberger, Maria Lassnig, Louise Lawler, Roy Lichtenstein, Arnulf Rainer with Dieter Roth, Thomas Scheibitz, Andy Warhol, and Heimo Zobernig, among dozens of others.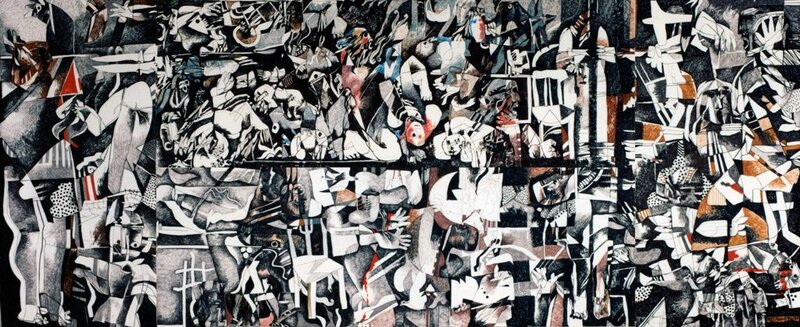 Dia Al-Azzawi, Sabra and Shatila Massacres, 1982-83. Polyptyque, technique mixte sur papier marouflé sur toile, 300 x 750 cm. Collection de la Tate Modern, Londres. © Dia Al-Azzawi.
Wexner Center Director Sherri Geldin says, "This ambitious exhibition is a perfect complement and bookend to our own 25th Anniversary Season, inaugurated last fall with Transfigurations: Modern Masters from the Wexner Family Collection. That show included 19 masterworks by Picasso spanning his entire career, with stellar examples of his boundless imagination and talent. The depth and diversity of works in After Picasso demonstrates just how seismic (and reverberating) a force the modern master remains."
Roy Lichtenstein, Picasso Head, 1984. Oil and Magna on canvas, 64 x 70 in. (162.6 x 177.8 cm). Private collection © Estate of Roy Lichtenstein.
The exhibition, originally titled Picasso in Contemporary Art, was organized by the Deichtorhallen, a highly respected contemporary art institution in Hamburg on the occasion of its 25th anniversary and was curated by its general director, Dirk Luckow. Select American artists have been added to the Wexner Center presentation of the German-born exhibition.
Hans-Peter Feldmann, Ohne Titel (Picasso). Oil on wood, 14.2 x 11.4 in. VG Bild-Kunst, Bonn for Hans-Peter Feldmann © 2015 Artists Rights Society (ARS), New York / VG Bild-Kunst, Bonn
"Picasso's art is so influential, because his work and his person cannot be divided from one another and this makes his work exemplary," says Luckow. "The once-in-a-century genius's impact on contemporary art remains underestimated and this exhibition underscores how Picasso's oeuvre continues to encourage both appropriation and reinterpretation, but also the challenge to overpower him."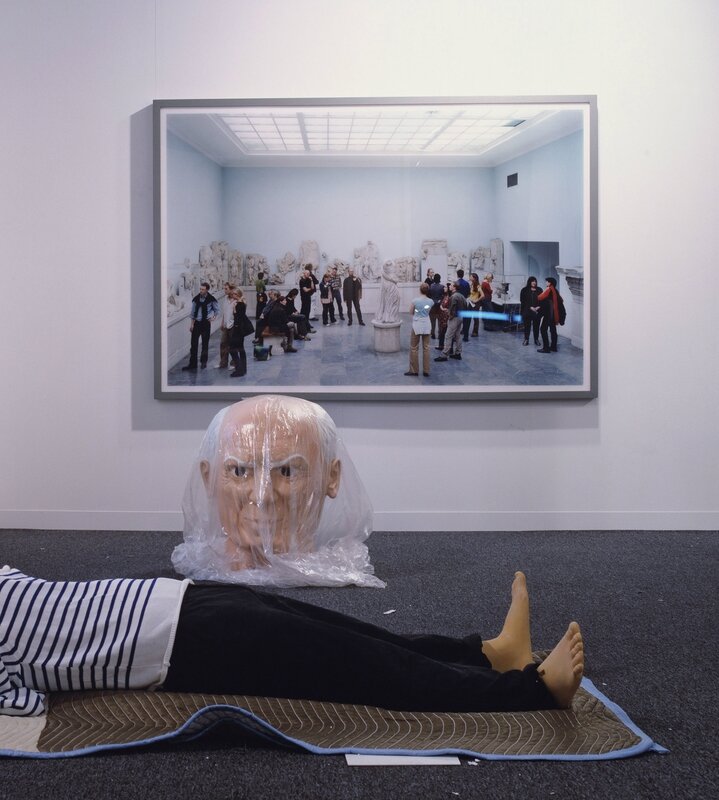 Louise Lawler, Big, 2002-2003. Cibachrome print mounted on museum box, 52 3/4 x 46 1/2 in. Collection of Dominique Levy. Courtesy of the artist and Metro Pictures.
Encompassing painting, sculpture, collage, photography, drawing and video, the exhibition also reveals how porous the "Picasso effect" has been—beginning with his peers in the first half of the 20th century and continuing to the present moment. After Picasso occupies the entirety of the Wexner Center galleries, and provides abundant amplification of a video produced last fall to accompany Transfigurations, featuring young, mid-career, and older artists reflecting on Picasso's significance to their own practice and to culture more broadly.
Khaled Hourani, Picasso in Palestine, 2011. Installation view, (IAAP) Ramallah. Courtesy: Khaled Hourani. Photo: Khaled Jarar
The exhibition is accompanied by a hardcover, dual-language catalogue produced by the Deichtorhallen Hamburg and edited by curator Dirk Luckow, with contributions by Michael Fitzgerald, Axel Heil, Uwe Fleckner, Hanne Loreck, Dirk Luckow, Didier Ottinger, Thorsten Sadowsky, and Daniel Tyradellis.
Sandro Miller, Irving Penn/Pablo Picasso, Cannes France (1957), 2014. From the Malkovich, Malkovich, Malkovich - Homage to photographic masters series. Pigment print 18 x 18¾ in. Catherine Edelman Gallery, Chicago © Sandro Miller / Image courtesy Catherine Edelman Gallery, Chicago