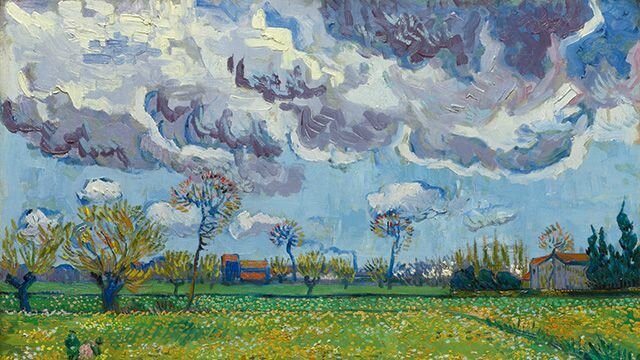 Paysage sous un ciel mouvementé: A stunning landscape by Van Gogh from 1889, estimated at $50/70 Million. Photo: Sotheby's.
NEW YORK, NY.- Sotheby's New York Evening Sale of Impressionist & Modern Art on 5 November 2015 will feature an exquisite group of late- 19th and early-20th century masterworks assembled in the 1940s and '50s by Belgian collectors Louis and Evelyn Franck. The works are led by Vincent van Gogh's Paysage sous un ciel mouvementé, a sweeping landscape view from Arles that is estimated to sell for $50/70 million. The collection also offers: Pablo Picasso's Nu au jambes croisées, a large-scale, fullyworked pastel from his famed Blue Period (estimate $8/12 million); superb examples by Paul Cézanne, Kees van Dongen and Henri de Toulouse-Lautrec; and the finest work by Belgian painter James Ensor ever to appear at auction.

Together, the 10 works from the Franck Collection are estimated to achieve more than $80 million in the 5 November auction. Highlights will travel to San Francisco, Taipei, Hong Kong, Brussels and London this fall, before returning to New York for exhibition opening 31 October.

Simon Shaw, Co-Head of Sotheby's Worldwide Impressionist & Modern Art Department, said: "As such treasured collections become increasingly rare in the market, it is a privilege to present Louis and Evelyn Franck's collection this fall. Collecting in the mid 20th century, their elegant, cultured taste is reflected throughout the selection of works by many of the most influential members of the European avant-garde. The Francks acquired the best possible examples from iconic periods of each artist's oeuvre. This is a historic offering which will excite connoisseurs globally this season."

Born in 1907 in Belgium, Louis Franck was a passionate sailor, international banker and discriminating art collector, whose father was an important patron to Belgian artists including James Ensor. After marrying Evelyn Aeby, the couple moved to London in 1935, and it was during this time that they began to build their remarkable art collection. Louis and Evelyn went on to found the Old Broad Street Charity Trust and became major benefactors of the World Wildlife Fund, of which Louis served as Vice President and Treasurer from 1976 to 1985. The Francks' superb collection has been on public view at the Fondation Gianadda in Martigny, Switzerland since 1997.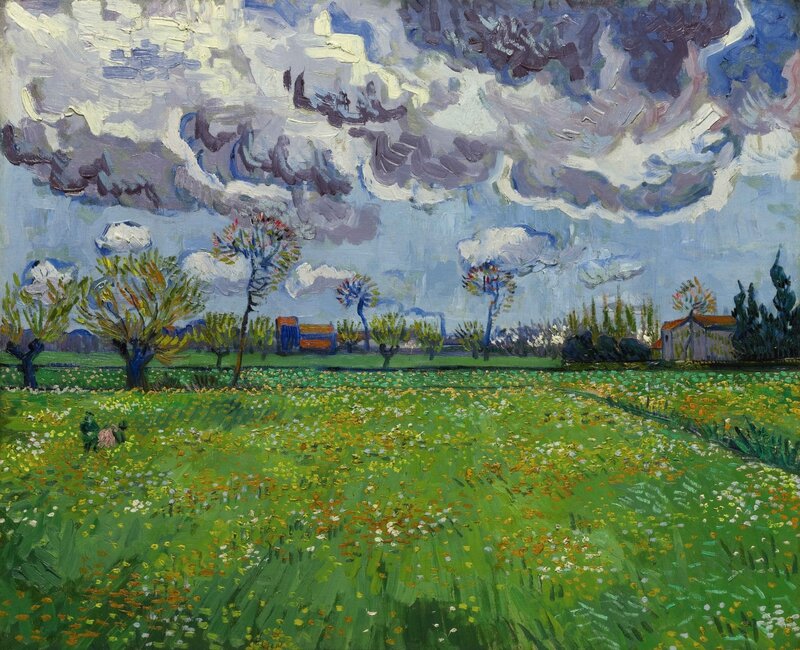 Paysage sous un ciel mouvementé (detail): A stunning landscape by Van Gogh from 1889, estimated at $50/70 Million. Photo: Sotheby's.
Painted in April of 1889 at the height of the artist's famed Arles period, Vincent van Gogh's Paysage sous un ciel mouvementé is a testament to the most successful period of his career (estimate $50/70 million). Painted just one year before Van Gogh's death, the dramatic landscape depicts the fields outside Arles in the south of France, where he lived from early 1888 through mid-1889. Its palette evokes the colors found in this new Southern climate, yet the turbulent skies foretell Van Gogh's mental decline in the months following the work's execution.

Since 2014, only three works from Van Gogh's mature period (1888–1890) have appeared at auction – all at Sotheby's. Nature morte, Vase aux marguerites et coquelicots from 1890 sold in November 2014 for $61.8 million (estimate $30/50 million) to an Asian private collector. In February of 2014, an impressive 11 bidders spanning North America, South America, Europe and Asia competed for L'homme est en mer from 1889 at Sotheby's London, driving the final price to $27.5 million (estimate $9.8/13 million). L'Allée des Alyscamps from 1888 sold in May 2014 to an Asian private collector for $66.3 million, marking the highest auction price for Van Gogh since 1998 and an auction record for any landscape by the artist.
Pablo Picasso's pastel Nu au jambes croisées was created in 1903, at the apotheosis of the artist's Blue period (estimate $8/12 million). The work represents this fragile aspect in the young artist's life, when sex, melancholy and vulnerability took root and would ultimately shape every successive period of his art for nearly a century. Large-scale, fully-worked pastels from Picasso's Blue period rarely appear at auction, and the Franck work embodies this critical moment in the artist's oeuvre.
A unique feature of this collection is the group of three superb works by the great Belgian symbolist painter James Ensor. Louis Franck's father, François, was a patron of Ensor's and an important collector of the artist's works. Louis inherited several of these great paintings, notably Ensor's masterwork Christ's Entry into Jerusalem, which Louis subsequently sold to the Getty Museum in 1981. Works by Ensor are tremendously rare at auction, and the three paintings on offer in the Evening Sale are truly exceptional examples from the artist's finest period. Les Toits d'Ostende (estimate $1.5/2 million), Le Jardin d'Amour (estimate $2/3 million), and particularly Les Poissardes mélancoliques (estimate $3/5 million) each demonstrate the artist's irreverent disregard for convention and his unique vision.
The collection offers two important paintings by Paul Cézanne. Fleurs dans un pot d'olives (estimate $5/7 million), painted in 1880-82, displays the artist's ability to imbue a still-life with all of the subtlety and emotional potency of portraiture. Still-lifes from the artist's mature period, such as the present work, are considered the harbingers of 20th-century Modernism, providing inspiration for the Cubists. Portrait de Victor Chocquet (estimate $2.5/3.5 million) belongs to a rare group of works depicting the artist's most important patron: Victor Chocquet. Painted circa 1880-85, the present portrait is presumed to have been modeled after a photograph found in Cézanne's archives by his son, in which the sitter is wearing the same jacket and tie illustrated in the work.
Sotheby's is also offering Mystic Suprematism (Black Cross on Red Oval) (1920-22) by the Russian avant-garde artist Kazimir Malevich. This is the final work of five that were restituted to the artist's heirs by the Stedelijk Museum in 2008 as part of a settlement agreement. "This is the most radical and economical of the five wh ere Malevich has pared the work down to this really simple and powerful form," Shaw says. Two of the restituted works were sold privately, including one to the Art Institute of Chicago, while Sotheby's set a public record for the artist with another, Suprematist composition (1916), which sold for $60m in 2008.
Kazimir Malevich's radical masterpiece Mystic Suprematism (Black Cross on Red Oval), 1920-22. The last of a storied group restituted to the artist's heirs, Estimated at $35/45 Million. Photo: Sotheby's.