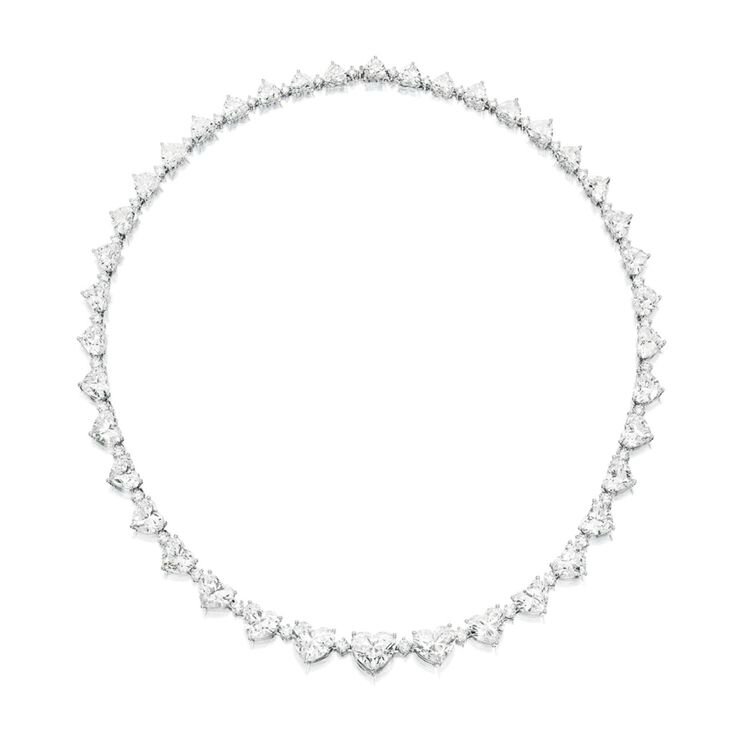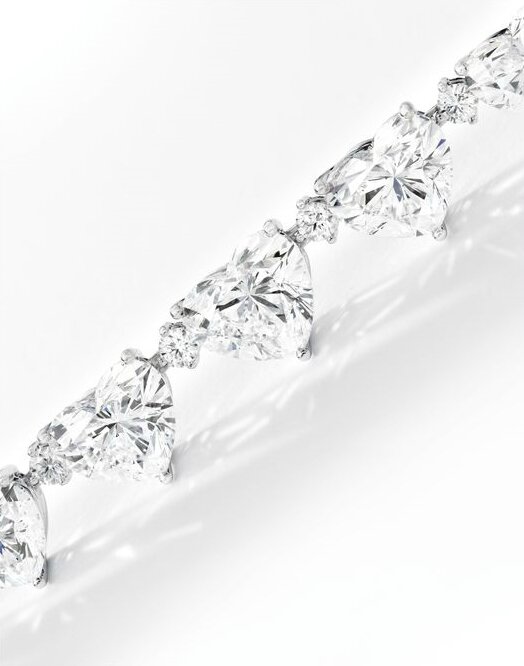 Very Fine 55.96 carats Type IIa Diamond necklace. Estimatie 8,500,000 — 11,000,000 HKD (996,176 - 1,289,169 EUR). Photo: Sotheby's
Set with forty graduated heart-shaped diamonds together weighing 55.96 carats, linked by brilliant-cut diamonds together weighing approximately 2.75 carats, mounted in 18 karat white gold, length approximately 425mm.
Accompanied by forty GIA reports, stating that the forty diamonds ranging from 3.67 carats to 0.51 carat are all D colour, Flawless to Internally Flawless clarity, with Excellent Polish and Symmetry. Twelve diamonds ranging from 3.30 to 1.02 carats diamonds are also accompanied by diamond type classification reports stating that the diamonds are determined to be a Type IIa diamond. Type IIa diamonds are the most chemically pure type of diamond and often have exceptional optical transparency.
From ancient Greek to modern day, diamonds have long been magical and powerful symbols of eternal love, romance and commitment. In Greek mythology, diamonds were the tears of God, Roman literature referenced diamonds as fragments of fallen stars, and Cupid's irresistible arrows of love and passion were tipped with diamonds, accentuating the magical and symbolic power of diamonds and its connotation to love.

The heart, a universal representation of love and affection, refers to the emotional and spiritual essence of a person, a symbol of compassion and joy. There is no ultimate expression of love, than that of a diamond fashioned in the shape of a heart, to mark every memorable occasion when the heart is touched and the promise of love is made.

This necklace is the embodiment of pureness and perfection of eternal love, encompassing forty impeccable diamonds of D colour, flawless to internal flawless clarity, and of the finest proportions. Twelve of which are also certified to be Type IIa diamonds, possessing a purity of colour and a high degree of transparency and luminosity which is present in only 2% of the world's entire diamond production. This rare collection of diamonds guarantees to charm and captivate every heart.
Sotheby's. Magnificent Jewels & Jadeite, Hong Kong, 07 oct. 2015, 02:00 PM