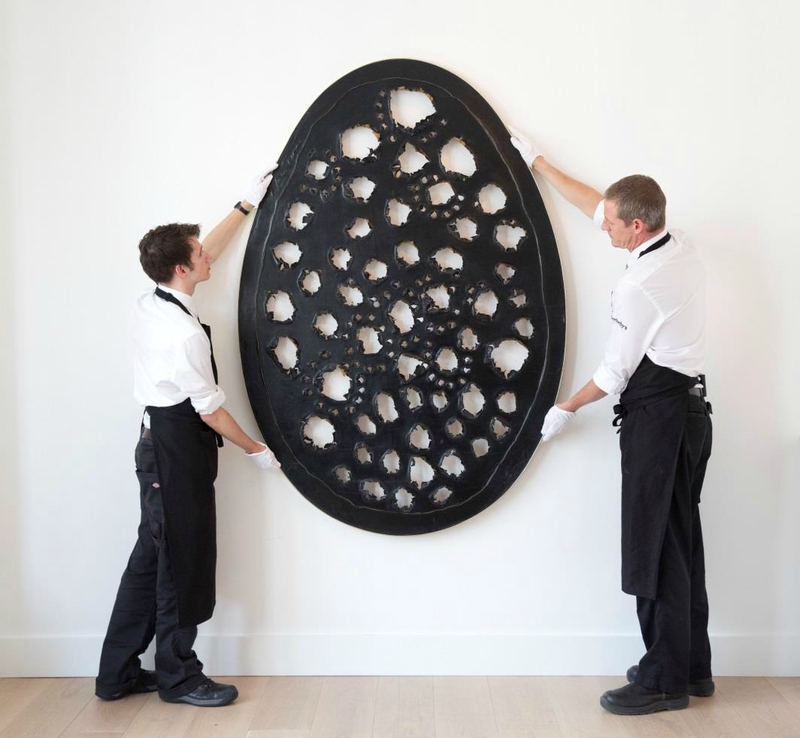 Lucio Fontana, Concetto Spaziale, La Fine di Dio (1963), oil on canvas, 177.6 by 123cm, est. £15 -20m / $23-30.8m. Photo: Sotheby's.
LONDON.- Sotheby's Frieze week sales in London will be led by one of the greatest works of post-war Italian art ever to appear at auction: Lucio Fontana's Concetto Spaziale, La Fine di Dio (The End of God), 1963. Never previously offered at auction and last exhibited over 30 years ago, Fontana's masterpiece is estimated at a £15-20m (the current record for the artist stands at £13.1m). This human-sized black egg, which has been violently punched, stabbed, gashed and gouged with the artist's bare hands, creating an almost lunar surface, is considered the "holy grail" for collectors of Fontana. Painted in 1963, shortly after Gagarin became the first human in space, Fontana was profoundly affected by the dawn of the space-age and the rapid scientific advances of the 1960s.

La Fine di Dio will lead the Italian Sale on 15 October, which carries a combined estimate of £35.2-48.6m. Last year's equivalent auction smashed pre-sale expectations; estimated at £23.8–33.5m, the sale totalled £41.4m, a record for any auction of its kind. The meteoric rise in the market for post-war Italian art over recent years is further illustrated by the fact that 10 of the 22 artists offered in the 2015 Italian Sale have seen their auction record broken since the beginning of 2014.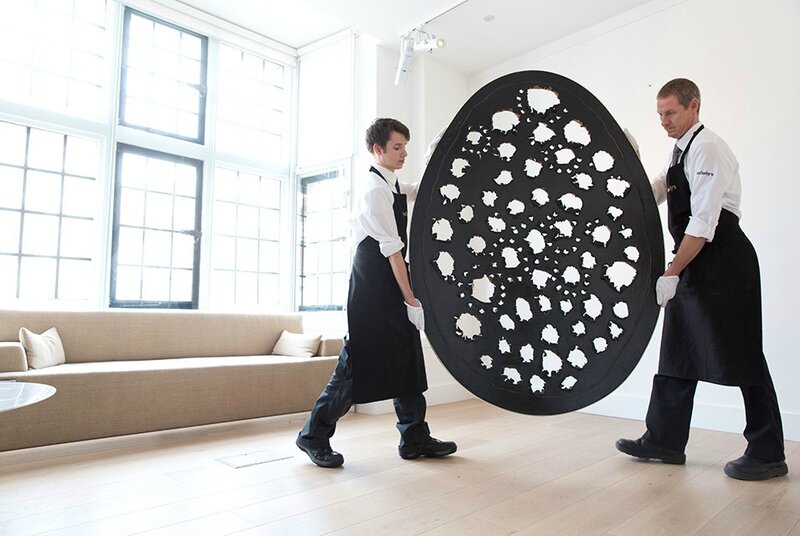 Lucio Fontana, Concetto Spaziale, La Fine di Dio (1963). Oil on canvas, 177.6 by 123cm. Est. £15 -20m / $23-30.8m. Photo: Sotheby's.
Following the Italian sale, the Contemporary Art Evening Auction will showcase the rising stars of today's art scene alongside the masters of post-war painting. Work by the New York-based artists Cory Arcangel and Ella Kruglyanskaya will be offered at an evening sale for the first time, while landmark paintings by Frank Auerbach and Agnes Martin, both the subject of retrospective exhibitions at the Tate in 2015, also feature. The combined estimate for Sotheby's three sales during Frieze week sales stands at £79.4-110.8m.

Cheyenne Westphal, Sotheby's Co-Head, Contemporary Art Worldwide, said: "La Fine di Dio is the crowning highlight of perhaps the greatest series that Fontana ever created. Unseen for decades, this is the nirvana for collectors of the artist's work.'
THE ITALIAN SALE
Paolo Scheggi, Parete della Intercamera Plastica (1966-67) , acrylic on three curved superimposed wood panels, 250 by 307 by 9cm; est. £1-1.5m / $1.6-2.3m. Photo: Sotheby's.
Paolo Scheggi's Parete della Intercamera Plastica (Wall of the Plastic Interchamber) reigns supreme as one of the most ground-breaking creations, not only of 1960s Spatialism, but in the entire canon of post-war Italian art. Created for his seminal exhibition in 1967 at Galleria Naviglio, Milan, the work was installed as the inner-most chamber of Scheggi's curvilinear architectural vision which consumed an entire room of the galleria. Gifted to the current owners by the artist in the 1960s, the work has remained in the same collection ever since.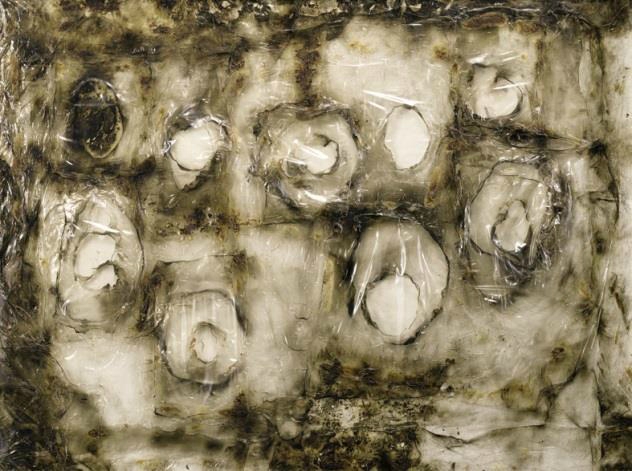 Alberto Burri, Bianco Plastica 1 (1961), plastic, combustion and tempera on faesite, 75 by 99.5cm. Est: £1.5-2m / $2.3-3.1m. Photo: Sotheby's.
Sold to Benefit the Passaré Foundation, Bianco Plastica 1 has been held in the renowned collection of Milanese doctor Alessandro Passaré for over three decades. An early supporter of the Italian avant-garde, who famously instated a policy to treat artists free of charge, Passaré became known as "the doctor of artists". He developed close relationships with some of the greatest exponents of the Milanese art scene, counting Italian avant-gardist such as Burri,, Manzoni and Fontana as his close friends. The walls of his apartment on Via Colonna were bedecked with masterpieces by some of the most important Italian artists. Paying tribute to Burri's radical interrogatory practice, the Solomon R. Guggenheim Museum is playing host to the first major U.S. retrospective of Alberto Burri's career in over 35 years this October. In total, three works by the artist will be offered in Sotheby's Italian sale this October.
CONTEMPORARY ART EVENING AUCTION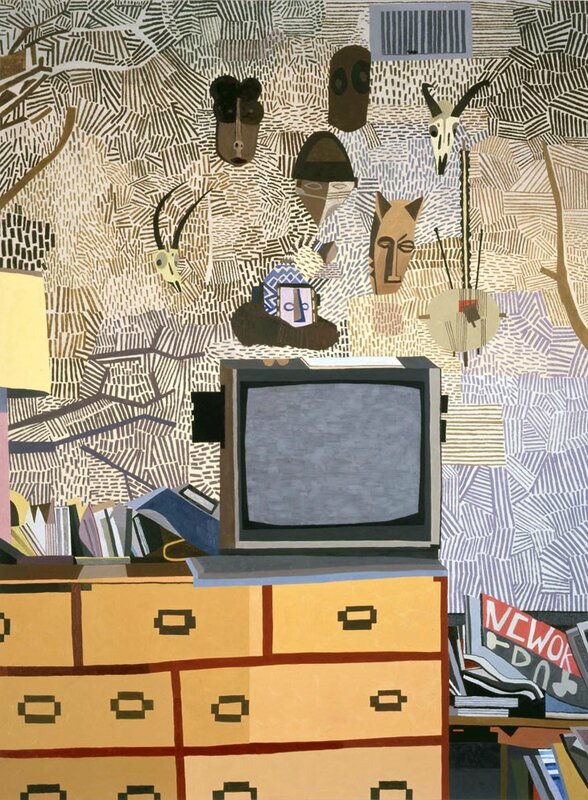 Jonas Wood, Rosy's Masks (2008), oil on linen, 258.1 by 190.5cm. Est: £200,000-300,000 / $309,000-463,000. Photo: Sotheby's.
With his utterly fresh and unmistakably contemporary aesthetic, Jonas Wood (b.1977) has seen his auction record broken three times in the past year alone. Last exhibited at the Saatchi gallery in 2010, Rosy's Masks, a view of the artist's grandfather's home, is from the artist's celebrated series of vibrant interiors, considered the most highly sought after of all his works.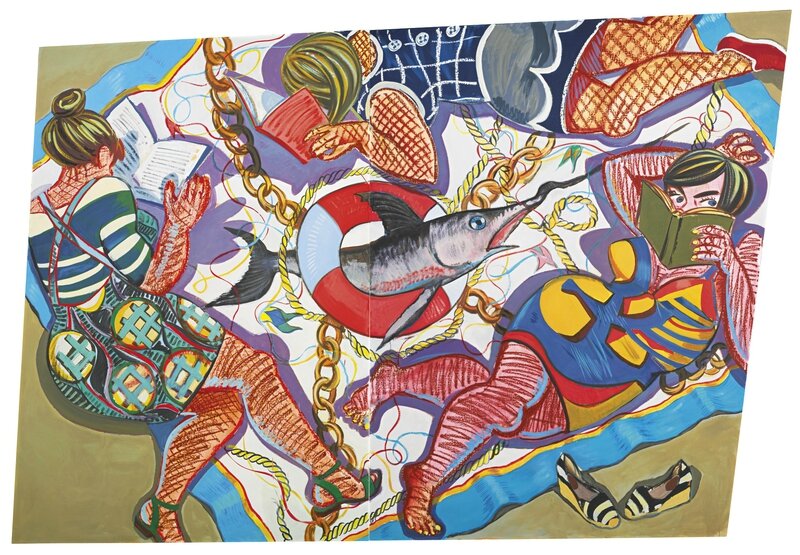 Ella Kruglyanskaya, Swordfish Picnic (2011), oil on shaped canvas, in two parts, 230.5 by 336.9cm. Est: £40,000-60,000 / $62,000-93,000. Photo: Sotheby's
The first work to be offered at auction by the Latvian-born artist, Ella Kruglyanskaya (b. 1978), Swordfish Picnic was painted in 2011 as part of an installation intended for the windows of Barney's in New York. Inspired by female artists of the Constructivist era, Kruglanskaya's paintings combine the world of fashion and empowered femininity with that of fine art.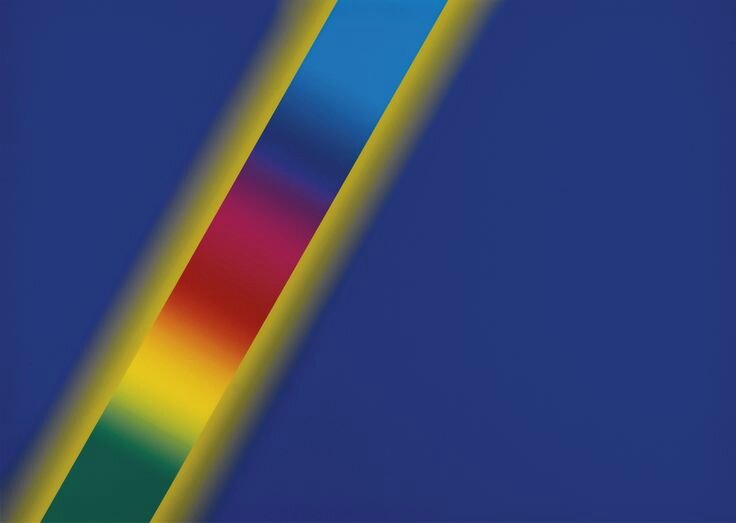 Cory Arcangel, Photoshop CS (2013), c-print face mounted to plexiglass, 152.4 by 213.4cm, Est: £80,000-120,000 / $124,000-186,000. Photo: Sotheby's
This is the first work to be offered at an Evening Auction by the Brooklynbased artist Cory Arcangel (b.1978), a leading exponent of technologybased art. Created in 2013 using cutting-edge printing techniques and Photoshop, the work belongs to the artist's Photoshop Gradient Demonstrations series, works from which were included in his solo show at the Whitney Museum of American Art in 2011.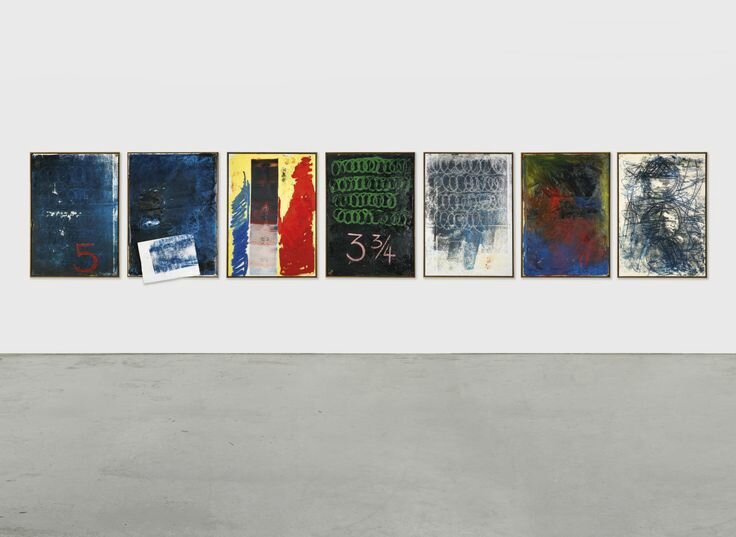 Oscar Murillo, Untitled (2014), oil, oilstick, Xerox, tissue paper, masking tape, thread and collage on paper, in artist's frames, in seven parts, each: 90 by 64cm, Est: £100,000-150,000 / $155,000-232,000. Photo: Sotheby's.
Born in the small mountainside town of La Paila in South East Columbia, London based artist Oscar Murillo pays homage to his heritage throughout his oeuvre. Here he recalls the bingo games, the cardinal social event for many in Murillo's hometown and the catalyst for long nights of gossip, dancing and story-telling. Combining lashings of oil paint, a delicate collage of barcodes, canvas thread, tape and dirt from his studio, this work perfectly demonstrates Murillo's unique relationship with the tradition of painting.
Jean-Michel Basquiat, Untitled (The Black Athlete) (1982), acrylic and oilstick on canvas, 181.8 by 152.5cm. Est: £3.5-4.5m / $5.4-6.94m. Photo: Sotheby's.
Executed with the assured confidence of an artist at the very pinnacle of his artistic powers, this is a superlative example from Basquiat's Black Athletes series, celebrating the black heroes of the sporting world. Hailing from 1982, considered the artist's seminal year, it is one of the most psychologically searing and powerful examples of the artist's full-length male figures.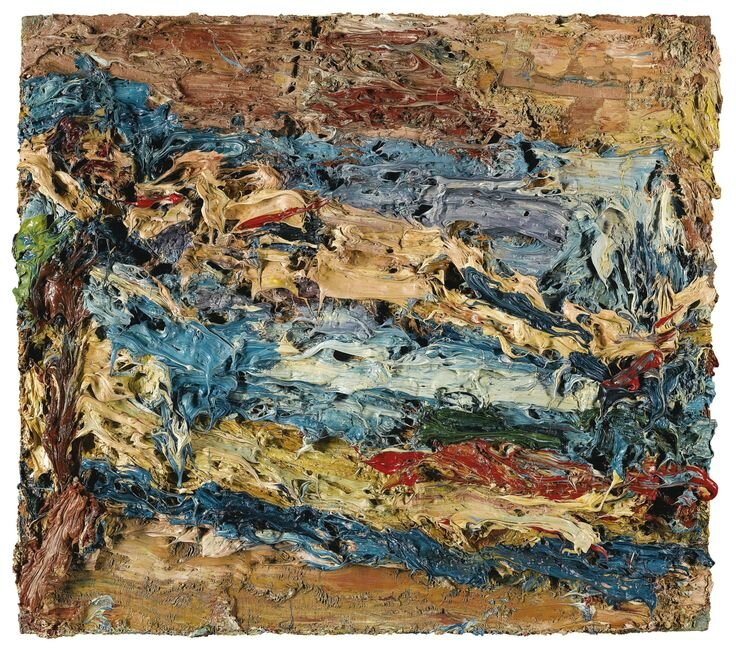 Frank Auerbach, E.O.W on her blue eiderdown IV (1963), oil on board, 41.5 by 46.3cm. Est. £500,000-700,000 / $775,000-1,080,000. Photo: Sotheby's.
Teased from a welt of glutinous oil paint, this portrait depicts Estella Olive West, Auerbach's celebrated model and muse who featured in more than seventy paintings over their twenty-five year relationship. With Auerbach's characteristic flair and ingenuity, this is a superlative example of how he utterly redefined, regenerated and wholly modernised the entire genre of portraiture. The artist will be the subject of a major retrospective at Tate Britain in October 2015.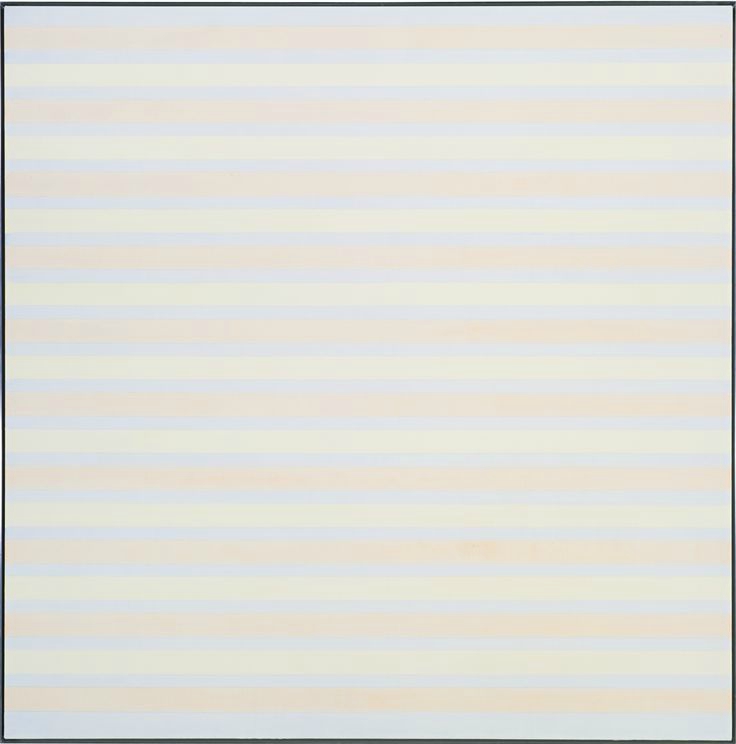 Agnes Martin, Untitled (C.1999-2000), acrylic and graphite on canvas, 152.4 by 152.4cm. Est. £2.5-3.5m / $3.9-5.4m. Photo: Sotheby's.
Created at the very apex of Martin's long illustrious career, Untitled is the perfect culmination of Martin's prodigious output. Remarkable for its exuberant emanations, its late use of colour and its intimate scale, this is one of the artist's very best and last ever paintings.
ERNESTO ESPOSITO
15 & 16 OCTOBER
Over three decades, the Italian haute couture footwear designer Ernesto Esposito has amassed one of the most prestigious and dynamic collections of contemporary art, combining and contrasting works by post-war classics such as Andy Warhol, Robert Rauschenberg and Jannis Kounellis, with cutting-edge contemporary works made just last year. Fascinated by art from the early age of 18, he went on to enjoy friendships with some of the greatest artists of the twentieth century including Warhol, Basquiat and Cy Twombly. His collection has inspired and informed his shoe designs for the most prestigious fashion houses including Marc Jacobs, Chloé, Louis Vuitton and Sergio Rossi.

61 works from his collection will be presented across the Italian and the Contemporary Art Evening and Day sales, together estimated to realise in excess of £5million. Included in the Italian sale are two of the most significant works in the collection: Jannis Kounellis' important Untitled from 1959-60 (£500,000-700,000 / $775,000-1.1m) and Michelangelo Pistoletto's captivating portrait of Ernesto himself (£400,000-600,000 / $620,000-930,000. Leading the Evening sale group is Warhol's iconic depiction of Vesuvius (£800,000-1.2m / $1.2-1.9m), personally relevant to Esposito, whose family lived close to the volcano in the city of Naples.
Andy Warhol (1928 - 1987), Vesevius, signed and dated 85 on the overlap, acrylic and silkscreen ink on canvas, 178.8 by 200.5cm.; 70 3/4 by 78 7/8 in. Est. £800,000 — 1,200,000 / $1,233,600 - 1,850,400. Photo: Sotheby's.
HUMAN RIGHTS WATCH
16 OCTOBER
Forming the centrepiece of the Contemporary Art Day auction on October 16th are 35 works donated to benefit Human Rights Watch. Featuring works by artists who often explore and address issues around justice and inequality, such as Rosemarie Trockel, Sarah Lucas, Thomas Hirschhorn and Jaume Plensa, the sale is expected to realise over £600,000. Founded in 1978, Human Rights Watch is an independent, international organization that works as part of a vibrant movement to uphold human dignity and advance the cause of human rights for all. The proceeds from the sale will help save lives, secure justice in countries around the globe, protect women's and children's rights and seek accountability for war crimes.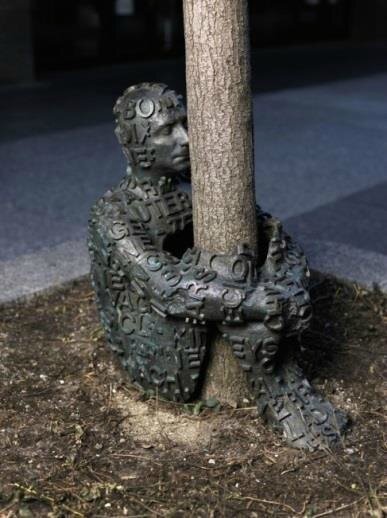 Jaume Plensa, Self Portrait with Tree (2007), bronze. Est: £60,000-80,000 / $93,000-124,000. Photo: Sotheby's.