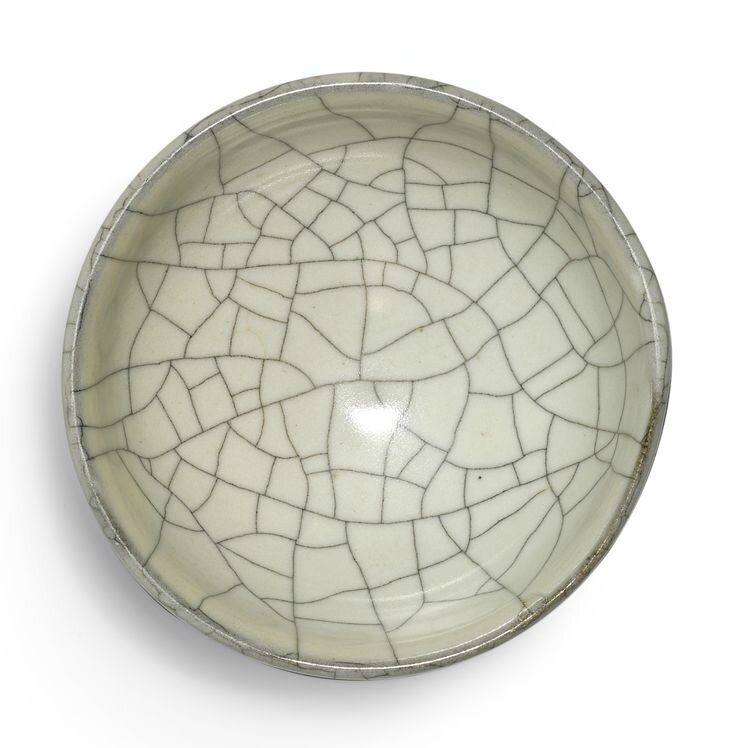 Lot 3601. A rare and superbly potted 'Guan' cup, Southern Song dynasty. Estimation 8,000,000 — 12,000,000 HKD (933,753 - 1,400,630 EUR). Lot sold 9,680,000 (1,112,774 EUR). Photo Sotheby's
finely potted with deep rounded sides resting on a short tapered foot, covered overall with an unctuous creamy greyish-blue glaze with a milky-green tint and suffused with a matrix of widely-spaced dark brown crackles stopping neatly above the footring, the exterior and base finely accented with faint golden crackles; 7.5 cm., 3 in.
Provenance: Collection of Edward T. Chow (1910-80).
Sotheby's London, 16th December 1980, lot 294.
Bibliography: Cécile and Michel Beurdeley, La Ceramique Chinoise, Fribourg, 1974, col. pl. 41 left.
Notes: Guan yao, the fabled 'official ware' specially created for the imperial court of the Southern Song (1127-1279) in Hangzhou, Zhejiang of south China, is perhaps the most desirable and certainly one of the rarest types of Chinese ceramics. Its serenity and seeming simplicity could only be achieved through utmost sophistication. Guan wares were made in very small numbers, and the present cup is an extremely rare example. With its exquisite, unctuous and tactile glaze, attractive crackles, minimalist form and intimate size, the cup is particularly appealing to the eyes and invites being held.

Guan ware is mentioned and lauded already in contemporary texts of the Southern Song period. It showcases Chinese potters at the height of their ingenuity, technical know-how and aesthetic vision. Like great artists and artisans anywhere, they captured – perhaps inadvertently – the zeitgeist of the period in their creations. The works of art they conceived embodied the leitmotifs of China's highly educated scholar-officials, the non-aristocratic ruling elite of the Song (960-1279). The unctuous glaze of the present cup with its smooth pleasing texture, milky-green tint and subtle gloss was achieved through gradual application of multiple layers and presumably successive firings. The thick coating thus formed softly envelopes the elementary form to create an object that is pleasing to touch. The distinct web of veins of the large-scale crackle was caused by different degrees of shrinkage between the glaze and body material, evoked through a well-controlled cooling process after the last firing and subsequent staining. They act like a design formed by nature, giving the whole piece an aspect as if carved out of a pebble of jade. The dark blackish body visible at the foot adds depth to the glaze and gravitas to the whole object, as it subtly accentuates the shape. In the Qing dynasty (1644-1911), when guan ware was much copied by the imperial kilns of Jingdezhen in Jiangxi province, this dark stoneware body was generally imitated by coating Jingdezhen's white porcelain with a blackish-brown slip before glazing.

Guan ware cups are exceedingly rare. A similar cup in the Museum of Oriental Ceramics, Osaka, is illustrated in Masterpieces of Chinese and Korean Ceramics in the Ataka Collection, Tokyo, 1980, pl. 85; one from the Milliken collection is illustrated in Henry J. Kleinhenz, 'Porcelains for imperial use: The Sung dynasty', Cleveland Museum of Art Bulletin, April 1978, pp. 135-150, fig. 15; and another one was sold in our London rooms, 2nd March 1971, lot 125.

For a cup of similar form, but with lobed rim, recovered from the Southern Song imperial kiln site at Laohudong, Hangzhou, see Hangzhou Municipal Institute of Cultural Relics and Archaeology, Hangzhou Laohudong yaozhi ciqi jingxuan [Selection of Ceramics from the Kilnsite at Laohudong, Hangzhou], Beijing, 2002, pl. 124. For a bowl of the same form but larger size, from another imperial kiln site at Jiaotanxia, Hangzhou, see Institute of Archaeology, Chinese Academy of Social Sciences et al, eds., Nan Song guan yao [The guan kiln of the Southern Song dynasty], Beijing, 1996, pl. 9-3, and p. 20, line drawing 17-6. A related bowl of foliate form, from the collections of Sir Alfred Chester Beatty (1875-1968) and Raymond F.A. Riesco, was sold in our London rooms, 23rd October 1953, lot 5, and is illustrated in London Borough Croydon, Riesco Collection of Chinese Ceramics Handlist, Croydon, 1987, p. 6, no. 41.

The cup offered here formerly belonged to Edward T. Chow, one of the most influential figures of the 20th century in the field of Chinese art. The Edward T. Chow Collection that was sold in three parts 1980-81 in these rooms and in our London rooms and included Ming and Qing Porcelain and Works of Art as well as Early Chinese Ceramics and Ancient Bronzes, is acclaimed as one of the most important collections of Chinese ceramics ever sold at auction.
Sotheby's. Important Chinese Art, Hong Kong, 07 oct. 2015, 02:30 PM