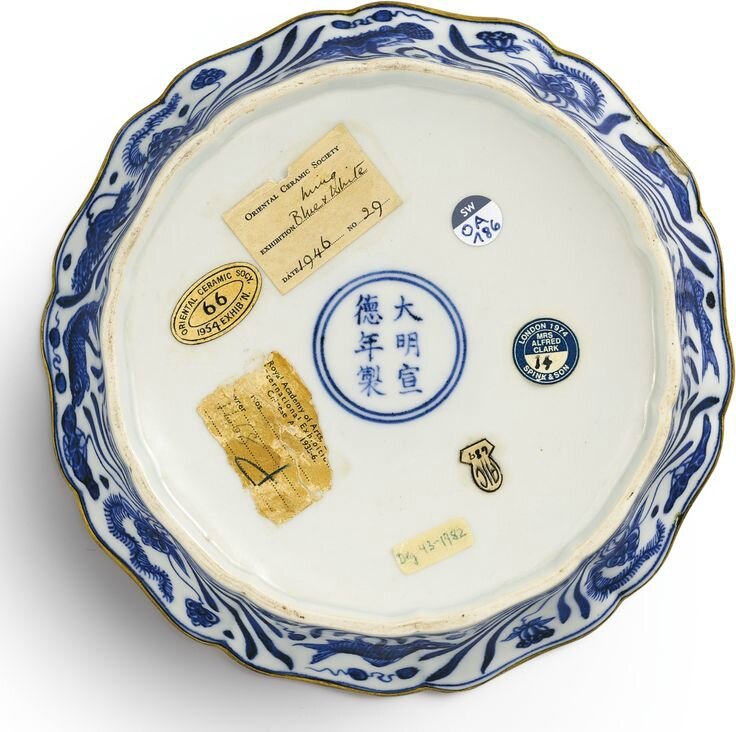 Lot 3605. A superbly painted and extremely rare blue and white 'Fish pond' brush washer, Mark and period of Xuande (1426-1435); 17.8 cm., 7 in. Estimate 20,000,000 — 40,000,000 HKD (2,334,383 - 4,668,766 EUR). Lot sold 24,080,000 (2,768,139 EUR). Photo Sotheby's.
of ten-lobed mallow shape with gently flaring sides resting on a countersunk base of corresponding form, the interior superbly painted in rich cobalt blue with a medallion enclosing a carp and mandarin fish swimming amongst clumps of lotus and undulating water weeds, the exterior similarly decorated with further fish swimming among similar water plants, the fish finely detailed with hatching and stippling and varied shades of blue to render their peculiar markings, lotus flowers and leaves in different stages, the latter with veins finely picked out through the blue to appear in white, the base inscribed with a six-character reign mark within a double-circle, the rim metal-mounted.
Prov2nance: Peter Boode (died c. 1972).
Collection of Alfred (1873-1950) and Ivy Clark (c. 1890-1976), c. 1936/38.
Spink & Son Ltd., London, 1974.
Collection of Senta Wollheim, compiled in the 1960s to early 1980s, and thence by descent to the current owner.
Exhibition: International Exhibition of Chinese Art, Royal Academy of Arts, London, 1935-36, cat. no. 1468.
Ming Blue-and-White Porcelain, Oriental Ceramic Society, London, 1946, cat. no. 29.
Chinese Blue and White Porcelain, 14th to 19th Centuries, Oriental Ceramic Society at The Arts Council Gallery, London, 1953-54, cat. no. 66.
Blue and White Porcelain from the Collection of Mrs. Alfred Clark, Spink & Son Ltd, London, 1974, cat. no. 14.
Museum für Ostasiatische Kunst, Berlin, 1984-2015, on loan.
Bibliography: A.D. Brankston, Early Ming Wares of Chingtechen, Beijing, 1938, pl. 19.
The Clark 'Fish Pond' Brush Washer
Regina Krahl
The radiant painting of this brush washer displays a freedom of the brush rarely seen in the official designs of China's imperial kilns – in the same way as fishes swimming in a lotus pond evoke the spirit of freedom from all restraints.
The painters of imperial porcelain active at Jingdezhen in the Xuande period (1426-35) were artists rather than mere artisans; but much of their work consisted of rendering to strict specifications from the court precisely prescribed images of dragons, phoenixes and other significant motifs on porcelain, designed to symbolize the status of the Emperor rather than to be enjoyed for their beauty and charm. Occasionally, however, they could devote time to creating less regulated, auspicious designs for porcelains that would be used at less official occasions. This is when they were able to indulge in free brushwork and to display their true mastership, and where in the Xuande period they created some of the most spirited and enchanting paintings on porcelain. There is hardly a nature subject that requires from the artist sharper observation directly from life than fishes among water plants, and that allows him to display his mastery more strikingly than the vivacious movement in a pond. In the present design the painter further excelled in rendering a wide range of cobalt-blue tones by applying different washes and rendering different textures through dotting, hatching and engraving.
Fishes darting about among densely growing water plants had been a recurrent theme of ink painters at least since the Song dynasty (960-1279), when various artists specialized in this genre. One of the earliest and most important of these fish painters, Liu Cai, was active during the reign of Emperor Huizong (r. 1101-25), who was not only one of China's greatest connoisseurs and patrons of the arts, but also one its most fervent Daoist rulers. Apart from representing a challenging subject for nature studies, fish paintings were also popular on account of their symbolic message that would have been immediately obvious to educated observers. Their presumed freedom of spirit can be traced to the book Zhuangzi, a compilation of Daoist texts with origins in the 5th/4th century BC. One of the most popular passages in this text is a witty exchange between the Daoist master who, after claiming that darting around the water is what fish really enjoy, was challenged by a Confucian scholar 'how he knows that', and after several sophistical exchanges eventually wins the argument by claiming that the question 'how he knows it' already implies that he knows it.
As decoration for blue-and-white porcelain the design of fish freely swimming in a lotus pond was popular since the Yuan dynasty (1279-1368), when it appeared on dishes, bowls and particularly successfully on large storage jars. Although the present washer differs in style from those Yuan prototypes, it has borrowed from that period the depiction of the veins of lotus leaves by needle-engraving through the cobalt-blue wash to make them stand out in white.
There can surely be no more pertinent use of this design than on a brush washer, and no better design for a brush washer than a fish pond. When washing his brush, the imperial writer or painter would look into the depth of a pond filled with aquatic life and, while pondering over the next stroke, could follow the fishes' movements even by gazing at the outside of his washer, as if the vessel were transparent. Needless to say, a washer such as this would not have been used for writing about affairs of state, but for an Emperor's pleasurable pastimes such as painting, practicing calligraphy, or writing poetry – activities the Xuande Emperor was particularly fond of. According to Edward L. Dreyer (Early Ming China. A Political History, 1355-1435, Stanford, 1982, p. 226) "A talented artist and poet, [the Xuande Emperor] was somewhat more interested in these and other private pleasures than in governing." Yet, also according to Dreyer (p. 236), he was "both attentive to his duties as head of state and reasonably impartial in his treatment of the groups that composed the ruling elite … subsequent generations of Ming officials looked back nostalgically on the Hsüan-te [Xuande] period as a golden age of good government".
The design of this washer was closely copied in the Jiajing reign, which is not surprising since the Jiajing Emperor (r. 1522-66) was a fervent Daoist. A washer of this pattern, of Jiajing mark and period, in the National Palace Museum, Taipei is illustrated in Porcelain of the National Palace Museum. Blue-and-White Ware of the Ming Dynasty, book V, Hong Kong, 1963, pl. 21; and another from the collection of Myron S. Falk was sold at Christie's New York, 16th October 2001, lot 143.
Only three other brush washers of this design and Xuande mark and period appear to be recorded: one discovered in Tianjin city, published in Wenwu 1977, no. 1, p. 92; another from the Meiyintang collection, illustrated in Regina Krahl, Chinese Ceramics from the Meiyintang Collection, London, 1994-2010, vol. 4, no. 1653, and sold in these rooms, 7th April 2011, lot 54 (fig. 1); and a third, of smaller size (16 cm), sold at Hanhai Art Auction Corp., Beijing, 7th October 1995, lot 1031. A broken and discarded example of this pattern was recovered from the Ming imperial kiln site and included in the exhibition Xuande Imperial Porcelain Excavated at Jingdezhen, Chang Foundation, Taipei, 1998, cat. no. 19-2 (fig. 2). The Taipei catalogue states (p. 202) that in the early Wanli period the poet and dramatist Tu Long (1542-1605) mentioned mallow-flower shaped Xuande period washers with fish and aquatic plants, but that a painting in the Palace Museum, Beijing, depicting a Xuande hunting scene, shows a vessel of this type serving as a stand for a pear-shaped bottle. Of course, filled with water, the bottle may have been used together with the washer as a set, one placed inside the other while not in use, rather than the washer being deliberately used as a stand for the bottle.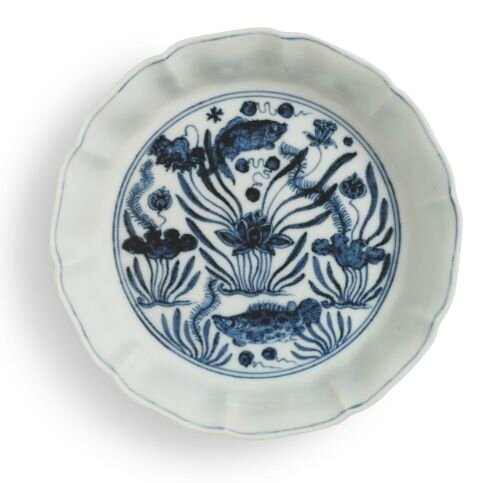 Blue and white 'fish pond' brush washer, mark and period of Xuande, from the Meiyintang collection, Sotheby's Hong Kong, 7th April 2011, lot 54.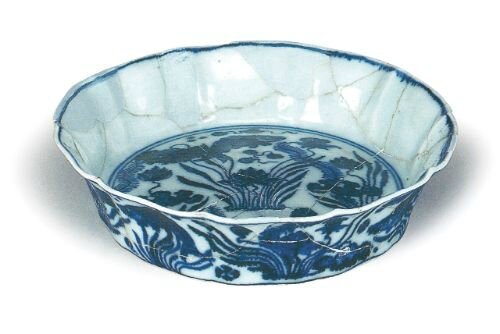 Blue and white 'fish pond' brush washer, mark and period of Xuande, excavated from the Ming imperial kiln site at Jingdezhen. After: Xuande Imperial Porcelain Excavated at Jingdezhen, Chang Foundation, Taipei, 1998, cat. no. 19-2.
The same design appears also on the inside of a dish of Xuande mark and period in the National Palace Museum, Taiwan, included in the Museum's Mingdai Xuande guanyao jinghua tezhan tulu/Catalogue of the Special Exhibition of Selected Hsüan-te Imperial Porcelains of the Ming Dynasty, Taipei, 1998, no. 180.
Peter Boode, who owned the washer until the 1930s, was a Dutch antique dealer who went to China from the 1910s onwards and was particularly active in London in the '30s and '40s. Mr and Mrs Alfred Clark, who acquired the piece shortly after the Royal Academy of Arts exhibition, London 1935/6, assembled one of the finest collections of Chinese ceramics largely between the '20s and '40s and themselves lent generously to that exhibition as well as to the various exhibitions of the Oriental Ceramic Society in London thereafter.
Sotheby's. Important Chinese Art, Hong Kong, 07 oct. 2015, 02:30 PM