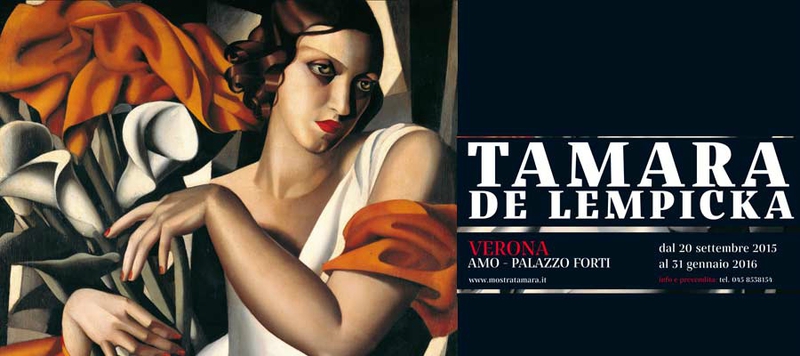 VERONA.- A major monographic exhibition on Tamara de Lempicka, one of the most popular and best-loved female artists of the 20th century, opened in Verona.

Hosted in the stunning rooms on the Piano Nobile of Palazzo Forti, home to the Arena Museo Opera – AMO, the show traces Tamara's extraordinary artistic career through 200 works: oils, drawings, photographs, watercolours, videos, and also fashion items. The show features masterworks like Portrait of Mme. Ira Perrot (1931–1932), The Blue Scarf (1930) and The Beautiful Rafaëla (1927) together with exceptional loans from the Museo Salvatore Ferragamo in Florence, Fondazione Biagiotti Cigna and Museo della Moda e del Costume at Villa Mazzocchelli.
The exhibition analyzes the relationships between Lempicka's art and the languages of photography and fashion – to which a whole section is devoted – and reveals her flair for representing modern life in paintings that have become icons. It also focuses on the woman-artist who created a new image of a female who was emancipated, uninhibited, free, and completely ahead of her time. Then there are the "scandalous" works depicting Tamara's lovers, and the extremely sensual nudes for which she was famous the world over.
Tamara's oeuvre is also interpreted through music, which reverberates in the rooms, seducing the visitor along with her works. In fact, pieces linked to the times and places associated with Tamara can be heard in every section, from the songs she loved to the avant-garde compositions of the Twenties, created in the Paris that was Lempicka's springboard to success.
'Tamara de Lempicka' inaugurates a new exhibition line at the AMO – Arena Museo Opera, entitled "Seduzione in Musica" (Seduction in Music): a series of exhibitions whose guiding thread is the exploration of the theme through music, in order to enrich the visitor's experience and emphasize the link between art and music.
THE EXHIBITION
The itinerary begins with the section Tamara de Lempicka's World, explored through the many houses in which the artist lived between 1916 and 1980 – the year of her wedding in Saint Petersburg and that of her death at Cuernavaca. These places are set in relation to Lempicka's artistic development: from the watercolours of her Russian period to the portraits she executed in her Parisian studios in the 1920s, the works she created in King Vidor's large colonial style mansion – designed by architect Wallace Neff – in Beverly Hills, and the paintings from the 1940s, reflecting the furnishings and décor of her home in New York. This glimpse into Lempicka's private rooms also encompasses her cultural frames of reference. It reveals unexpected relationships, such as that between the painting A Street at Night and the photographs by Kertész, which both capture the Eastern European exiles' amazed reaction to the city "of lights" – their adopted home.
The second section, Madame la Baroness, Modern Medievalist, takes its name from an article published in the United States in the early 1940s, which praised Lempicka's technical virtuosity, above all in her still lifes – the first genre she explored in her teenage years and took to unprecedented heights in the 1940s. The works on display include The Shell, an extraordinary trompe l'oeil from 1941, and some paintings of hands, a favourite subject of several photographers in the 1920s and 1930s, including Kertész, Kollar and Dora Maar, whose images are here compared to Lempicka's paintings.
The third section, The Artist's Daughter (the title of an article published in the US in 1929), features the works the artist devoted to her daughter Kizette, and which brought her the greatest recognition. These include Kizette on the Balcony, prizewinner in 1927, and The Communicant, prizewinner in 1929 – on loan from the Pompidou and the museum in Roubaix.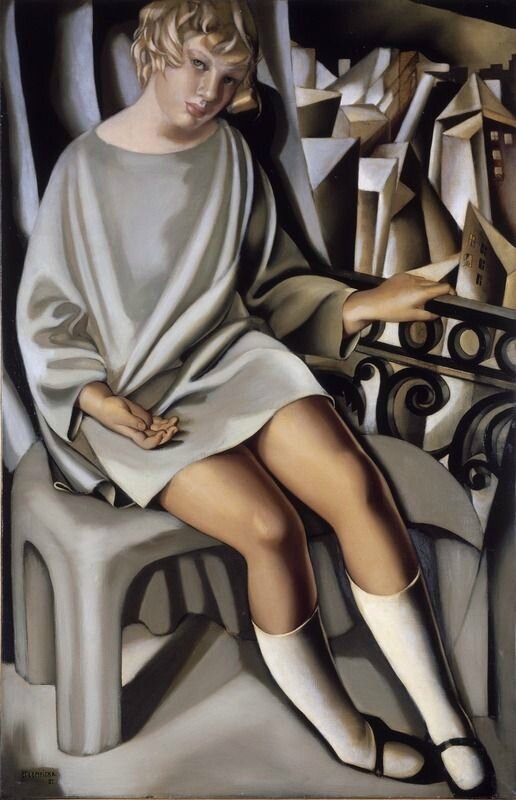 Tamara de Lempicka (1898 - 1980), Kizette au balcon, 1927. Huile sur toile, 130 x 80,8 cm. Centre Pompidou © Jacqueline Hyde - Centre Pompidou, MNAM-CCI /Dist. RMN-GP © Tamara Art Heritage / Adagp, Paris.
Tamara de Lempicka (1898-1980), La communiante, 1929. Huile sur toile. Dépôt du Musée National d'Art Moderne en 1994. Photo : Arnaud Loubry © Tamara Art Heritage / Adagp, Paris.
An ambivalent woman, Lempicka combined a transgressive lifestyle with an unexpected interest in "devotional" painting. The fourth section, Sacred Visions, brings together paintings of Holy Virgins and saints: from the 1931 Mother and Child from the Musée des Beaux-Arts in Beauvais to the 1934 Blue Virgin from an important private collection, and Lempicka's own favourite painting, The Mother Superior from the Musée de Beaux-Arts in Nantes.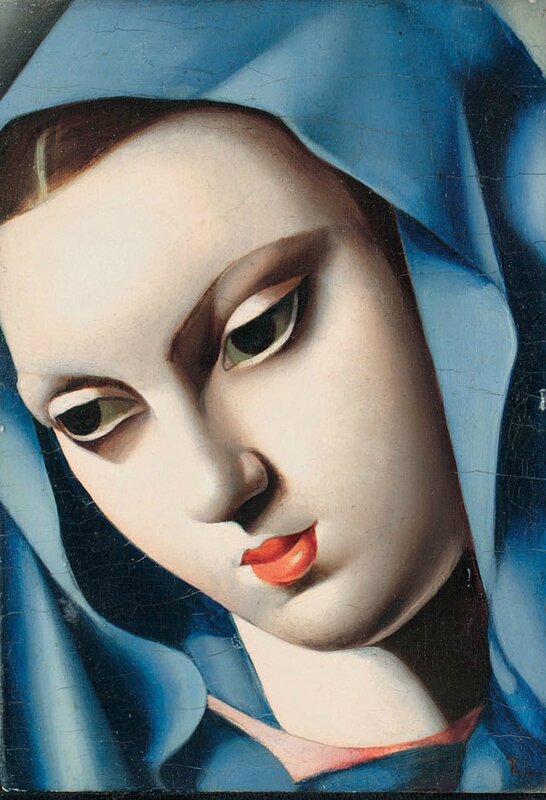 Tamara de Lempicka, La Vierge bleue, 1934. Oil on canvas, 20x13,5 cm. Private collection © Tamara Art Heritage. Licensed by NYC MMI / ADAGP Paris / Rome SIAE 2015
Tamara de Lempicka, Mère supérieure, 1935. Huile sur carton entoilé, 30 x 19,8 cm. Musée de Beaux-Arts, Nantes © Tamara Art Heritage. Licensed by NYC MMI / ADAGP Paris / Rome SIAE 2015
The space devoted to "Amorous Visions" reveals through some exceptional nudes the delicacy and attention that Tamara reserved for the men and women she loved. On display is the only Male Nude she ever painted, together with all the women she desired, featured in masterpieces like The Pink Chemise, The Beautiful Rafaëla, Nude with Buildings. Also on show is the main pictorial source of inspiration for her nudes: Pontormo's Venus and Cupid, in a 16th-century version executed by a Florentine mannerist. After reprising the antique, Lempicka studied modern nude photography: the shots by Laure Albin Guillot show that the artist incorporated poses and lighting used in a photographic studio into her paintings.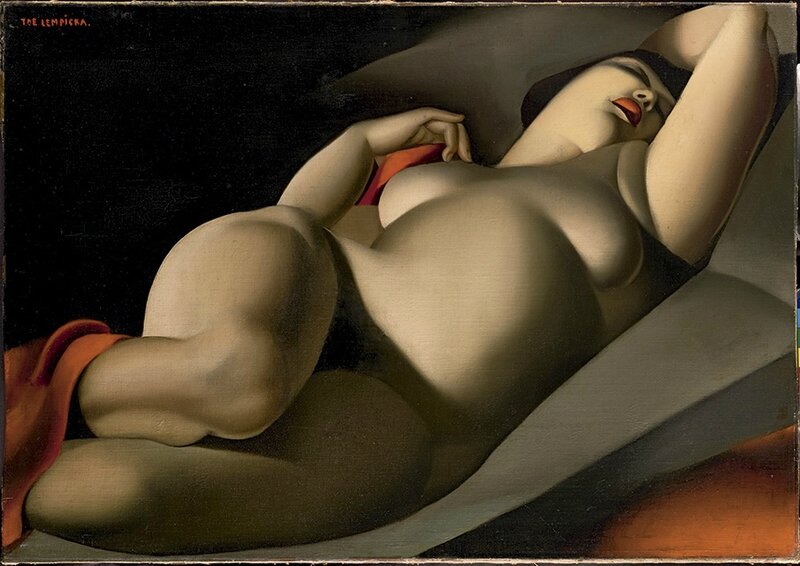 Tamara de Lempicka, La bella Rafaëla, 1927. Olio su tela, 64×91 cm. Collezione Sir Tim Rice © Tamara Art Heritage. Licensed by MMI NYC/ ADAGP Paris/ SIAE Roma 2015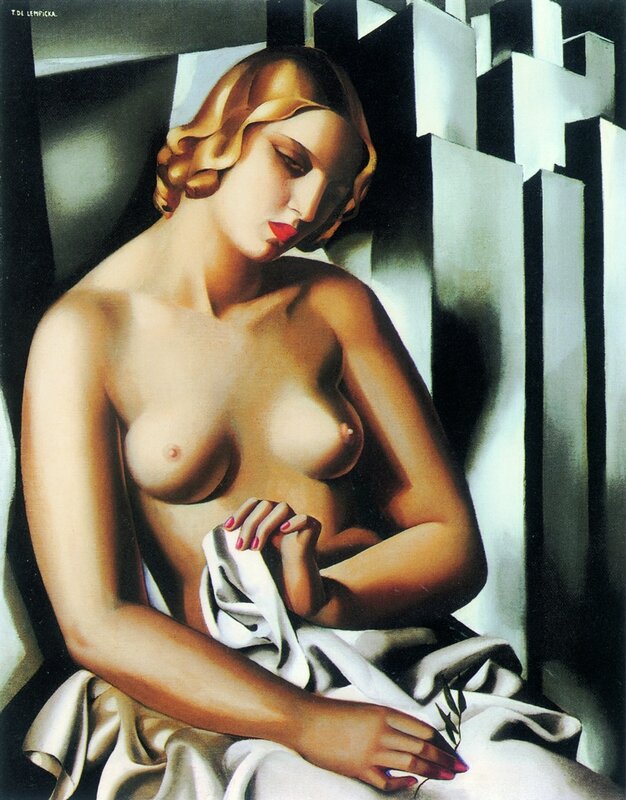 Tamara de Lempicka, Nu aux buildings, 1930. © Tamara Art Heritage. Licensed by NYC MMI / ADAGP Paris / Rome SIAE 2015
The section Scandalous Tamara explores the theme of the Couple: from the heterosexual pair reprised from The Kiss by Hayez, to the lesbian couples juxtaposed with photos taken in women-only clubs by Brassaï and Harlingue.
Tamara de Lempicka, Perspective (the two friends), 1923. Oil on canvas, 130x160 cm. Geneva, Association des Amis du Petit Palais © Tamara Art Heritage. Licensed by NYC MMI / ADAGP Paris / Rome SIAE 2015
In the Dandy Deco section, all of Lempicka's paintings that illustrate her relation with the fashions of her day are displayed for the very first time. The two rooms devoted to this theme show works from European and American collections and French museums. Here the public can admire a drawing from 1920–1921, when Tamara was a fashion illustrator; Saint-Moritz (1929) from the Musée des Beaux-Arts, Orléans, in which the model wears a Jean Patou creation; The Blue Scarf (1930), depicting a sporty woman wearing a felt beret – an accessory borrowed from Lempicka's favourite actresses, Greta Garbo and Marlene Dietrich; Girl in Green (1930–1931) from the Centre Pompidou, which reprises a Madeleine Vionnet model; Portrait of Mme Ira Perrot (1931–1932), wearing a dress from Maison Blanche Lebouvier; Portrait of a Young Lady and a Square Column (1931–1932), with a dress by Marcel Rochas; Stylish Woman with Flower Hat (1938-1940), with a hair-style typical of Arletty. Then there are the paintings from the 1940s with flower hats and turbans, and the 1952 painting Woman with Hat from the Musée d'Art Moderne, St. Etienne Metropole, in which the sitter is wearing one of Lempicka's own creations.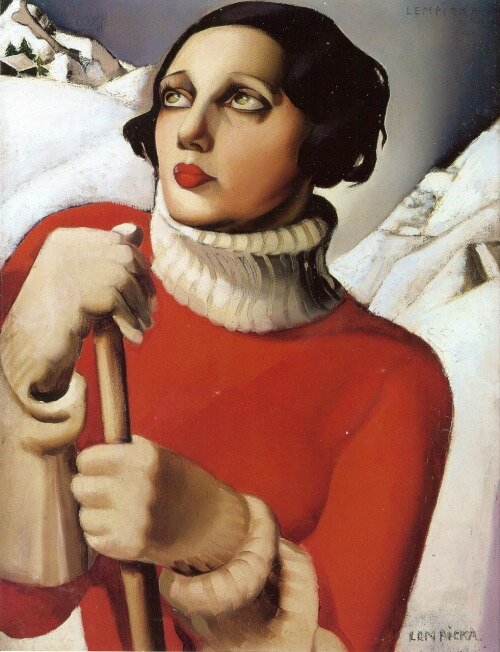 Tamara de Lempicka, Saint-Moritz, 1929. 76.12.1 Musée des Beaux-Arts, Orléans © 2015 Musée des Beaux-Arts, Orléans/François Lauginie.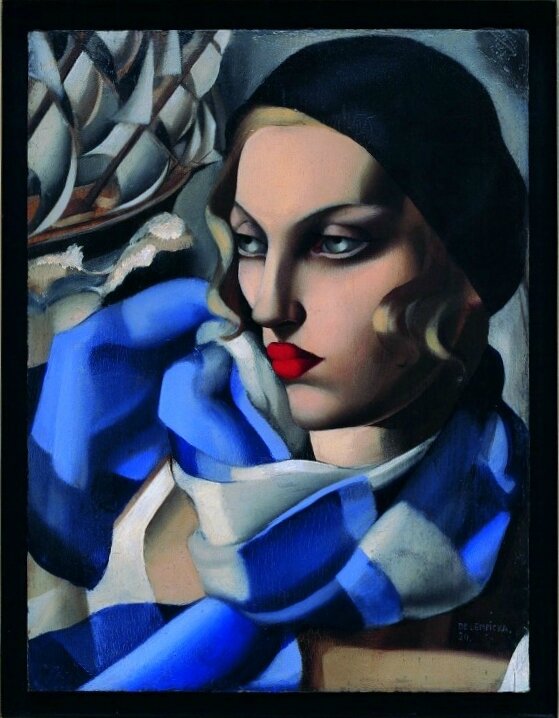 Tamara de Lempicka, La sciarpa blu, 1930. Olio su tavola, 56,50 x 48 cm. Collezione privata © Tamara Art Heritage. Licensed by MMI NYC/ ADAGP Paris/ SIAE Roma 2015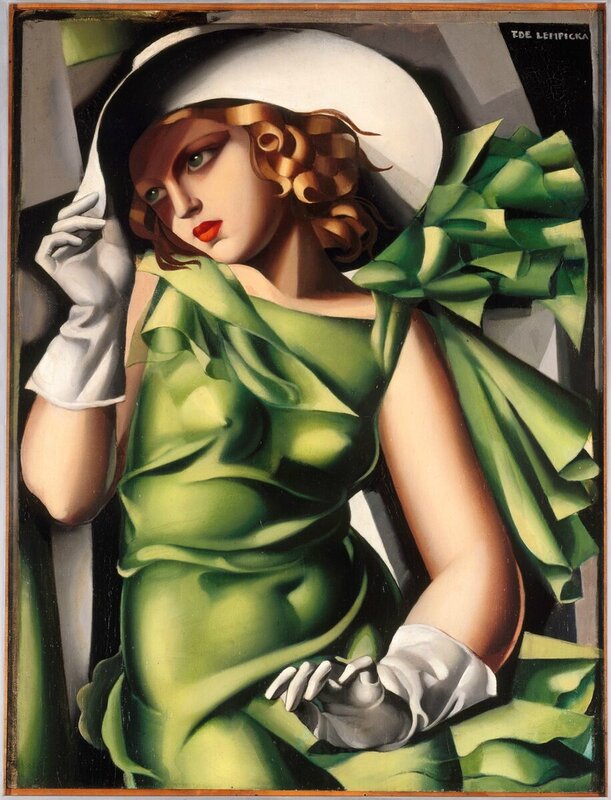 Tamara de Lempicka, Girl in green, 1930-1931. Oil on plywood, 61,5x45,5 cm. Paris, Centre Pompidou Musee national d'art moderne / Centre de creation industrielle. Purchase 1932 © Tamara Art Heritage. Licensed by NYC MMI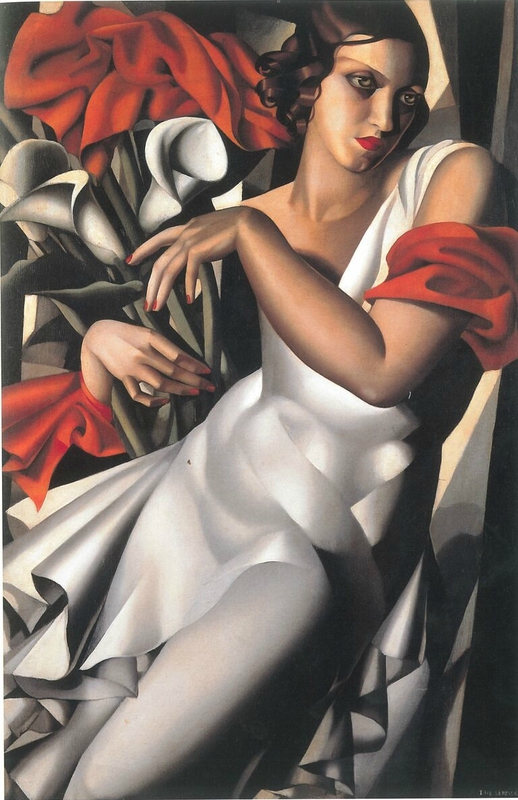 Tamara de Lempicka, Ritratto di Madame Perrot, 1931-1932, olio su tavola, cm 99×65, Collezione Privata © Tamara Art Heritage. Licensed by MMI NYC/ ADAGP Paris/ SIAE Roma 2015
TAMARA DE LEMPICKA AND FASHION
The Dandy Deco section explores Tamara's relationship with fashion, also by illustrating the sources of all the clothes and hairstyles identified through the years by the curator Gioia Mori, who has also devised an "exhibition within the exhibition". In fact, the public will be able to attend an original fashion show of clothes, footwear and accessories from the 1920s and 1930s, chosen according to Lempicka's tastes, as documented in the various sources.
This fashion section also features photos taken during the parallel modelling career that the artist pursued from the 1930s on, when she was immortalized by the leading fashion photographers of the day, such as Madame d'Ora, Joffé and Maywald.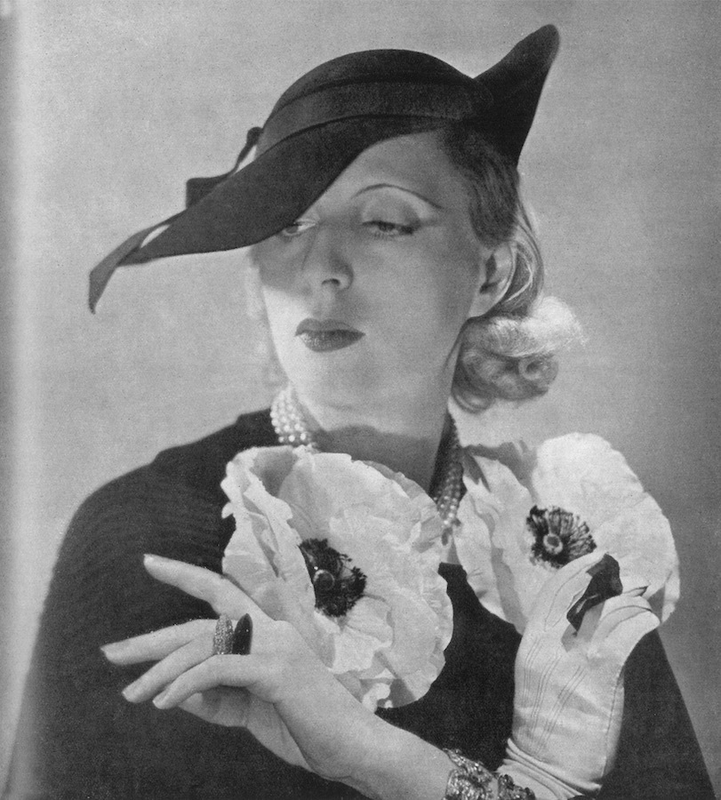 Madame d'Ora, Tamara de Lempicka con cappello le Monnier, 1934 © Madame d'Ora
The works have kindly been lent by various Italian foundations and institutions: the Museo Studio del Tessuto della Fondazione Antonio Ratti in Como, which has contributed various items, including the stunning dress completely embroidered with glass tubules; the Museo della Moda in Ciliverghe, which lent various articles, including a white dress from the early 1930s, whose intricate design is mirrored in the dress in Lempicka's Portrait of Mme. Ira Perrot, and the evening gown that the opera singer Lina Cavalieri wore for the gala night at the Politeama in Lecce, in April 1920, when she took her final bow with La Traviata by Verdi. They are accompanied by examples of ground-breaking research carried out during these decades. Fondazione Biagiotti Cigna has lent the futurist dress that Giacomo Balla designed for his daughter Luce around 1930. Lempicka would certainly have been familiar with Balla's research, since she frequented many of the personalities in the group, including Francesco Monarchi – one of the authors of the Italian Futurist Manifesto of 1933. He and Prampolini conducted an interview with her in Paris in 1929, published in Corriere Adriatico the same year.
The dress created by Balla is displayed alongside some ingenious and exotic footwear by Salvatore Ferragamo during the period, on loan from the Museo Salvatore Ferragamo in Florence: his shoes are exquisite miniature sculptures and the most boldly inventive in that sector, real works of art that were worn by many famous women of the period, such as Maharani Indira Devi of Cooch Behar.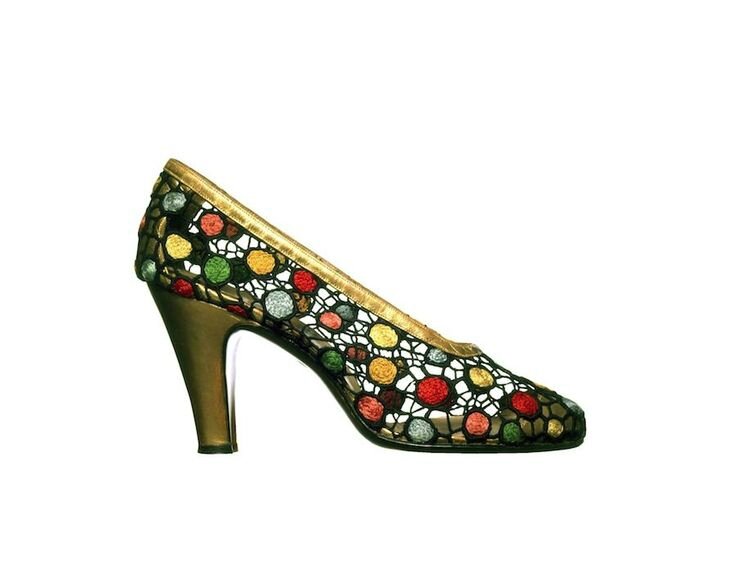 Salvatore Ferragamo, Pumps Iris 1930-1932 in lace Tavernelle. Florence, Museo Salvatore Ferragamo.
Salvatore Ferragamo, Model 1938. Upper lace-up shoe in black suede decorated with applications suede blue, yellow, green and pink. Florence, Museo Salvatore Ferragamo.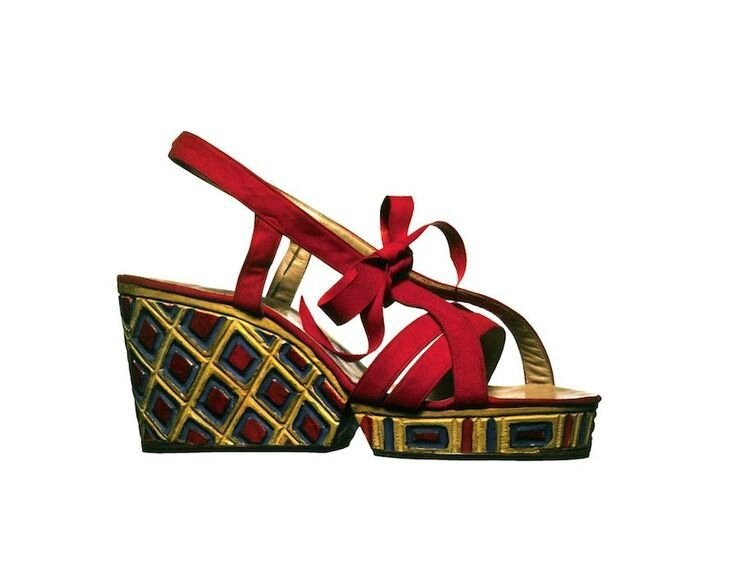 Salvatore Ferragamo, sandals 1938. Upper Consists of bands of silver and gold kid, full of cork covered with red velvet and a brass and rhinestone. The original model, with precious stones, was created to Indira Devi, Mahar. Florence, Museo Salvatore Ferragamo.
In addition, the "culture of appearance" – which makes Tamara de Lempicka the genuine embodiment of female dandyism of the Deco age – is encapsulated in a space conceived as a 1930s "luxury shop window". It displays a variety of hats – including two models by the artists favourite milliner Rose Descat – and accessories that evoke the elegance of the times, which come from both public and private collections.
Studio Ad.-Art, Tamara de Lempicka con cappello Rose Descat e abito Marcel Rochas, 1935 © Studio Ad.-Art.
TAMARA DE LEMPICKA AND MUSIC
Until now, Lempicka's relationship with music has been an unexplored element of her life and art in which manifold references to the culture of her day are melded with constant research on the art of the past. This modus operandi underpins her unique, inimitable and instantly recognizable style: a mix of "antique" and "modern", a mélange of high and popular culture. The same eclectic, free-ranging approach also characterized her tastes and preferences in music.
She liked classical music: opera (Bizet, Puccini, Verdi and above all Wagner), the great Polish composer Chopin and Schubert. She did a portrait of Bianca Bellincioni Stagno, a soprano who had debuted as Cio Cio San in Madame Butterfly at Graz in 1913. The singer was the daughter of Ruggero Stagno and Gemma Bellincioni – the first to perform Cavalleria Rusticana by Mascagni – and married to the son of the music publisher Ricordi. The drawing, which dates to 1925, is on show in the first section. Lempicka met Bianca in Milan, when she staged her first solo exhibition at the Bottega di Poesia, run by Walter Toscanini and Count Emanuele Castelbarco, which also published books on music.
The artist maintained her strong ties with Saint Petersburg at the beginning of the 20th century, where she had gone to see ballet at the Mariinsky Theatre, and she was a fan of Diaghilev's Ballets Russes. But this did not stop her from frequenting the popular Parisian cabarets created by exiles that had fled the revolution, where dancers performed in Russian costume: a canvas of 1924–1925, Russian Ballerina, attests to her close links with Russia.
Enamoured of what Boccioni defined as modernolatria, or worship of the modern, Lempicka associated with the Futurist group living in Paris, which included Marinetti, Monarchi, Prampolini, and Marquis Guido Sommi Picenardi, with whom she had an affair for a while. The marquis was also a well-known Futurist musician who had composed music for the mime-dramas staged by Balléts Leonidoff, founded by the ballerina Elena Pisarevskaya, and those directed by Bragaglia. He participated in one of the events that were part of the Futurist experience in Paris: the birth of the Théâtre de la Pantomime Futuriste, directed by Maria Ricotti and Enrico Prampolini, also composing the music for Il dramma della solitudine staged at the Théâtre de la Madeleine, with Russolo's Futurist orchestra, in 1927.

Lempicka's individual pictorial language was mainly rooted in high and popular culture – as was the music she liked. So in Paris she was a habitué of the jazz clubs where Josephine Baker sang, she adored the catchy music of the Charleston, tango and foxtrot, and spent a lot of evenings at La Vie Parisienne, a nightspot for women run by one of her lovers, the singer Suzy Solidor – her French version of Lily Marlene is unforgettable – who performed Breton songs.

This multifaceted background music accompanies an itinerary which, as the curator Gioia Mori writes, is "to be explored like a parallel universe".

The epitome of independence, elegance and modernity, Lempicka was a great admirer of Greta Garbo. She was very at home in front of the camera and appeared in two short films made in 1930 and 1932. The 1930 film shows the artist in Paris with her long-term lover, Ira Perrot, while that of 1932 explores Lempicka's studio and shows her everyday life, which consisted in work and image building but was one of solitude, enlivened only by a stunning model, the singer Suzy Solidor, and a Chinese butler.

A wide-ranging, detailed and fascinating itinerary offering a unique take on Tamara de Lempicka, symbol of elegance and transgression, independence and modernity.
Opera becomes Museum: a combination of the visual arts and music, for which the Museo della Fondazione Arena di Verona is the pefect venue. Created with the idea of completing the opera experience in a city that is a temple of this art, the AMO has its own prestigious collection, drawn from a vast historical archive that is periodically showcased by displaying selected pieces linking the stage to a museum vision. It is a place where "Opera becomes Museum" through the costumes and sets designed for the Arena, through images of the past and voices from other eras. But what makes it truly unique is the versatility of the spaces and the arts displayed, which interact to create a complete, multifaceted display, where a wealth of art in every form is shown in all its splendour.