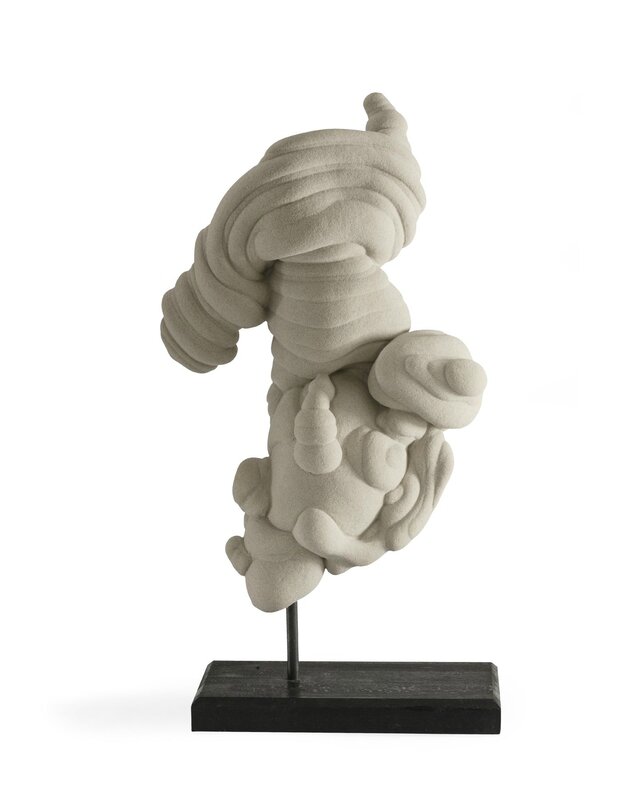 Gogotte, sculpture naturelle "Cheval marin" Oligocene, (datant de 30 millions d'années), probablement Fontainebleau, France. Estimation : 5 000 € / 8 000 € (50 000 / 70 000 HKD). Photo Artcurial.
Concrétion gréseuse naturellement façonnée de multiples excroissances, suggérant la forme d'un cheval marin - H. : 61 cm
La gogotte est une concrétion gréseuse qui allie fortuitement quartz et calcium. Sa forme onirique, qui paraît empruntée à l'art contemporain, est due en réalité à l'érosion naturelle du sol au fil des millénaires. Œuvre minéralogique, chaque gogotte revêt une forme unique, quasi mystique, qui ouvre l'imaginaire individuel à des interprétations infinies.

Réputé pour sa pureté et sa finesse depuis le XVIIe siècle, le sable de Fontainebleau donne à la gogotte son aspect porcelainé.

Des gogottes sont conservées dans des musées d'histoire naturelle du monde entier. Le National Museum of Natural History de Washington en possède un exemplaire particulièrement exubérant.
A NATURAL SCULPTED SANDSTONE GOGOTTE REPRESENTING A SEA HORSE, OLIGOCENE (THIRTY MILLION YEARS OLD), PROBABLY FONTAINEBLEAU, FRANCE, FORMED OF ROUNDED BULGES AND LUMPS OF VARYING SIZE. H.: 24 in.
A gogotte is a sandstone concretion fortuitously composed of quartz and calcium. Its dreamlike form, which could be a contemporary sculpture, is actually due to the natural erosion of the ground through thousands of years. A mineralogical work of art indeed, each gogotte has a unique and otherworldly shape, which open each imagination to infinite interpretations.

Fontainebleau's sand is famous for its flawlessness and delicacy since the 17th century, and gives to the gogotte its porcelain appearance.

Gogotte concretions can be found in natural history museums around the world. A particularly well-preserved example is exhibited at the National Museum of Natural History in Washington.
ARTCURIAL - BRIEST-POULAIN-F.TAJAN, SHEUNG WAN – HONG KONG. From Paris to Hong Kong - Vacation 2 (Vente à Hong Kong), le 06 Octobre 2015 à 18h