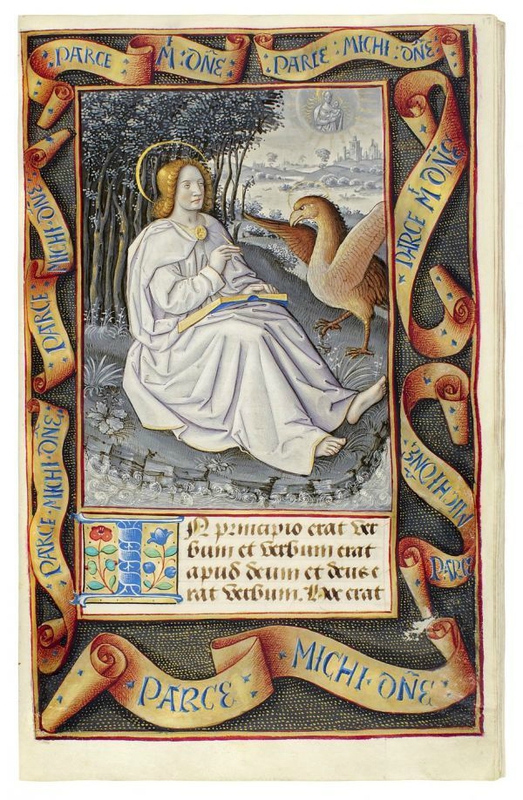 St. John on Patmos, f. 8 from a Book of Hours, use of Rome, Alternative Attribution, 24 x 15 cm, 1490 - 1500. Image courtesy of Dr. Jörn Günther Rare Books.
LONDON.- Dr Jörn Günther Rare Books will join the impressive roster of international exhibitors at this year's Frieze Masters, which will take place from 14th-18th October 2015 in Regent's Park, London.

Positioned alongside its contemporary counterpart, Frieze Masters offers a modern lens on historical art. Dr Jörn Günther Rare Books will accentuate this juxtaposition of old and new and present an assortment of museum-quality treasures that demonstrate the intellectual engagement and artistic creativity of humankind. Manuscripts, miniatures and rare early printed books from the Middle Ages to the Renaissance will be showcased within a modern context and stand design, and set amongst a backdrop of glass and crystal.

Dr Jörn Günther comments, 'Our debut participation at Frieze Masters holds great promise. The esteemed fair is undoubtedly the perfect environment in which to reinvent our exhibition methods to encourage discourse and engage with a wider audience of collectors, curators and connoisseurs that flock to London during Frieze Week.'
A prominent highlight is a fragment of the first substantial printed book of the Western World: the famed Gutenberg Bible, dated 1452-54. Named after the inventor of the printed press, Johann Gutenberg, it is arguably the most famous masterpiece of printing and its influence is pervasive.

The fragment comprises the complete Book of Joshua and the beginning of Judges from the first edition Latin Vulgate. It is believed that Gutenberg printed only 185 complete copies in total and today even single leaves appear rarely on the market. This Book of Joshua offered by Dr Jörn Günther is the largest Gutenberg Bible fragment currently known in private hands or on the market.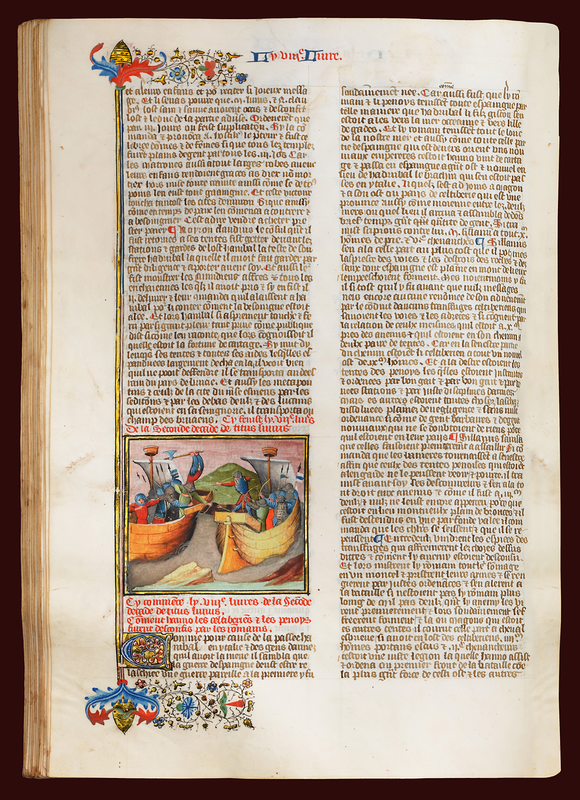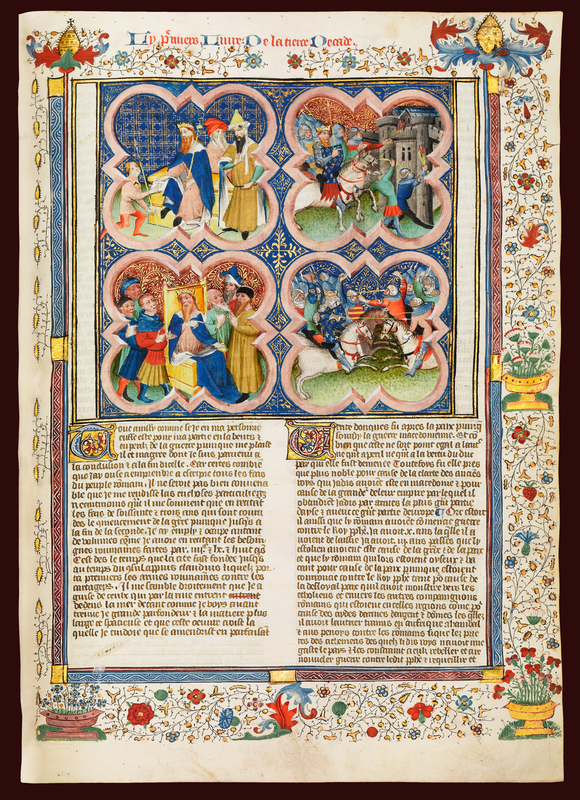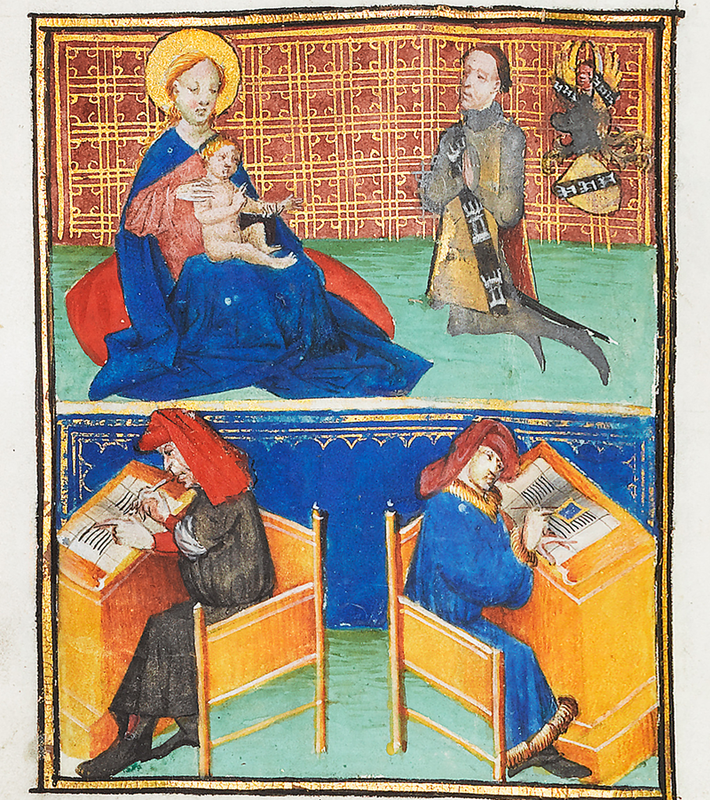 Titus Livius, Les Decades. Translated into French by Pierre Bersuire. Manuscript on vellum, illuminated by Henri d'Orquevaulz, written by the scribe Jeannin de Rouen. France, Metz, dated 1440. 450 x 318 mm. 375 leaves. 87 large miniatures. In a 16th-century binding à la Fanfare, c. 1580. Image courtesy of Dr. Jörn Günther Rare Books.
Also on offer is a French translation of Les Décades by Titus Livius, known as Livy, the greatest historian of Roman Antiquity. Written between 27 and 25 BC and comprising 142 books split into 'decades', much of Livy's original text was lost; only decades I and III-IV were known to exist by the Middle Ages. During the 14th century King Jean le Bon commissioned a translation of Livy's remaining works from Pierre Bersuire. This present manuscript is a copy of the translation, transcribed by Jennin de Rouen in 1440 for Jean III de Vy, whose portrait and coat of arms can be seen on the final page.

This remarkable manuscript contains 87 large miniatures by Henri d'Orquevaulx, a prominent figure of late medieval illumination. Scores of jousts, knights, castles, pageantry, banquets, maidens, and voyages capture the essence of the Middle Ages in opulent colour. It is one of the most profusely illustrated of all known copies of Livy's Les Décades, superseding the very grandest of royal copies which typically contain only 30 miniatures.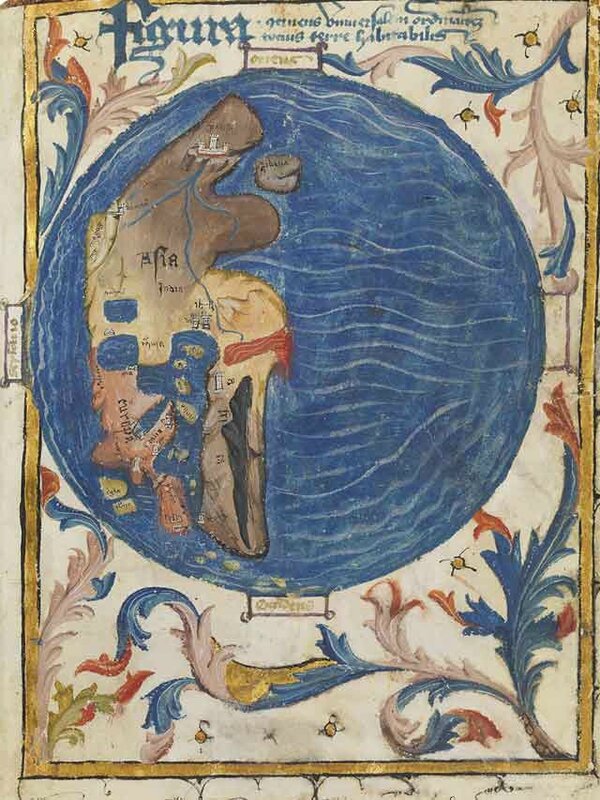 An unpublished compendium made for Juan II, King of Castile and Leon, circa 1425. Image courtesy of Dr. Jörn Günther Rare Books.
Another highlight is an unpublished compendium made for Juan II, King of Castile and Leon, circa 1425. Discovered in a private collection and fresh to the market, it is a unique example of medieval political literature.

The inclusion of the royal coat of arms and its small size suggests personal use, a notion complemented by the didactic nature of the text in which the unknown author directly addresses Juan II, instructing him on the ideal government of a king. Magnificent miniatures further define and perpetuate the traditional qualities of royal identity.