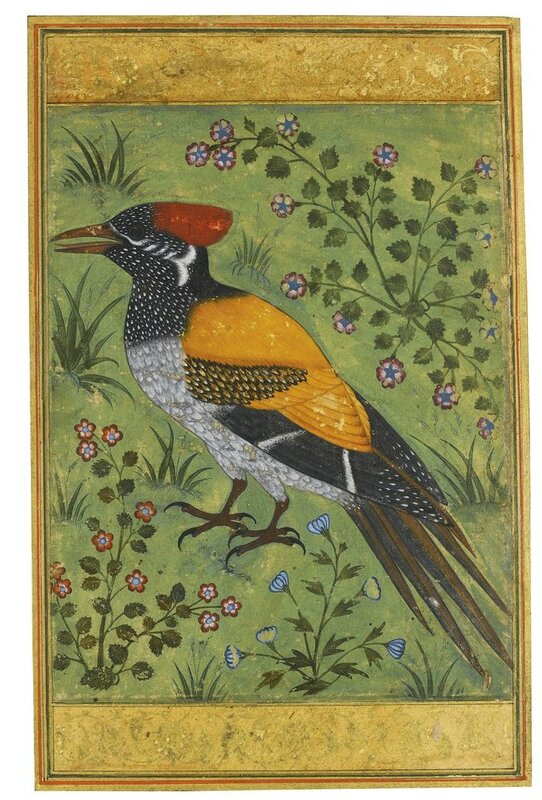 A yellow-backed woodpecker, attributed to Mansur, Mughal, circa 1585-90. Estimate 50,000 — 70,000 GBP. Lot. sold 62,500 GBP. Photo Sotheby's
gouache on paper, laid down on an album page, borders above and below with scrolling gold flowers, outer margins filled with leafy gold vegetation, reverse with 4 lines of large nasta'liq calligraphy - painting: 16.7 by 12.9cm. leaf: 31.7 by 20.1cm.
Provenance: Hagop Kevorkian, New York (1872-1962)
Kevorkian Foundation
Sotheby's, London, 6 December 1967, lot 134
Exhibition: Paintings from the Muslim Courts of India, British Museum, London, 1976
Bibliography: London 1976, p.60, no.83.
Beach, Fischer and Goswamy 2011, vol.I, pp.249, 251 & 255, fig.14
Notes: When this painting of a woodpecker was first published, in The British Museum exhibition catalogue of 1976 Paintings from the Muslim Courts of India, the entry, written by Dr. Ellen Smart linked it to illustrations of birds and animals in the early copies of the Baburnama (London 1976, p.60, no.83). Subsequently this link has been cemented with an attribution to the great Mughal master Mansur, who is particularly known for his paintings of birds and animals, and who painted several of the early Baburnama illustrations of natural history referred to by Smart (Beach in Beach, Fischer and Goswamy 2011, p.255, fig.14; for relevant Baburnama illustrations see, for example, Okada 1992, pp.224-5, nos.262-4).
Mansur began his career in the late 1580s, when his early style of natural history painting appears in the Baburnama, c.1589, see Beach, 1981, pp.75-77 & 81, no.7. He rose to become the most skilled and illustrious of the Indian painters of fauna and flora in the seventeenth century. He was fortunate that his royal patrons were very interested in natural history, following in the footsteps of Babur and Humayun, and his natural prowess in this direction allowed a flowering of his career and a chance to fulfil his great talent. Emperor Jahangir (ruled 1605-27) mentioned him four times in his Tuzuk-i Jahangiri (translated by Rogers-Beveridge 1989, p.20, vol.II) and awarded him the title of Nadir al-'Asr ('Wonder of the Age'). He was also an exceptional illuminator, contributing illuminated pages and borders to several royal manuscripts and albums.
For further discussion of his career and illustrations of his work see Das 2012; Das in Pal et al. 1991, pp.39-52; Okada 1992, pp.216-225; Beach in Beach, Fischer and Goswamy 2011, vol. 1, pp.243-258.
The type of bird represented here has for a long time been slightly mis-identified. It is in fact a Black-Rumped Flameback Woodpecker (Dinopium benghalense), sometimes known as a Lesser Golden-Backed Woodpecker (see Grimmet, Inksipp and Inksipp 1998, p.69, pl.16, no.9). It is a widespread resident of the Indian subcontinent, inhabiting open forests and often breeding in old tamarisk and acacia trees.
Sotheby's. The Sven Gahlin Collection, Londres, 06 oct. 2015