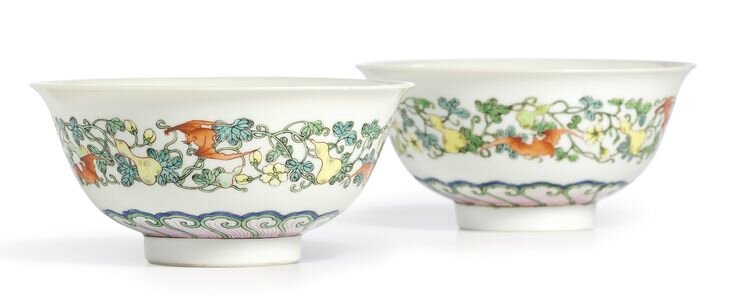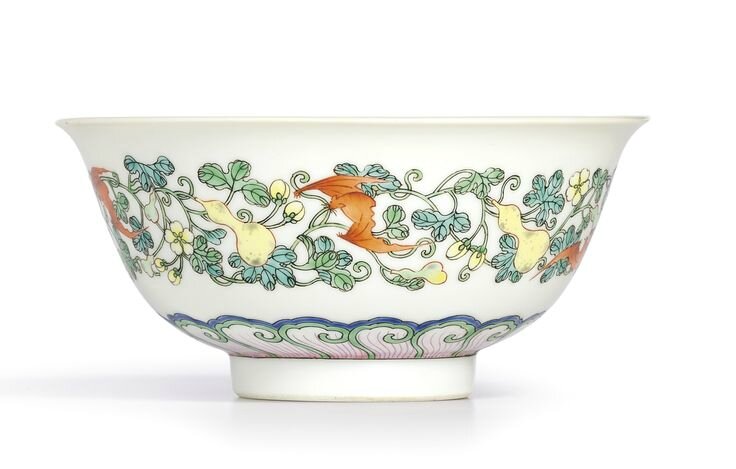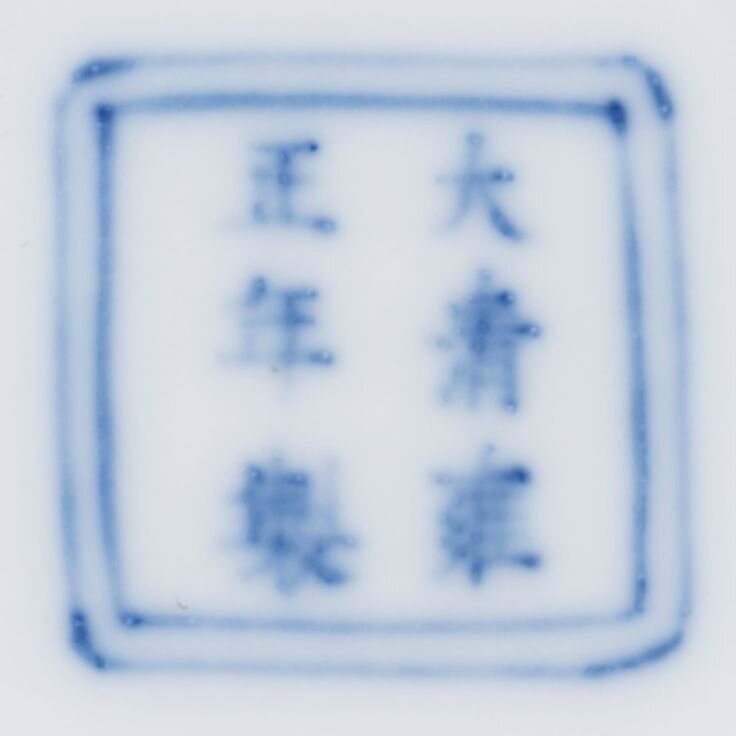 Lot 3634. An extremely fine and rare pair of famille-rose 'bats and double-gourds' bowls, Marks and period of Yongzheng (1723-1735); 12 cm., 4 3/4 in. Estimate 18,000,000 — 25,000,000 HKD (2,069,207 — 2,873,899 EUR). Lot sold 19,280,000 HKD (2,216,351 EUR). Photo: Sotheby's
each delicately potted with deep rounded sides rising gracefully from a straight foot to an elegant flared rim, exquisitely painted to the exterior with a continuous frieze of five iron-red bats, forming the wufu ('five abundances'), depicted flying amongst a fruiting and flowering double-gourd vine, interspersed with flower heads and double-gourds in varying stages, some just budding, others full and ripe, delicately rendered in a rich yellow enamel tinged with darker mottling simulating the natural grain of the gourd, the naturalistically rendered meandering vine leaves picked out in differing shades of green with precise black outlines detailing the veins of the leaves, all above a band of auspicious ruyi-shaped petal lappets radiating around the foot, vividly enamelled with rich pink linear details enclosed within the undulating green-enamelled tendrils, all skilfully silhouetted within a rich blue enamelled border, the base inscribed with a six-character reign mark within a double-square.
Provenance: A private family collection, Guernsey, formed in the 1930s, by repute.
Martel Maides Auctions, 29th November 2009, lot 111.
Two Portents of Good Fortune
These exceptionally rare bowls are notable for their elegant and skilfully designed band of five bats flying amongst a fruiting and flowering double-gourd vine. Only one other bowl of this type appears to have been published, sold at Christie's Hong Kong, 17th January 1989, lot 688, and formerly in the Robert Chang collection, included in An Exhibition of Important Chinese Ceramics from the Robert Chang Collection, Christie's, London, 1993, cat. no. 93. The striking band of delicately rendered fruiting and flowering vine, where different shades of green fill the leaves and young fruit while the flowers and ripe gourds blend in masterfully with their yellow tones, is complemented by the attractive petal band encircling the foot. Every component of the design is meticulously executed to result in a restrained sophistication characteristic of the Yongzheng period. Compare a Qianlong interpretation of this design, but with the exterior of the bowl decorated with seven iron red bats amid a blossoming and fruiting double-gourd vine, sold in these rooms, 8th October 2006, lot 1127.
It was the Yongzheng emperor who refreshed the strong interest in auspicious symbols in the Qing dynasty, which later became ubiquitous in the Qianlong reign. He revived the custom of giving ruyi sceptres, and frequently had himself painted with symbols of good luck. Upon his enthronement the Italian court painter Giuseppe Castiglione offered the emperor a painting of a porcelain vase containing a bunch of flowers including lotus with double blooms, a double pod and double ears of corn – auspicious omen heralding a prosperous reign; see Wang Yaoting, Xin shijian: Lang Shining yu Qing gong xiyang feng/New Visions at the Ch'ing Court. Giuseppe Castiglione and Western-Style Trends, Catalogue of an exhibition at the National Palace Museum, Taipei, 2007, pl. 11.
The red bats (hongfu) on these bowls convey the message of 'vast blessings', as the word for bat in Chinese is fu, meaning riches and blessing, while red, 'hong' is synonymous with 'vast'. Five bats (wufu) represent the five blessings, which to the Chinese are longevity, wealth, health, love of virtue and a peaceful death. When rendered with double gourds the motif represents good fortune, longevity and high official position. The ruyi-shaped petal lappets encircling the foot add further auspicious meaning as they represent the wish-bearing lingzhi fungus.
Compare yellow-ground bowls decorated with a related motif of twelve bats flying amidst swirling green enamel clouds, but each holding a double-gourd suspended from a blue ribbon in its mouth, with Yongzheng reign marks and of the period, such as one in the Palace Museum, Beijing, illustrated in Qingdai yuyao ciqi [Imperial ceramics of the Qing dynasty], vol. 1, pt. II, Beijing, 2005, pl. 66; another from the Constantinidi collection, published in Soame Jenyns, Later Chinese Porcelain, London, 1951, pl. LXIXl; and a bowl, from the collection of the British Rail Pension Fund, sold in these rooms, 16th May 1989, lot 78.
The motif of bats and gourds is also found carved on monochrome porcelain, suggesting the popularity of the motif with Yongzheng, as seen on a celadon-glazed bowl, sold at Christie's London, 15th July 2005, lot 259, and again in these rooms, 7th April 2015, lot 3602; and on a celadon-glazed dish, in the National Palace Museum, Taipei, included in the Illustrated Catalogue of Ch'ing Dynasty Porcelain in the National Palace Museum, vol. 1, Tokyo, 1980, pl. 149.
The unusual petal lappet encircling the foot may derive from Song carved celadon wares. Similarly formed radiating petals can be found on Yongzheng mark and period celadon-glazed dishes, where the interior of the dish is carved with a lotus bloom with two rows of petals radiating from a central lotus pod, such as one sold in our London rooms, 15th May 2013, lot 254. Though carved without the linear details, the silhouette of the inner band is related to that on the present bowl. While this rendition of the petal band is a distant interpretation of a common Song motif, it is typical of Yongzheng wares where the original was given a fresh aesthetic appropriate to the emperor's taste.
Sotheby's. Important Chinese Art Hong Kong, 07 Oct 2015