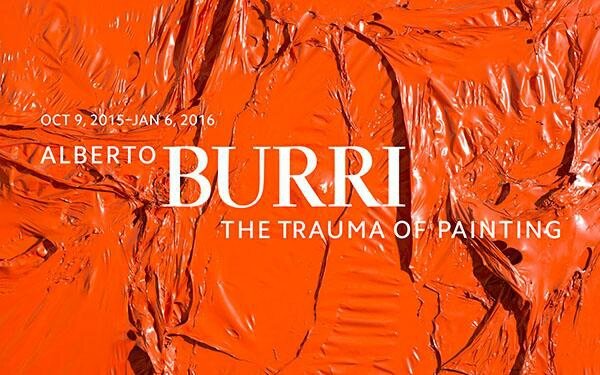 NEW YORK, NY.- The Solomon R. Guggenheim Museum opened a major retrospective—the first in the United States in nearly forty years and the most comprehensive in this country—devoted to the work of Italian artist Alberto Burri (1915–1995). Exploring the beauty and complexity of Burri's process-based works, the exhibition positions the artist as a central protagonist of post–World War II art and revises traditional narratives of the cultural exchanges between the United States and Europe in the 1950s and '60s. Burri broke with the gestural, painted surfaces of both American Abstract Expressionism and European Art Informel by manipulating unorthodox pigments and humble, prefabricated materials. A key figure in the transition from collage to assemblage, Burri rarely used paint or brush in conventional ways, and instead worked his surfaces with stitching and combustion, among other signal processes. With his torn and mended burlap sacks, "hunchback" canvases, and melted industrial plastics, the artist often made allusions to skin and wounds, but in a purely abstract idiom. The tactile quality of his work anticipated Post-Minimalist and feminist art of the 1960s, while his red, black, and white "material monochromes" defied notions of purity and reductive form associated with American formalist modernism. Bringing together more than one hundred works, including many that have never before been seen outside of Italy, the exhibition demonstrates how Burri blurred the line between painting and sculptural relief and created a new kind of picture-object that directly influenced Neo-Dada, Process art, and Arte Povera.
"This comprehensive exhibition of the work of Alberto Burri affirms his position as a leading pioneer of postwar European art and one of the most groundbreaking artists of his time," stated Richard Armstrong, Director of the Solomon R. Guggenheim Museum and Foundation. "Through the scholarship of our curatorial team led by Emily Braun, the Guggenheim is bringing to light new aspects of Burri's experimental and innovative practice. We welcome the opportunity to reacquaint twenty-first-century museumgoers with Burri's legacy and to reexamine his impact both on his contemporaries and on a new generation of artists."
Burri is best known for his series of Sacchi (sacks) made of stitched and patched remnants of torn burlap bags, in some cases combined with fragments of discarded clothing. Far less familiar to American audiences are the artist's other series, which this exhibition represents in depth: Catrami (tars), Muffe (molds), Gobbi (hunchbacks, or canvases with protrusions), Bianchi (white monochromes), Legni (wood combustions), Ferri (irons, or protruding wall reliefs made from prefabricated cold-rolled steel), Combustioni plastiche (plastic combustions, or melted plastic sheeting), Cretti (induced craquelure, or cracking), and Cellotex works (flayed and peeled fiberboard). The exhibition unfolds on the ramps of the Guggenheim both chronologically and organized by series, following the artist's movement from one set of materials, processes, and colors to the next. Throughout his career, Burri also engaged with the history of painting, reflecting his deep familiarity with the Renaissance art of his native Umbria. The exhibition likewise reveals the dialogue with American Minimalism that informed his later Cretti and Cellotex works. In addition, the installation includes an immersive new film commissioned by the Guggenheim Museum. Dutch filmmaker Petra Noordkamp documents Burri's singular Land art memorial, the enormous Grande cretto (Large Cretto, 1985–89; with its last section completed posthumously in 2014) in Gibellina, Sicily, a town devastated by a 1968 earthquake. An enormous shroud of white cement covers the ruins, and fissures function as pathways that wind through an area of roughly 20 acres. The film captures Grande cretto as an experiential work of art filled with a sense of place and history.
Born in Città di Castello, Italy, in 1915, Burri trained to be a doctor and served as a medic in the Italian army in North Africa during World War II. Following his unit's capture in Tunisia in 1943, he was interned at a prisoner-of-war camp in Hereford, Texas, where he began painting. After his return to Italy in 1946, Burri devoted himself to art—a decision prompted by his firsthand experiences of war, deprivation, and Italy's calamitous defeat. His first solo show, at Rome's Galleria La Margherita in 1947, featured landscapes and still lifes. After a trip to Paris in 1948–49, he began to experiment with tarry substances, ground pumice stone, industrial enamel paints, and metal armatures, and he formed accretions and gashes that destroy the integrity of the picture plane. He then traumatized the very structure of painting by puncturing, exposing, and reconstituting the support. Instead of using the traditional cohesive piece of stretched canvas, Burri assembled his works from piecemeal rags, broken wood veneer, welded steel sheets, or layers of melted plastic—stitching, riveting, soldering, stapling, gluing, and burning his materials along the way. His work demolished and reconfigured the Western pictorial tradition, while transforming the scale and affective power of modernist collage.
Though considered an Italian artist, Burri married an American dancer-choreographer, Minsa Craig, and, beginning in 1963, resided annually in Los Angeles during the winter months. In 1978 the artist established the Fondazione Palazzo Albizzini Collezione Burri in Città di Castello. The Fondazione today operates two museums in his hometown that present artwork he personally installed: the Palazzo Albizzini and the Ex Seccatoi del Tabacco. Exceptionally, the Fondazione is lending two pictures pulled directly from its permanent collection exhibition: Grande bianco (Large White, 1952) and Grande bianco (Large White, 1956). The former is one of three large textile collages that Robert Rauschenberg saw—among other works—in Burri's Rome studio in early 1953. Those three grand pictures have been reunited in the New York presentation.
In conjunction with the exhibition, the Guggenheim Museum led an in-depth conservation study of the artworks assembled for the retrospective as well as numerous other works from the various series. The study, which involved the efforts of a multidisciplinary team of curators, conservation scientists, and painting, paper, objects, and textile conservators, analyzed the wide variety of original and complex materials and working methods used by Burri in pioneering ways.
Following the presentation in New York, Alberto Burri: The Trauma of Painting will travel to Kunstsammlung Nordrhein-Westfalen, Dusseldorf, from March 5 to July 3, 2016.
Alberto Burri: The Trauma of Painting is organized by Emily Braun, Guest Curator, Solomon R. Guggenheim Museum; Distinguished Professor, Hunter College and the Graduate Center, City University of New York; and Curator, Leonard A. Lauder Cubist Collection, with Megan Fontanella, Associate Curator, Collections and Provenance, and Ylinka Barotto, Curatorial Assistant, Solomon R. Guggenheim Museum. An accompanying study was led by Carol Stringari, Deputy Director and Chief Conservator, Solomon R. Guggenheim Foundation.
Alberto Burri, Great White (Large White), 1952. Oil, tempera, fabric, thread, and VINAVIL on canvas, 149.2 x 250.2 cm Fondazione Palazzo Albizzini Burri Collection, Citta di Castello, Italy © Fondazione Palazzo Albizzini Burri Collection, Citta di Castello / 2015 Artists Rights Society (ARS), New York / SIAE, Rome / SIAE, Rome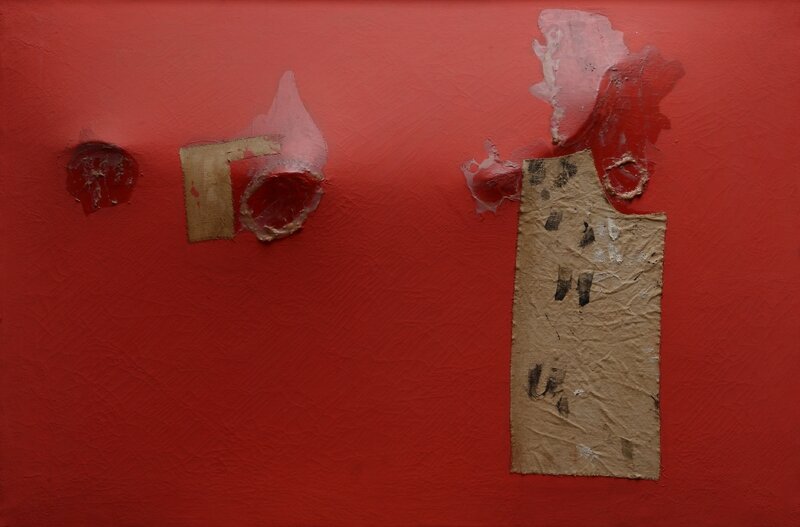 Alberto Burri, Rosso gobbo (Red Hunchback), 1953, Acrylic, fabric, and Vinavil on canvas with metal structure, 56.5 x 85 cm, Private collection, Rome © 2014 Artists Rights Society (ARS), New York/SIAE, Rome
Alberto Burri, Sacco and gold ( Sack and Gold ), 1953. Burlap, thread, acrylic, gold leaf, and PVA on black fabric, 102.9 x 89.4 cm. Private collection, courtesy Gallery Shield, Verona © Fondazione Palazzo Albizzini, Burri Collection, Citta di Castello / 2015 Artist Rights Society (ARS), New York / SIAE, Rome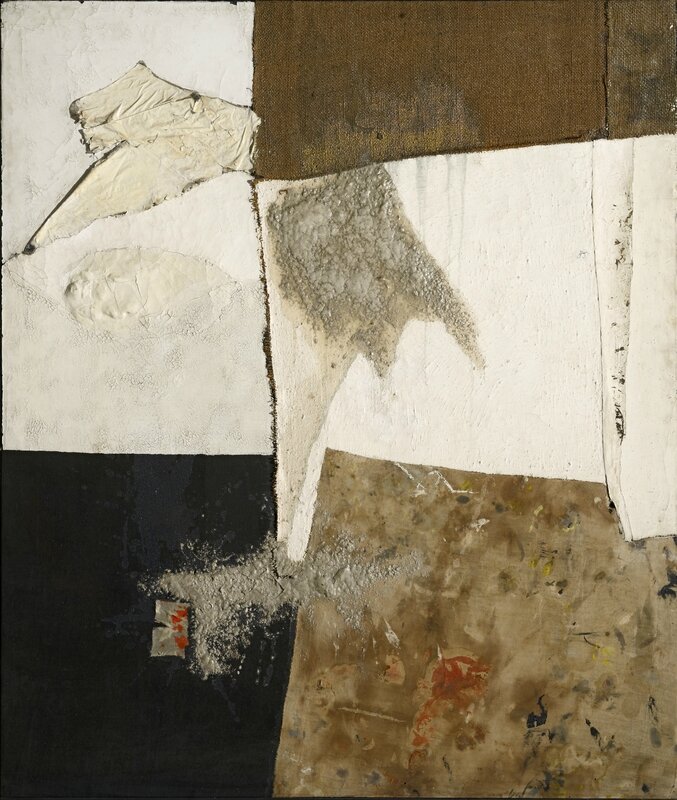 Alberto Burri, Black and white bag (Black and White Sack), ca. 1954. Oil, fabric, burlap, pumice, and PVA on canvas, 125 x 107 cm. Courtesy Galleria Tega, Milan © Fondazione Palazzo Albizzini Burri Collection, Citta di Castello / 2015 Artist Rights Society (ARS), New York / SIAE, Rome. Photo: Paul Vandrasch and Romina Bettega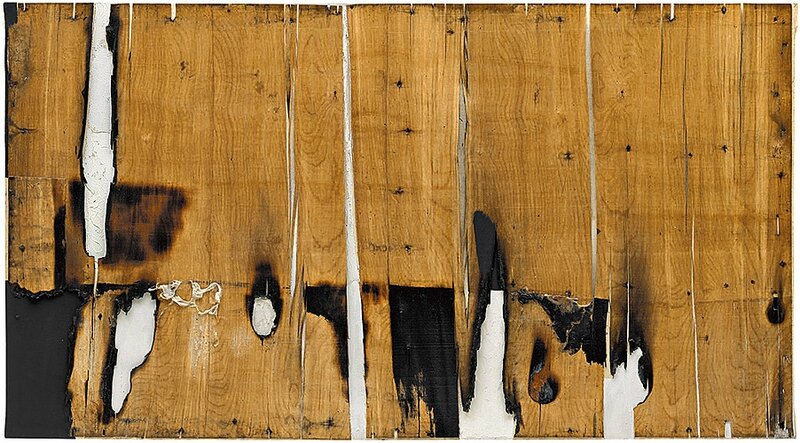 Alberto Burri, Legno e bianco I (Wood and White I), 1956, Oil, tempera, Vinavil, and charred wood on canvas, 87.6 x 159 cm, Solomon R. Guggenheim Museum, New York 57.1463, © 2014 Artists Rights Society (ARS), New York/SIAE, Rome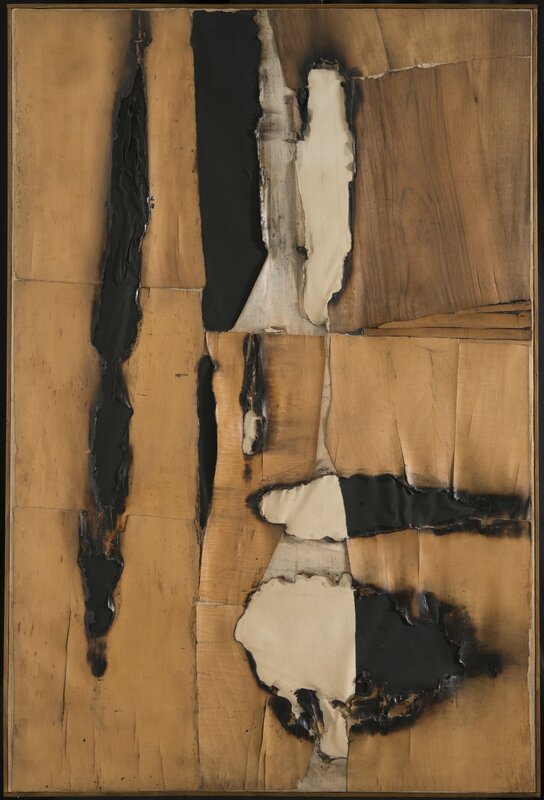 Alberto Burri, Burning wood (Wood Combustion), 1957 . Wood veneer, paper, combustion, acrylic, and VINAVIL on canvas, 149.5 x 99 cm . Private collection, courtesy Gallery Shield, Verona © Fondazione Palazzo Albizzini Burri Collection, Citta di Castello / 2015 Artist Rights Society (ARS), New York / SIAE, Rome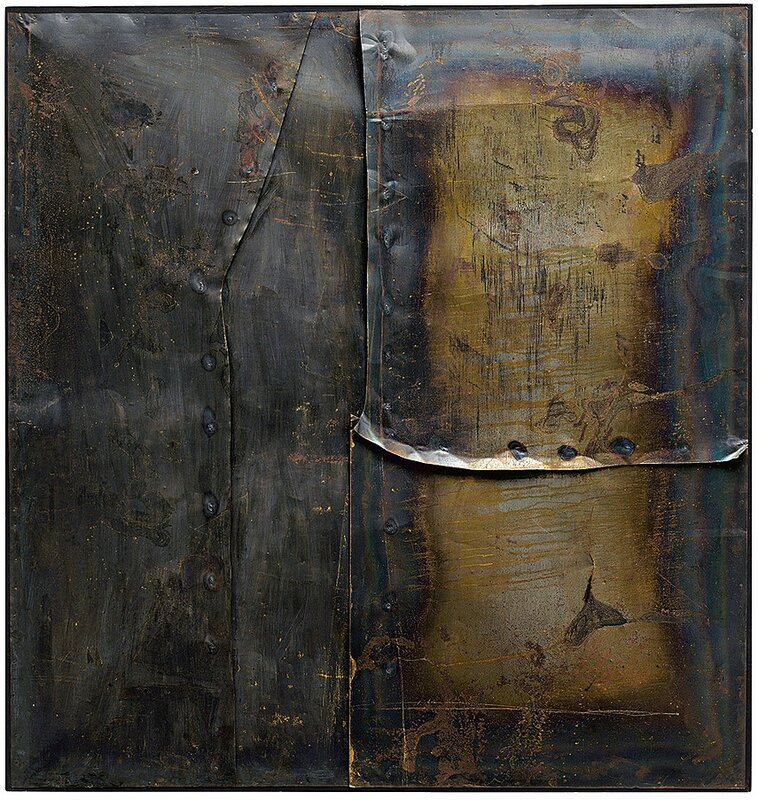 Alberto Burri, Grande ferro M 4 (Large Iron M 4), 1959. Welded iron sheet metal and tacks on wood framework, 199.8 x 189.9 cm. Solomon R. Guggenheim Museum, New York 60.1572 © Fondazione Palazzo Albizzini Collezione Burri, Città di Castello/2015 Artist Rights Society (ARS), New York/SIAE, Rome
Alberto Burri, Red plastic (Red Plastic), 1961. Plastic (PVC), acrylic, and combustion on plastic (PE) and black fabric, 142 x 153 cm. Modern Art Foundation © Fondazione Palazzo Albizzini Burri Collection, Citta di Castello / 2015 Artist Rights Society (ARS ), New York / SIAE, Rome. Photo: Massimo Naples, Rome, courtesy Modern Art Foundation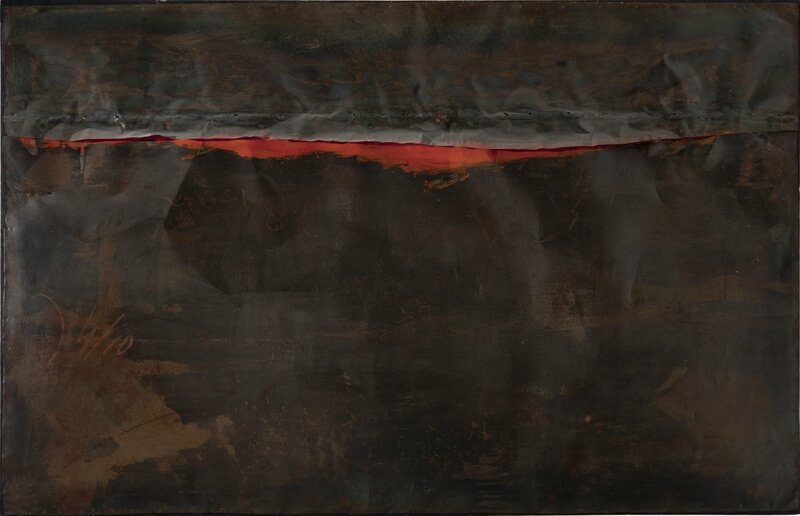 Alberto Burri, 'Ferro SP' (Iron SP), 1961, welded iron sheet metal, oil, and nails on wood framework, 130 x 200 cm
. Galleria nazionale d'arte moderna e contemporanea, Rome © Fondazione Palazzo Albizzini Collezione Burri, Città di Castello/2015 Artist Rights Society (ARS), New York/SIAE, Rome. Photo: Antonio Idini, Soprintendenza alla Galleria nazionale d'arte moderna e contemporanea, courtesy Ministero per i Beni e le Attività Culturali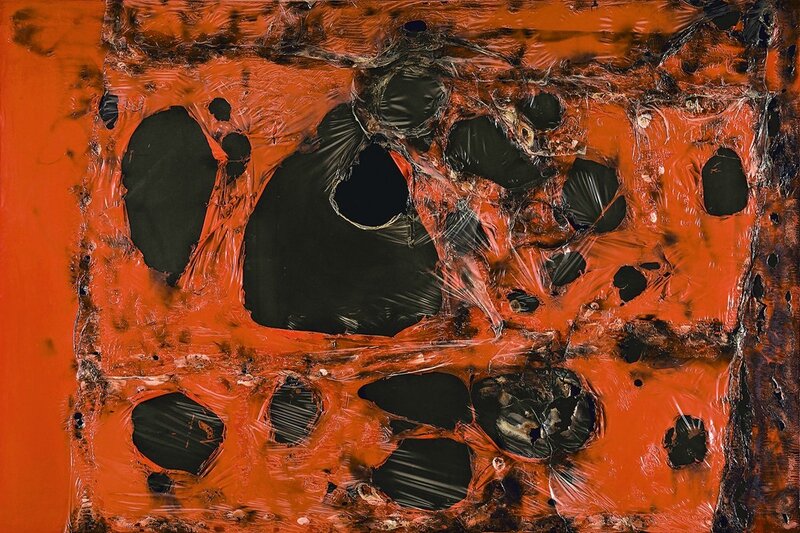 Alberto Burri, Rosso plastica M 2 (Red Plastic M 2), 1962. Burned plastic on canvas, 120 x 180 cm. Private collection © 2014 Artists Rights Society (ARS), New York / SIAE, Rome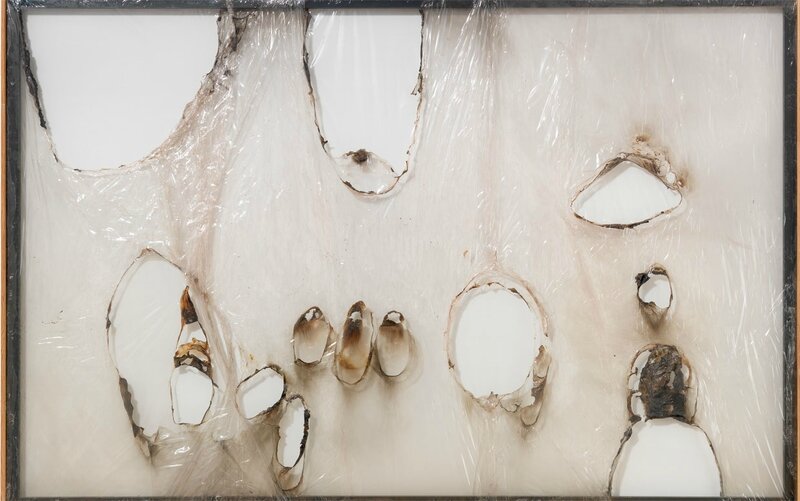 Alberto Burri, Grande bianco plastica (Large White Plastic), 1964, Burned plastic on aluminum stretcher, 191.8 x 292.1 cm, Glenstone, © 2014 Artists Rights Society (ARS), New York/SIAE, Rome, Photo: Tim Nighswander/IMAGING4ART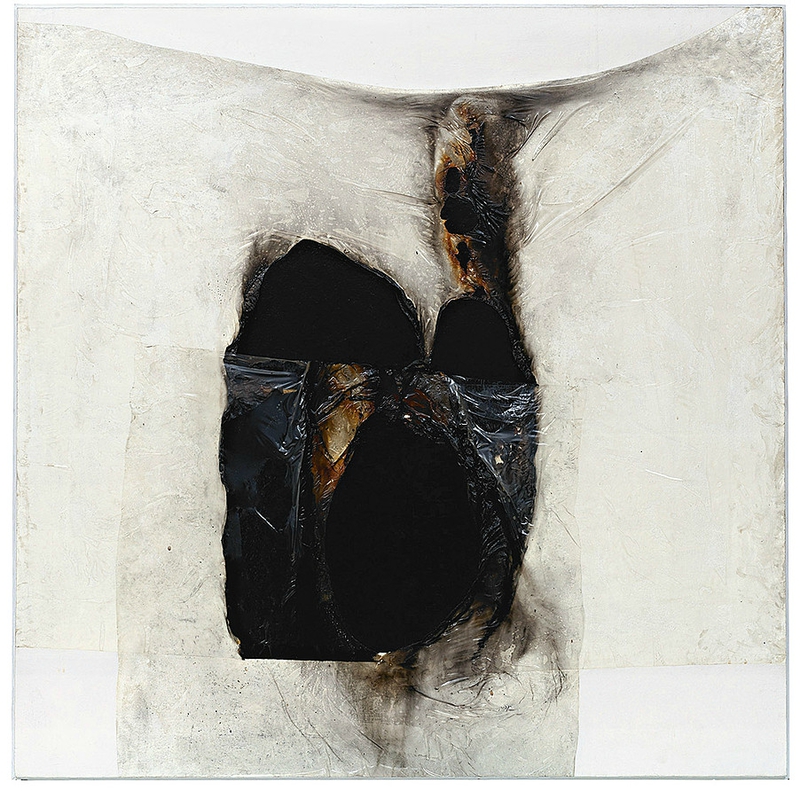 Alberto Burri (b. 1915, Città di Castello, Italy; d. 1995, Nice), Bianco B (White B), 1965. Solomon R. Guggenheim Museum, New York © Fondazione Palazzo Albizzini Collezione Burri, Città di Castello/2015 Artist Rights Society (ARS), New York/SIAE, Rome
Alberto Burri, Grande cretto nero (Large Black Cretto), 1977, Acrylic and Vinavil on board, 149.5 x 249.5 cm, Musée national d'art moderne, Centre Georges Pompidou, Paris, Gift of the artist, 1978 © 2014 Artists Rights Society (ARS), New York/SIAE, Rome, Photo: Courtesy Musée national d'art moderne, Centre Georges Pompidou, Paris © CNAC/MNAM/Dist. RMN-Grand Palais/Art Resource, New York
Alberto Burri in his studio in Case Nove di Morra, Città di Castello, Italy, 1982. Photo: Aurelio Amendola © Aurelio Amendola, Pistoia, Italy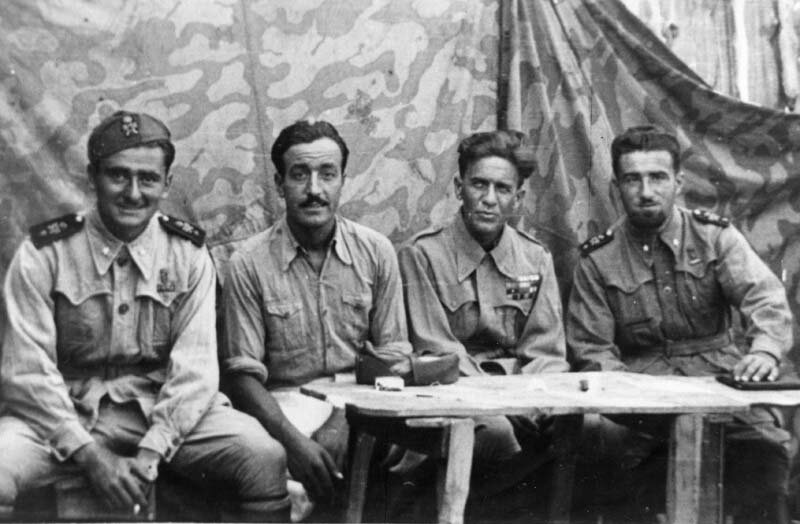 Italian soldiers during the Italo-Ethiopian War, Amba Aradam, 1935. From left: Alberto Burri, Ivo Serafini, Giuseppe Gentil, and Facondo Andreoli. Photo courtesy Mariella Andreoli, Città di Castello, Italy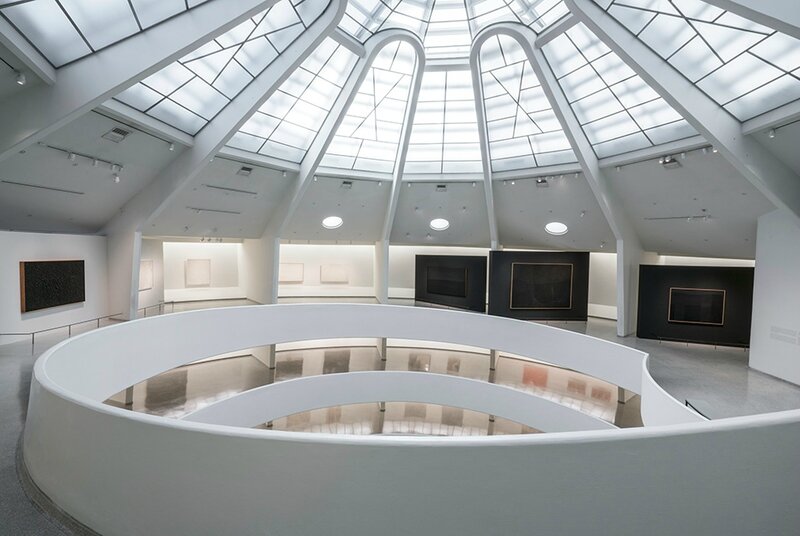 Installation view: Alberto Burri: The Trauma of Painting, October 9, 2015–January 6, 2016, Solomon R. Guggenheim Museum. Photo: David Heald © Solomon R. Guggenheim Foundation