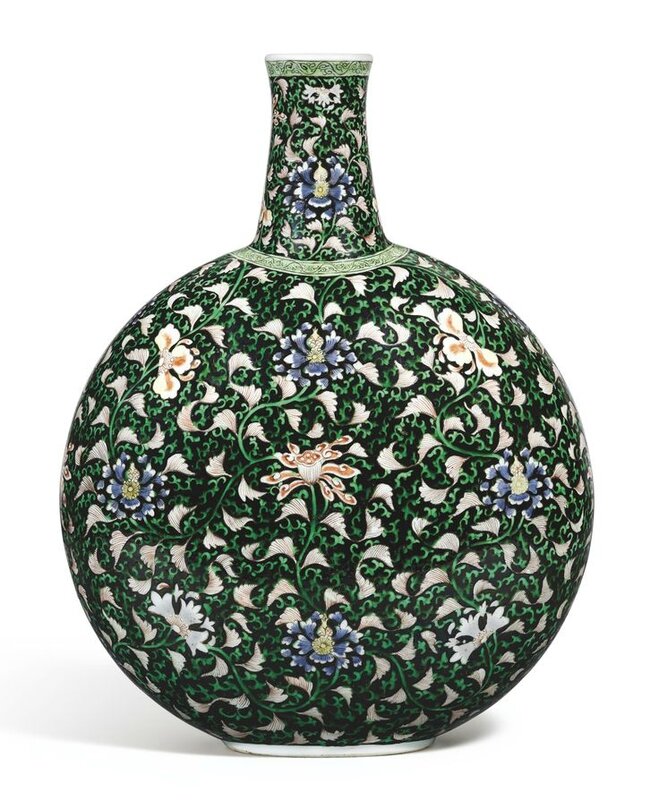 Lot 3713. A fine and rare famille-noire 'floral scroll' moonflask, Qing dynasty, Yongzheng period. Estimate 3,000,000 — 5,000,000 HKD. Unsold. Photo Sotheby's.
well potted with gently rounded sides, the flattened circular body rising from a short tapered footring to a slightly waisted neck, the body elaborately painted with a composite floral meander, the green vine bearing clusters of green scrolling tendrils, interspersed with meticulously picked out iron-red leaves and large blossoms including lotus, clematis and pomegranate in iron-red, blue, lilac and yellow enamels, all against a glossy black ground, the neck similarly decorated with a composite floral scroll between two narrow bands of classic scrolls on a pale green ground - 27.1 cm., 10 5/8 in.
Provenance: An old Hamburg private collection, reputedly acquired from Ruef Auctioneers, Munich, c. 1965, and thence by descent.
Notes: Moonflasks decorated in the famille-noire palette are extremely rare and no other example appears to have been published. The semi-translucent curling green enamel fronds provide an attractive contrast with the iron-red leaves and together they create a sense of movement amongst which the lotus flowers bloom. Although this moonflask is a completely original Yongzheng creation, in its form and palate it refers back to celebrated wares of Chinese history.
The striking colour scheme was first used on a small number of pieces in the mid-15th century, whereby a layer of lead-based copper green enamel was combined under a layer of cobalt which, when fired, fused them together to create a glossy black glaze. This palate was revived under the Kangxi Emperor through the famille-noire technique which was originally an extension of famille-verte decoration on which the enamels were set against a black ground. By the Yongzheng period, this technique became more sophisticated as a result of producing a finer porcelain body improving the technique by layering the black to produce the glossy opaque effect as seen on the present flask. While dark-coloured grounds were favoured for their ability to dramatically display the vibrant enamels, wares decorated with a black ground are rare because of the difficulties in successfully producing pieces.
This flask is also notable on account of its pleasing form, which has its origins in the early Ming dynasty. The Yongzheng Emperor sought to see celebrated past masterpieces replicated as a reminder of the glorious past. Official stonewares of the Song dynasty and blue and white porcelain of the Ming period from the Imperial collection became models that provided the standard for the Jingdezhen potters to aspire to. Pieces such as the present flask cleverly combine a well-known and admired form with a novel design to suit contemporary taste. For the prototype of this form see a Yongle period flask in the National Palace Museum, Taipei, included in the Museum's exhibition Mingdai chunian ciqi tezhan mulu [Catalogue of the special exhibition of early Ming porcelains], Taipei, 1982, cat. no. 3.
Few wares decorated in this famille-noire technique are known; see a pear-shape vase painted with scrolling lotus, from the collection of R. May and now in the Rijksmuseum, Amsterdam, is published in P. Lusingh Scheurleer, Asiatic Art in the Rijksmuseum, Amsterdam, 1985, pl. 87; and another from the collection of Sir Frank A. Swettenham, sold in our London rooms, 7th November 1946, lot 71, and possibly the same sold at Christie's London, 6th December 1993, lot 124. Compare also a baluster vase with a related design, from the collection of Mrs Joshua, illustrated in R.L. Hobson, The Later Ceramic Wares of China, London, 1925, pl. LIX, no. 2; and another from the collection of Robert Chang, included in An Exhibition of Important Chinese Ceramics from the Robert Chang Collection, Christie's, London, 1993, cat. no. 34, and sold twice at Christie's Hong Kong, 18th March 1991, lot 549, and 27th May 2008, lot 1765.
This foliate lotus design is also found on a small group of black ground bowls and dishes with Yongzheng marks and of the period, such as a dish in the Shanghai Museum, Shanghai, illustrated in The Complete Works of Chinese Ceramics, Shanghai, 2000, pl. 180; another in the Victoria and Albert Museum, London, published in Rose Kerr, Chinese Ceramics. Porcelain of the Qing Dynasty, London, 1986, pl. 23; and a bowl in the Indianapolis Museum of Art, Indianapolis, included in the exhibition Beauty and Tranquillity. The Eli Lilly Collection of Chinese Art, Indianapolis, 1983, cat. no. 114.
Sotheby's. Important Chinese Art, Hong Kong, 07 oct. 2015