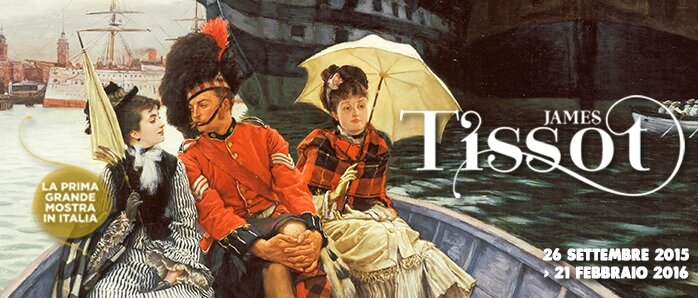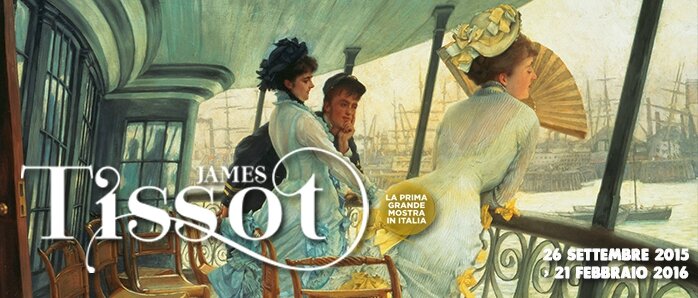 ROME.- A refined leading figure in the elite of his time, both envied and loved, James Tissot is a painter whose art in some respects is still an enigma today, a blend of Impressionist influences and Pre-Raphaelite echoes.

Tissot was French by birth but British by adoption and felt equally at ease among conservatives and liberals. His paintings celebrate the life of the upper middle class ¬– the class that was at its height during the Victorian era between the industrial revolution and colonialism – by transforming the quotidian into heroic and celebratory exploits, turning every gesture into a stereotype, but one that was not devoid of originality.

Dart - Chiostro del Bramante and Arthemisia Group present the monographic exhibition featuring the work of this great artist James Tissot (…) from 26 September 2015 to 21 February 2016 at theChiostro del Bramante in Rome.

The 80 works in the exhibition, including paintings and engravings, span his whole artistic trajectory. They show how he was influenced both by the Parisian art scene and the real world of London, whilst illustrating his romantic and mystical vein, his incredible talent as a colourist and his interest in fashion, all themes that he always handled with psychological depth.

Jacques Joseph Tissot (Nantes, 1836 – Bouillon, 1902) enjoyed considerable success during his lifetime. In the 1980s, British critics definitively recognized the quality of his work. In France major solo exhibitions were devoted to him (from the show at the Petit Palais in Paris, in 1985, to the one at the Musée des Beaux-Arts in Nantes, in 2005), presenting the oeuvre of this artist, who was so famous in England but virtually overlooked in his country of origin until then.

In recent decades, exhibitions staged the world over have given scholars the opportunity to study the chronology and placement of his works more precisely, and to focus particularly on the social and cultural implications of his poetics. Now Tissot is coming to Italy for the first time in an exhibition that brings together masterpieces from Tate Britain, London, and from the Petit Palais and the Musée d'Orsay, Paris.

The son of the drapery merchant, Marcel Théodore, and a milliner and designer of hats, Marie Durand, – hence his skill in depicting details of dress – Tissot was part of the movement of Realism, alongside Courbet, Daumier and Millet, that developed in France in 1840. His French name Jacques Joseph, which he later anglicized, sums up the historical and artistic influences of his art. In the beginning he made mainly history paintings, influenced by the Dutch school, which were well received by the critics when they were exhibited at the Salon of the Louvre in 1859. Soon, however, Tissot turned to depicting the places and personalities of Parisian high society and was a master in rendering female charms. His portraits are so precise and realistic they almost seem like photographs. In fact, the dresses and accessories are faithfully depicted with great attention to detail and in revealing the tastes of the aristocracy they flaunt the social status of his subjects.

This was the period in which Tissot, following the teaching of Ingres and in tune with the future Impressionists, broke away from the French tradition and became a model of modernism and the emblem of that intellectual atmosphere that surrounded him, by establishing himself as one of the most talented portraitists of his generation. His paintings were used for the covers of books and magazines.

In 1873 Tissot decided to move to London and escape from the horrors of Paris after the Franco-Prussian War, the siege of the city (1870–71) and the barbarous mass executions that took place right near his house.

He accepted some commissions from friends in England and produced works conceived especially for the English market, to be sold and exhibited.

In London he took up engraving, drew caricatures, painted portraits and subjects characterized by their realistic style and soft colours. He began to depict social events, their settings and personalities, and he was often accused of "hyperrealism".

In 1876 he met Kathleen Newton, a young Irish woman with a story of adultery behind her. When she returned to London after divorcing her husband, an officer in the English army, she was excluded from respectable Victorian high society.

Kathleen became Tissot's model and mistress, and his love for her meant that he stopped frequenting the London drawing rooms. She had consumption and committed suicide in 1882. Tissot never recovered from the loss. He sold the house in London to Alma Tadema and returned to Paris.

The mystical crisis that was the consequence of his grief for Kathleen left its mark on his art. His definitive conversion to Catholicism led him to spend the rest of his life making Bible illustrations and he travelled in the Middle East and Palestine for ten years.

When he came back to France, he worked on a series of subjects from the Old Testament that he never finished; 80 of these works were exhibited in Paris in 1901, a year before he died suddenly in August 1902.
THE EXHIBITION
Eight thematic sections illustrate the artistic and spiritual trajectory of this artist from Nantes, through a chronological journey that recounts his passions, torments and experiences.

Sections One and Two – James Tissot in Paris. A Painter of Stories
Tissot began his career in Paris painting history scenes inspired by the Renaissance. Leave-takings (The Departure of the Prodigal Son, 1862), abductions (The Attempted Abduction, 1865), duels and games of seduction The Meeting of Faust and Marguerite, 1860, reflect his interest in dramatic subjects in which the female figure takes centre stage (An Interesting Story, c. 1872), seen as an object of desire, always mysterious and unattainable. Tissot's participation in the Paris Salons was a success, so much so that he was now wealthy and had a mansion built in Paris.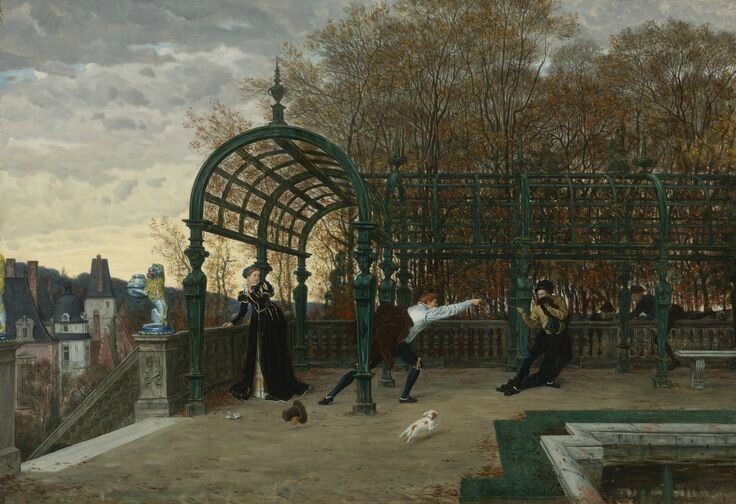 James Tissot, The Attempted Abduction, 1865, oil on panel, 67.9 by 96.5 cm. Photo Sotheby's
James Tissot, The Meeting of Faust and Marguerite, 1860.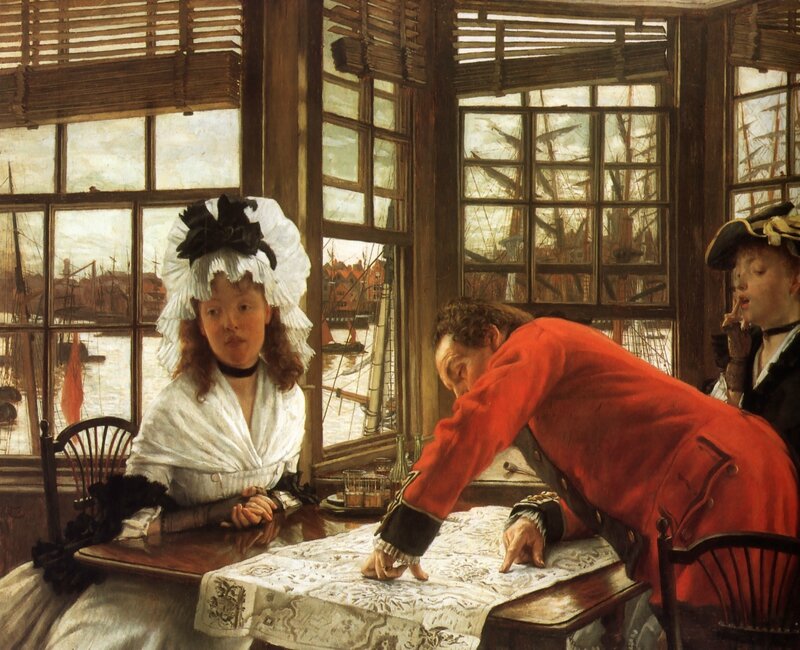 James Tissot, An Interesting Story, 1872, Oil on panel, 59,7 x 76,6 cm © National Gallery of Victoria, Melbourne
James Tissot, Self Portrait, 1865. Oil on panel approx. USA, San Francisco (California) Museum purchase, Mildred Anna Williams. Collection 1961.16 © Fine Arts Museums of San Francisco
Section Three – Modern Life
During this period he began to collect Japanese art, which influenced his work (Japanese Girl Bathing, 1864), he befriended Whistler and Degas, made many portraits – including Portrait of Miss L.L. (1864) which shows a change in his style – and was always interested in the high life. In 1869 he produced caricatures of the English elite and in 1870 – when the Franco-Prussian War broke out – he executed a series of works that reveal a different image of the artist, a Tissot who was more involved in the political debates of the day than had ever been thought.
James Tissot, Portrait of Miss L.L., 1864, oil on Canvas, 124 cm x 99 cm © Musée d'Orsay, Paris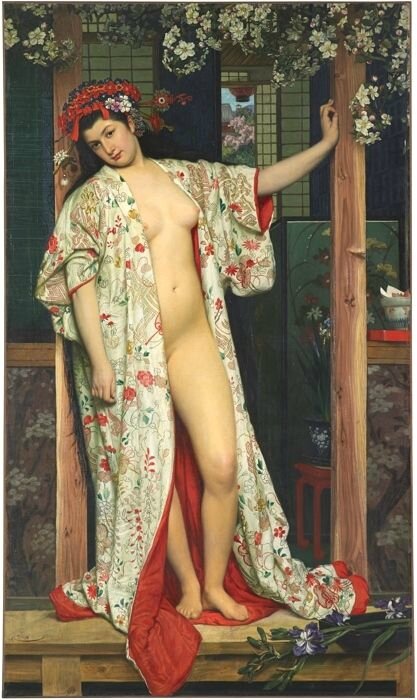 James Tissot, The Japonaise au bain, 1864. Oil painting. France, Dijon © Musée des Beaux-Arts de Dijon
Section Four – A London Painter
His arrival in London after the surrender of the Paris Commune on 28 May 1871 gave him the opportunity to establish a cosmopolitan clientele and to frequent personalities like Millais, Hayden, Alma-Tadema, Heilbuth and De Nittis.

During the eleven years he spent in the city (1871–1882) he devoted himself mainly to portraits and other subjects – (The Portrait of the Empress Eugénie and the Prince Imperial 1874; Miss Lloyd, 1876), The Captain's Daughter (1873), Portsmouth Arsenal (1876), and the extraordinary Gallery of HMS Calcutta (1886) – that testify to his talent as a colourist and keen observer of life.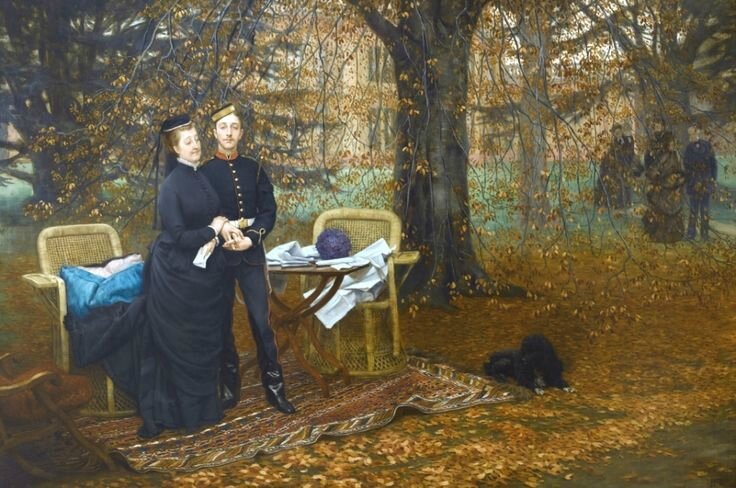 James Tissot, The Impératrice Eugénie et le Prince impérial dans le parc de Camden Palace, 1874. Oil painting. Photo (C) RMN-Grand Palais (domaine de Compiegne) - © Franck Raux Musée National du Château de Compiègne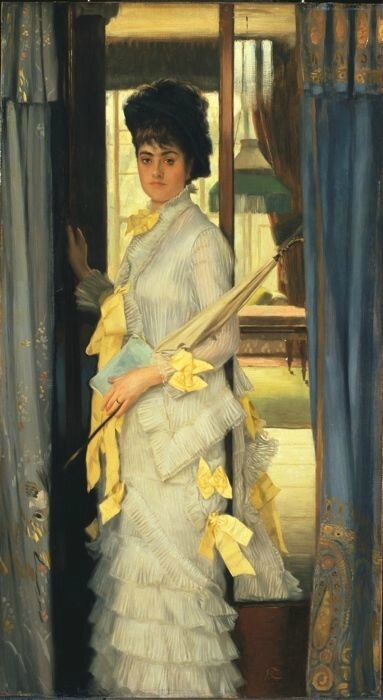 James Tissot, Portrait, 1876. Oil paint on canvas. UK, London © Tate, London 2015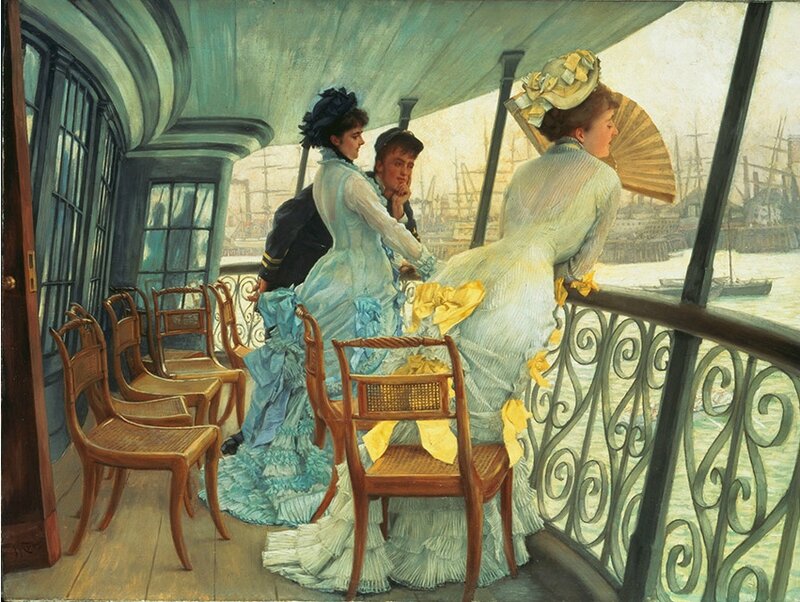 James Tissot, The Gallery of HSM Calcutta (Portsmouth), ca 1876, Oil paint on canvas, UK, London, Tate © Tate, London 2015.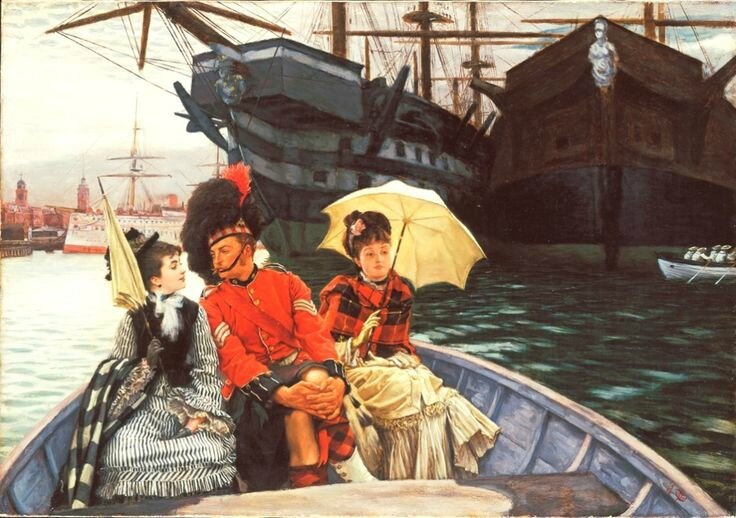 James Tissot, Portsmouth Dockyard, circa 1877. Oil paint on canvas. UK, London, Tate © Tate, London 2014
In the works of this period the customs of the British capital are described with irony (The Warrior's Daughter, 1873) and the codes of Victorian society are ridiculed in paintings with double-entendres.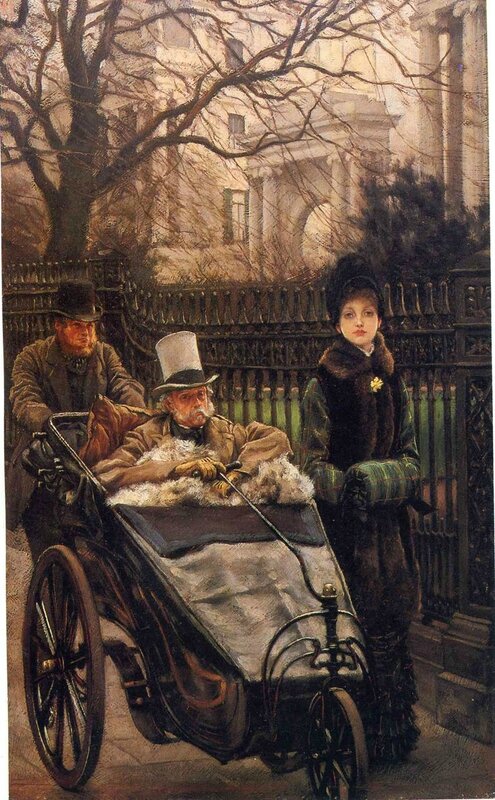 James Tissot, The Warrior's Daughter, c.1878, oil on panel, 21.8 x 36.2 cm. © City of Manchester Art Galleries, Manchester, UK

In London Tissot also began to make engravings so that he could duplicate and circulate his most successful works.
Section Five – Lost Love
In voluntary exile, Tissot was extremely sensitive to the social issues of the time. Despite his wealth and egoism, often criticized by his contemporaries, he showed concern for the disadvantaged classes, the poor and women, whom he observed closely. He fell in love with Kathleen Newton, a stunningly beautiful Irish divorcee, and invited her and her children to live with him in the house in St John's Wood, which then became their family home. Kathleen was Tissot's muse and – by posing according to stereotypes – she became the mysterious woman (Reading a Story, 1881) or the melancholy female (Seaside, 1880), the woman in the hands of fate (A Convalescent, 1880–1882) or the femme fatale proud of her femininity (Mrs Newton with a Parasol 1878–1880).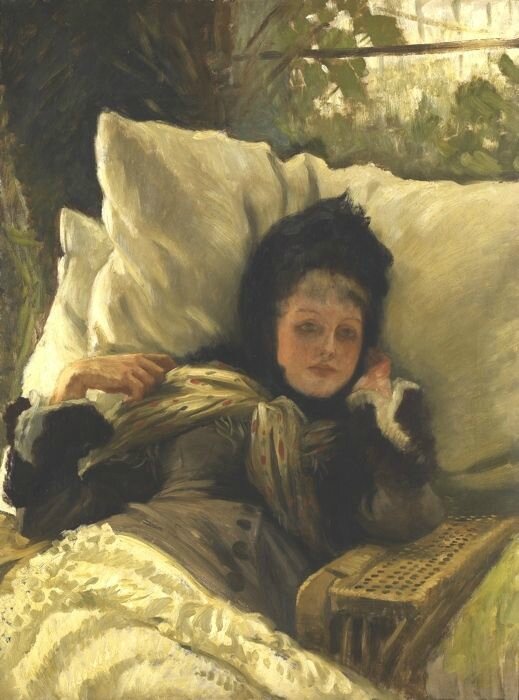 James Tissot, A Convalescent, 1880-82. Oil painting UK, Sheffield. Musée Baron Martin, Gray. © cliché Studio Bernardot - Musée Baron Martin - France.

James Tissot, The Lady with the umbels (Mrs. Newton). 1878-1880. Oil painting. © cliché Studio Bernardot - Musée Baron Martin - France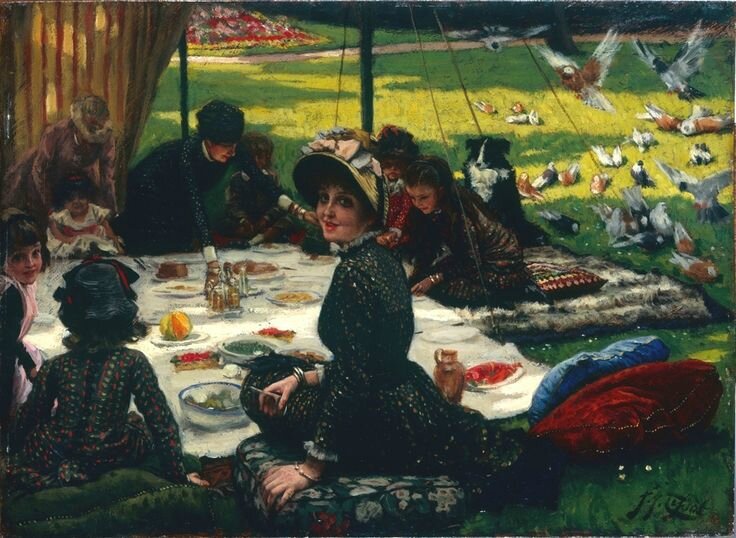 James Tissot, Le Déjeuner sur l'herbe, 1881-1882. Oil on bois © Musée des Beaux-Arts de Dijon
Section Six – The Prodigal Son in Modern Life
Tissot considered himself a "prodigal son" all his life, and this is a theme that recurred in his oeuvre, sometimes after a gap of several years, between 1862 and 1880.
When he became more religious after meeting Kathleen, Tissot began to lead a quieter life. After his partner's death, when he was back in Paris he became increasingly depressed and beset by doubts. In this period he completed the second cycle of paintings on the theme of the prodigal son, this time in a modern setting. After twenty years he reprised the same Christian parable, but in a darker vein reflecting the difficulties of life.
James Tissot, The Prodigal Son in Modern Life: The Departure, 1880, oil on Canvas © National Gallery of Art, Washington, DC, USA.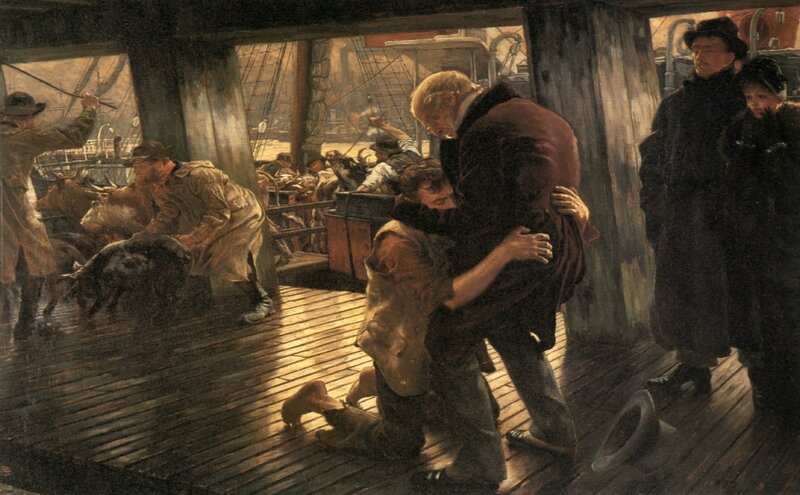 James Tissot, The Prodigal Son in Modern Life: The Return, oil on Canvas © National Gallery of Art, Washington, DC, USA.
Section Seven – The Departure
After Kathleen's untimely death in 1882, when she was only 28, Tissot decided to return to Paris and his career as an itinerant artist.

He had always been a great traveller, he was originally from Nantes and therefore used to the coming and going of ships in the port, and he often addressed the theme of departure in paintings featuring railway platforms and quays. The Widower (1876) is a splendid allegory of departure seen as the prelude to a new future. As in a kind of self-portrait the artist anticipates the death of his partner, while the child symbolizes the hope that makes it possible to start a new life.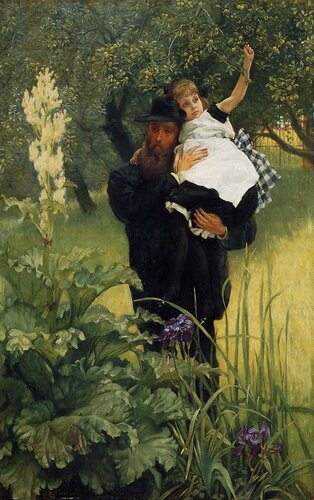 James Tissot, The Widower, 1877, oil on canvas © Art Gallery of New South Wales, The Domain, Sydney, New South Wales, Australia.

Section Eight – James Tissot, Painter of Fashion
Scholars have long drawn attention to the fact that Tissot was influenced by Impressionism. Though he never exhibited with the Impressionists, he was very aware of the movement's research. As a friend of Degas, Whistler, Legros and Manet, Tissot supported all the battles fought at the time against academicism.

His exhibitions at the Grosvenor Gallery in London gave him the opportunity to come into contact with the Pre-Raphaelites, but also with the artistic elite of the day. The paintings of this period show a certain kinship with the works of Manet, Degas and Toulouse-Lautrec.

In the Women of Paris series 1883–85 he develops his view of the modern world: from Ladies of the Chariots, 1885, to The Most Beautiful Woman in Paris, 1883–85, The Mysterious Woman and The Artists' Wives, 1883-85, Tissot succeeds in painting an extraordinary portrait of the typical Parisienne and fully participates in the artistic and literary debates of the time.

His friends Maupassant, Goncourt, Daudet and Halévy considered him a very special painter, brilliant and unclassifiable.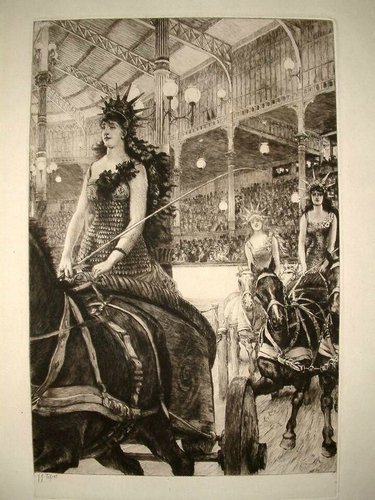 James Tissot, Ces dames de char, Vers 1885, etched engraving. UK, London. Victor & Gretha Arwas Collection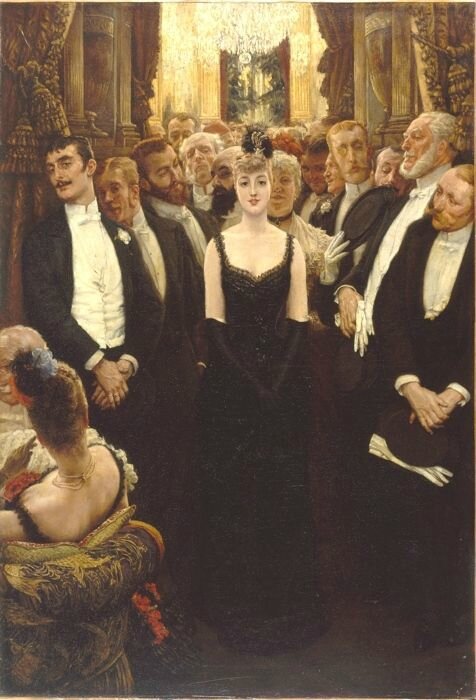 James Tissot, La plus jolie femme de Paris, 1883-1885. Haut 150.5, larg 103 cm. Oil painting. Musée d'art et d'histoire de Genève © MAH Geneva photo Bettina Jacot Descombes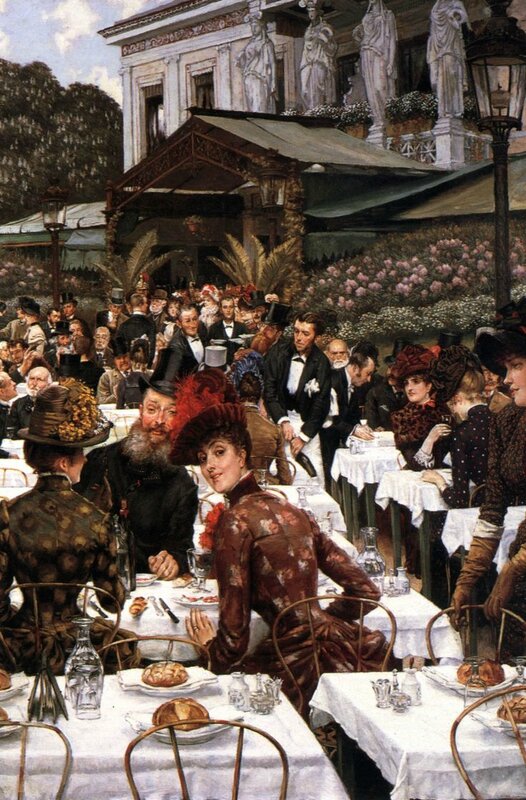 James Tissot, The Artists' Ladies, 1885. Oil on canvas, 57 1/2 by 40 in. (146.1 by 101.6 cm.) © The Chrysler Museum of Art, Norfolk, Virginia.