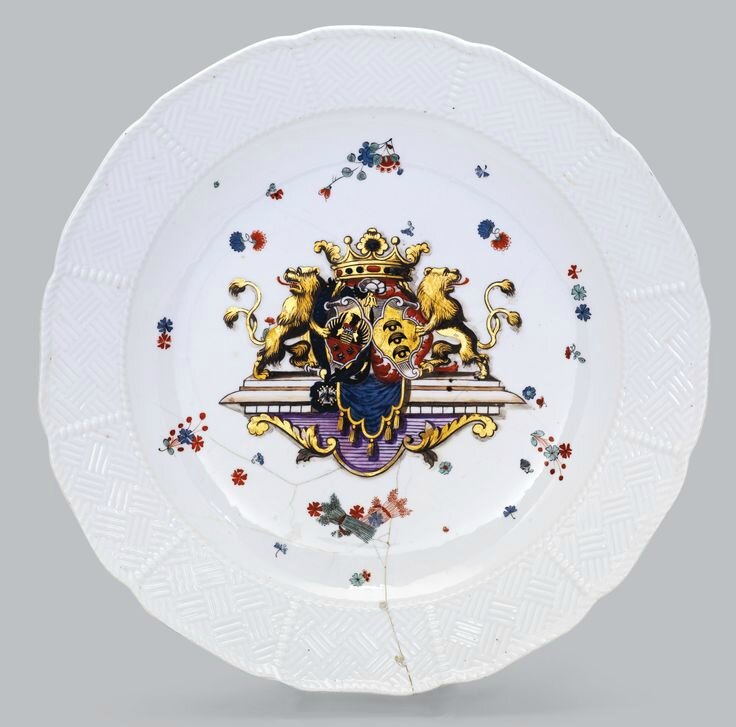 A very large Meissen charger from the Sulkowski service, circa 1735-38. Estimate 5,000 — 7,000 GBP. Photo Sotheby's.
painted in the centre with the arms of Graf Alexander Joseph von Sulkowski and his wife Maria Anna Freiin von Stein zu Jettingen, supported by two lions and surmounted by a crown with elaborate mantling, the well painted with scattered indianische Blumen within a Sulkowski Ozier-moulded border, crossed swords mark in underglaze-blue, incised Dreher's mark for Meißner Senior to inside of footrim below incised numeral 6., 46.5cm., 18 1/4 in. diam.
PROPERTY FROM THE COLLECTION OF THE LATE TIM CLARKE
Provenance: Graf Alexander Joseph von Sulkowski (1695-1762);
Thence by descent;
The Property of a Lady of Title, Sotheby's London, 23rd May, 1967, lot 30 sold among a large portion of the Sulkowski service (lots 29-50)
Notes: The Sulkowski service was the first significant armorial service to be ordered of the Meissen factory, pre-dating the well known Swan Service by several years.

Alexander Joseph Graf von Sulkowski (1695-1762) was part of a Polish Noble family and would become an influential minister during the reign of Augustus III. He began service in the Royal Court as a page and eventually was raised to a count in 1732. In 1735 he took command of the King's troops in Poland and in 1737. During his life time he married twice, firstly in 1728 to Baroness Maria Franziska von Stein zu Jettingen (1712-41) with whom he had seven children and whose arms also appear on the service.

Only twelve chargers of this size were produced, the specification of 8th February 1738 signed by J. G. Höroldt mentions '12 Weiße Schüßeln große Sorte Nr. 6', published by Hilde Rakebrand, Meissener Tafelgeschirre des 18. Jahrhunderts, 1958, p. 14. One charger of this size recently appeared on the market, from the collection of the late Siegfried and Lola Kramarsky, Christie's New York, 30th October, 1993, lot 34. A charger of the size below, with incised mark 'V', which also may have been sold in the Sotheby's 1967 sale, subsequently entered the Hoffmeister Collection and was sold at Bonham's London, 25th November 2009, lot 75. Only one example of a larger size is recorded, from the collection of Dr. Ernst Schneider, but supposedly later with an impressed numeral 21, and was exhibited and published in the catalogue by Dr. Rainer Rückert, 1966, p. 117, no. 490, Taf. 125.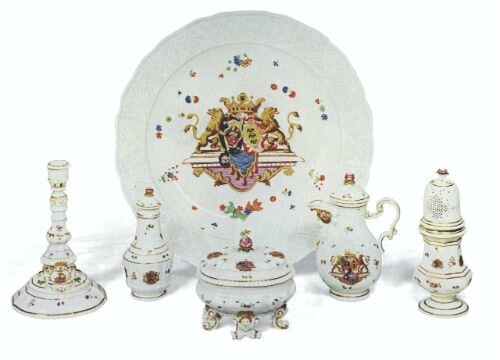 Sotheby's London, 23rd May, 1967
Sotheby's, Collections, Londres, 27 oct. 2015, 10:30 AM