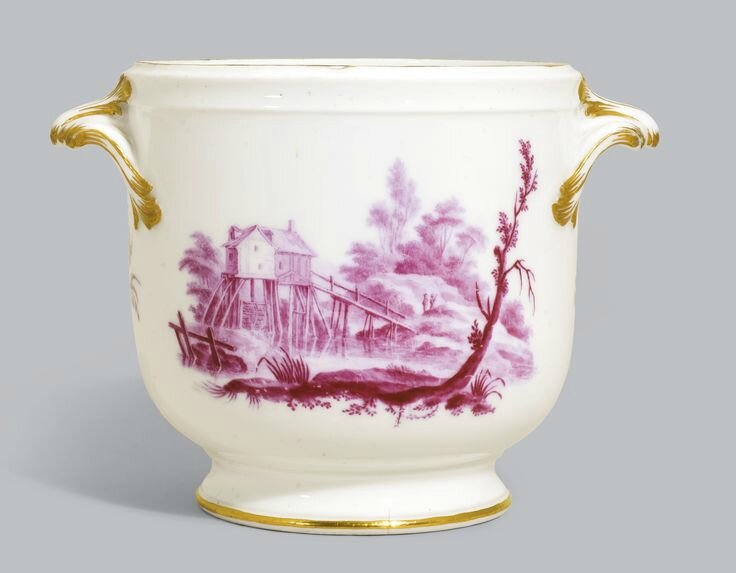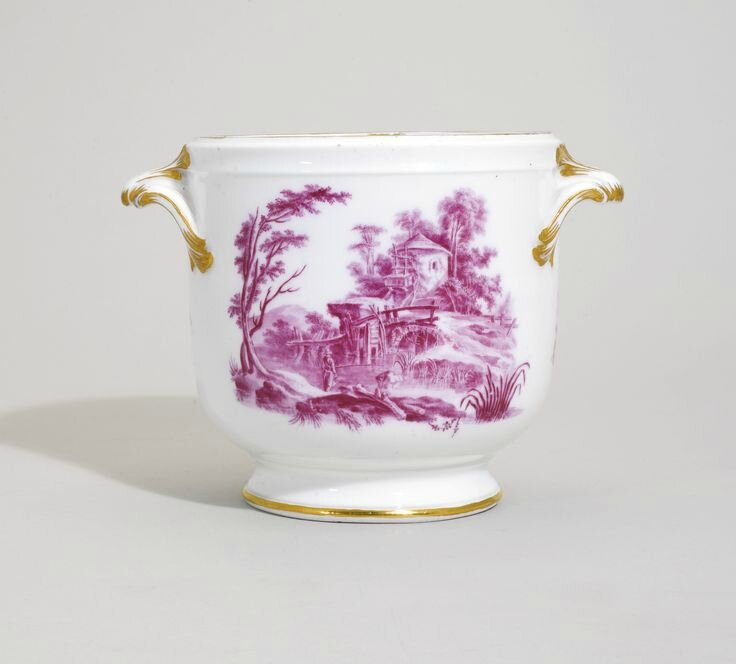 A Vincennes glass cooler, circa 1756. Estimate 1,500 — 2,500 GBP. Photo Sotheby's.
seau à verre/ seau à verre ordinaire, painted with two scenes of water mills in idealised landscapes, separated by flower sprays beneath the gilt scrolled handles, interlaced LL mark in blue containing date letter C for 1756, painter's mark for Mutel (active as a painter of birds, landscapes and edgings from 1754-59, 1765-67, 1771-74), incised square or lozenge mark usually attributed to the répareur François Carrette l'aîné (active 1754-70) and his son François Carrette fils (active 1768/9-87), 13.2cm., 5 1/4 in. high
PROPERTY FROM THE COLLECTION OF THE LATE TIM CLARKE
Provenance
:
The property of Sir Henry and Lady Tate, Sotheby's London, 1st July 1980, lot 32;
Acquired at the sale by Winifred Williams;
Acquired from Winifred Williams, London, 4th August 1980
Notes: A Vincennes wine glass cooler painted by the same hand and was perhaps the pair to the present example was sold at Christie's London, Anon. sale, 20th June 1975, lot 63, and was also acquired by Winifred Williams, and subsequently entered the collection of Sir John Plumb F.B.A, sold Christie's New York, 15th May 1999, lot 7.

Two possible sources for the painted scenes are the engravings 'Premiere veue de Charenton' and 'Seconde veue des environs de Charenton' by Jacque Philippe Le Bas after François Boucher. A glass cooler painted in this manner, although with a known 17th century print source, is discussed by Joanna Gwilt in her recent publication, op. cit., 2014, pp. 100-101, no. 46. In July 1753 marchand-mercier Lazare–Duvaux lists in his journal 'Dix-huit seaux à verres, porcelaine de Vincennes, peints à paysages camayeux pourpres, 540 l.,' which were sold to Monseigneur le duc de Deux-Ponts.
Sotheby's, Collections, Londres, 27 oct. 2015, 10:30 AM