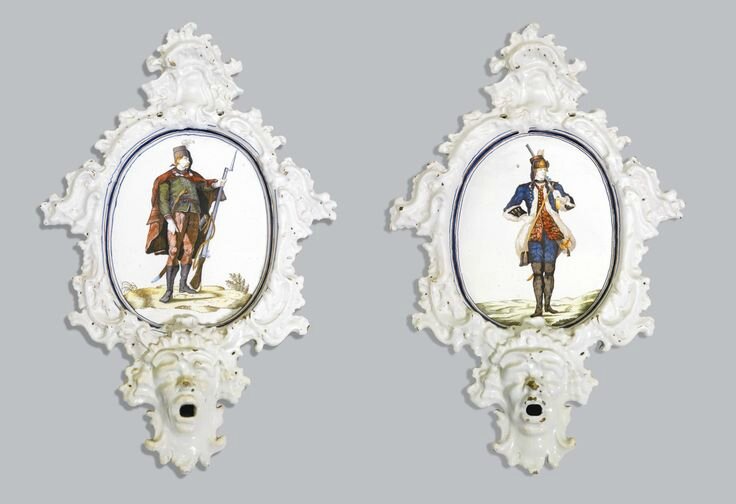 A pair of Alcora faience wall plaques, late 18th-early 19th century. Estimate 3,000 — 5,000 GBP. Photo Sotheby's.
of rococo form, each painted in the centre in polychrome with a full length portrait of an infantryman, titled on the reverse in script, 'Arquebuceros de Grassln Infanteria' and 'Croates de ynfanteria', within a blue and iron-red oval border, the white rococo frame moulded at its base with a face mask with open mouth, adapted as sconces with two ormolu branches, cast with acanthus and suppporting three white porcelain and one painted metal candle-holder, each plaque pierced for hanging, script titles to reverse, Quantité: 2 - 53cm., 20 3/4 in. high
PROPERTY FROM THE COLLECTION OF THE LATE TIM CLARKE
Note: The earliest Alcora plaques, first recorded in the factory report of 1736 as among the `recent inventions', were baroque in style and mostly of geometric shape. The rococo style was adopted by 1750 under the artistic direction of Julian Lopez and Jose Ochando. Even when the fashion for rococo passed, the old moulds remained in use through the late 18th and up to the early 19th century. For a discussion of Alcora plaques, see Antony Ray, Spanish Pottery, 1248-1898, London, 2000, p. 224. Interestingly, probably referring to the current pair, the author states in his concluding sentence, `From this late period must also date some unusual plaques in a private collection depicting Spanish infantrymen, adapted as sconces with the addition of porcelain candle-holders'.
Sotheby's, Collections, Londres, 27 oct. 2015, 10:30 AM