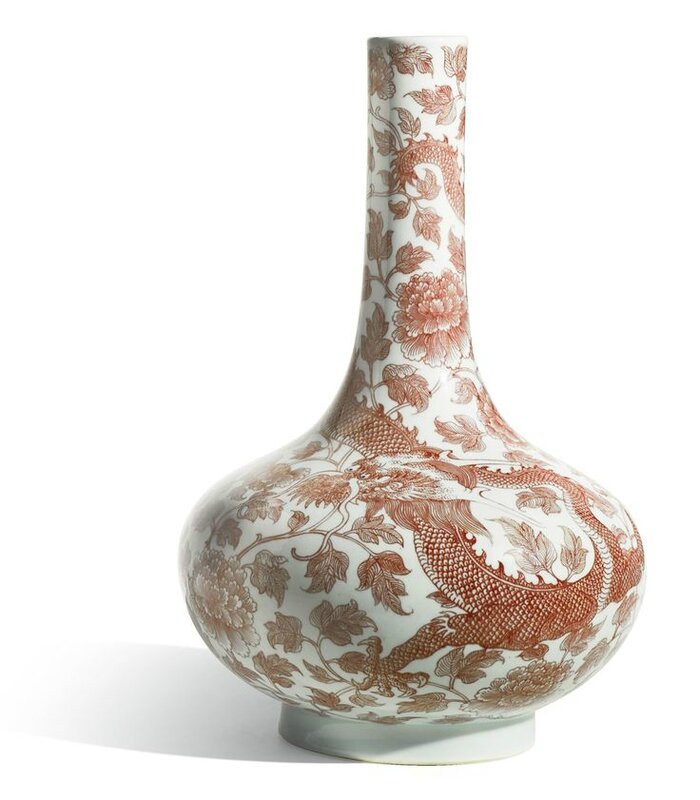 Lot 49. A rare copper-red 'Dragon and Phoenix' vase, Qing dynasty, Qianlong period (1736-1795). Estimate 80,000 — 120,000 GBP. Lot sold 100,000 GBP. Photo Sotheby's.
the compressed spherical body rising from a straight foot to a tall cylindrical neck, finely painted with a lively writhing dragon and flying phoenix, their eyes picked out in underglaze blue, amidst a continuous meandering peony scroll - 33cm., 13in.
Provenance: Sotheby's Hong Kong, 27th/28th April 1993, lot 114
Note: The vase is modelled in an elegant form inspired by bronze prototypes of the Han dynasty (206 BC- AD 220), and superbly painted with the ultimate auspicious symbol of power, the five-clawed dragon, and his consort, the phoenix, denoting Emperor and Empress. The underglaze copper-red required extremely precise control of the firing process to achieve the brilliant attractive colour. Made during the reign of the Qianlong Emperor (1736-1795), one of the greatest patrons of the arts, the vase is of excellent Imperial quality and extremely rare, and is a remarkable example of the outstanding aesthetic and technological accomplishments of Chinese potters. While imperial porcelains are often inscribed with marks of the reigning emperors, court records demonstrate that there are cases where Qing emperors decreed reign marks not to be used on their porcelains, for example see Feng Xianming, Annotated Collection of Historical Documents on Ancient Chinese Ceramics, Taipei, 2000, p. 241.
The vase is also remarkable in that the pupils of the dragon and phoenix are clearly picked out in contrasting underglaze blue instead of red, which is rare on porcelains of this type. This remarkably highlights the soaring spirits of the mythical creatures, and evokes a household legend in China related to the famous painter Zhang Sengyou (active c. 490-540). According to this story, Zhang Sengyou painted four dragons on the walls of a temple in Nanjing, Jiangsu, without marking their pupils. By adding the essential finishing touch of their pupils, he got two of them immediately to fly to heaven, while the other two without pupils remained on the wall.
Dragon and phoenix are among the earliest symbolic motifs from antiquity which continue to have resonance until today. These motifs of rank, importance and auspiciousness were formalised in the Yuan period (1279-1368) when three-clawed (princely), and five-clawed (Imperial) dragons were used to decorate jade and porcelain, before the male and female Imperial beasts were conjoined in symbolic Imperial union in the early Ming (1368-1644). At the Qing court (1644-1911), the combination of dragon and phoenix was particularly popular in the Kangxi period (1662-1722) famille-verte ware, including Kangxi-marked dishes and bowls in the collection of the Palace Museums in Beijing and Taipei, which depict striding five-clawed dragons and fanciful phoenix amidst flowers.
While dragon and phoenix were highly favoured motifs and were frequently used on porcelains with various glazes and decorations, it is very rare to see them depicted in underglaze copper-red like on the present vase. This is not surprising, because successful firing of underglaze copper red requires extremely precise control of the firing temperature and the atmosphere (i.e., reducing or oxidising) inside the kiln. According to a court record of 1738 about a porcelain meiping('prunus vase') with dragon design in underglaze red, the Qianlong Emperor deemed the colouring of the copper red not good enough and demanded a better red colour, see Feng Xianming, ibid, p. 232. The excellent red colour of the present piece is a credit to the kiln master responsible for its successful firing.
No other example of identical form and decoration as the present vase appears to be recorded, although its shape and design are closely related to many imperial porcelains of the Qing court. For an underglaze-red vase of Qianlong mark and period decorated with a similar dragon, but red-eyed, amongst clouds and bats, and of related shape but with more flattened body and flaring mouth rim, see the catalogue to the exhibition La Splendeur Du Feu: Chefs-D'oeuvre de la Porcelaine Chinoise de Jingdezhen du XII au XVIII Siecle, Centre Culturel de Chine a Paris, Paris, 2004, cat. no. 31. The dragon of the present vase is also very similar to two red-eyed dragons amongst clouds on an underglaze-red yuhuchun ('spring in jade bottle') vase of Qianlong mark and period, sold twice in our Hong Kong rooms, 3rd May 1994, lot 194, and 30th October 2002, lot 292, illustrated in Sotheby's Thirty Years in Hong Kong, Hong Kong, 2003, pl. 295, and sold again at Christies Hong Kong, 27th May 2009, lot 1831. Compare also two 18th-century underglaze red meiping with double phoenix and peony motif, one sold in these rooms, 10th November 2010, lot 84, and the other sold at Christies Hong Kong, 1st June 2011, lot 3925.
The form of the vase was inspired by bronze prototypes, for example see a Han dynasty engraved bronze vase, hu, of similar shape in the Metropolitan Museum of Art, New York, illustrated for comparison with a Southern Song dynasty (1127-1279)guan ware octagonal vase of related form sold in our Hong Kong rooms, 7th April 2015, lot 1. The bronze shape started to appear on ceramics during the Song (960-1279) and continued, with modifications, into the Qing dynasty when it became very popular on Qing imperial porcelain. For two Qianlong-marked vases of similar form but shorter height, one with Ru-type crackle glaze and the other with guan-type glaze, included in the exhibition Qing Imperial Monochromes in the Zande Lou Collection, Art Museum of The Chinese University of Hong Kong, Hong Kong, 2005, cat. nos. 28 and 33. Also compare a Southern Song guan ware vase of related form, but with a thicker neck and more flattened body, sold in these rooms 13th May 2015, lot 32.
For an example of early Ming porcelain with the dragon-and-phoenix motif, see a blue-and-white brush washer of Xuande mark and period (1426-1435) in the National Palace Museum, Taiwan, of ten-lobed mallow shape with a dragon and a phoenix on the inside and ten dragon-and-phoenix medallions on the outside, included in the Museum's Mingdai Xuande guanyao jinghua tezhan tulu/Catalogue of the Special Exhibition of Selected Hsüan-te Imperial Porcelains of the Ming Dynasty, Taipei, 1998, no. 182. For examples of the dragon-and-phoenix motif in overglaze enamels, see a dish and a bowl of Kangxi mark and period, both in famille verte, illustrated in Porcelains in Polychrome and Contrasting Colours, The Complete Collection of Treasures of the Palace Museum, Hong Kong, 1999, pls. 133 and 135.
Sotheby's. Important Chinese Art, London, 11 november 2015, 11:00 AM