Quentin Massys (South Netherlandish, 1466–1530), Virgin and Child with Saints Elizabeth and John the Baptist, c. 1520–25. Oil on panel, 24 13/16 x 19 in. Clark Art Institute, 1998.45.
WILLIAMSTOWN, MASS.- Sterling and Francine Clark began collecting art strictly for pleasure, but their discernment met with international recognition when they opened the Clark Art Institute in 1955. Sixty years later, the exhibition An Eye for Excellence: Twenty Years of Collecting reveals the remarkable story of how the Clark's collection has grown and become stronger over the past two decades through the museum's vision and the support of its generous donors. An Eye for Excellence is on view October 25, 2015 through April 10, 2016.
Nearly one quarter of the 9,713 objects in the Clark's collection were acquired from 1995–2015. An Eye for Excellence focuses on some the finest acquisitions the museum has made during this period, considering how these objects came into the Clark's collection and telling the stories of discriminating donors and collectors whose private collections are now held by the Clark. The exhibition includes paintings, decorative arts, sculpture, prints, drawings, and photographs from the early sixteenth century through the early twentieth century. A group of rarely exhibited late twentieth and early twenty-first century artists' books from the Clark library is also presented in the exhibition.
Cavaliere d'Arpino (Giuseppe Cesari) (Italian, 1568–1640), Perseus Rescuing Andromeda, 1594-95. Oil on panel, 52.5 x 38 cm. Acquired by the Clark, 2010. Clark Art Institute, 2010.
"Typically, our visitors view the works in the Clark's collection as beautiful objects with art historical significance," said Kathleen Morris, the Clark's Interim Senior Curator and Marx Director of Exhibitions. "In this exhibition, we're adding another layer to the narrative, encouraging people to think about the intriguing stories of how these objects came into our collection, the rich stories of the collectors themselves, and how these acquisitions have enhanced the Clark over the years."

The exhibition considers how a museum grows its collection and tells the specific story of the Clark's growth by examining how a number of objects were acquired. Acquisitions can augment weak areas or build on the strengths of a collection. They can also form entirely new concentrations as part of the planned growth of a collection. The Clark acquires works of art through purchase and by gift—in every case adhering to the standard of excellence established by its founders. Identifying potential acquisitions is an essential function of the director and curatorial staff. The Clark's Board of Trustees considers and votes on additions to the collection. Throughout the process, strict criteria are employed regarding quality and condition to ensure that new acquisitions are in the best long-term interest of the Institute.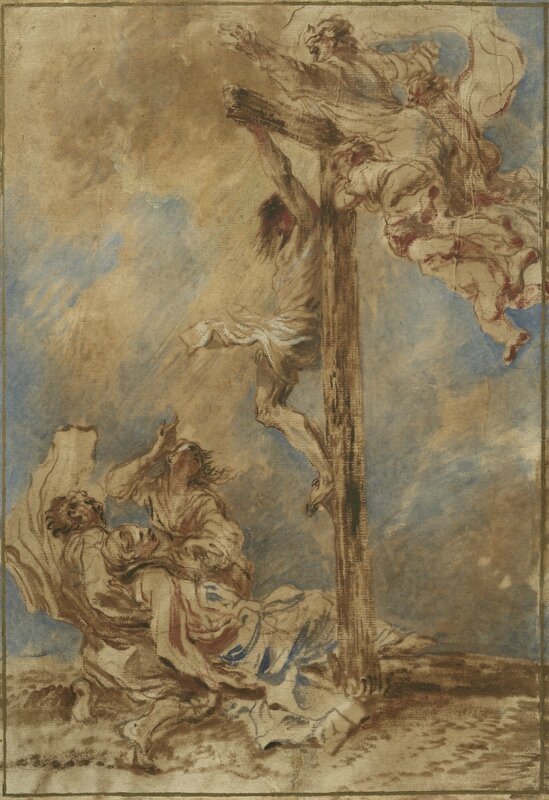 Giovanni Benedetto Castiglione (Italian, 1609–1664), Crucifixion with the Virgin, Saints John and Mary Magdalene, and God the Father, c. 1651 Brush and oil paint on paper 41.6 x 29 cm Acquired by the Clark, 2003. Clark Art Institute, 2003.9.15.
Gifts
Often the gift of a large private collection, because of its quality and depth, can transform a museum collection in a moment. The Clark has been fortunate to receive a number of important gifts and bequests from expert collectors. Among the most significant donations in the Clark's history are the Albert and June Lauzon Collection of Early American Blown Glass, the Burrows Collection of American Silver, the Manton Collection of British Art, gifts from Frank and Katherine Martucci, and the Rodbell Family Collection.
Albert and June Lauzon collected early American glass for twenty-five years, spending summers touring New England, searching estate sales, antique shops, and auctions. During this time they created an extensive collection, portions of which they loaned to the Clark in 1975. After Albert's death in 1978, June donated a portion of the collection and continued to give objects and funds for the acquisition of American glass over the next three decades. Among the pieces from the Lauzon collection included in the exhibition is an amethyst glass pocket bottle, c. 1770, purchased with funds donated by June Lauzon.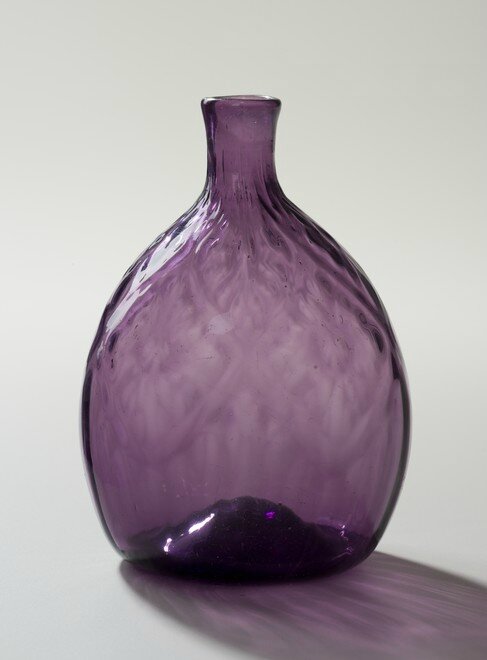 American Flint Glass Works (American, 1764–1774), Henry William Stiegel, (Proprietor American, 1729–1785), Pocket Bottle, Manheim, Pennsylvania, c. 1770? Amethyst glass, 5 x 3 1/2 x 2 3/4 in. (12.7 x 8.9 x 7 cm). Acquired with funds donated by June Lauzon, 1998. Clark Art Institute, 1998.36.2
In 1976, a collection of early American silver was placed on anonymous loan to the Clark by Henry Morris and Elizabeth H. Burrows. Over subsequent decades the Burrowses continued to refine and enlarge their collection, while leaving a selection of objects on display at the Clark. The silver collection encompasses domestic objects, objects for personal adornment, church silver, and presentation pieces. A pair of sauce tureens by Andrew Ellicott Warner—part of a fourteen-piece dinner service presented to Commodore Stephen Decatur by three merchants on behalf of the citizens of Baltimore in 1817—is on view in the exhibition and is among the 340 works bequeathed to the Clark by the Burrowses in 2003.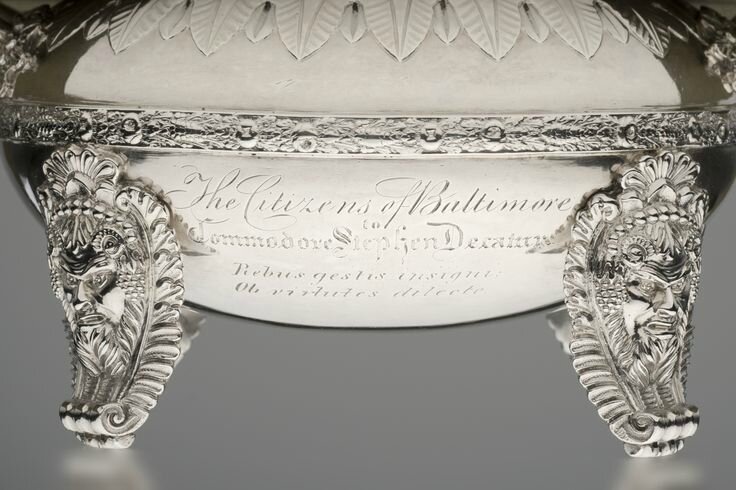 Andrew Ellicott Warner (American, 1786–1870), Pair of Sauce Tureens (detail), c. 1817.Silver, 6 3/4 x 7 1/2 x 5 in. (17.1 x 19.1 x 12.7 cm); Troy weight: 26.5 toz (824.2 g). Bequest of Henry Morris and Elizabeth H. Burrows, 2003. Clark Art Institute, 2003.4.93.1-.2
One of the most significant and transformative acquisitions of art by the Clark is the Manton Collection of British Art. Donated in 2007 by the Manton Foundation in memory of Sir Edwin and Lady Manton, the collection includes more than three hundred paintings, drawings, and prints by artists such as John Constable, J.M.W. Turner, Thomas Girtin, and Thomas Rowlandson. Although a British citizen, Sir Edwin moved to New York at age eighteen; his interest in collecting British art was fueled by a deep nostalgia for his homeland. The Manton Collection is a natural complement to the Clark's strong holdings of nineteenth-century French and American art, and established the Institute as an important study center for British art.
John Constable (English, 1776–1837), The Wheat Field, 1816. Oil on canvas, 54.6 x 78.1 cm. Gift of the Manton Art Foundation in memory of Sir Edwin and Lady Manton, 2007. Clark Art Institute, 2007.8.27.
In 2013, Frank and Katherine Martucci gave sixteen works of art to the Clark. Among these works were eight landscapes by American painter George Inness. The Martucci gift created an impressive collection of works by this noted painter, complementing two Inness landscapes already in the Clark's collection. Four paintings from the gift are featured in An Eye for Excellence including New Jersey Landscape which was lent to the Clark's 2008 exhibition Like Breath on Glass: Whistler, Inness, and the Art of Painting Softly, and a stunning watercolor by Piet Mondrian, Farmstead along the Water Screened by Nine Tall Trees.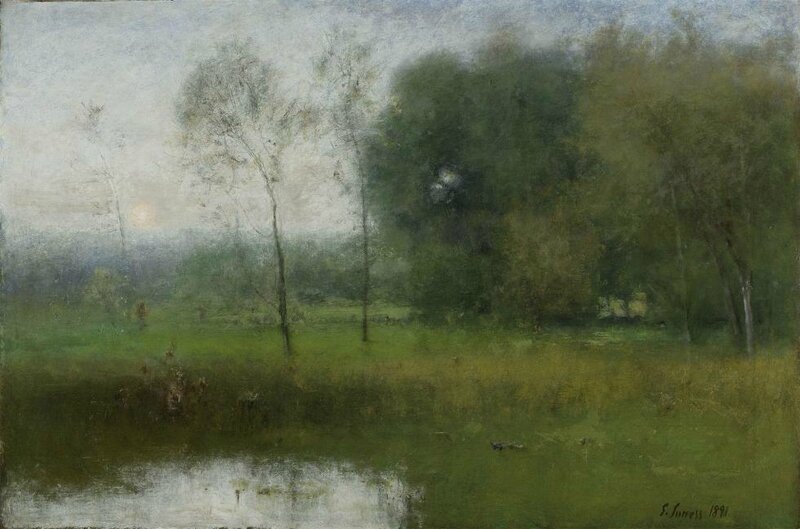 George Inness (American, 1825–1894), New Jersey Landscape, 1891. Oil on canvas, 76.2 x 114.3 cm. Gift of Frank and Katherine Martucci, 2013. Clark Art Institute, 2013.1.7
In 2014, the Clark accepted a donation of sixty-three Japanese woodblock prints dating from 1832 to 1971 from the Rodbell Family. Adele Rodbell has served as a volunteer docent at the Clark for thirty-six years. Along with her late husband Donald, she became interested in Japanese woodblock prints while living in Japan from 1969 to 1972. This important gift bolstered the Clark's collection of Japanese woodblock prints—a genre that was much admired by prominent artists working in Europe in the nineteenth century.
Gifts of single objects can also make a significant impact on a museum's collection. The Clark has long been recognized as holding the greatest collection of works by Winslow Homer assembled by one person since the artist's death and as one of the leading Homer collections of any art museum in the United States. In 2014, this already strong collection was further enhanced by the acquisition of a rare commissioned portrait, the first formal portrait in the Clark's Homer collection. The painting, Charles Prentice Howland, donated by the sitter's granddaughter Susan Montgomery Howell had remained in Howland's family since it was commissioned in 1878.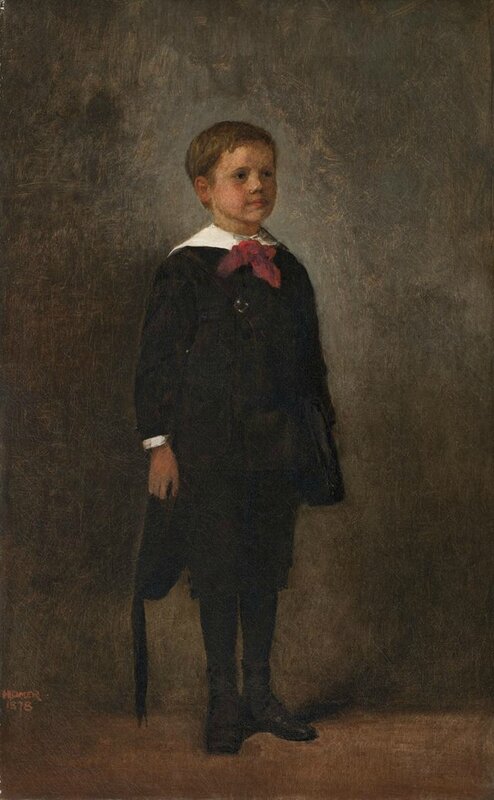 Winslow Homer (American, 1836–1910), Charles Prentice Howland, 1878. Oil on canvas, 53.7 × 33.7 cm. Gift of Susan Montgomery Howell in Memory of Esther Howland Montgomery and Henry and David Howland, 2014. Clark Art Institute, 2014.13.
Purchases
Museum curators routinely work with private collectors and art dealers, attending art fairs and auctions to identify and secure works of art that strengthen the museum's collection. At the Clark, purchases, like donations, are evaluated on quality, condition, price, and how they fit into the museum's existing holdings, and are voted on by the museum's Board of Trustees.

John and Alice Steiner formed a collection of highly regarded Renaissance and Baroque drawings. The couple began collecting in 1971, slowly and methodically shaping it to include more than 150 drawings, mainly by Italian, Dutch, Flemish, and French artists. Mrs. Steiner moved to Lenox, Massachusetts in 1995 and placed the entire collection on extended loan to the Clark to be used for classroom teaching and scholarly study. In 2003, the Clark purchased thirty old master drawings from the Steiner collection. This important acquisition added depth and variety to the museum's collection of drawings.
Dealers and art fairs have been an important source for the Clark's acquisitions of small sixteenth- and seventeenth-century cabinet pictures by Italian, French, and Flemish artists. Hundreds of paintings are displayed each year at The European Fine Art Fair in Maastricht; among the works the Clark has purchased at this fair are Alessandro Turchi's Lamentation over the Body of Christ and Denys Calvaert's Christ at the Column.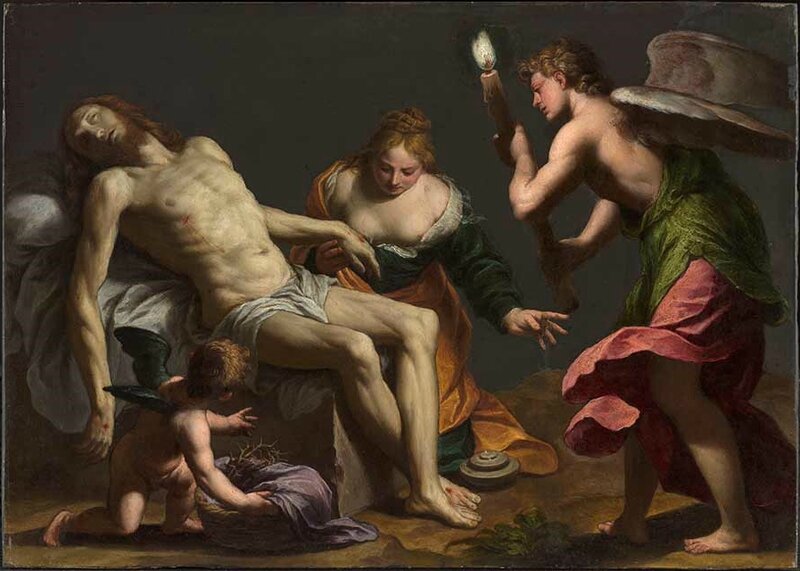 Alessandro Turchi (Italian, 1578–1649), Lamentation over the Body of Christ, c. 1645–50. Oil on touchstone, 9 13/16 x 13 3/4 in. Clark Art Institute, 2011.4.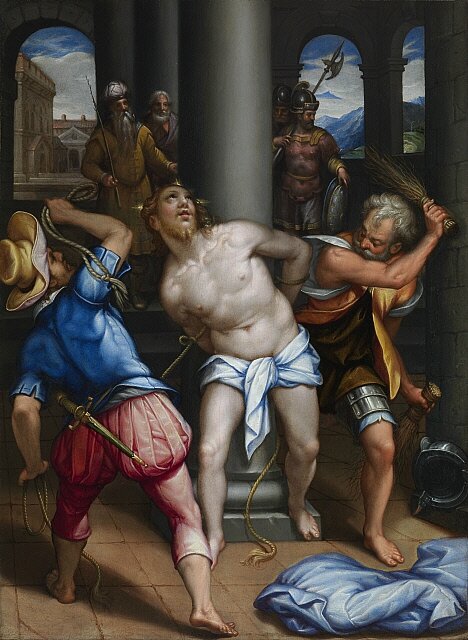 Denys Calvaert (Flemish, 1540–1619, active in Italy), Christ at the Column, c. 1578–80. Oil on panel, 42 x 30.5 cm. Acquired by the Clark, 2014. Clark Art Institute, 2014.11.
While the process of purchasing a work of art always involves research and consultation with the Board of Trustees, in the case of an auction, the process can be somewhat condensed to accommodate the fast-paced situation. Such was the case in 1997 when then-director Michael Conforti learned that an important piano designed by Sir Lawrence Alma-Tadema was to be auctioned by Christie's in London. Conforti was very familiar with the piece and felt strongly that the superbly crafted piano and two accompanying stools would anchor the Clark's nineteenth-century academic paintings gallery. Having secured authorization from the Board of Trustees, he arranged to participate in the auction, bidding by phone. Although the bidding was fierce, the Clark ultimately prevailed in the auction and secured the purchase of what is now a signature piece in the Clark's collection.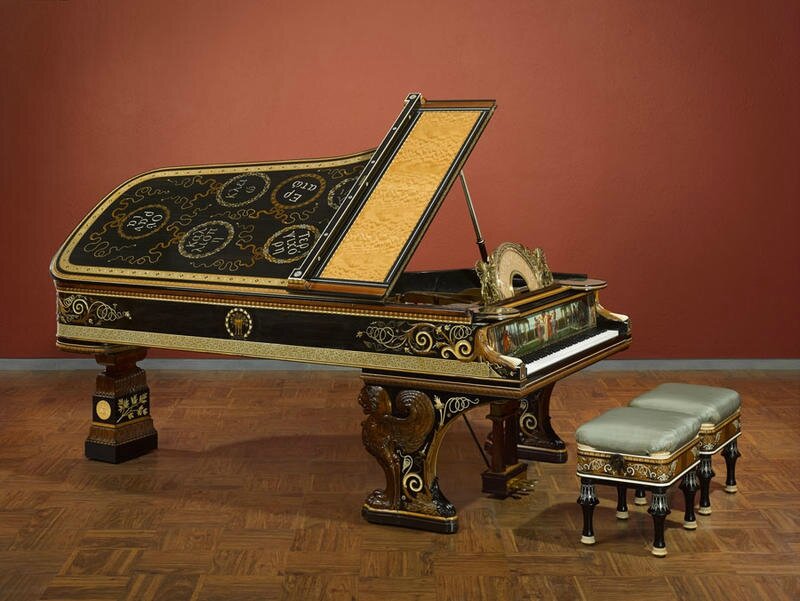 Designed by Sir Lawrence Alma-Tadema (British, born Netherlands, 1836–1912); Fallboard painted by Sir Edward John Poynter (British, 1836–1919); Casework manufactured by Johnstone, Norman & Co., London; Action by Steinway & Sons, New York, Model D Pianoforte and Stools, 1884–87. Oak, ebony, sandalwood, cedar, boxwood, ivory, coral, mother of pearl, copper, brass, pewter, and parchment. Overall piano: 102.1 x 266.1 x 151.9 cm. Acquired by the Clark, 1997. Clark Art Institute, 1997.8.
New and Expanded Areas of Collecting
As the Clark considers acquisitions, it is always done with an eye to how a work or group of works will resonate in concert with its current holdings. Since its founding, the Clark has been renowned for its collection of late nineteenth-century French Barbizon and Impressionist-era art. Purchase and donation have enabled the Clark to enhance less-represented collecting areas, adding important context to the collection. Several of these examples are presented in the exhibition, including the gift of a French Symbolist painting Woman with a Vase of Flowers by Odilon Redon; early twentieth-century pictorialist photographs including several by Félix Thiollier; and German Expressionist prints by Käthe Kollwitz and Karl Schmidt-Rottluff that were purchased as part of a long-term plan to grow these areas of the Clark's works on paper collection. Similarly, the gift of the large collection of Japanese woodblock prints from Rodbell Family Collection established a new area of focus for the Clark in 2014.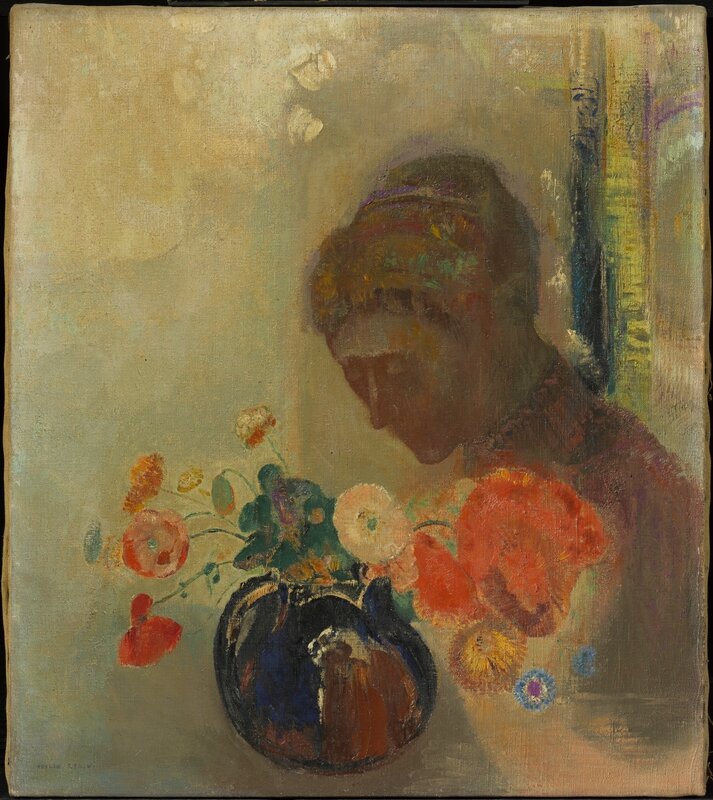 Odilon Redon (French, 1840–1916), Woman with a Vase of Flowers, c. 1903. Oil on canvas, 60 x 53 cm. Gift of Heinrich A. Medicus, 2014. Clark Art Institute, 2014.7.
Félix Thiollier (French, 1842–1914), Factory at Saint Étienne, c. 1900–1914. Gelatin silver print, 29.7 x 40 cm. Acquired by the Clark, 2007. Clark Art Institute, 2007.15.2.
In 1998, the Clark launched an initiative to collect nineteenth- and early twentieth-century photographs that complement its core holdings of paintings, works on paper, and decorative arts. Through both purchases and gifts, the Institute began to grow its photographic holdings to nearly 1,000 objects. The collection's imagery spans every genre—landscape, portraiture, and still-life—and the photographic processes represented include daguerreotype, album print, salt print, paper negatives, and photogravure. Included in the exhibition is The Terminal, an 1893 photogravure by Alfred Stieglitz. Stieglitz's inscription reveals that the photograph was given in gratitude to his dermatologist, Dr. Dabney Moon Adams. It had been passed down in the Adams family until 2010 when it was donated to the Clark by Penelope Tyson Adams in memory of her late husband.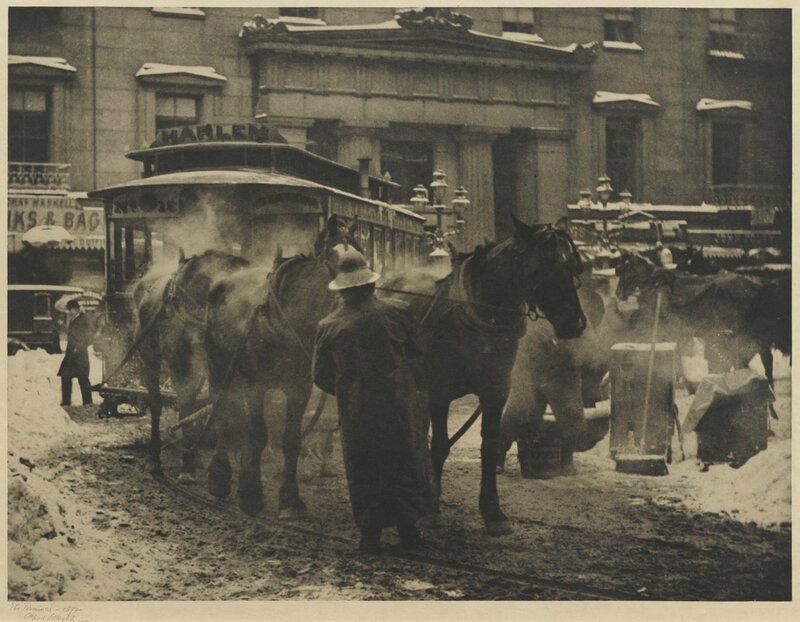 Alfred Stieglitz American, 1864–1946 The Terminal 1893; printed c. 1910 Photogravure in original frame 25.4 x 33.3 cm Gift of Penelope Tyson Adams in memory of her husband, John Barclay Adams, 2010 Clark Art Institute, 2010.13.
Library Collections
An Eye for Excellence also focuses on acquisitions made for an important collection within the of the Institute's library. The Clark library, which began collecting artists' books in 1976, worked closely for several years with Franklin Furnace Archive, Inc. and Printed Matter, Inc. to expand its collection of these rare publications. While the early collecting focus was placed on publications by conceptual artists such as Sol Lewitt, Ed Ruscha, and Lawrence Weiner, recently acquired artists' books—including some shown in the exhibition—include a wide variety of techniques and design elements, while still reflecting interest in the conceptual underpinnings of the genre. The Clark's artists' books collection numbers 4,825 volumes today.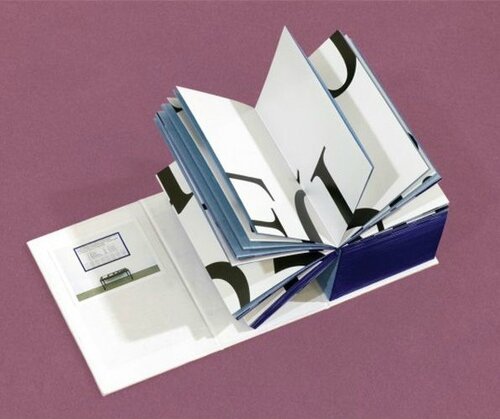 Concept by Jonathan Monk (British, b. 1969) Designed by OK–RM, London, The Billboard Book Project (London). Twenty royal sheets mounted with wood frame, twenty loose royal sheets and bound book, Paris: Three Star Books, 2012. Acquired by the Clark Art Institute, 2013.
An Eye for Excellence: Twenty Years of Collecting is generously supported by members of the Curators, Director's, and Sterling Circles of the Clark Society. Clark Society members provide annual philanthropic support to ensure the care of the Clark's collections; present special exhibitions; provide arts education to families, students, and scholars; and steward the Institute's 140-acre campus.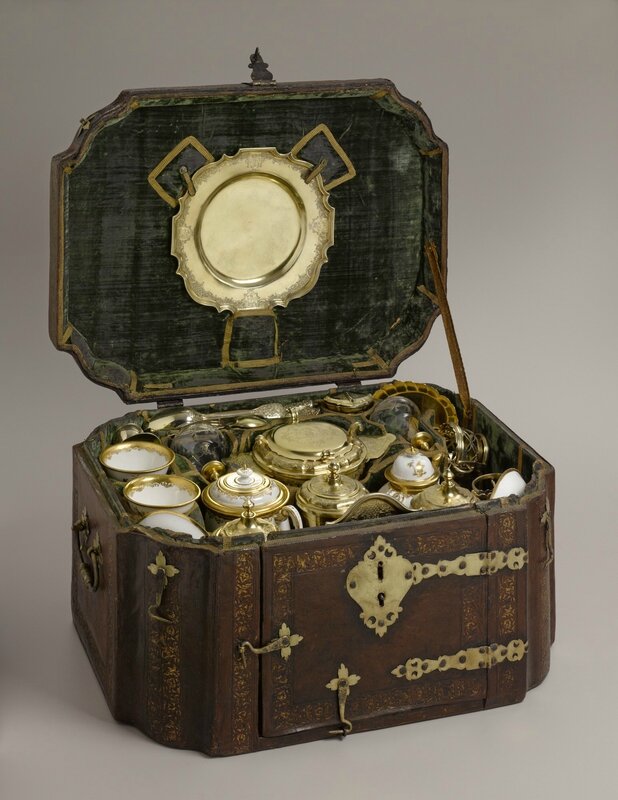 Johann Erhard Heuglin II German, active 1717–1757 Meissen Porcelain Manufactory 1710–present Additional German artisans Breakfast Set Augsburg, c. 1728–29 Gilded silver, hard-paste porcelain, glass, and velvet-lined leather case Case: 26.8 x 49.2 x 36.8 cm Acquired by the Clark, 2012 Clark Art Institute, 2012.4.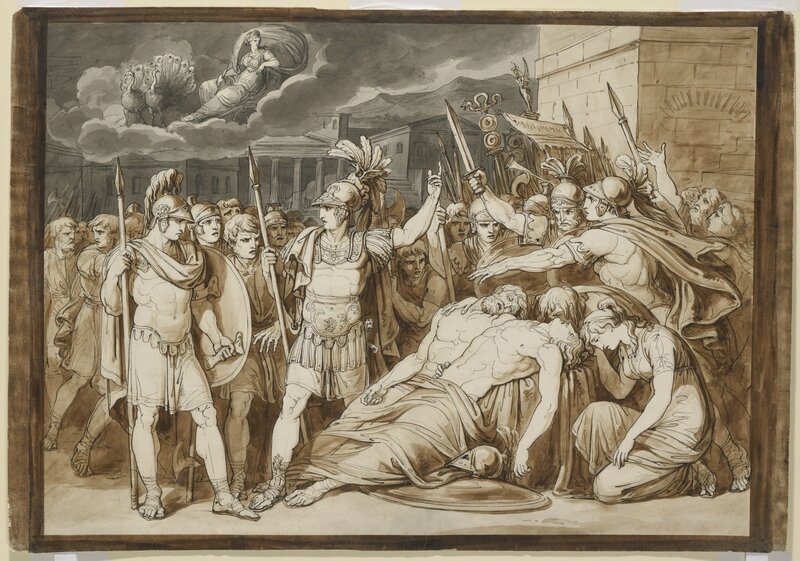 Bartolomeo Pinelli (Italian, 1781–1835), Juno Swears to Avenge the Death of Almo and Galaesus,1812. Pen and brown and gray ink and brush and brown and gray wash, over black chalk, heightened with white, on paper,, 61.5 x 84.1 cm. Acquired by the Clark, 2009. Clark Art Institute, 2009.7.1.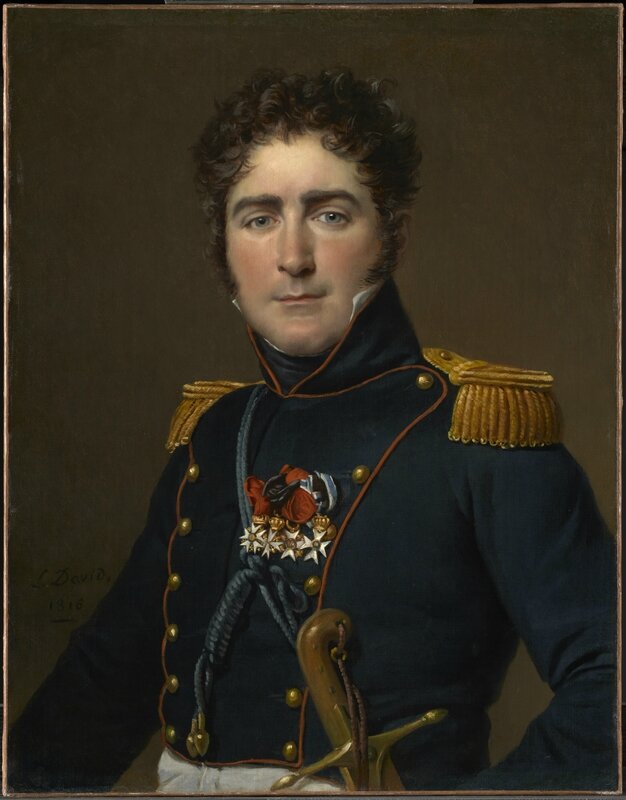 Jacques-Louis David (French, 1748–1825), Comte Henri-Amédée-Mercure de Tarenne d'Aynac, 1816 .Oil on canvas, 28 1/4 x 22 1/8 in. Clark Art Institute, 1999.2..
Georg Andreas Steinhauser (German, b. 1779), Looking Glass, Bremen, Germany, c. 1820–35. Carved and gilded wood, mirrored glass, 105.2 x 102.9 x 14 cm. Gift of Mr. and Mrs. Robert W. Chambers, Jr., 1997. Clark Art Institute, 1997.10.2.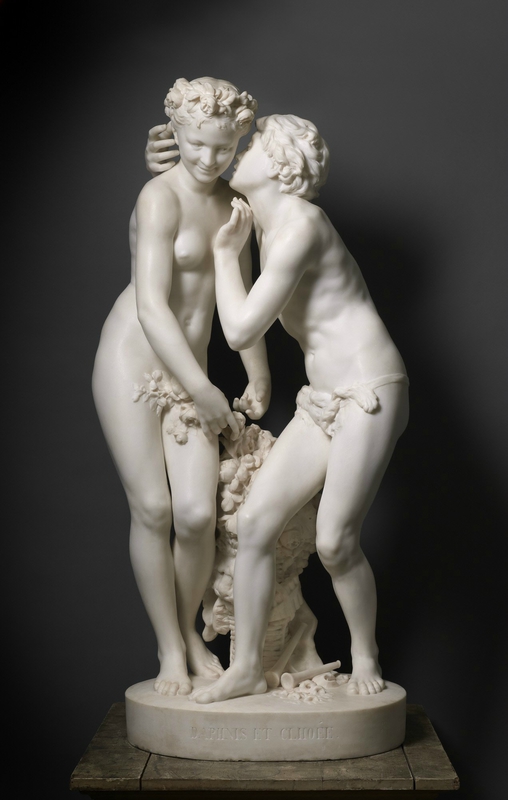 Jean-Baptiste Carpeaux (French, 1827–1875), Daphnis and Chloe, 1874. Marble, 140 x 74 x 57 cm. Acquired by the Clark, 2013. Clark Art Institute, 2013.5.