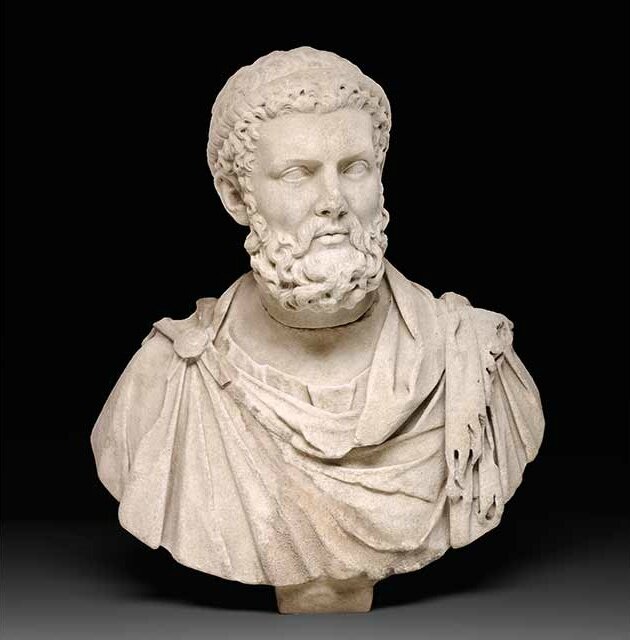 Head of Herakles, Italy, c. 1st century A.D., marble, Dallas Museum of Art, gift of David T. Owsley in memory of Professor Alan R. Bromberg, via the Alvin and Lucy Owsley Foundation, Cecil and Ida Green Acquisition Fund, and Wendover Fund.
DALLAS, TX.- The Dallas Museum of Art acquired a marble head of Herakles, the Greek hero the Romans called Hercules, at a Sotheby's, New York auction of Egyptian, Classical, and Western Asiatic Antiquities in June. The marble head is from the late 1st century A.D. and is set upon an unrelated bust from the mid-2nd century A.D. This ensemble was composed by the 18th-century French sculptor Lambert-Sigisbert Adam (1700–59), who created sculptures for King Louis XV of France and Frederick the Great of Prussia.

The acquisition is a gift of David T. Owsley through the Alvin and Lucy Owsley Foundation, and strengthens the Museum's collection of ancient art of the Mediterranean, of which a selection is on view in the Museum's Level 2 Classical galleries. The head and attached bust are now on view accompanied by a 2nd-century A.D. bust of Emperor Marcus Aurelius from a local private collection. Both serve as evocative examples of Roman imperial art and complement other Roman portraits currently on view from the DMA's collection.

The marble bust reveals the talents of three artistic hands. As a pastiche of two antiquities rendered by a master sculptor of the rococo period, Lambert-Sigisbert Adam, this work joins a small group of Roman sculptures at the DMA and offers lessons about Greek religion, Roman military commemoration, and the taste and flourishes of 18th-century artistry.

"This powerful bust is as interesting for its later history in 18th-century France as it is for its Greco-Roman origins," added Anne R. Bromberg, the DMA's Cecil and Ida Green Curator of Ancient and Asian Art. "The head is a striking example of Roman realism in art: the mature, forceful face, the curly mustache, and the rich hair suggest an actual Roman man more than the epic hero Herakles, while the rich drapery of the shoulders might well be the dress of a Roman emperor or nobleman."

The head resembles two 1st-century A.D. Roman works that are now in the Vatican Museums and in the Museum of Fine Arts, Boston and is based on a Hellenistic Greek work of the mid-2nd century A.D. The head was excavated in Rome between 1723 and 1732 by Cardinal Melchior de Polignac, and was eventually used as a source of payment to Adam for his restoration work on pieces in the cardinal's collection. The combination of fragments of Roman sculpture was a common practice in the 1700s, thus creating a new vision of Roman imperial art at that time.