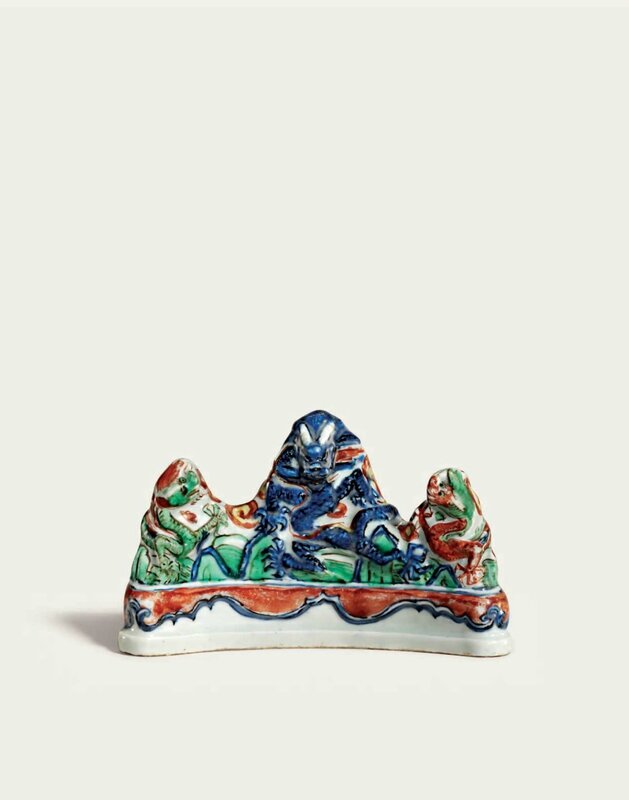 A rare wucai 'dragon' brush rest, Wanli six-character mark in underglaze-blue within a double-rectangle and of the period (1573-1619); 6 ¾ in. (17.1 cm.) wide. Estimate £15,000 – £25,000 ($22,980 - $38,300). Lot sold GBP 88,900. Photo Christie's Image Ltd 2015.
The brush rest is of crescent section, moulded with three five-clawed dragons encircled by stylised cloud scrolls above rocks and waves.
Provenance: From the Blair Charitable Trust, removed from Blair Castle, Blair Atholl, Scotland.
Blair Castle, Blair Atholl is the seat of the earls and dukes of Atholl, an historic Scottish family whose noble title dates back to the mid-15th century when John Stewart (c. 1440-1512) was created 1st Earl of Atholl circa 1457. In 1703 Queen Anne bestowed the title of Duke of Atholl upon John Murray, 2nd Marquess of Atholl, whom she had appointed to the prestigious role of Keeper of the Privy Seal in Scotland the previous year. Building began on the oldest part of the castle, Comyn's Tower, in 1259, which still stands to this day.
Notes: The dragons depicted on this brush rest form three tall peaks, shaping the Chinese character for 'mountain'. This type of three-peaked wucai-enamelled brush rest, designed for the scholar's table, is rare to find. One such example displaying the same crescent section and colour combination from the Tsui Art Foundation was exhibited by the Min Chiu Society of Hong Kong, Joined Colors, Special Exhibition at the Arthur M. Sackler Gallery, Smithsonian Institution, Washington D. C., 31 January-28 November 1993, illustrated in the Catalogue, no. 35, and subsequently sold at Christie's Hong Kong, The Jingguantang Collection, 3 November 1996, lot 574. Another example is illustrated by J. Harrison-Hall, Ming Ceramics in the British Museum, London, 2001, pl. 11:155. Also compare the present lot to a very similar Wanli mark and period brush rest from the Manno Art Museum, which was sold at Christie's Hong Kong, 28 October 2002, lot 536.
CHRISTIE'S. FINE CHINESE CERAMICS & WORKS OF ART, 10 November 2015, London, King Street