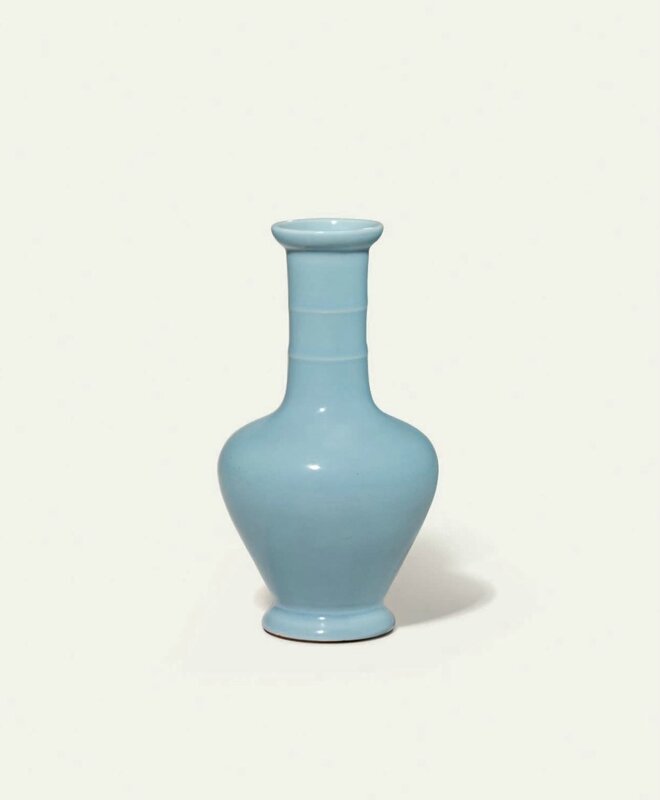 A very rare clair-de-lune-glazed bottle vase, Yongzheng six-character seal mark in underglaze blue and of the period (1723-1735). Estimate £80,000 – £120,000 ($122,560 - $183,840). Photo Christie's Image Ltd 2015.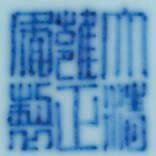 The vase is skilfully potted with a baluster body rising to a cylindrical neck and a dished mouth, raised on a domed foot. The vessel is covered overall in a smooth pale blue glaze. The neck is further decorated with two concentric bands. 7 7/8 in. (20 cm.) high
Provenance: With P. C. Lu, Hong Kong.
From a private European collection, acquired in 1992.
With Vallin Galleries, Connecticut.
Notes: It has been suggested that the shape of this vase is based on an earlier prototype such as a holy water bottle. Porcelain vessels of this shape are known from the Yongle period (1403-1424) onwards. A fragmentary holy water jar measuring 27 cm. high was excavated from the Yongle-period strata at Zhushan, see Ceramic Finds from Jingdezhen Kilns, Hong Kong, 1992, fig. 201. Another similar example dated to the Xuande period (1426-1435), with a tapering body and splayed foot, decorated with flower-sprays and petal bands, is illustrated in Zhongguo Taoci Quanji, The Great Treasury of Chinese Ceramics, vol. 19, Shanghai, 1983, fig. 12.

This shape became popular during the Yongzheng period when archaism was favoured at the Imperial court, and earlier ceramics and bronzes became readily available in Beijing as models for potters. A Yongzheng-marked vase of closely related shape to the current lot, with a crackled glaze imitating Guan ware, is illustrated by J. Ayers in The Baur Collection, vol. III, Geneva, 1969, no. A348, which the author suggests may be imitating an earlier Song or Ming bronze type. A Yongzheng mark and period vase decorated with a rich flambé glaze is in the collection of the Palace Museum in Beijing, illustrated in The Complete Collection of Treasures of the Palace Museum – 37 – Monochrome Porcelain, Hong Kong, 1999, p. 198, pl. 179.

The current vase is particularly rare as no other example with the same shape, size and glaze appears to have been offered at auction before. Compare a vase of similar shape but of a different size and decorated with a flambé glaze from the Robert Chang Collection and formerly in the Winkworth Collection, sold at Christie's Hong Kong, 2 November 1999, lot 512.
CHRISTIE'S. FINE CHINESE CERAMICS & WORKS OF ART, 10 November 2015, London, King Street