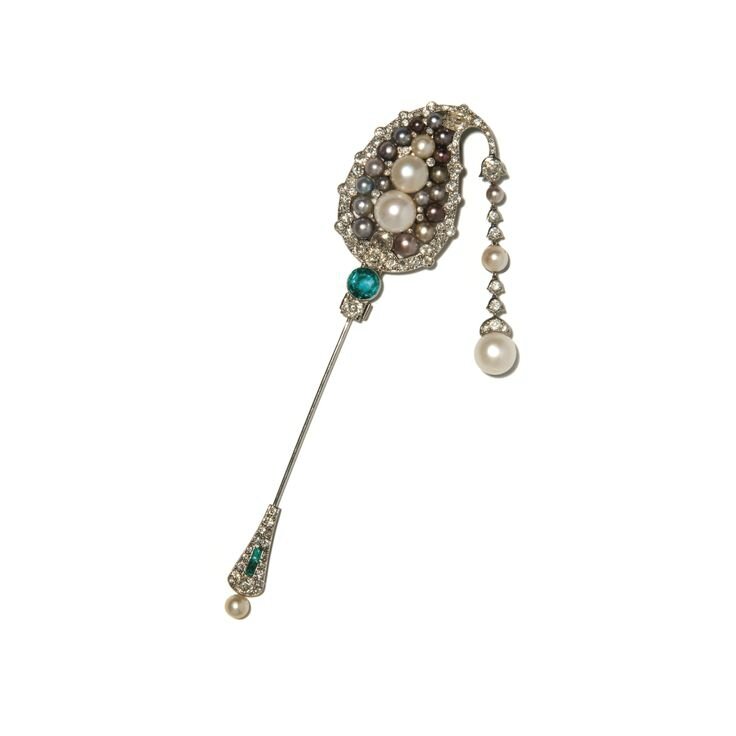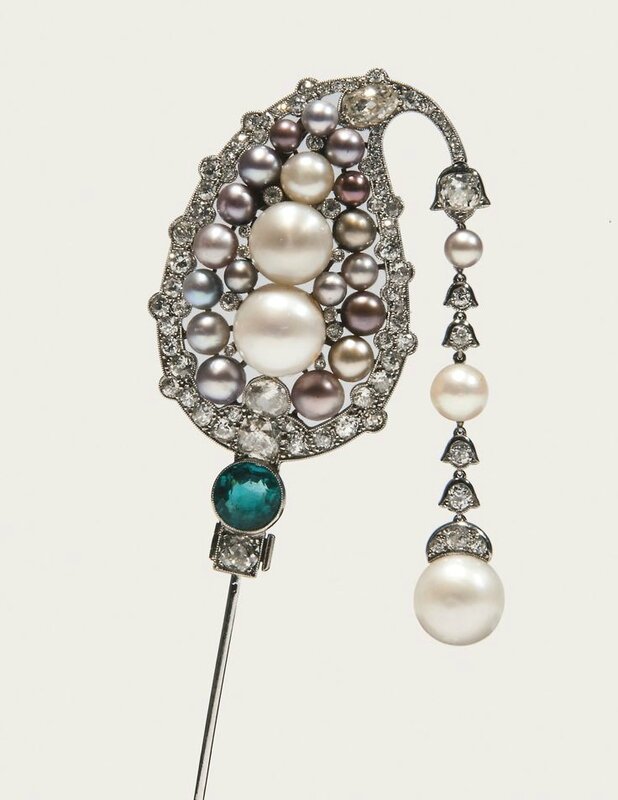 Lot 479. Natural pearl, emerald and diamond jabot pin, Cartier, 1920s. Estimate 110,000 — 220,000 CHF. Lot sold 430,000 CHF. Photo: Sotheby's.
Of Indian inspiration, set with natural pearls of various colours, a circular-cut emerald, cushion-shaped, circular-cut and rose diamonds, suspending a line of diamonds and natural pearls; the keeper set with circular-cut diamonds, calibré-cut emeralds and a natural pearl, signed Cartier, numbered, French assay and maker's marks, case signed Cartier.
Authentification: Accompanied by SSEF report no. 82739 stating that two of the tested pearls were found to be natural, saltwater, and one was found to be natural, freshwater.
Bibliography: Cf.: Hans Nadelhoffer, Cartier, London, 2007, pg. 130 for a sketch of a fibula brooch of similar design, and pgs. 130-175 for the 'Indian style'.
Note: This jabot pin is inspired by the traditional Indian sarpech, a turban ornament. Europe first came into contact with Indian jewellery at the time of the first Great Exhibition in London in 1851. In 1876, Queen Victoria was proclaimed Empress of India, and from 1880 Indian jewellery enjoyed a vogue in both England and France. But it was only in 1900, after theExposition Universelle in Paris, that Cartier created an 'Indian' ring with two cabochon emeralds set in platinum using the standards of French jewellery. Then in the summer of 1901, Pierre Cartier was summoned to Buckingham Palace and was commissioned to create an Indian necklace from various pieces of royal jewellery for the new Queen, Alexandra, to wear with three Indian gowns sent by Mary Curzon, wife of the Viceroy of India. For this first commission from the palace, the Paris designer created a light and elegant Indian-style necklace.
Around 1910, under Poiret's influence, Persian-Indian aigrettes and pendant motifs were found in jewellery creations. In 1910, the Herald Tribune praised the 'Persian and Indian designs of Cartier'.
Important contacts with maharajas were consolidated during the celebrations of George V's coronation at the Delhi Durbar in 1911, and in the same year Jacques Cartier embarked for his first journey to India.
The towering sarpech (jiqka) and the drooping turah, both Indian turban ornaments, influenced jewellery designers in Paris, London and New York. The principal component of the sarpech is the Kashmir palm or mango leaf, a cone shape bent over at the point, found in Persian Mir and Serabend carpets. From 1912 the mango leaf inspired the basic shape of the Cartier version of the fashionable aigrette. In the 1920s, it was adapted with a drop stone dangling from its tip to be worn as lapel and hat brooches.
Sotheby's. Magnificent Jewels and Noble Jewels, Genève, 11 nov. 2015, 10:00 AM