Photo Christie's Image Ltd 2015
Christie's is pleased to present this selection of Chinese export porcelain and works of art drawn from private collections across Europe. The selection shines a spotlight on the vibrant global trade in this 'precious cargo' that existed between China and Europe from the 16th and 17th centuries onwards. Portuguese sea captains and merchants were the first to open up these lucrative trade routes, soon followed by the Spanish, Dutch and the English. Once sea trade between Europe and Asia was firmly established, a great cultural exchange began with European forms and decorations produced by Chinese potters catering to Western demand and commissions. Beautiful and treasured in the West, these blue and white, famille verte and famille rose ceramics would have adorned the houses of the wealthy and are an evocative reminder of a bygone time when sea trade flourished.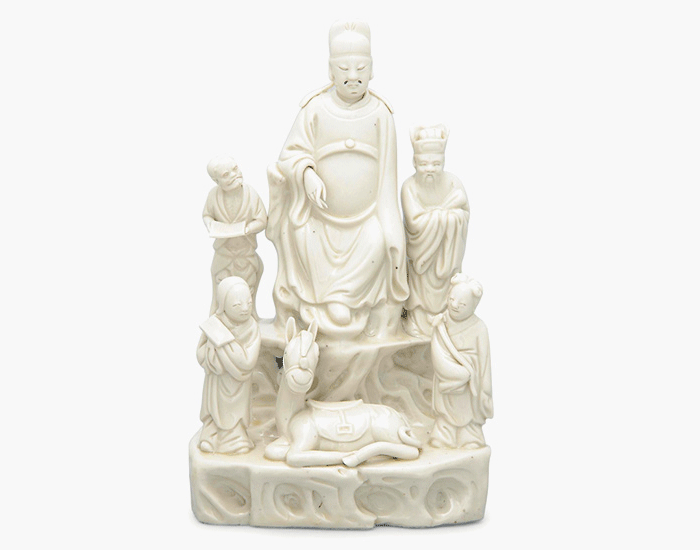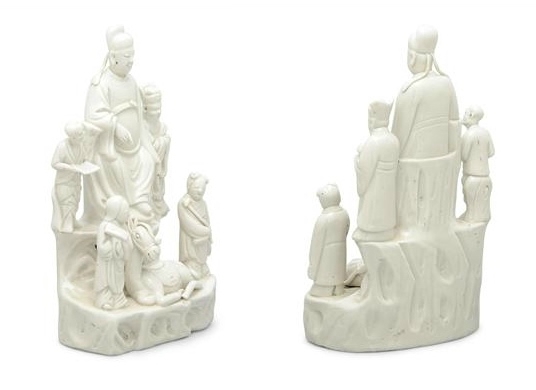 A Dehua Scholars Group, 17th Century. Estimate GBP 10,000 - 15,000. Photo Christie's Image Ltd 2015
The group is modelled to depict Wen Chang, the Daoist God of Literature, seated on a rocky ledge above four followers holding various scholarly objects including a ruyi sceptre and scrolls, with a recumbent donkey resting below. 8 ¼ in. (21 cm.) high
Dehua, or Blanc de Chine, figures, were made in Fujian province and became a popular export in the 18th century. After one look at this group, it is no wonder that the Europeans and the Chinese alike developed a taste for pieces that were covered in this subtle, creamy glaze. What I find particularly entertaining is the subject matter. This group depicts Wen Chang, the Daoist god of literature, accompanied by his assistants, Kuixing (the god of the four stars) and Zhuyi (the distributor of examination results). This figural group would have been a must-have for any aspiring student hoping to pass their civil service examinations to embark on a successful and prosperous career.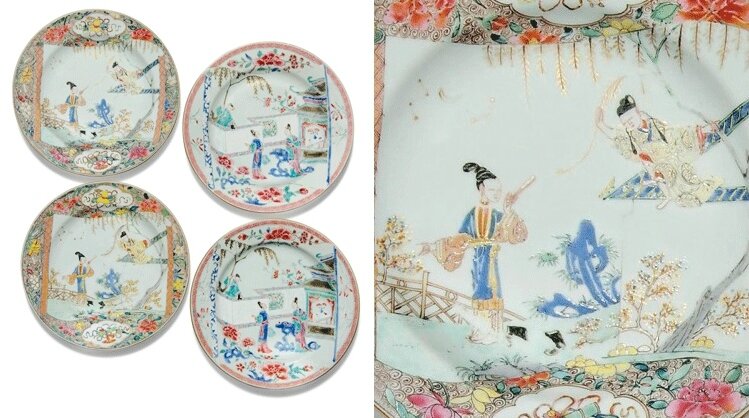 Two Pairs of Famille Rose 'Romance of the Western Chamber' Dishes, Yongzheng Period (1723-1735) and Qianlong Period (1736-1795). Estimate GBP GBP 1,500 - 2,000. Photo Christie's Image Ltd 2015
9 1/8 in (23.2 cm.) diameter
The scenes depicted here reference the woodblock prints used to illustrate the text from the famous Yuan dynasty play from the 13th-14th century, Xi Xiang Ji or 'The Romance of The Western Chamber'. The woodblock prints inspired Chinese porcelain painters for generations and the story tells the tale of the romance between the impoverished scholar Zheng Sheng and the beautiful Cui Yingying. Her mother refuses to allow her daughter to marry him and she sends the scholar away to seek scholarly success. Zheng Sheng later helps rescue Yingying from a group of bandits but although her mother had offered her daughter's hand in marriage to anyone who rescues her, she reneges on her promise. In the end, the couple marry. The scenes depicted here show the couple's clandestine meetings.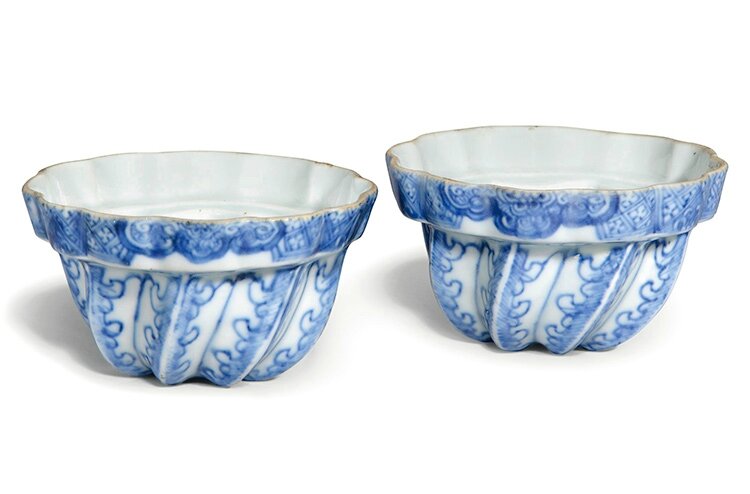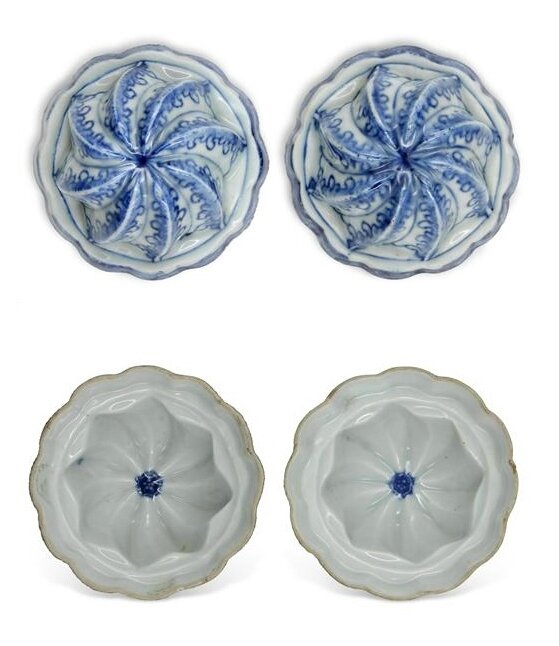 A Pair of Blue and White Pudding Moulds, Early Qianlong Period (1736-1795). Estimate GBP GBP 1,000 - 2,000. Photo Christie's Image Ltd 2015
Each mould is modelled with fluted swirling sides and with a wavy rim and decorated on the exterior with stylised foliage below a composite band. 3 7/8 in. (9.9 cm.) diameter.
These moulds were exhibited at notable London institutions such as Syon House and at the Horsham Museum in Horsham.
This pair of pudding moulds is a rare example of exclusively European forms of kitchenware commissioned from Chinese potters in Jingdezhen. In 18th century England, pudding was a popular household dish, but in 18th century China, this food was certainly the opposite. It makes me wonder whether these potters, faithfully following designs after metal or ceramic originals, would have had any inkling of how such moulds would have been used halfway across the world! From pieces such as these we get a fascinating glimpse into the world of everyday European objects being produced in a truly extraordinary fashion.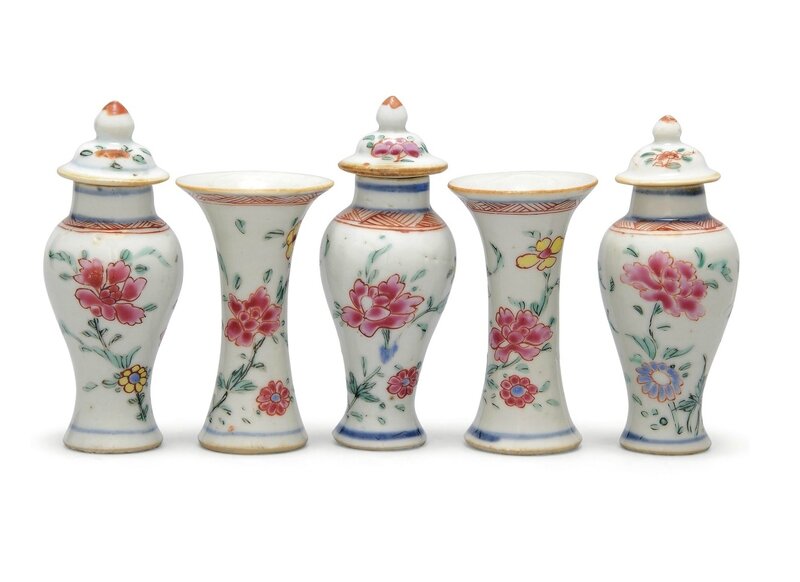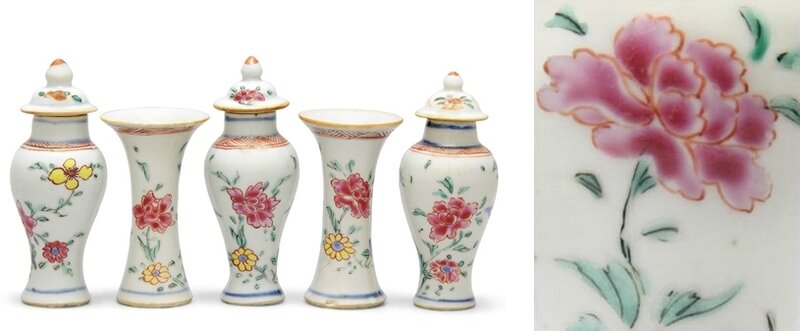 A Famille Rose Miniature Five-Piece Garniture, Qianlong Period (1736-1795). Estimate GBP GBP 8,000 - 12,000. Photo Christie's Image Ltd 2015
The garniture comprises a pair of beaker vases and a set of three baluster vases and covers, each decorated with branches of peony below an iron red hatched pattern at the rim. The largest 4 ½ in. (11.5 cm.) high
The concept of the 'altar garniture' appears to have originated in China where sets of five offerings usually consisting of an incense burner, two gu-form vases and two candlesticks were used in tombs and on altars during rituals. This concept seems to have been adapted for Chinese export wares during the 18th century whereby a set of five vases, two of gu-form and three with covers became known by the French term garniture de cheminée.
The current example displays a typical five-piece alter garniture format on a miniature scale, bringing an additional dimension of novelty and skill. The blossoming peony decoration alludes to wealth, honour and prosperity.
This five-piece garniture is interesting for two reasons: one, the subject matter — the blossoming peony decoration alludes to wealth, honour and prosperity; and two, the skill that would have been required of the potter to create miniature pieces in such elegant proportion. During the 18th century, five-piece garnitures of varying sizes were exported in large quantities to noble houses in Europe to decorate walls and mantlepieces, and to furnish entire rooms. These would be a great start or addition to one's "China cabinet" collection.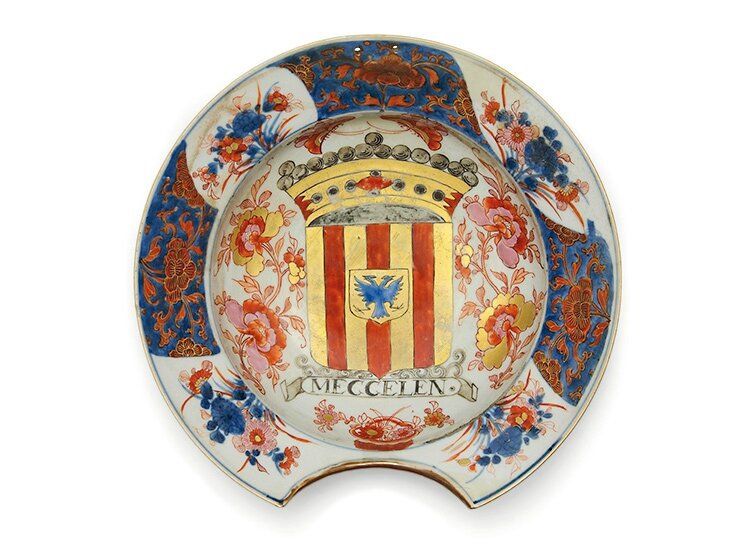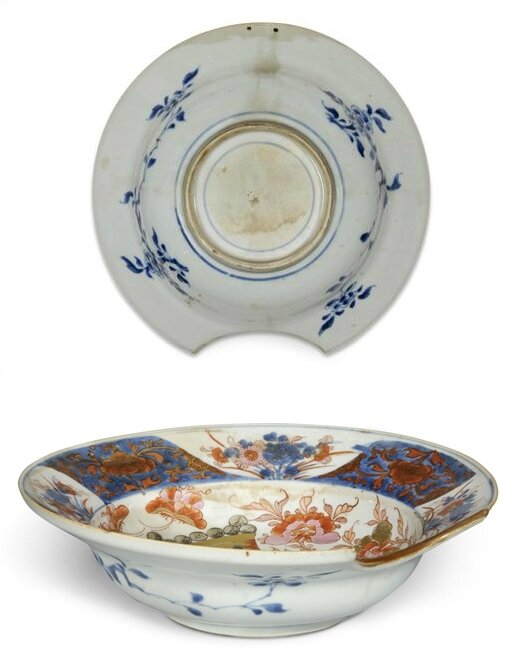 A Rose-Imari 'Provinces' Barber's Basin, Circa 1720. Estimate GBP 2,000 - 3,000. Photo Christie's Image Ltd 2015
The center is decorated with the arms of Meggelen, named on a banner below, flanked by pink, iron red and gilt flowering peony and butterflies, the flaring rim with shaped panels of flowers. It is pierced for hanging. 10 5/8 in. (27 cm.) diameter.
This basin bearing the arms of Mechelen in modern-day Belgium, is an excellent example of a European commission produced in China — it belongs to one of several series of vessels made in the 1720s depicting the arms of the main towns of the United Netherlands, England and France. Twenty-three different arms have been recorded, and it is likely that they would have been ordered by the Dutch to commemorate the Triple Alliance formed by these countries in 1717. It's fascinating that the European coat of arms is surrounded by Chinese-style embellishments, and that the plate itself was decorated in enamels that were typical of Export porcelain at the time — a true mix of East and West.
The present basin belongs to the famed series of dishes made with the arms of Holland, England, France, Luxembourg, and numerous Dutch and Flemish provinces and cities. Twenty-three different arms seem to comprise each complete series. The sets vary from small famille verte dishes to large famille verte dishes to barber's basins to rose-verte dishes. Judging by the spelling of the names, it is likely that they were made to Dutch order.
Christie's online auction, Precious Cargo: Chinese Export Porcelain and Works of Art, now through 17 November 2015.