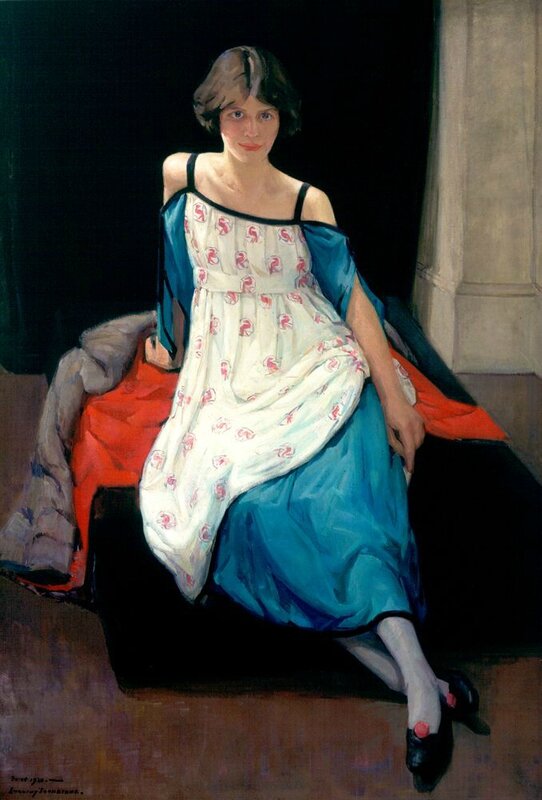 Dorothy Johnstone (1892-1980), Anne Finlay, 1920. Oil on canvas, 145.3 x 100.5 cm © Courtesy of Dr DA Sutherland and Lady JE Sutherland
EDINBURGH.- The contribution of Scottish women painters and sculptors to a vital chapter of Scottish modern art history is set to be uncovered and celebrated in a revelatory exhibition of work at the Scottish National Gallery of Modern Art.

From Saturday 7 November, Modern Scottish Women: Painters and Sculptors 1885-1965 will be the first major exhibition of work by women artists to be mounted by the National Galleries of Scotland (NGS) and will document an 80-year period which saw an unprecedented number of Scottish women training and working as artists.
Flora Reid (British 1860-c.1940), Fieldworkers, 1883. Oil on canvas, 101.6 x 61 cm. The Fleming Collection
Many of the painters and sculptors featured in the exhibition had – for a multitude of reasons – relatively short careers; some were successful during their lifetimes and have since been forgotten, while other artists in the show have not yet received full recognition.

Modern Scottish Women aims to introduce many of these artists to the Galleries' visitors for the first time, to shed new light on the achievements of those already known, and to provoke debate about all those who feature.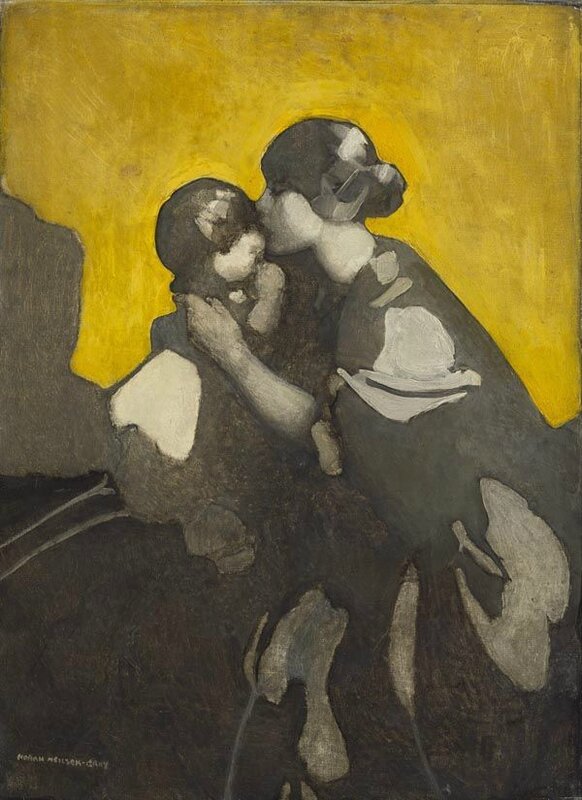 Norah Neilson Gray (British 1882–1931), Mother and Child, early 1920s, oil on canvas, 30.31 X 22.44 in (76.99 X 57 cm). Scottish National Gallery of Modern Art
Forty-five artists, from Bessie MacNicol, Phoebe Anne Traquair and Gertrude Alice Meredith Williams, to Margaret Macdonald Mackintosh, Dorothy Johnstone and Hazel Armour, as well as Phyllis Bone, Joan Eardley and Bet Low, will be represented. Familiar masterpieces will be shown alongside important works by significant artists which are rarely seen and who are not widely known.

The exhibition begins in 1885, the year in which the Glasgow School of Art appointed as its Director Fra Newberry, who was remarkable for his encouragement of female staff and students. It ends in 1965 with the death of Anne Redpath, the leading painter of her generation.
Gertrude Alice Meredith Williams (British c. 1877–1934), The Spirit of the Crusaders, c.1922
More than 90 paintings and sculptures are set to be shown, which have been drawn from the National Galleries of Scotland's holdings and from other public collections throughout the UK, as well as from private collections.

The earliest group of artists will include Flora MacDonald Reid, Margaret Campbell MacPherson and Mary Cameron who, in the 1880s and '90s, absorbed and interpreted developments in contemporary European painting, working en plein air to make works such as MacPherson's Head of a Breton Girl (c.1894) and Reid's Fieldworkers (1883).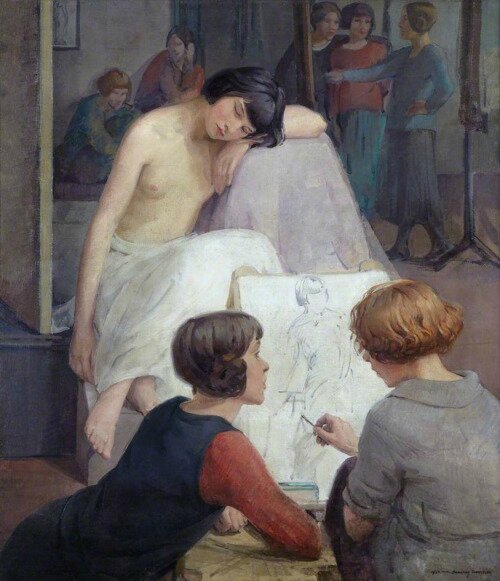 Dorothy Johnstone (1892-1980), Rest Time in the Life Class, 1923. Oil on canvas, 121.5 x 106.2. City Art Centre, Edinburgh Museums and Galleries: Purchased from the Artist with the assistance of the Jean F. Watson Bequest Fund and Government Grant-in-Aid 1980.
Dorothy Johnstone and Norah Neilson Gray's portraiture of the mid-1910s to the mid-1920s is assured and represents a significant contribution to this genre (see Johnstone's portrait of fellow artist Anne Finlay above). Gray's Mother and Child (early 1920s), recently acquired by the National Galleries of Scotland, is an important example of the artist's radical treatment of a traditional subject.

Opportunities arose for artists who lived through one or both of the World Wars, with many documenting their experience through the medium of art, including Gray, whose work as a voluntary nurse is captured in the exceptional painting Hôpital Auxiliare d'Armée 301 – Abbaye de Royaumont (1918).
Gwynneth Holt (British 1909-1995), Annunciation, c. 1946.
Following the First World War, the sculptor Gertrude Alice Meredith Williams – together with the architect Robert Lorimer – won the competition to make Paisley's War Memorial, completed in 1924. It features her sculpture The Spirit of the Crusaders – a study of which will be in the exhibition.

Artists such as Agnes Miller Parker had a strong awareness of developments in British and European art between the wars. Works such as Round Pond (Serpentine) (1930) show how she used her familiarity with Vorticism to create original, complex and ambitious paintings of her own.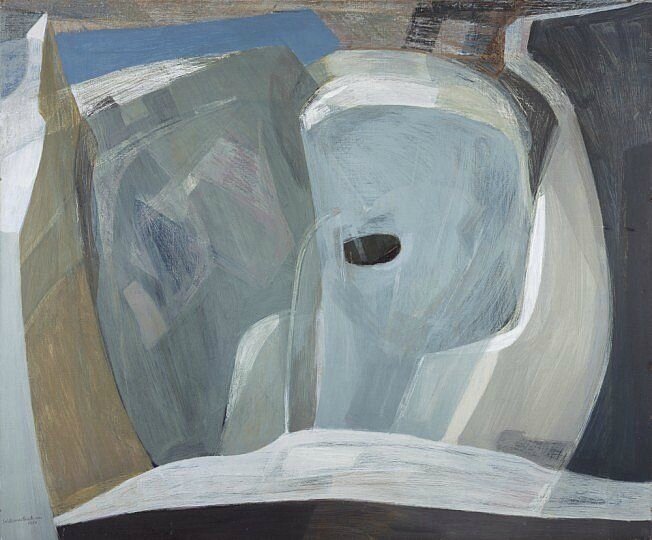 Wilhelmina Barns-Graham (British, B.1912), Glacier Chasm, 1951. Oil on canvas, 76.20 x 91.50 cm. Presented by The Barns-Graham Charitable Trust through the Art Fund 2012 © Barns-Graham Charitable Trust
Joan Eardley's magnificent landscapes of the 1950s and early 1960s – including The Wave (1961) and Catterline in Winter (c.1963) – and Wilhelmina Barns-Graham's essays in abstraction from the 1950s, such as Glacier Chasm (1951) and Red Painting (1957), explore experiences and sensations in visual form, marking them both out as pioneers.

Inevitably the artists' professional activities were affected by domestic and financial responsibilities. Cecile Walton, whose stunning 1912 painting of her future husband Eric Robertson with their artist friend Mary Newbery features in the exhibition, wrote of "the tragedy that attends so often the attempt to reconcile career and domestic life" before her divorce brought her career as an artist to a virtual end. However, Anne Redpath took what would now be called a 'career break' of some 20 years in which to raise her children, before returning to her paintbrushes with great success.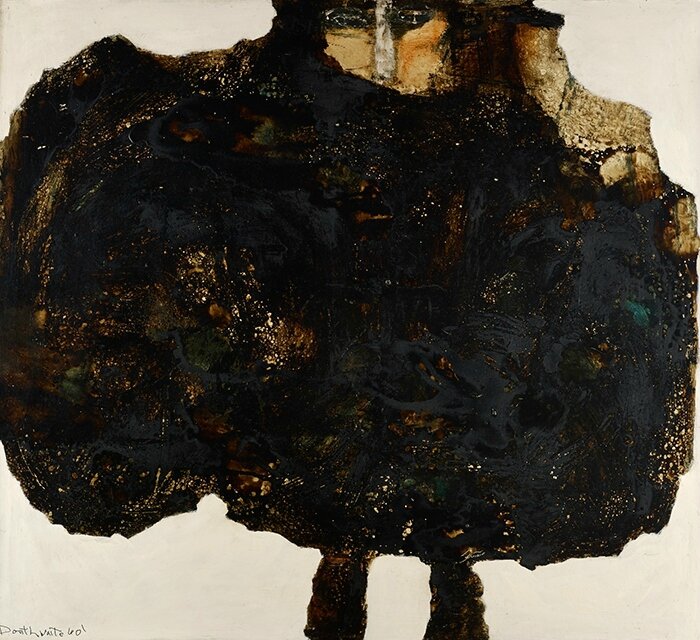 Pat Douthwaite (1934-2002), Hogey Bear, 1960. Oil on board, 120 x 133.75. Scottish National Gallery of Modern Art, Edinburgh: Purchased 2013.
The extraordinary works shown in Modern Scottish Women will reveal the professional and personal challenges faced by the artists, and their triumphs in overcoming them.

It will also chart the development of women artists' official standing: Dorothy Carleton Smyth would have been the first female Director of the Glasgow School of Art in 1933, if she had not unexpectedly died before taking up the post; in 1944, Phyllis Mary Bone became the first woman to be elected a full member of the Royal Scottish Academy, though the institution had been founded over 100 years previously.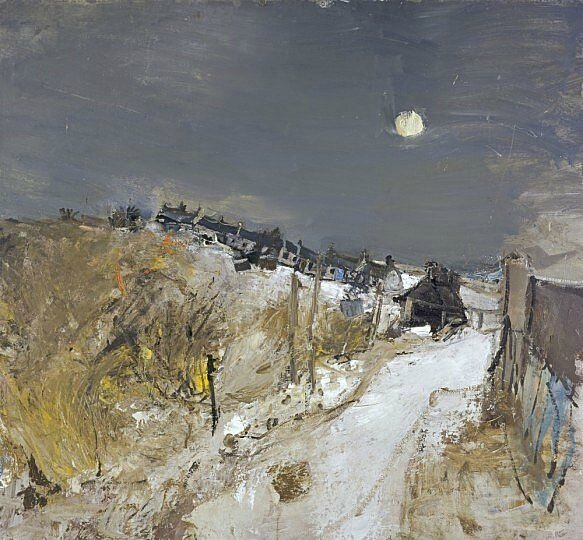 Joan Eardley (British 1921-1963), Catterline in Winter, 1963. Oil on hardboard, 120.70 x 130.80 cm (framed dimensions: 128.20 x 193.20 x 7.00 cm). Purchased 1964. Scottish National Gallery of Modern Art © Estate of Joan Eardley. All Rights Reserved, DACS 2015
The exhibition will be accompanied by a free display of prints by Wilhelmina Barns-Graham, selected from a recent gift of her work by The Wilhelmina Barns-Graham Charitable Trust (www.barns-grahamtrust.org.uk). The Trust has generously supported both the Modern Scottish Women exhibition and this display. The exhibition will also feature a display of ten works by Margaret Watkins, a Scottish-Canadian pioneer of both fine art and advertising photography.

Geoffrey Bertram, Chairman of The Wilhelmina Barns-Graham Charitable Trust, said: "It is with great pleasure that the Trust is supporting this significant exhibition, which introduces many artists who are not as well-known as they should be. Wilhelmina Barns-Graham would have affirmed from her own experiences the extra challenges women artists encountered. The Trust is equally delighted to support the adjacent display of her prints, selected from the presentation of 86 prints gifted by the Trust to the National Galleries of Scotland.'
Alice Strang, Senior Curator at the Scottish National Gallery of Modern Art and curator of Modern Scottish Women, said: "Every artist and every work in this exhibition has a story to tell about being a female art student and professional artist. We hope that our visitors will enjoy learning about their experiences and discovering their wonderful creations."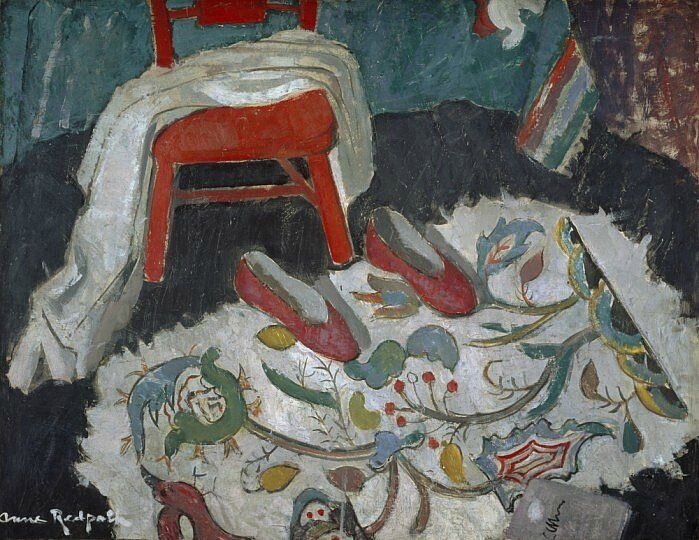 Anne Redpath (Scottish 1895–1965), The Indian Rug (or Red Slippers), about 1942. Oil on plywood, 73.90 x 96.10 cm (framed: 91.50 x 113.50 x 6.20 cm). Purchased 1965. Scottish National Gallery of Modern Art © the Artist's Estate / Bridgeman Art Library. All rights reserved.