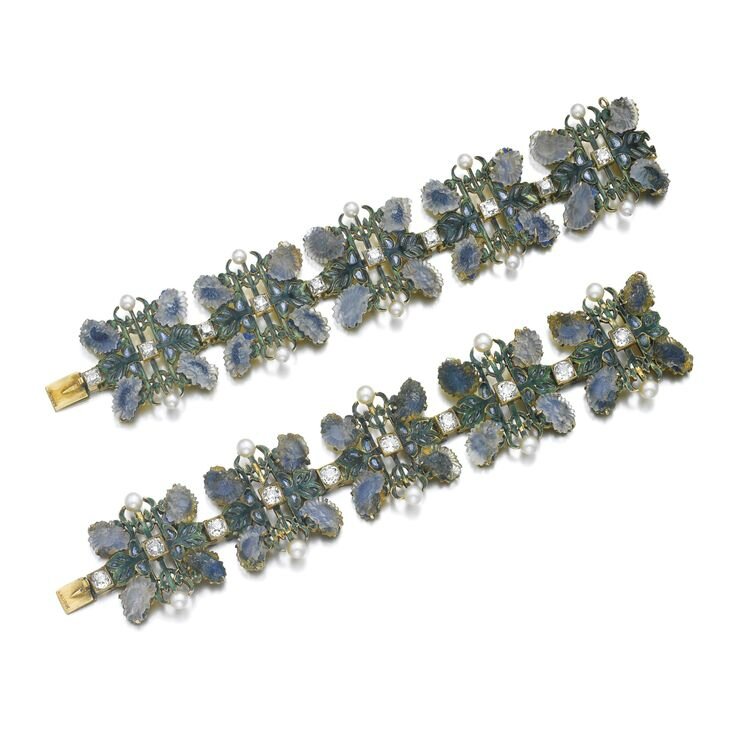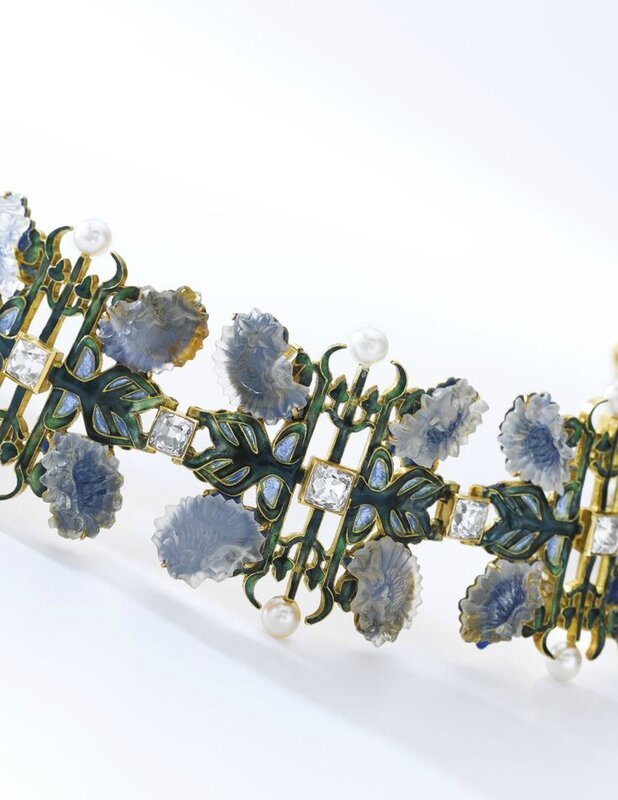 Pair of rare and attractive enamel, opalescent glass and diamond bracelets, René Lalique, circa 1900. Estimate 245,000 — 345,000 CHF. Photo Sotheby's
Each composed of five plaques of foliate and floral design connected by cushion-shaped diamonds; each motif decorated with four moulded opalescent glass cornflowers, the leaves and stems in green and blue enamel ending with natural pearls, the centre set with a cushion-shaped diamond; length approximately 172mm, each signed Lalique, the bracelets can be worn together as a choker, length approximately 345mm, one pearl cultured, repairs to the back, enamel slightly imperfect and repaired in places.
Accompanied by a gemmological report.
Literature: Cf.: Sigrid Barten, René Lalique, Schmuck und Objets d'Art. 1890-1910, Bonn, 1989, pg. 455, ill. 1271,2 for a reproduction of the original sketch of the bracelet.
Cf.: Vivienne Becker, The Jewellery of René Lalique, London, 1987.
Cf.: Marc and Marie-Claude Lalique, Lalique par Lalique, Paris, 1977.
Notes: Leader of the Art Nouveau movement and instigator of an entirely new approach to jewellery, René Lalique (1860-1945) started as an apprentice in 1876 at Louis Aucoc, a renowned Parisian silversmith and jeweller. He worked then as a designer for different jewellery houses and moved in 1890 to 20 rue Thérèse where he began his experiments with glass. By the 1890s, Lalique was using more motifs from nature, concentrating on unusual aspects of plants and flowers. He looked at the techniques from other areas of the decorative arts, such as glass, and introduced them into jewellery. Indeed, he dared to mix a valueless material with precious metal and gems. These moulded pieces were often repeated, as in this example. TheExposition Universelle in 1900 was the pinnacle of Lalique's success. He was hailed by art critics as the renovator and master of modern French jewellery; he won a Grand Prix and was awarded the rosette of the Légion d'Honneur. During a 1905 exhibition, Lalique was given full credit for his revolutionary approach to jewel design which had changed the course of jewellery and had "freed us from the tyranny of the diamond" (The Studio International, August 1905).
Sotheby's. Magnificent Jewels and Noble Jewels, Genève, 11 nov. 2015, 10:00 AM