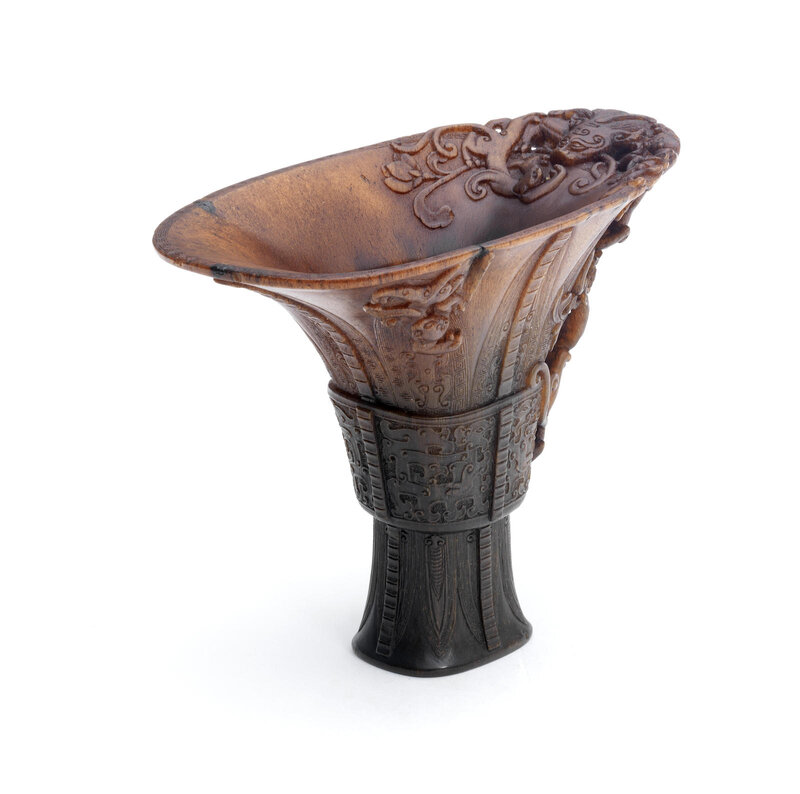 Lot 184. A rare archaistic rhinoceros horn libation cup, 18th century; 16cm (6 2/8in) long. Estimate £90,000 - 120,000 (€130,000 - 170,000). Sold for £ 110,500 (€ 126,191). Photo Bonhams.
The cup skilfully carved in high relief as an archaistic bronze wine gu vessel with an adult chilong and three young forming the handle and sinuously clambering over the side onto the interior amidst blossoming lotus and leafy tendrils, the rectangular section accented by notched flanges and supported on a splayed base decorated with eight pendent plantain leaves enclosing stylised cicadas, the central register with four confronting dragons, the upper part with two further chilong and seven upright triangular blades filled with archaistic dragons and leiwen, the rim encircled by a narrow keyfret band.
Provenance: a distinguished European private collection
Note: This magnificent cup is one of the finest examples of superb craftsmanship achieved in rhinoceros horn carving during the 18th century.

Compare a libation cup illustrated by J.Rawson, The British Museum Book of Chinese Art, London, 1992, fig.134, p.183. A similar cup, but signed by Hu Xingyue, is illustrated in The Complete Collection of Treasures from the Palace Museum, Hong Kong, vol. 44, pl.134. Other cups are included in the collection of the Victoria and Albert Museum, illustrated by E.Rawski, China: The Three Emperors 1662-1795, London, 2005, no.162 and others illustrated by J.Chapman, The Art of Rhinoceros Horn Carving in China, London, 1999, p. 41 and C. Clunas, Chinese Carving, London, 1996, fig.36 p.38.
Bonhams. FINE CHINESE ART, 12 Nov 2015 10:00 GMT - LONDON, NEW BOND STREET