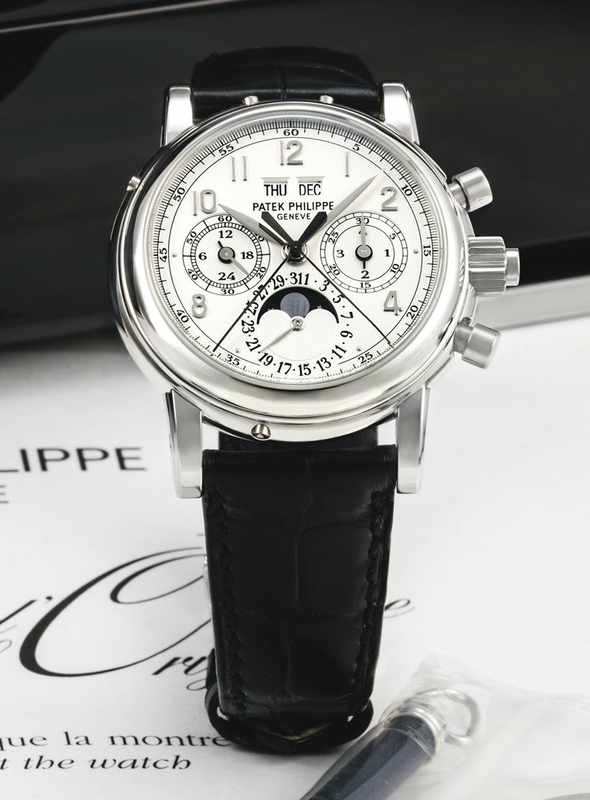 Patek Philippe, an important Platinum Perpetual Calendar Split Seconds Chronograph Wristwatch with Leap Year Indication And Moon-Phases Ref 5004P Circa 2010. Est. HK$1,450,000 — 2,000,000 / US$187,094 - 258,060* (Lot 832). Photo: Sotheby's.
HONG KONG.- Sotheby's Hong Kong presents the Fine Timepieces sale to be held on 29 November 2015 at Sotheby's Hong Kong Gallery. In the spirit of the fast-approaching holiday season, the sale will highlight a fascinating diamond-set Poetic Complication by Van Cleef & Arpels, Pont des Amoureux (pictured above). Featuring a brilliant array of watches and accessories by prestigious makers, the sale offers a great opportunity for connoisseurs and watch lovers to celebrate the festive season in style.

Sharon Chan, Sotheby's Head of Watches, Asia, says, "Following the Autumn sale in October, we are excited to present the Fine Timepieces sale at Sotheby's Hong Kong Gallery during this joyful time of the year. The sale will offer a wide variety of watches for every taste and all pockets, including a Van Cleef & Arpels diamond-set complication which is a romantic celebration of horological excellence, a coveted Patek Philippe minute repeater and F1-inspired chronograph creations by Richard Mille and Audemars Piguet."

HIGHLIGHTS:
Van Cleef & Arpels, a Lady's Fine and Elegant White Gold And Diamond-Set Double Retrograde Bracelet Watch with Enamel Dial No 591 Pont Des Amoureux Circa 2014. Est. HK$600,000 – 800,000 / US$77,000 – 103,000* (Lot 834). Photo: Sotheby's.
Pont des Amoureux, one of the Poetic Complications created by Van Cleef & Arpels, ultimately defies the limitations of conventional time display. In a perfect marriage of style and function, Van Cleef & Arpels cleverly assigns the task of time display to two whimsical figures, the umbrella-toting lady who indicates the hour and her paramour who reports the minute. The two lovers move slowly towards each other for brief rendezvous at noon and at midnight on the Pont des Amoureux over the River Seine. A gold star glitters in the night sky of Paris, representing the Great Bear constellation and a symbol of luck.

Accentuating the visual extravagance, the bezel and bracelet of the watch are fully adorned by approximately 11.285 carats of diamonds. The timepiece also features a grisaille enamel dial, created by one of the oldest enamelling techniques that dates back to the 16th century. Employing only black and white enamel, the grisaille technique is mastered by very few enamellists. Numerous layers of enamel are carefully applied to create graduating colours, and each layer has to be fired in a furnace at a high temperature of 740 and 840 degree Celsius. The result is a work of art that catches the light and creates a great sense of depth, lending a poetic aura to the dial.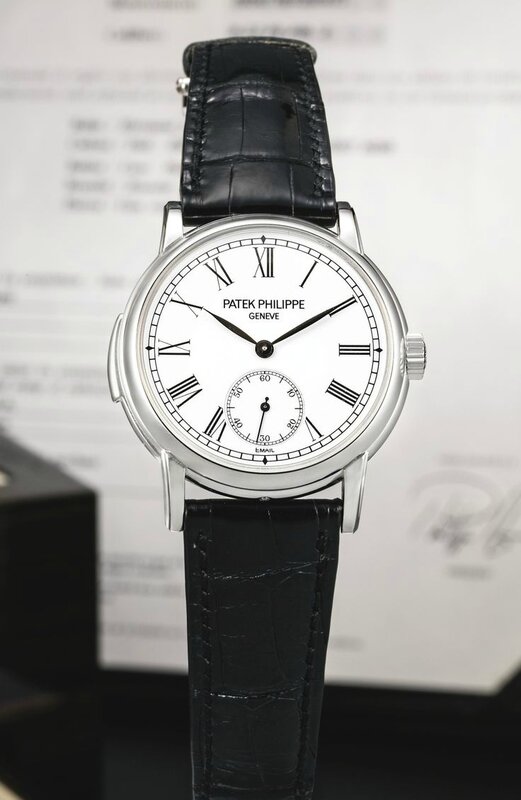 Patek Philippe, a very fine and extremely rare Platinum Automatic Minute Repeating Wristwatch with White Enamel Dial Ref 5078P Circa 2007. Est. HK$1.85 – 2.4 million / US$237,000 – 307,000 (Lot 833). Photo: Sotheby's.
Launched in 2005, Patek Philippe Ref. 5078, with its minute repeating slide discreetly hidden in the case flank, is a paragon of understatement. Coveted as the ultimate complication in watchmaking, the minute repeater alone comprises over 100 components. It is also a highly challenging task to create an exquisite resonance from such a small and almost air-tight case. The sound quality of all Patek Philippe minute repeaters are validated personally by the brand's President, Thierry Stern, before they leave the atelier. The present watch is an example of the original version with a platinum case and white enamel dial with black Roman numerals, which was later replaced by another version with a black lacquered dial. It is believed that only approximately 100 pieces of Ref. 5078 were produced.
Richard Mille, a fine White Gold Automatic Tonneau-Form Skeleonised Wristwatch with Date RM023 AJ WG Circa 2009. Est. HK$280,000 – 400,000 / US$36,000 – 52,000 (Lot 784). Photo: Sotheby's.
Richard Mille introduced the RM023 in 2009 with a skeletonised dial and new case dimensions (38 x 45 mm). Featuring an asymmetrical layout with roman numerals in appliqué on sapphire, combined with an unusual sculpted Alcryn collared crown, this new design is both advanced and elegant. Inspired by F1 motor racing, this new model unites everything essential to Richard Mille's philosophy with a sophisticated appearance that suits all occasions.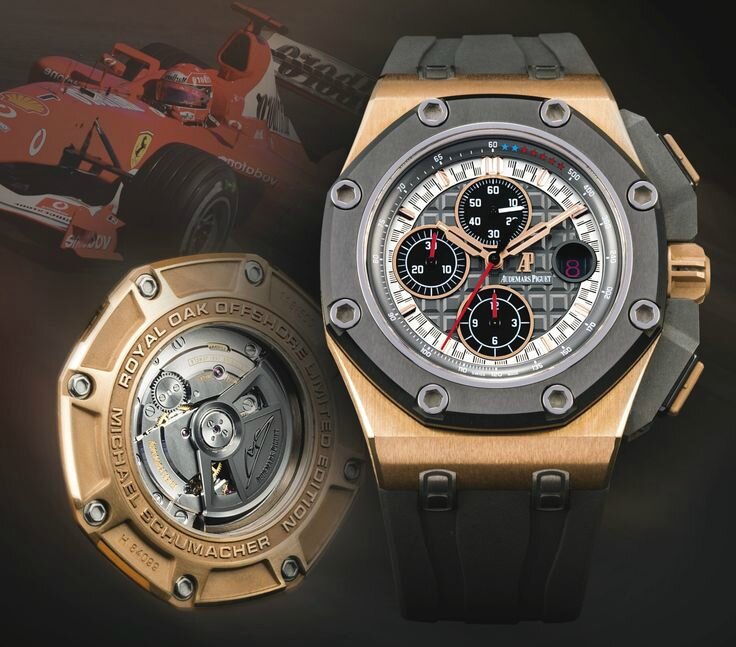 Audemars Piguet, a limited edition Pink Gold Automatic Chronograph Wristwatch with Date and Registers Case H84099 No 118/500 Royal Oak Offshore Michael Schumacher Circa 2012. Est. HK$240,000 — 320,000 / US$30,967 - 41,290 (Lot 777). Photo: Sotheby's.
As homage to Schumacher's legendary motor racing career, the Royal Oak Offshore Michael Schumacher was launched as Schumacher announced his retirement in 2012. The seven stars in red and blue on the dial, representing his seven years of being the world champion, as well as his name and signature on the black automatic rotor at the back are the subtle tributes to the phenomenal driver himself. The use of material is particularly innovative; the bezel of the watch is made of cermet, a composite material composed of ceramic and metallic materials, which has better deformation and shock resistance properties than ceramic and seven times the shock resistance than steel.
Produced in limited edition, this creation of the timepiece is no doubt a perfect demonstration of Audemars Piguet's innovation and Schumacher's meticulousness.
CHARITY LOT
IWC Schaffhausen, a Customized Steel Automatic Split-Second Chronograph Wristwatch with Stopwatch Function, Date and Small Hacking Seconds, Pilot's Watch Double Chronograph Edition Le Petit Prince, made in 2015 Suggested Retail. Price: HK$100,000 / US$12,820 (Lot 780). Photo: Sotheby's.
Sotheby's Hong Kong is working with IWC Schaffhausen to offer the customised Pilot's Watch Double Chronograph Edition 'Le Petit Prince'. All the proceeds will benefit the Antoine de Saint Exupéry Foundation which decided to support the Ebenezer School in Hong Kong.