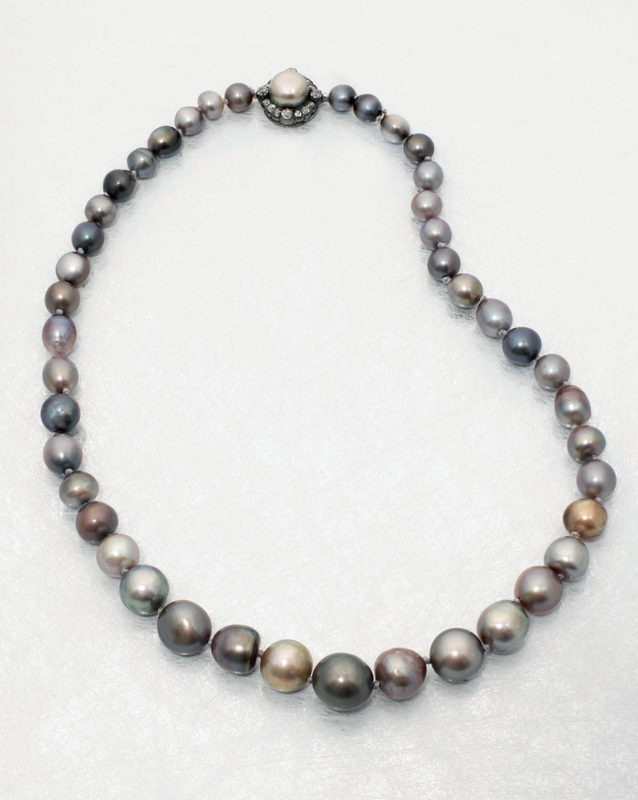 Formerly in the possession of Queen Isabella II of Spain. A rare 19th century natural coloured pearl necklace. Estimate £500,000 – £700,000 ($760,500 - $1,064,700). Photo Christie's Image Ltd 2015
The graduated row of forty-four natural coloured pearls measuring approximately 13.8-6.5mm, in varying tones of black, grey and bronze, to the similarly-set pearl clasp with old-cut diamond surround, mounted in silver and gold, 46.2cm
Accompanied by report no.82552 dated 14th October 2015 from SSEF Swiss Gemmological Institute sating that the 44 pearls (including the clasp) are natural, saltwater with no indications of artificial colour modification (based on a sampling)
Provenance: Formerly in the possession of Queen Isabella II of Spain.
This necklace was sold in Paris 1st July 1878 , and was descibed as being
composed of forty-six pearls.
Frank H. Hargrove, Christie's London 6th April 1960, Lot 30, composed of
forty-four pearls.
Acquired by the present owner at the above sale.

Please note that this necklace has been recently restrung.

Paris 1878 Catalogue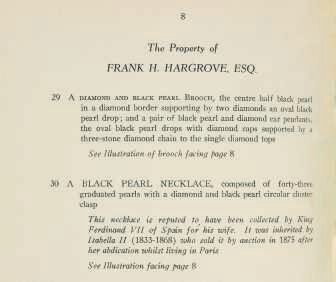 Christie's catalogue, London 6th April 1960.
Notes: This necklace was formerly in the possession of Queen Isabella II of Spain and was later offered for sale at auction in Paris on 1st July 1878 , along with other magnificent jewels in her collection. The necklace (originally described as being formed from forty-six pearls) was offered again at Christie's in London on 6th April 1960 as The property of Frank H. Hargrove, Esq.' with the following footnote 'This necklace is reputed to have been collected by King Ferdinand VII of Spain for his wife. It was inherited by Isabella II (1833-1868) who sold it by auction in 1875 (sic) after her abdication whilst living in France'.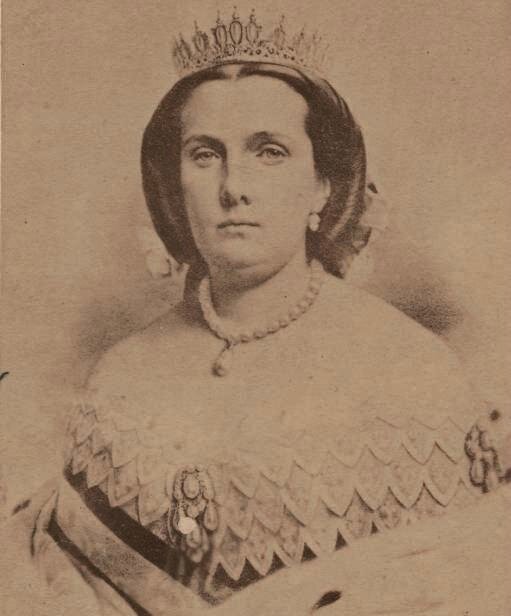 Queen Isabella II of Spain.
Isabella was born in Madrid in 1830 and on the death of her father King Ferdinand II was proclaimed sovereign at the age of three with her mother, Marie Christina of Bourbon -Two Sicilies, acting as regent. Against a backdrop of succession disputes and conspiracies Isabella was finally declared to be of age at 13 when she reigned directly until the revolt of 1868, known as the Glorious Revolution forced her into exile and ushered the First Spanish Republic into power. In 1870 whilst living in Paris Isabella addicted in favour of her son Alfonso XII, but she continued to live in France after the restoration of the Spanish monarchy, until her death in April 1904.
CHRISTIE'S. IMPORTANT JEWELS, 2 December 2015, London, King Street