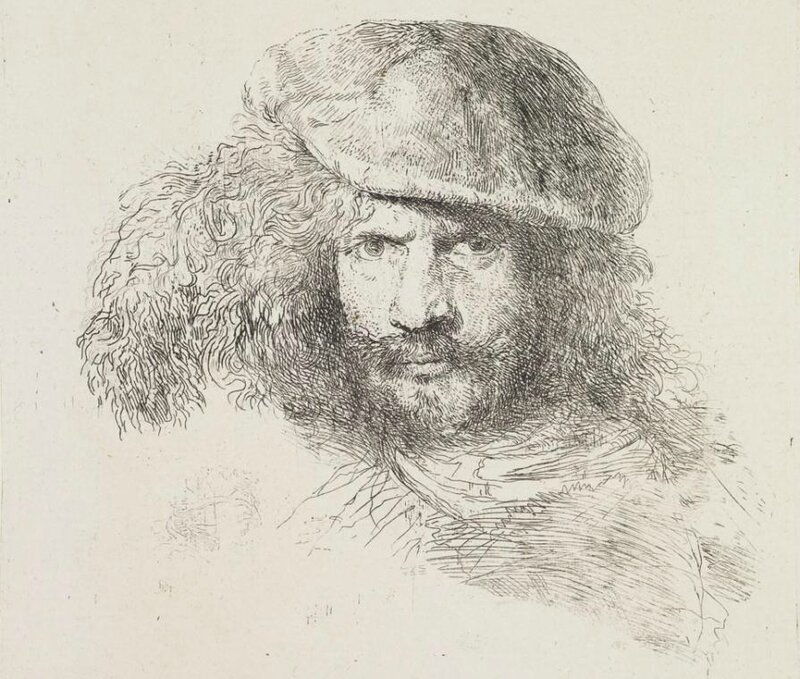 Giovanni Benedetto Castiglione, A presumed self-portrait, 1640s. Etching, platemark; overall: 188 x 138 mm. Royal Collection Trust / © Her Majesty Queen Elizabeth II 2015.
FORT WORTH, TX.- He was one of the most innovative artists of the Italian Baroque. Yet Giovanni Benedetto Castiglione (1609–1664) was also a violent and impetuous man, who was repeatedly in court for assault, allegedly attempted to throw his sister off a roof, destroyed his own work in front of powerful patrons, and was forced to flee Rome in mysterious circumstances. The turbulence that characterised his life overshadowed his artistic brilliance, and Castiglione struggled to achieve the recognition that he deserved. Much of what is known about the artist is derived not from fulfilled commissions, but from court documents.

The Royal Collection contains the largest and finest group of the artist's work, and this winter The Kimbell Art Museum will stage the exhibition dedicated to Castiglione. Through 98 drawings and prints the exhibition aims to reinstate Castiglione in his rightful place as one of the greatest artists of the Baroque.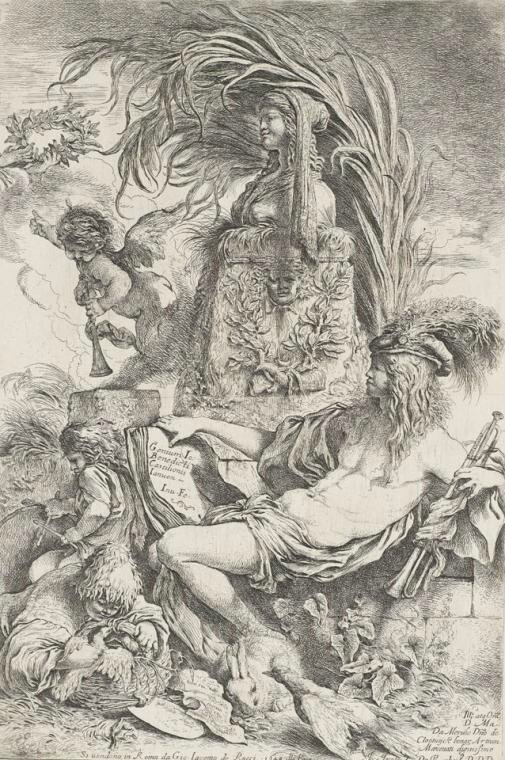 Giovanni Benedetto Castiglione, The Genius of Castiglione, dated 1648. Etching, platemark; overall: 372 x 250 mm. Royal Collection Trust / © Her Majesty Queen Elizabeth II 2015.
Castiglione's body of work is unique in the 17th century. His best-known works are his large drawings in oil directly on paper: these dynamic compositions, exceptional for their time, were conceived as finished works of art, despite their spontaneous and sometimes even rough appearance. Castiglione was also one of Italy's most significant printmakers, producing around 60 etchings and inventing the technique of monotype – creating an image in oils or printer's ink on a metal plate and then taking a single impression on a sheet of paper. This strikingly modern hybrid of drawing, painting and printmaking was not to be exploited again until it was reinvented by the likes of Degas and Gauguin over 200 years later.

Castiglione trained in the cosmopolitan port of Genoa in north-west Italy. His early reputation was based on his skill in depicting pastoral subjects, lyrical scenes of shepherds and animals in fertile landscapes. A study of camels and goats from c.1630, probably his earliest surviving work, would have been drawn from stock motifs – camels were not to be found in even as cosmopolitan a city as Genoa. As his ambitions grew, Castiglione moved to Rome and began to tackle grander themes of religion, mythology, legend and allegory that belied the darker undercurrents of his personality.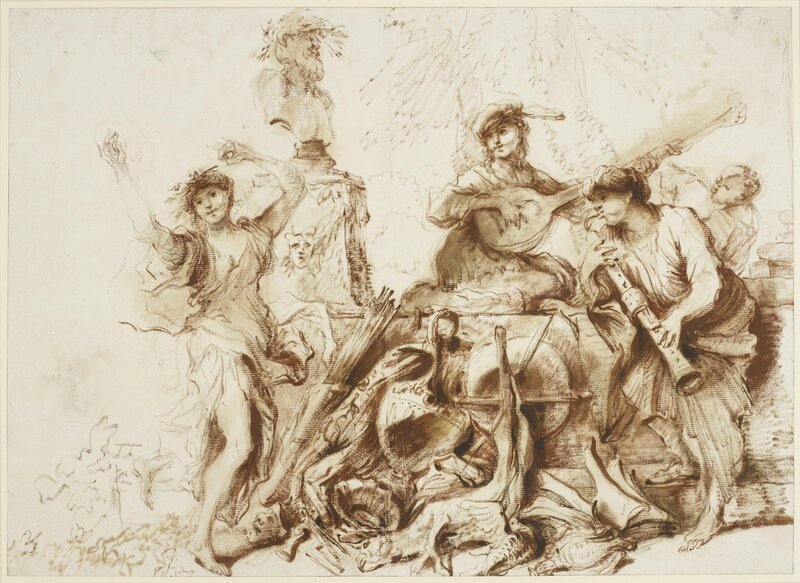 Giovanni Benedetto Castiglione, Omnia Vanitas, c. 1650-55. Dark reddish-brown oil paint on paper,39.2 x 4.4 cm (sheet of paper). Royal Collection Trust / © Her Majesty Queen Elizabeth II 2015.
Back in his home city in the 1640s, Castiglione was on the verge of becoming Genoa's leading painter, but he threw it away in an instant. On hearing that the Doge of the Republic, Giovanni Battista Lomellini, had been advised to turn down a painting commissioned from him, Castiglione drew his sword and slashed the work to shreds in front of the Doge's court, swearing that the Lomellini would never again have a work from his hand. Having insulted Genoa's most powerful family he then had to flee the city in disguise. Castiglione settled back in Rome, but four years later he had to flee again, in such haste that he left all his possessions behind. Nothing further is known about this episode, but he must have feared that his life or his liberty was in immediate danger.

Castiglione's nomadic life led him to Rome, Florence, Naples, Venice and finally Mantua, bringing him into contact with artists from all over Europe, most notably Anthony van Dyck in Genoa and Nicolas Poussin in Rome. Magpie-like, he absorbed a variety of stylistic influences and often borrowed motifs or even entire compositions. In a coloured oil drawing from the 1630s, he translated the Renaissance subtlety of Titian's Sacred and Profane Love (1514) into a theatrical Baroque style. Castiglione is the first artist in Italy known to have borrowed directly from Rembrandt – a sheet of Studies of heads copies figures from Rembrandt's etching Ecce Homo of 1636 – and Castiglione's own etchings were heavily influenced by the natural expressiveness of the Dutch artist's work.
Giovanni Benedetto Castiglione, The Virgin and Child with Saints Catherine and Mary Magdalene, c. 1655-60. Red-brown oil paint on paper, 35.8 x 44.7 cm (sheet of paper). Royal Collection Trust / © Her Majesty Queen Elizabeth II 2015.
Castiglione's powerful Head of an oriental from the late 1640s is among the finest of his monotype prints. Having drawn the image on the plate with sticky ink, the artist scraped into the surface to highlight details of the sitter's turban, beard and fur collar. Reversing the process, Castiglione would sometimes cover the plate entirely with ink and then scrape the design into it, producing the dramatic contrasts of light and dark seen in The Nativity with angels (c.1655).

Castiglione's greatest and most distinctive works are his large oil drawings, often executed in warm reddish-brown tones. He used the medium in a variety of ways, from a thin transparent wash that soaks into the paper, to a thick, opaque, almost dry pigment to pick out details. His finest drawings, among them Circe with the companions of Odysseus transformed into animals and the allegory of transience, Omnia vanitas, are among the most original and exciting works on paper of the entire Baroque.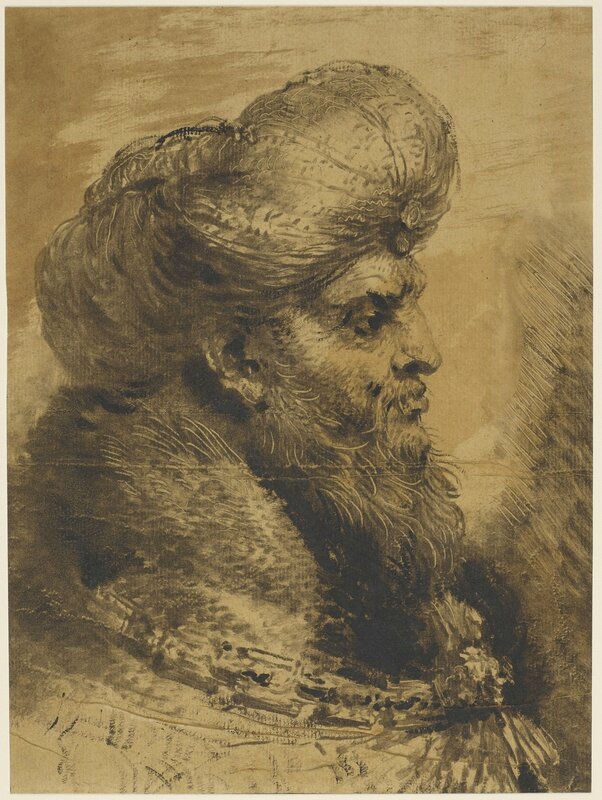 Giovanni Benedetto Castiglione, The head of an oriental, c.1645-50. Monotype with black oil paint and brown wash on brown-toned paper, 31.7 x 23.6 cm (sheet of paper) . Royal Collection Trust / © Her Majesty Queen Elizabeth II 2015.
Towards the end of his life, Castiglione achieved some sort of stability as a court artist to the Gonzaga dukes of Mantua. He died in that city in 1664, but his brother Salvatore and eldest son Giovanni Francesco maintained the family studio and perpetuated Giovanni Benedetto's style for the rest of the century. Giovanni Francesco was in turn appointed court artist to Duke Ferdinando Carlo in 1681. Hundreds of drawings from the Castiglione studio seem to have entered the Gonzaga collection, and when the Gonzaga fell from power in 1708 and went into exile in Venice, those drawings probably went with them.

The presence of so many of Castiglione's drawings in Venice led to a revival of interest in his works, and during the 1700s he gained a reputation that he had struggled to achieve in his lifetime. Castiglione's innovative style and technique captured the imagination of such major figures as Giovanni Battista Tiepolo (1696–1770), whose etching of a Group of figures discovering a skeleton reading (c.1740) is essentially a homage to the work of his Genoese predecessor. Castiglione's posthumous celebrity was short-lived, however, and during the 19th century he fell from fame, his highly original and improvised techniques at odds with the restrained classical taste of the time.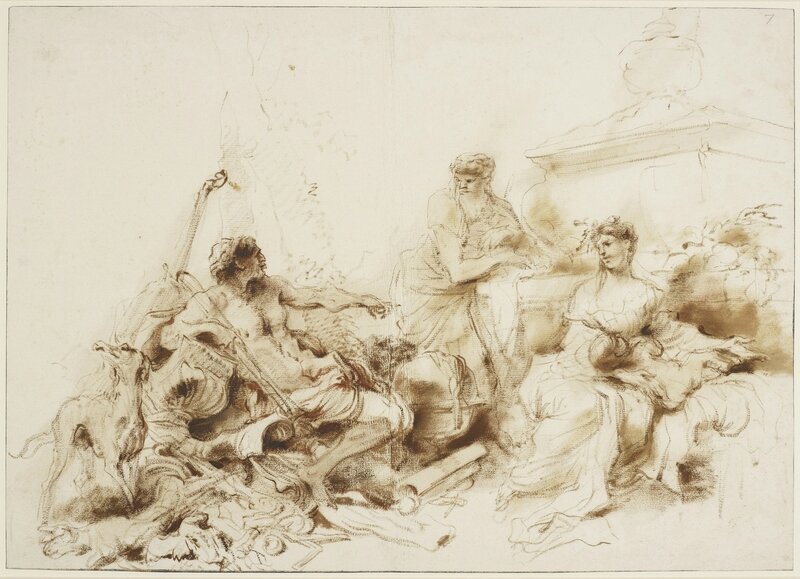 Giovanni Benedetto Castiglione, An Allegory in Honour of the Duchess of Mantua, c. 1650-55. Dark reddish-brown and dark red oil paint on paper, 39.2 x 54.9 cm (sheet of paper). Royal Collection Trust / © Her Majesty Queen Elizabeth II 2015.