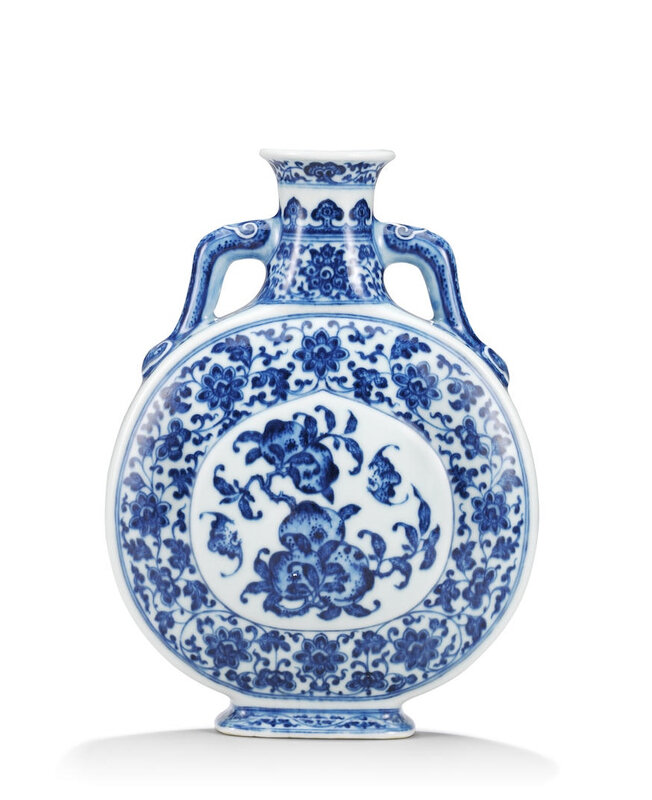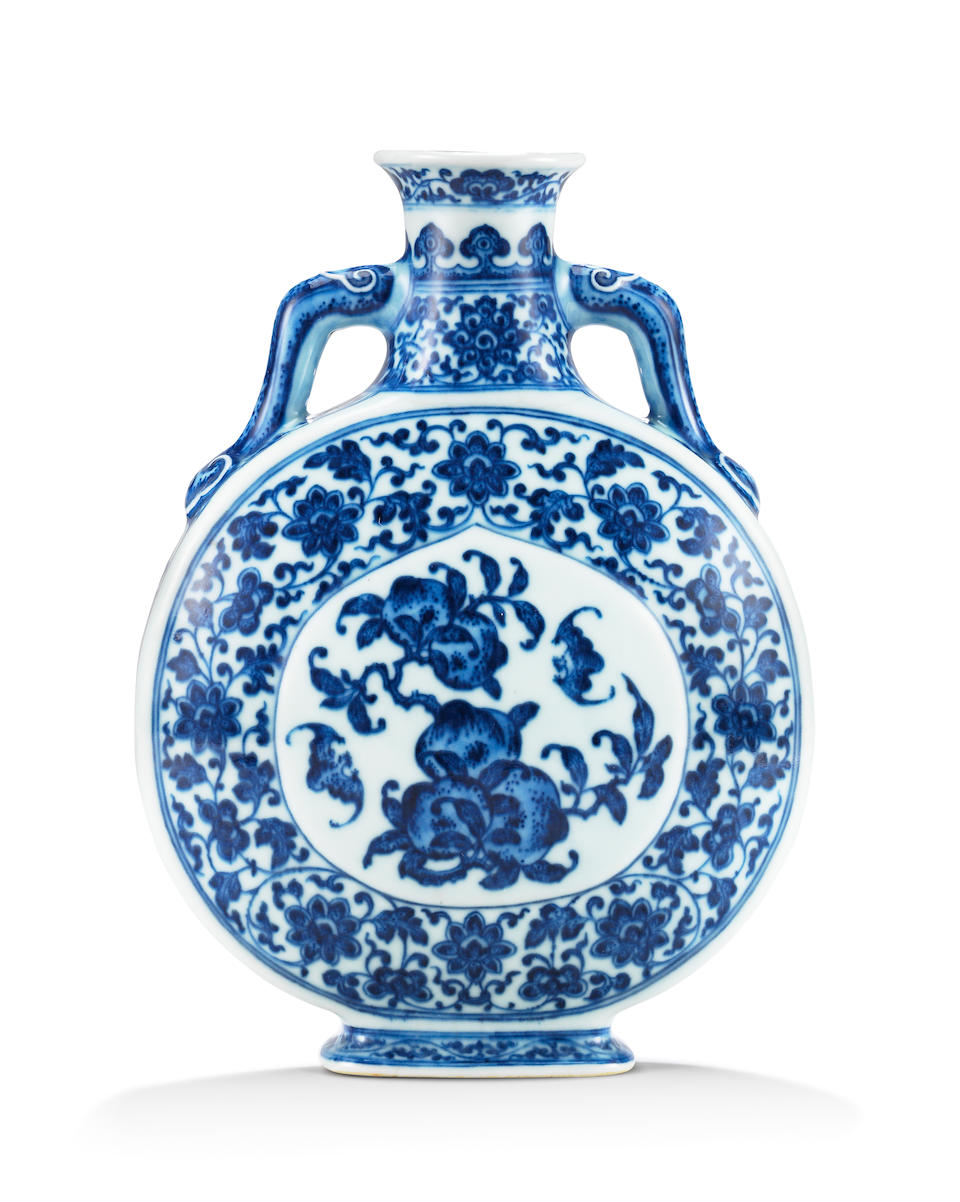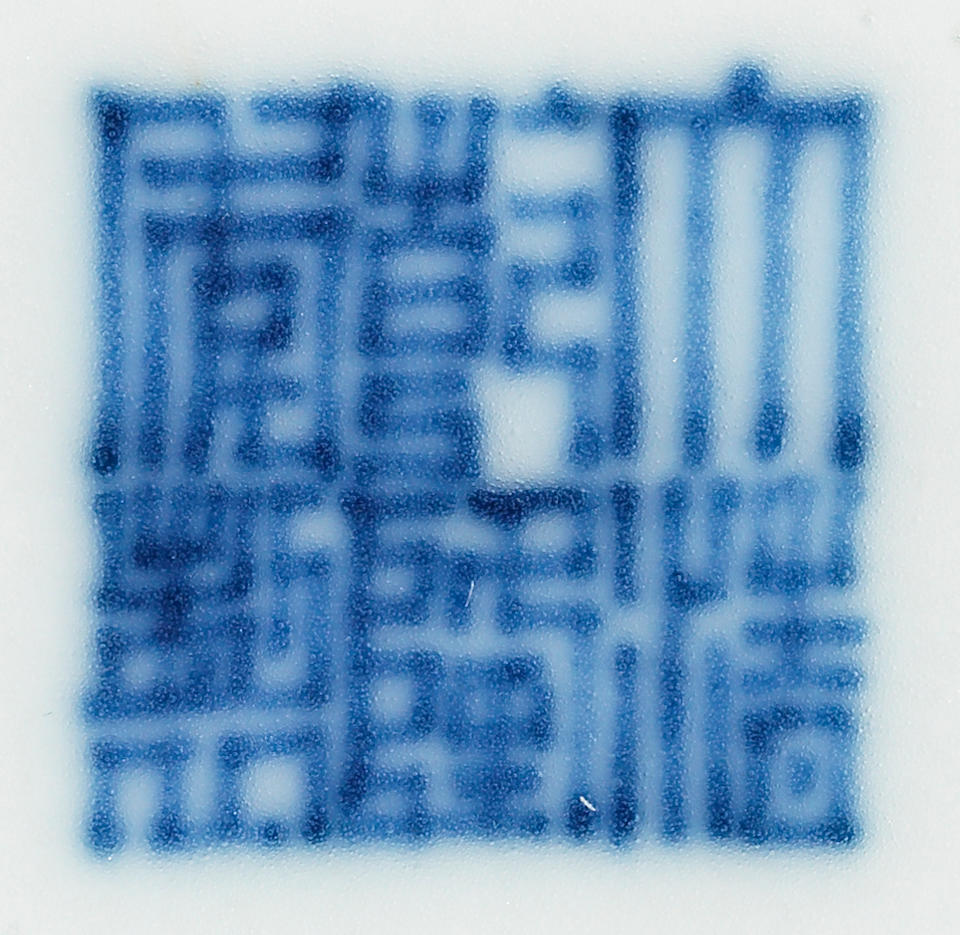 Lot 29. A rare imperial Ming-style blue and white 'peach' moonflask, bianhu, Qianlong seal mark and of the period (1736-1795); 24cm (9 3/8in) high. Estimate HK$2,000,000 - 3000,000 (€240,000 - 360,000). Sold for HK$ 2,200,000 (€ 261,372). Photo: Bonhams.
Of flattened form rising from a splayed rectangular foot, moulded on each side with a raised peach-shaped cartouche in relief, painted with two bats in flight encircling peaches issuing from a gnarled leafy branch, the body further surrounded by meandering lotus scrolls and two bands of lingzhi running along the sides, the narrow neck flanked by a pair ruyi-form handles, with further lotus scrolls and a trefoil band below the everted rim.
Provenance: A French private collection, by repute formed in Burgundy before 1890, and thence by descent
Sold at Oger & Camper, Paris, 7 March 2011, lot 77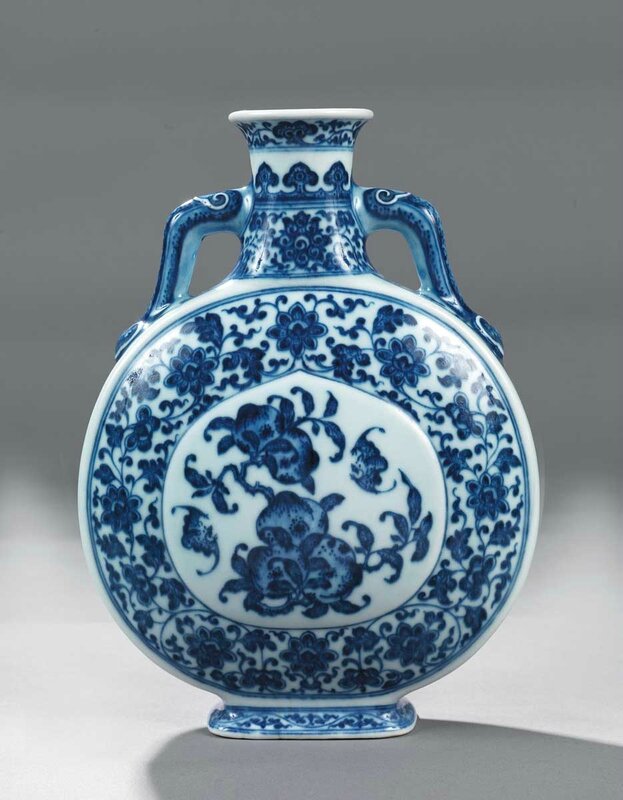 Gourde de pélerin "bian hu". Chine, marque et période Qianlong (1736 - 1795). Vendue pour 200 000 € le 7 mars 2011 par Maître Camper Blandine et Oger Camper.
(cf. mon post: http://www.alaintruong.com/archives/2011/02/19/20429535.html)
Note: The form of the present moonflask is inspired by early 15th century prototypes of the Yongle period. These in turn derive their form from Islamic metal flasks. The subtle and variated blue and white palette imitates the early Ming dynasty imported cobalt blue, with high iron content, resulting in dark blue spots on the surface, also known as the 'heaped and piled' effect.

This moonflask belongs to a group of imperial porcelain, designed by the Imperial Household Department - about thirty in number - which are referred to as dayun porcelain in the imperial archive of the Qing dynasty and were sent to the imperial court in the autumn and winter seasons. These designs continued to be made until the twenty-fifth year of the Daoguang period, corresponding to 1845-6, although the quantity was strictly controlled by the Imperial Household Department; see Wang Guangyao, Official Designs and Imperial Porcelain: The Palace Museum's Collection of Official Porcelain Designs and Porcelains from Imperial Kilns of the Qing Dynasty, Beijing, 2007, pp.15-16.

Similar moonflasks can be found in important museum collections: see T.Yoneyma, Qing Dynasty Porcelain from the Seikado Bunko Art Museum, Tokyo, 2006, p.58, no.49; another in the Nanjing Museum, illustrated in The Official Kiln Porcelain of the Chinese Qing Dynasty, Shanghai, 2004, p.220; compare also another from the Indianapolis Museum of Art, illustrated in Beauty and Tranquility: The Eli Lilly Collection of Chinese Art, Indianapolis, 1983, no.116; and a fourth one, illustrated in Ch'ing Porcelain from the Wah Kwong Collection, Hong Kong, 1973, no.66. A very similar flask but bearing a Jiaqing seal mark from the Qing Court collection, is illustrated in The Complete Collection of Treasures of the Palace Museum: Blue and White Porcelain with Underglazed Red (III), Hong Kong, 2000, pl.148, demonstrating the popularity and continuity of this form and design.

The design of peaches and bats, with its highly auspicious message, appears to have originated in the Kangxi reign, as exemplified in a Beijing enamel censer, Kangxi Yuzhi mark and period, offered at Sotheby's Hong Kong, 9 October 2007, lot 1539, and grew in popularity during the Yongzheng and Qianlong periods, when it was represented in diverse mediums. The bat (fu) and peach (shoutao) create the pun fushou shuangquan ('May you have both blessings and longevity'), which makes this piece particularly suited to be presented as a gift on the occasion of an imperial birthday.

A very similar blue and white 'peach' moonflask, Qianlong seal mark and period, sold at Sotheby's Hong Kong, 7 October 2015, lot 3725; another similar example sold at Sotheby's London, 9 November 2011, lot 201.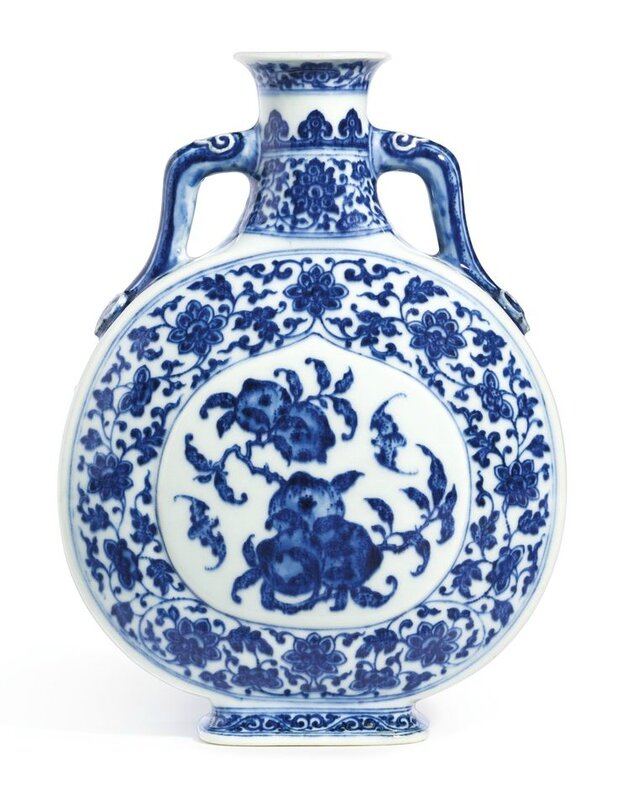 A fine blue and white 'Peach' moonflask, Seal mark and period of Qianlong. Lot Sold 3,200,000 HKD at Sotheby's Hong Kong, 7 October 2015, lot 3725
A blue and white 'Peach' moonflask, Seal mark and period of Qianlong. Lot Sold 289,250 GBP at Sotheby's London, 9 November 2011, lot 201.
Bonhams. FINE CHINESE CERAMICS AND WORKS OF ART, 3 Dec 2015 11:00 HKT, HONG KONG, ADMIRALTY