A highly important Meissen armorial beaker with the arms of Naples-Sicily and Saxony-Poland-Lithuania, circa 1737, estimate £20,000-30,000. Photo: Bonhams.
LONDON.- In 1738, Elizabeth Farnese, the Queen of Spain, devised a proxy marriage between her son, Charles VII, King of Naples, and Princess Maria Amalia of Saxony in a bid to maintain her family's control of Europe. Maria was just 14 at the time. As the young princess travelled across Europe to meet her new husband, Meissen porcelain was at the centre of a frenzy of extravagant gift exchanges amongst the European courts.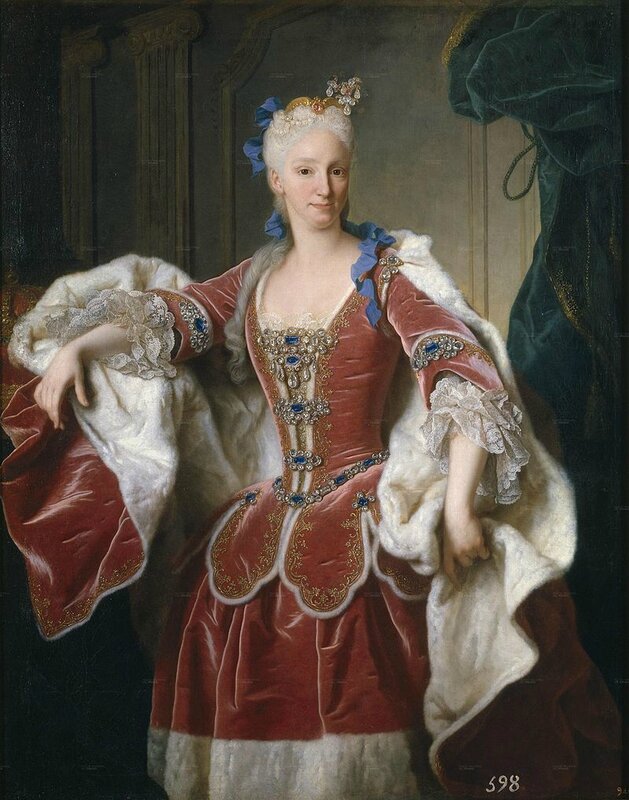 Jean Ranc (1674-1735), Portrait of Elisabeth Farnese, Princess of Parma and Queen of Spain, 1723. Museo del Prado, Madrid
Louis de Silvestre, Maria Amalia, Princess of Saxony, Queen of the Two Sicilies (1724-1760) in Polish Dress, holding a miniature of her husband, Carlo VII, King of the Two Sicilies, 1738. Museo del Prado, Madrid.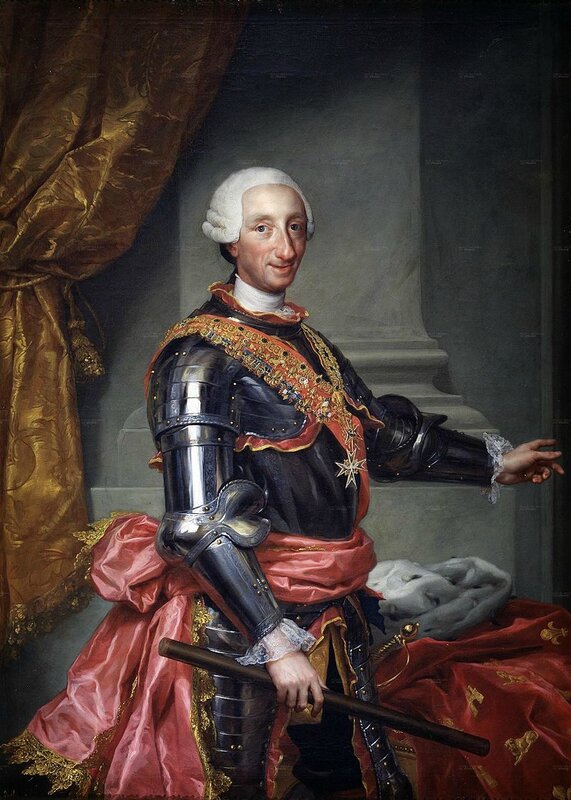 Anton Raphael Mengs (1728-1779), Portrait of Carlo VII, King of the Two Sicilies (1716-1788), 1761. Museo del Prado, Madrid.
Nearly 300 years later, Bonhams' Fine European Ceramics sale will offer some of the surviving works of art on 2 December at Bonhams New Bond Street.

The royal wedding provided an opportunity that a rogue Frenchman called Velasco could not resist. Having embezzled four million florins from the Spanish ambassador to The Hague, Velasco was wanted nearly everywhere in Europe, but he was able to dupe Count von Brühl, director of the Meissen factory, into entrusting him with the delivery of 17 cases of priceless Meissen porcelain to Elizabeth Farnese – the King's gesture of blessing to the marriage.

In June 1738, Velasco disappeared with the porcelain. A manhunt ensued across the entire continent. "Wanted" posters appeared in every European capital and port city offering a reward for a stylishly dressed man "of around twenty-four … tanned, blond wig, brown eyebrows, blue eyes."

The hunt met with mixed success. Velasco remained at large – and was even sighted in London a few years later – but the porcelain was eventually found in August, safe and dry in the Italian port of Livorno. It was finally delivered to the queen.

Meanwhile, Princess Maria was receiving her own gifts, including a 1737 Meissen armorial toilette service from her father, Augustus III, King of Poland and Elector of Saxony. None of the silver-gilt mounts have survived and porcelain from this set is incredibly scarce. A cup from the service will feature in the 2 December sale with an estimate of £20,000-30,000.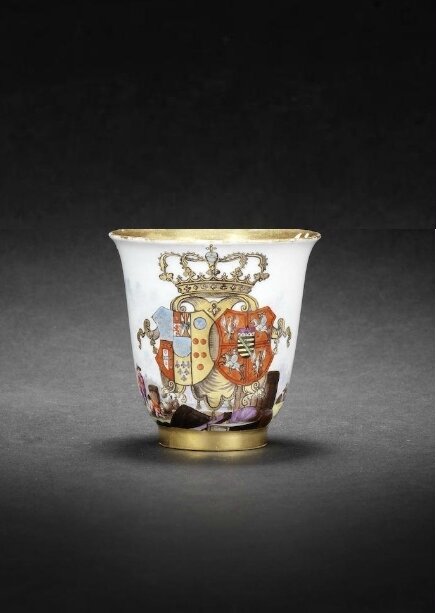 A highly important Meissen armorial beaker with the arms of Naples-Sicily and Saxony-Poland-Lithuania, circa 1737. Estimate: £20,000 - 30,000 (€29,000 - 43,000). Photo: Bonhams.
Superbly painted with the arms over a continuousKauffahrtei scene depicting merchants and their wares by a quayside, the interior and footrim gilt, 7.1cm high,crossed swords mark within two concentric circles in underglaze-blue
Provenance: Gift of Augustus III, King of Poland and Elector of Saxony, to his eldest daughter, Maria Amalia, on the occasion of her wedding to Charles VII, King of Naples;
Anon. sale, Christie's London, 2 December 1974, lot 139;
With Andreina Torre, Zürich;
Vivolo Collection, sold by Sotheby's Milan, 13 November 2007, lot 145;
Said and Roswitha Marouf Collection, La Jolla
Literature: Claus Boltz, Ein Beitrag zum grünen Watteau-Service für Neapel. Keramos 79 (January 1978), p. 5, ills. 1 and 4;
Luca Melegati, Le porcellane araldische di una collezione privata. Ceramicantica (1992), p. 20;
Andreina d'Agliano / Luca Melegati, I Fragili Lussi (2001), no. 99;
Ulrich Pietsch, Passion for Meissen (2010), no. 73
Notes: The wedding of Princess Maria Amalia of Saxony (1724-1760) and Charles VII (1716-1788) took place by proxy in Dresden in May 1738. The same month, Maria Amalia travelled to Naples to meet her husband, accompanied by her sixteen-year-old brother, Crown Prince Friedrich Christian, who was embarking on his Grand Tour of Italy, including a visit to Naples to seek treatment for a spinal condition (M. Cassidy-Geiger, 'Je reçu ce Soir le monde marqué': A Crown Prince of Saxony on the Grand Tour in Italy, 1738-1750. The International Fine Arts and Antique Dealers Show Handbook (2004), pp. 21-31).

The new queen apparently received from her father a gift of a silver toilet service, which included six teabowls and saucers and six chocolate beakers. A Meissen manufactory specification of 17 April 1738, records that '6 Schaelgen und Coppgen inwendig gantz verguld, mit dem Koenigl. Pohl. Saechs. und Sicilianischen Wappen 6 Choclate Becer bedies in die grosse Toilett gehoerig [...] annoch in Arbeit und zu liefern' (6 saucers and bowls completely gilt on the inside, with the Royal Polish Saxon and Sicilian arms 6 chocolate beaker both belonging to the large toilet [...] still in production and to be delivered) (quoted by Boltz (1978), p. 5; see also M. Cassidy-Geiger, Princes and Porcelain on the Grand Tour of Italy, Fragile Diplomacy (2007), p. 218 and n. 50). A lavish gift of porcelain to mark the occasion was also made to Charles VII's mother, Elizabeth Farnese, Queen of Spain (Boltz 1978; M. Cassidy-Geiger (2007), pp. 213ff).

No silver apparently survives from this toilet service, which was probably silver-gilt, and it may have been melted down (Cassidy-Geiger 2007, n. 50). Including the present lot, only three beakers and four teabowls are recorded in the literature: two beakers, including the present lot, were sold by Christie's London, 2 December 1974 (the other now in the Malcolm D. Gutter collection (Cassidy-Geiger (2007), fig. 10-20); another beaker was in the Hoffmeister Collection (sold in these Rooms, 25 November 2009, lot 85, formerly in the Dr. Albert Weitnauer Collection, Bern); and a total of four teabowls, of which two were sold by Christie's London, 11 May 1987, lot 188 (of which one was previously sold by Christie's London, 2 December 1974, while the second has been in the Museo Internazionale delle Ceramiche di Faenza since 1994), and two sold from the Ernesto Blohm collection (Christie's London, 10 April 1989, lot 31, previously sold by Sotheby's London, 7 July 1970, lot 146).
Meissen was central to diplomatic relations amongst the European courts because the manufactory had devised the first hard-paste porcelain on the continent. Before its production began in 1710, Europe knew of porcelain only as an import from the East: Meissen was the ultimate medium through which to display international ambition and magnificence.

As Meissen worked to reshape the world of ceramics, the manufactory produced a great deal of porcelain in the Japanese style, but Chinese-style works were incredibly rare. A Meissen Famille Verte vase, made in around 1735, is one of only four recorded examples of its type in the world. It leads the 2 December sale with an estimate of £60,000-80,000.
"This vase is a remarkable work of exceptional quality," said Nette Megens, Bonhams Head of European Glass and Ceramics. "It is a perfect example of the meeting between Europe's fascination with Oriental porcelain and the innovation of the Meissen manufactory. It is both an intriguing piece of history and a beautiful work of art."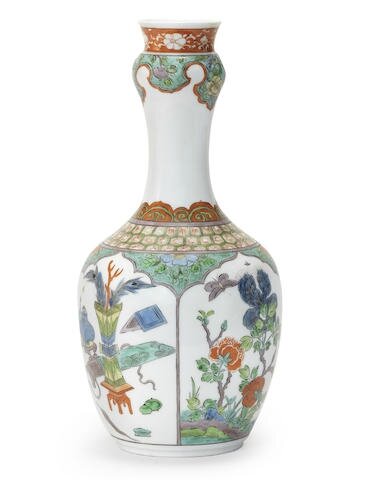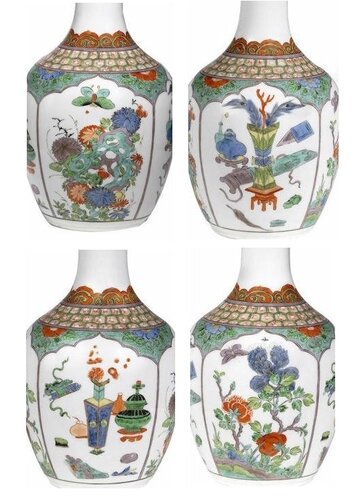 A very rare Meissen Famille verte vase, circa 1735. Estimate: £60,000 - 80,000 (€86,000 - 110,000). Photo: Bonhams.
The ovoid body painted with panels of Oriental flowers issuing from rockwork alternating with elements from the "Hundred Antiques", below green-ground seeded panels reserved with flowers, a band of green and iron-red trellis and green scrolls reserved on iron-red, the knopped neck with green-ground foliate panels edged in iron-red below an iron-red band reserved with flowers,25cm high, crossed swords mark in underglaze-blue
Notes: Two closely similar Meissen vases, along with two similar Chinese vases, are in the collection of the Schloss- and Spielkartenmuseum, Altenburg, which was formed by the Saxon-Thuringian statesman, scholar and collector, Bernhard August von Lindenau (1779-1854). His large collection of mostly Chinese and Japanese porcelain and works of art was transferred to the Ducal Rüst- und Antiqitätenkammer in the Altenburg Residence in 1845. Another example (with the neck reduced) is in the Ralph Wark Collection, The Cummer Museum and Gardens (published by U. Pietsch, Early Meissen Porcelain The Wark Collection (2011), no. 228).
A rare Meissen armorial two-handled beaker and saucer from the service of Clemens August of Cologne, made in 1735, will also feature in the sale with an estimate of £50,000-60,000. The porcelain features a unique and highly personal scheme of chinoiserie figures paying homage to Clemens, Elector of Cologne. He was one of the first people able to order from the Meissen factory, which was a Royal privilege reserved only for the Electors and the Saxon court.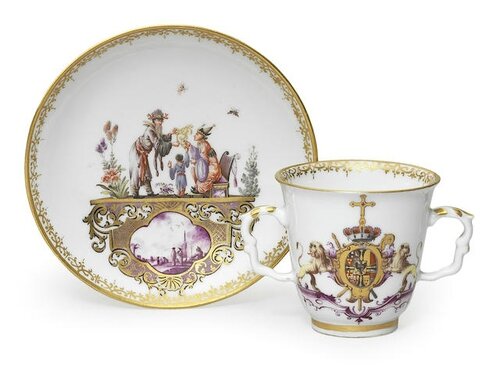 A very rare Meissen armorial two-handled beaker and saucer from the service for the Elector Clemens August of Cologne, dated 1735. Estimate: £50,000 - 60,000 (€71,000 - 86,000). Photo: Bonhams.
Each superbly painted with a chinoiserie scene on a gilt scrollwork bracket filled with Böttger lustre and enclosing a quatrelobe purple monochrome estuary scene, the saucer with two figures and a child holding the gilt CA monogram, the beaker with a figure and two children by a notice on a tree inscribed 'Clement/ August/ 1735', the reverse of the saucer with the Elector's Coat-of-Arms, gilt scrollwork borders to rims, the beaker: 6.7cm high, the saucer: 12.8cm diam., crossed swords marks in underglaze-blue, impressed (unidentified) Dreher's mark of an asterisk
Provenance: Probably ordered by the Elector Clemens August of Cologne in 1735;
Recorded in February, 1761, in the Indianisches Haus in Brühl, and moved to Bonn the same year;
Purchased at the auction of the late Elector's possessions at the Bonn Residence by Hofrat Vogel in the name of Herr von Derme in March 1764;
Anon. sale, Christie's Geneva, 16 November 1992, lot 350;
The Hoffmeister Collection, Hamburg (acquired in the above sale);
Sold from the above in these Rooms, 25 November 2009, lot 78
Literature: D. Hoffmeister, Meissen Porzellan des 18. Jahrhunderts Sammlung Hoffmeister (1999), II, no. 311;
T. Iwe, Das Meissener Schockoladen-, Kaffee- und Teeservice des Kurfürsyen Clemens August von Köln, in Keramos 189/190 (2005), pp. 30 and 43;
M. Unterberg, 'Mit Höchsten Nahmen....' Ein Meißener Kaffee-, Tee- und Schockoladenservice für Kurfürst Clemens August von Köln, in Keramos 189/190 (2005), p. 61, ills. 12 and 13
Exhibited: Hamburg, Museum für Kunst und Gewerbe, 1999-2009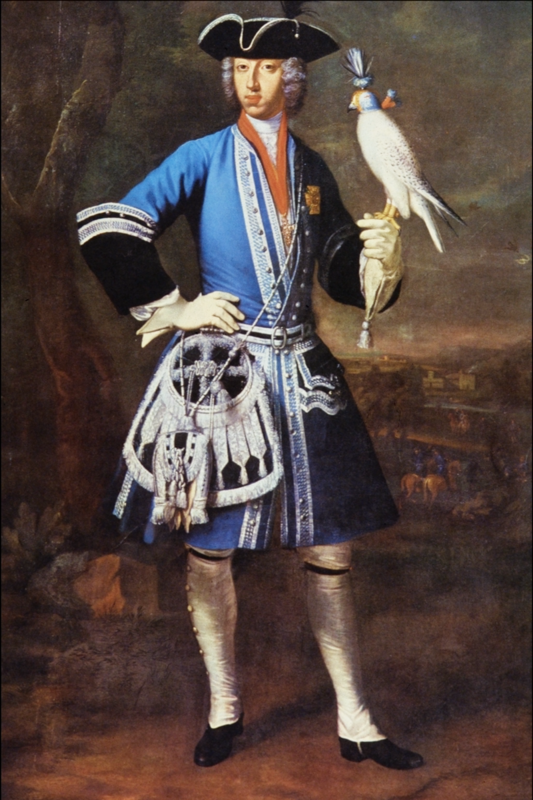 Pieter Jacob Horemans (1700-1776), Portrait of Clemens August as Falconer, 18th century.
Notes: This beaker and saucer bear the coat of arms of Clemens August of Bavaria, Elector of Cologne (1700-1761). Born in Brussels, he was the fourth son of Elector Maximilian II Emanuel of Bavaria and Teresa Kunegunda Sobieska, and the grandson of King Jan III Sobieski of Poland. Following his theological studies, Clemens August became a priest in 1725 and was made a bishop by Pope Benedict XIII in 1727. By virtue of his birth, he had already become Bishop of Münster and Paderborn in 1719, and in 1723, he became Archbishop and Elector of Cologne and was elected Bishop of Hildesheim the following year. In 1728, he was elected Bishop of Osnabrück, and in 1732, he was elected Grand Master of the Teutonic Order. He thus accrued enormous power and wealth in both the religious and secular spheres, and is renowned to this day for his patronage of the arts, his elegant court, and his magnificent castles, such as Augustusburg and Falkenlust in Brühl, and Clemenswerth near Osnabrück.

The celebrated tea, coffee and chocolate service of which this beaker and saucer formed a part, has recently been the subject of detailed studies by Thomas Iwe and Michael Unterberg (see Literature), and has also been considered in the context of diplomacy between the courts in Dresden and Cologne (Köhler 2007), on which the following note is mostly based.

The Saxon ambassador at the electoral Court in Cologne, Heinrich Balduin von Schenk, reported in the late 1720s that Clemens August held Meissen porcelain in high regard, and suggested at least twice that Augustus the Strong should make him a gift of porcelain (Köhler 2007, pp. 200-201). Despite this, it appears that this magnificent service, with its unique and highly personal scheme of chinoiserie figures paying homage to Clemens August, was most likely commissioned by the Elector, rather than a gift from the Dresden Court, with which relations were then strained. The inventory made after the Elector's death in 1761, records that the service was housed in the Indianisches Haus, a chinoiserie house in the park of Schloss Augustusburg, the third in Europe after Augustus the Strong's Japanese Palace and Schloss Pillnitz. The informal atmosphere that prevailed there may have been appropriate to the service, the decoration of which may also be read as a caricature of court ceremonial (Köhler, op. cit., p. 202).

The service originally included twelve such beakers and saucers; for a comprehensive description of the service, and the current whereabouts of the pieces, see above Literature. Another double-handled beaker and saucer from this service, previously sold at Sotheby's London, 29 June 1982, was sold at Christie's London, 11 December 2007, lot 105.