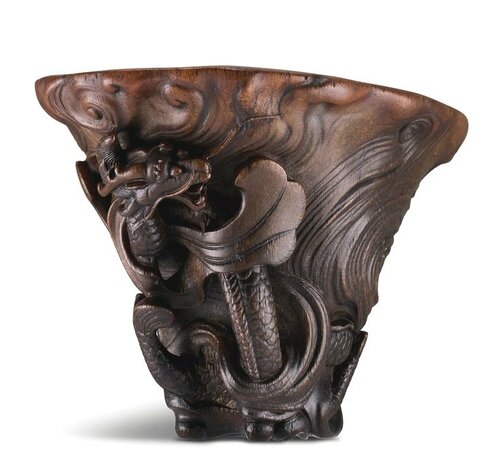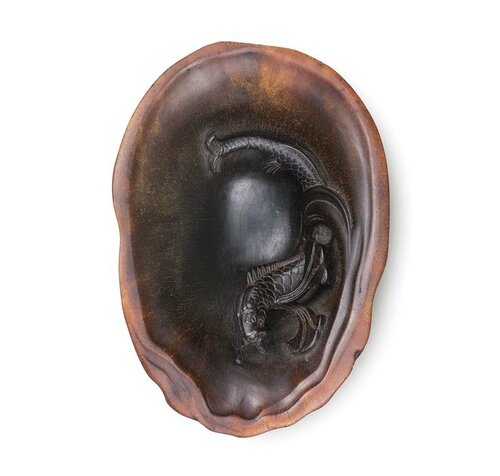 A rare carved rhinoceros horn 'Makara' libation cup, Qing dynasty, Kangxi period. Estimate 800,000 — 1,000,000 HKD (90,642 - 113,302 EUR). Photo Sotheby's.
the flaring cup of irregular form carved on the exterior with a continuous scene depicting two makara with elongated scaly bodies soaring through the tempestuous waves, the tail of another makara depicted emerging from the choppy waves, the interior similarly decorated in high relief with a makara detailed with a swiftly moving posture and finely picked out fins and scales, the smooth patina of a warm chocolate-brown colour transmuting to honey-brown around the rim - 12.5 cm., 4 7/8 in.
Provenance: A private French collection.
Christie's Hong Kong, 27th November 2007, lot 1855.
Notes: This libation cup is extremely rare for its decoration which has been expertly executed to depict two dragons modelled in the round amidst tumultuous waves and no other related example appears to have been published. Dynamic swirling waves that wrap around the bodies of the dragons coupled with expressive features with gaping mouths and interlocking S-forms create a violent sense of movement. The surface has been finely finished to highlight the rich golden lustre of the horn and the low-relief waves draw attention to the superior quality of the material.
Compare rhinoceros horn cups carved with dragons such as one, carved to the exterior with dragons crawling through rocky outcroppings in pursuit of flaming pearls where one dragon has crawled 'through' the wall to emerge on the interior, in Shanghai Museum, included in the exhibition The Chinese Scholar's Studio. Artistic Life in the Late Ming, Asia Society Galleries, New York, 1987, cat. no. 61; another in the collection of the Hague, published in Jan Chapman, The Art of Rhinoceros Horn Carving in China, London, 1999, pl. 236; and a third sold at Christie's New York, 24th March 2004, lot 6.
The dynamic carving on this libation cup cleverly captures the carp's moment of transformation from a fish into a dragon upon swimming upstream the Yellow River and leaping the rapids of the Dragon Gate. The interior of the cup shows the carp gently swimming in preparation for the ferocious waves that will battle against it, as indicated by the swirling water from which the carp, now transformed, leaps in its new state. This theme was a popular pictorial subject, particularly in jade, as it is a metaphor for a scholar who passes the civil examinations and is thus promoted into a high official.
Sotheby's. Chinese Art, Hong Kong, 03 déc. 2015, 02:00 PM