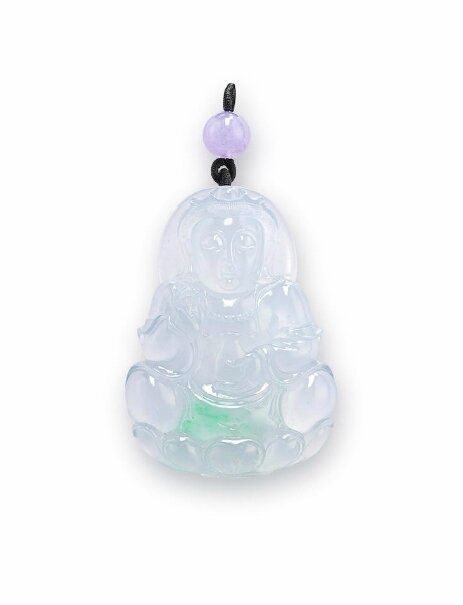 A carved transparent pastel green jadeite 'Guanyin' pendant. Estimate HK$ 750,000 - 950,000 (€91,000 - 120,000). Photo: Bonhams.
The near transparent jadeite 'Guanyin' of pastel green colour, measuring approximately 66.0 x 47.4 x 13.4mm, suffused with bright green patches, meditating on a lotus throne, suspended from a lavender jadeite bead, to a black cord, length 8.0cm
Accompanied by a Hong Kong Jade & Stone Laboratory report stating that the natural colour fei cui (jadeite jade) carving has no resin detected. Report number KJ 91347, dated 18 September 2015.
Bonhams. RARE JEWELS & JADEITE, 30 Nov 2015 17:00 HKT - HONG KONG, ADMIRALTY