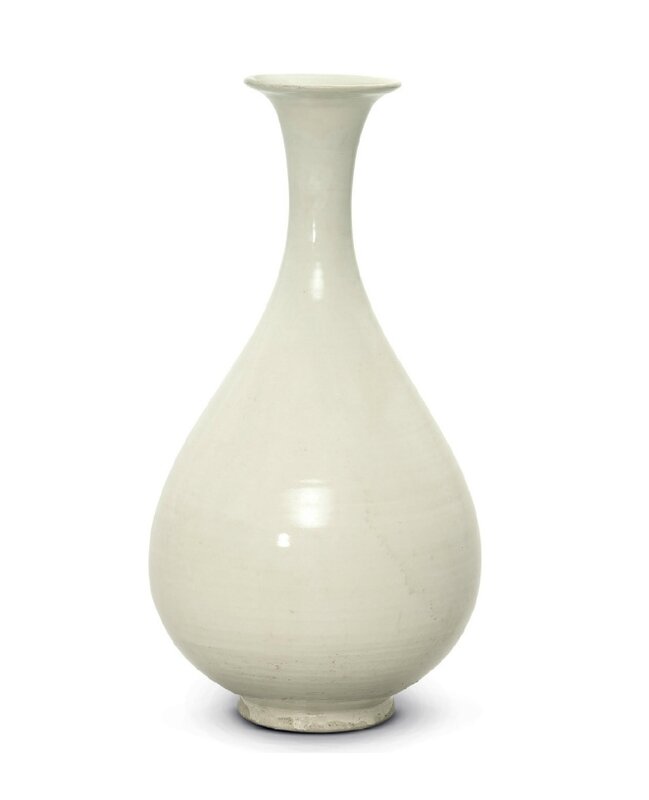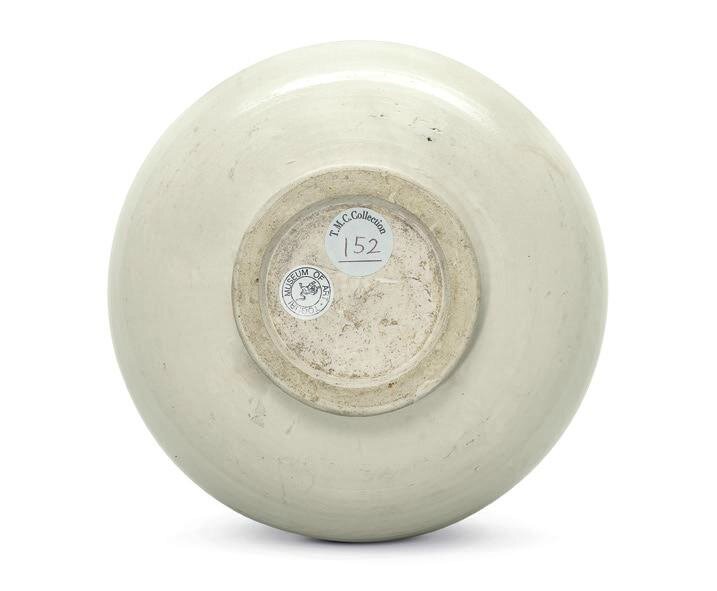 A white-glazed ding-type yuhuchun vase, Northern Song-Jin dynasty, 12th century. Estimate HK$400,000 – HK$600,000 ($51,854 - $77,782). Photo Christie's Image Ltd 2015
The elegantly potted pear-shaped vase yuhuchunping with low splayed foot and flared mouth. The exterior is covered with a white glaze that continues inside the neck, with the exception of the unglazed foot exposing the pale white biscuit body. 11 4/8 in. (29.3 cm.) high, Japanese wood box
Provenance: Toguri Museum of Art
Sen Shu Tey, Tokyo
Literature: Sen Shu Tey, The Collection of Chinese Art, Tokyo, 2006, p. 53, no. 62
Exhibited: Sen Shu Tey, Special Exhibition 'Run Through 10 Years', Tokyo, 2006, Catalogue, no. 62
Notes: This vase is of an especially elegant yuhuchunping, pear-shaped vase form. Some scholars have suggested that one of the uses for pear-shaped vases was as a decanter for wine. Although as yet there is little corroborating evidence for this use in the Song period, Yuan dynasty burials and tomb murals suggest this may have been the case (fig. 1). Certainly the graceful proportions of the few extant Song dynasty Ding and Ru ware pear-shaped vases show that they were also eminently suitable to grace the tables of the refined Song elite.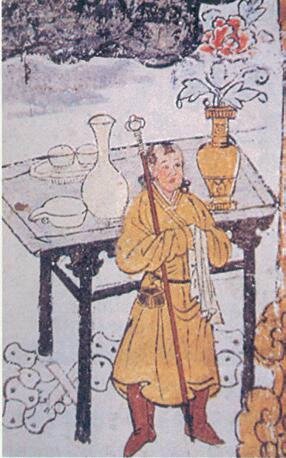 fig. 1. Mural painting from a Yuan dynasty tomb in Pucheng City, Shaanxi Province, dated to the 6th year of the Zhiyuan era (1269)
A related white-glazed yuhuchun vase was excavated from Xiangfen, Shanxi province, illustrated in the Zhongguo chutu ciqi quanji (Complete Collection of Ceramic Art Unearthed in China), Beijing, 2008, vol. 5, p. 210. A similarly proportioned, white-glazed yuhuchun vase is in the Kwan Collection, illustrated in Song Ceramics from the Kwan Collection, Hong Kong Museum of Art, 1994, p. 106, no. 35. The Kwan vase has been attributed to Jiexiu ware in Shanxi province. A similar white ware pear-shaped vase with a slightly compressed body is in the Hakone Art Museum, Japan, illustrated in Mayuyama, Seventy Years, 1976, vol. 1, no. 637. Another related pear-shaped vase with slightly longer neck is illustrated by S. Valenstein, The Herzman Collection of Chinese Ceramics, The Metropolitan Museum of Art, New York, 1992, no. 25. Compare also a few other examples identified as Ding ware, one in the collection of the British Museum, illustrated by S. Vainker, Chinese Pottery and Porcelain From Prehistory to the Present, British Museum Press, London, 1991, p. 89, no. 66; one with slightly longer neck and incised floral decoration in the collection of the National Palace Museum, Taipei, illustrated in Dingyao baici tezhen tulu, Taipei, 1987, no. 22; and another with incised floral decoration in the collection of the Tianjin Museum of Art, illustrated in Porcelains from the Tianjin Municipal Museum, Hong Kong, 1993, no. 23.
Christie's. THE CLASSIC AGE OF CHINESE CERAMICS - THE LINYUSHANREN COLLECTION, PART I, 2 December 2015, Convention Hall