Rembrandt Harmensz. van Rijn (Leiden 1606 - 1669 Amsterdam), "Portrait of a Man With Arms Akimbo". Signed and dated lower left Rembrandt 1658. Oil on canvas, 42 1/4 by 34 1/4 in., 107.4 by 87 cm. Painted in 1658. Photo Sotheby's.
KINGSTON.- Daniel Woolf, Principal and Vice-Chancellor of Queen's University, today announced that the university's Agnes Etherington Art Centre has received the gift of a masterpiece by Rembrandt van Rijn from Alfred and Isabel Bader, two of Queen's most generous alumni and benefactors.
Portrait of a Man with Arms Akimbo, a late-career painting signed and dated 1658, will become part of the Agnes's permanent collection. Over a period spanning nearly 50 years, The Bader Collection at the Agnes has grown to more than 200 paintings, including two other works by Rembrandt, Head of an Old Man in a Cap (c. 1630) and Head of a Man in a Turban (c. 1661).
"I am grateful the Baders have entrusted us with this remarkable work of art, which has been privately owned and unavailable to scholars for much of its existence," Dr. Woolf says. "This gift distinguishes the art centre at Queen's as the destination in Canada for the research, study and enjoyment of Rembrandt and his followers, and places the Agnes among the premier university art galleries in North America for the study of European art."
The painting is a significant example of a dated portrait by Rembrandt from the 1650s, and one of the last works from the artist's late career to enter a public collection.
"Portrait of a Man with Arms Akimbo will be a centrepiece for the many portraits by the artists in Rembrandt's circle currently in our collection. I'm truly grateful to Alfred and Isabel Bader for their vision in shaping this collection, and for this amazing gift," says Jan Allen, Director of the Agnes. "Across the university, disciplines from art and art history to psychology, business, theatre and medicine will take advantage of access to this painting. Most of all, we'll treasure this piece for its extraordinary quality, and as an example of the highest aspiration of painting, which is to capture the human spirit. I'm truly looking forward to sharing this wonderful work of art with our audiences."
The Agnes is currently preparing Portrait of a Man with Arms Akimbo for installation. The painting will be unveiled to the public in May 2016.
The Rembrandt masterpiece joins the Agnes's collection of more than 16,000 works of art, which, in addition to outstanding examples of European historical art, features concentrations in contemporary art, Canadian historical art and African art, and includes Indigenous art, decorative art and historical dress. These high-quality collections spanning artistic histories and current forms of expression reflect a rich spectrum of culture that is tremendously valuable for study and enjoyment.
"This painting is a dazzling demonstration of the artist's signature ruwe, or rough, style, embodying the painterly brilliance so associated with Rembrandt's late work. It also beautifully demonstrates the artist's consummate skill in capturing the psychological presence of his subjects. I couldn't be more delighted with this incredible addition to The Bader Collection," says Dr. Jacquelyn N. Coutré, Bader Curator and Researcher of European Art at the Agnes.
When asked about the motivation for his generous gift, Dr. Bader explains, "It is the best Rembrandt in Canada, and Queen's is the best university in Canada. It is very fitting."
The Baders' most recent gift is a significant contribution to Queen's Initiative Campaign, the most ambitious fundraising campaign in the university's history. The campaign seeks to nurture a supportive campus community, enhance the student learning experience, and secure a global reputation in discovery and inquiry.
Alfred Bader (Sc'45, Arts'46, MSc'47, LLD'86) and Isabel Bader (LLD'07) are among Queen's most generous benefactors, supporting the university for seven decades. They have given back to Queen's in countless ways: transforming the campus, enriching the student experience, supporting scholarship, and helping to enhance the university's reputation as a top-tier educational institution. In an extraordinary philanthropic gesture, the couple funded Queen's purchase of a 15th century English castle – Herstmonceux – that has been meticulously restored and is now home to the Bader International Study Centre. Last year, thanks to a transformational gift from the Baders, the Isabel Bader Centre for the Performing Arts opened.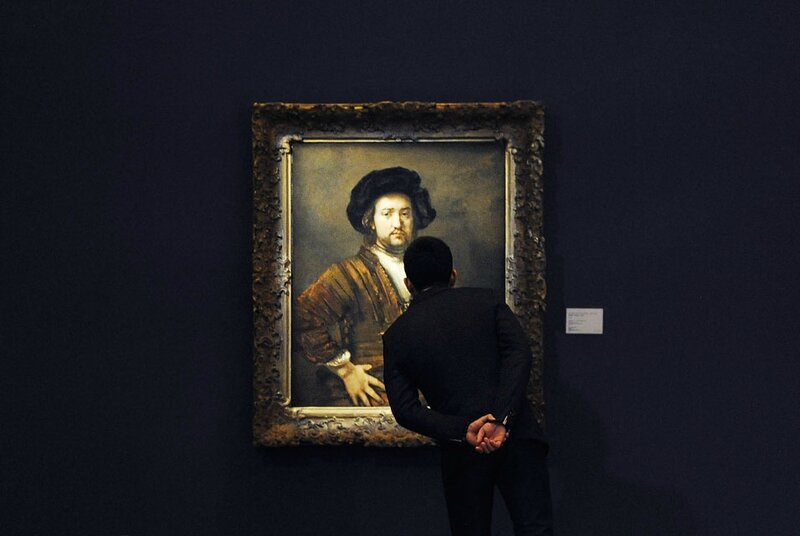 In this file photo a man looks at Rembrandt's "Portrait of a Man With Arms Akimbo" at Sotheby's exhibition in Beijing. AFP PHOTO / WANG ZHAO
In this file photo a woman looks at Rembrandt's "Portrait of a Man With Arms Akimbo" at Sotheby's exhibition in Beijing. AFP PHOTO / WANG ZHAO.
NDB: Vedette de la Frieze Masters 2014, cette toile de Rembrandt était à vendre pour 48,5 millions de dollars par Otto Naumann Gallery, New York.Il avait atteint un prix record de l'artiste de 20,2 millions de livres, soit 33 millions de dollars chez Christie à Londres, en janvier 2014.