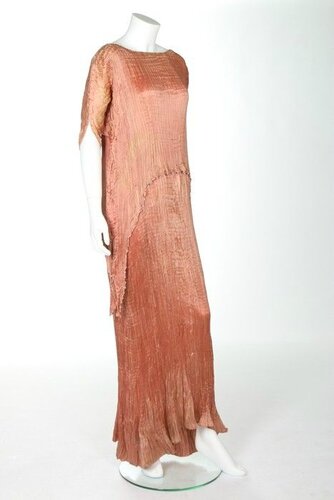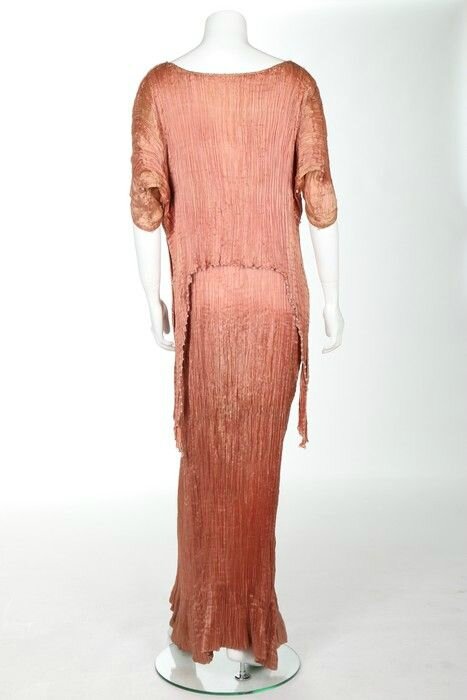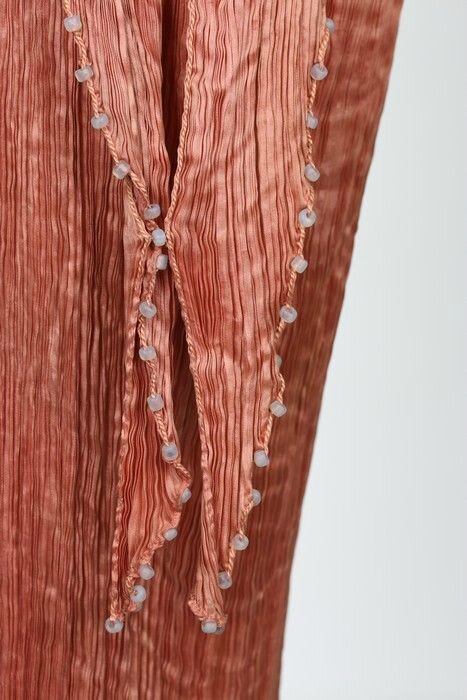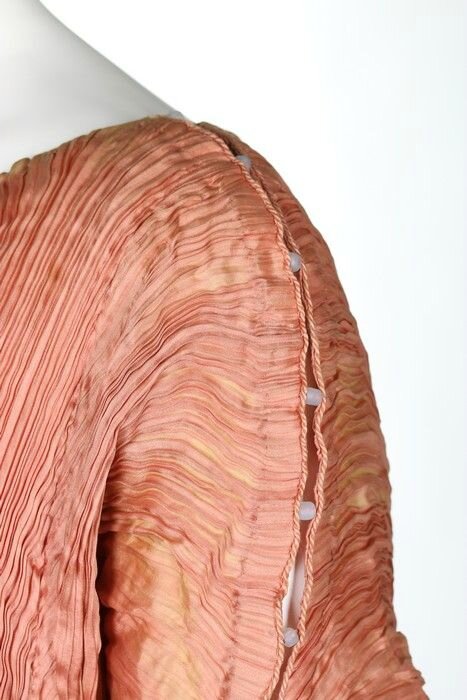 Lot 56 : A Mariano Fortuny rose pink silk Peplos dress, 1920. Estimate:£600 - £1000 © Kerry Taylor Auctions
A Mariano Fortuny rose pink silk Peplos dress, 1920. the integral tunic and edges weighted with grey-blue iridescent Murano glass beads, multi-size; together with a copy of the original invoice shows that this gown cost £550 in 1920 (2)
Provenance for lots 55 to 58: These Fortuny garments originally belonged to Lady (Charlotte) Bonham Carter (1893-1989). Charlotte was the daughter of Colonel William Ogilvy and Lucy (nee Wickham). The 'Mrs L Ogilvy' listed as making the Fortuny purchases 14th June, 1920 from the Palazzo Orfei is Charlotte's mother. Charlotte would have been 27 at the time. In 1926 Charlotte married Sir Edgar Bonham Carter, KCMG, CIE (1870 - 1956). She chose to wear this dress to have her portrait painted in 1978 by Peter Greenham.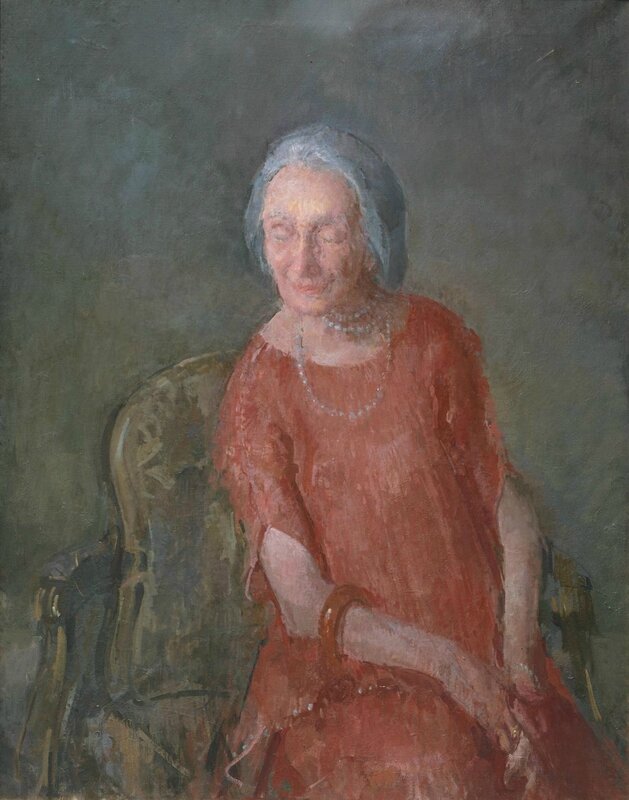 Peter Greenham (1909–1992), Lady Bonham Carter (1893-1989), 1978. Oil paint on canvas. Accepted by HM Government in lieu of tax and allocated to the Tate Gallery 1992 (T06656) © The estate of Peter Greenham. All Rights Reserved 2010 / Bridgeman Art Library
Lady (Charlotte) Bonham Carter, née Wickham (1893-1989) was an indefatigable lover of the arts and a generous patron. In the First World War she served in the War Office. In the Second, having qualified as a pilot, she was a photographic interpreter with the RAF. She also served in local government. This portrait, commissioned by a group of her friends, came to the Tate by her wish. She is shown wearing a gown designed by Fortuny, which she bought from him in Venice in 1922. The sittings were in Greenham's studio at the Royal Academy, where he was Keeper. A second portrait is in Southampton Art Gallery.
Kerry Taylor Auctions. Tuesday December 8th at 2pm. 249-253 Long Lane, Bermondsey, London, SE1 4PR