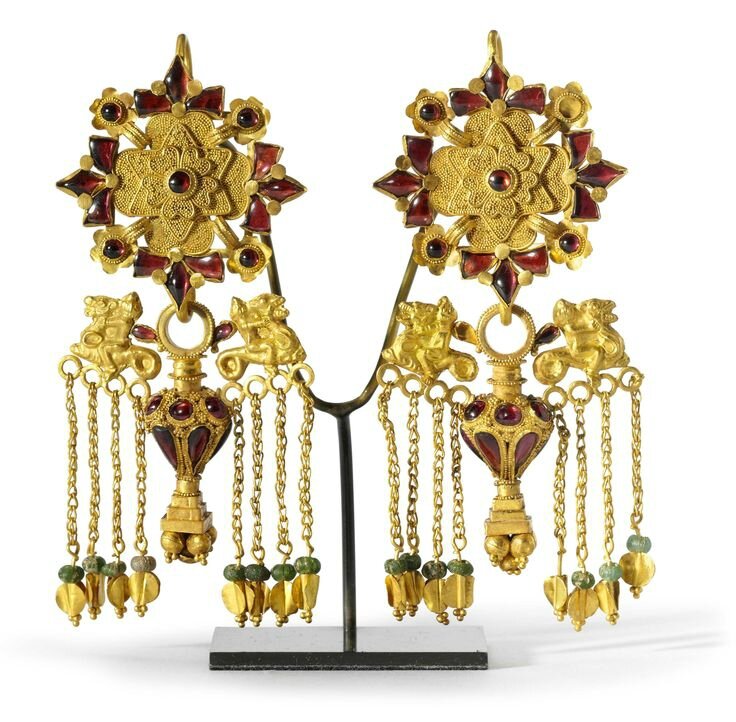 A pair of Bactrian gold, garnet and glass earrings, circa 1st century AD. Estimation: USD 25,000 - 35,000. Photo Christie's Image Ltd 2015
ach composed of a complex three-layered rosette centered by a circular garnet rimmed in granulation, each petal filled with fine granulation, the four petals of the bottom layer extending into three projecting cells each set with a garnet, the rims punctuated by discs, interspersed by an arch with bands of granulation terminating in a sheet rosette centered by a circular garnet rimmed in granulation, a hook below supporting a pendant in the form of an amphora on a tiered base, the underside with a cluster of spheres each with an inverted pyramid of granules, the body of the amphora set with circular garnets above drop-shaped garnets, all fringed with granulation, the shoulders with sheet plaques each in the form of Cupid riding a ketos, the wing set with a drop-shaped garnet, four rings below each joined to lengths of loop-in-loop chain terminating in a green glass bead above a tube with back-to-back sheet discs, finished in an inverted pyramid of granules, a hooked ear wire on the reverse - Each: 3¼ in. (8.2 cm.) long

PROVENANCE: with Gallery Nishiyama, Nagoya, 1986.
Notes: Nomadic peoples from the frontiers of China, the Kushans, together with Scythians whom they encountered in southern Siberia, conquered the Greco-Bactrian kingdoms in modern Afghanistan. Once settled they absorbed many of the cultural traditions of the conquered Greco-Bactrians. Jewelry and other objects from the region, circa 1st century A.D., frequently display iconography adopted from the Mediterranean world. The Cupids riding on ketoi, or sea monsters, a Greek invention, as seen on the earrings presented here, are typical of this rich mingling of east and west. The fine quality of the granulation and the use of inlaid stones, normally garnet and turquoise, are also typical of the jewelry from this region and period. For a pair of clasps with Cupids riding on dolphins see no. 80 in F. Hiebert and P. Cambon, Afghanistan, Hidden Treasures from the National Museum, Kabul.
Christie's. Ancient Jewelry sale - Online auctions December 1 -10.